In my experience, most of the time a consumer take in doing research of buying a smartphone is equivalent to the time spent in researching the right air conditioner. There are so many factors to consider, which new consumers are not even aware of. This article aims to provide many points/tips to consider while buying an air conditioner and would clear your mind with many confusions you'll face while doing the research of finding a perfect AC.
Window or Spilt AC?
First, you need to decide even before visiting any showroom, if you need a Window or Split AC. Not everyone could have a choice to select between both because of the layout of the room where they need to install the air conditioner. If you're a tenant, I would suggest buying a Window AC, as moving and installing that is easier. Moving Split AC frequently won't be a good idea even if you may shift every 2-3 years.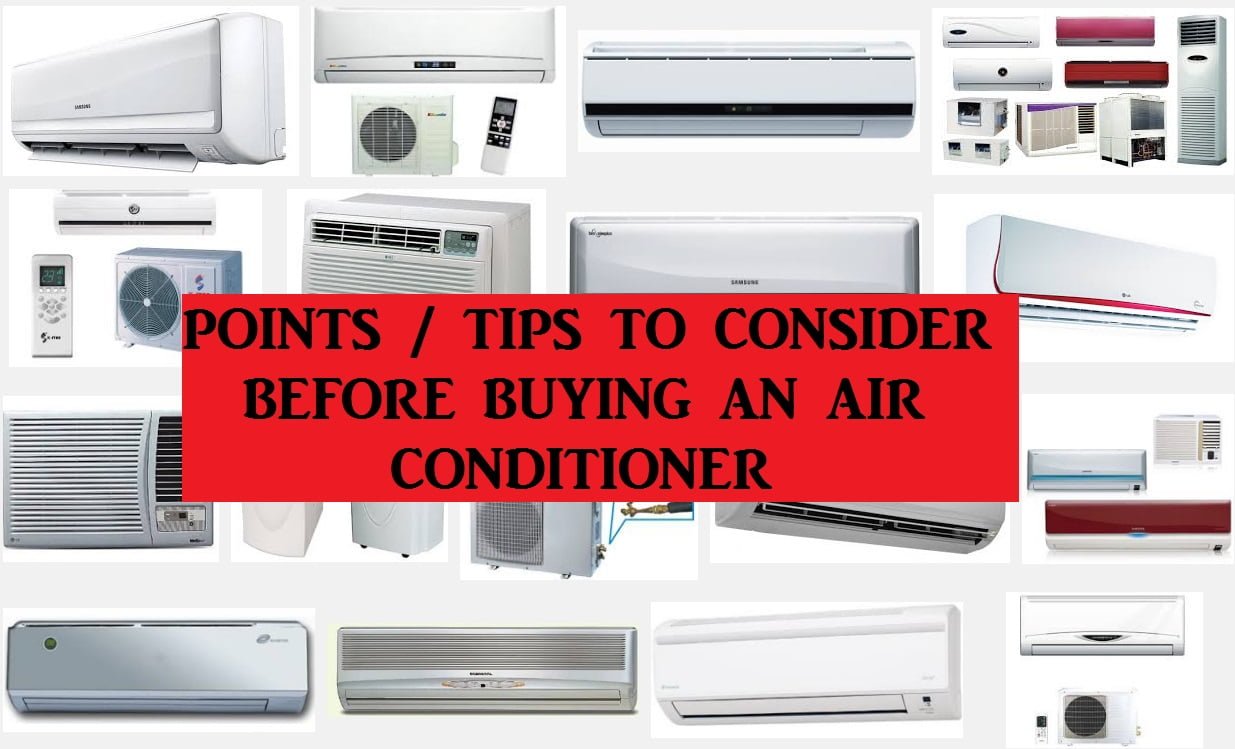 Window ACs are noisy compared to Split AC. So, if you can afford and install a Split AC, choose Split. Split AC's also cools down room faster because of a wider opening for air blower and runs silently. Especially if you consider Inverter series air conditioners from big brands like LG, Daikin or Samsung, you'll hardly hear any noise from them. But you need to ensure that the external unit of Split AC which contains compressor/condenser does have adequate air flow from around. Also, putting them under shade is a good idea; however, it's not mandatory.
Split AC's also looks way better compared to Window AC's and comes in various designs. Also, the efficiency of a Split AC would be better in the longer run.
Also read: LG Launched Dual Inverter AC's with ISEER Ratings (Star Ratings)
Tonnage Requirement
Another vital point is to pick an air conditioner with correct capacity. Buying an AC with lower tonnage overlooking your actual requirement would be a bad idea as the AC will have to work more to maintain the required temperature by you, thereby consuming more energy than required always.
Or, if you buy an AC with more tonnage compared to your requirement, not only you'll be paying again more the energy bills, over cooling won't give everyone that comfort you may expect from an AC. Also, running over capacity AC's will leave a foul smell in your room giving you an unpleased experience.
Hence, it's crucial to pick an AC with correct tonnage. Now the question arise, how to calculate the tonnage required for a room? Here's the method which you can use:
Find out your room floor area like (10 ft x 10 ft = 100 ft2)
Divide it by 600. So, this gives you basic AC capacity. And you have to add 0.5 ton for every 5 people.
So, it's like 100 divided by 600 = 0.167. Add 0.5 ton for 4-5 people living in that room which results as (0.167 + 0.5) = 0.667.
So, for 10 ft x 10 ft room, usually a 0.8 Ton air conditioner is enough.
Still, this is not a foolproof calculation. You can follow this standard table provided below for deciding tonnage required for your room:
| | |
| --- | --- |
| Floor Area (Room Size) | Capacity Required |
| Up to 100 ft2 | 0.8 Ton |
| Up to 150 ft2 | 1 Ton |
| Up to 250 ft2 | 1.5 Ton |
| Up to 350 or 400 ft2 | 2 Ton |
If you live in a place where the weather touches the extreme level, like in summers if temperature typically crosses 40-50 deg, you must consider adding 0.5 Ton extra for the required tonnage for an effective cooling.
Also read: Samsung Launched Solar Powered Refrigerators & 8-Pole Digital Inverter Air Conditioner
Star Ratings
The biggest fear Indian consumers have in their mind while buying an air conditioner is the energy cost of running it. This is a very common question which comes in mind of a budding customer, that how much electricity it'll consume per month? Or how many stars rated AC they should buy?
And as per obvious calculations, 5-star rated AC will consume the least power if compared to 1 or 3 stars rated AC. Now the question is, should we always opt for 5-star rated AC considering it'll cost few thousand rupees more than a 3-stars rated AC.
Hence, buying any star rated AC depends on your usage pattern. If you're going to run the AC for few hours daily and then if you live in a city like Delhi, where you will run it for 6 months around only in summers, a 3-star rated AC is good enough for you.
But if your consumption is more than 8 hours per day, I would recommend buying a 5-star rated AC or Inverter series air conditioners.
In 2018, it'll be mandatory to have star ratings in every air conditioner, hence brands like LG & Daikin has already launched their inverter series models with star ratings (ISEER).
Inverter series air conditioners already offer better efficiency energy efficiency than a 5-star rated AC, and since these models now are coming with star-ratings, for now, I would recommend buying any star rated inverter model which may fit your budget.
LG here took next step and launched Dual-Inverter air conditioners last year, and this year this series is revamped with new star rated models.
And if you'll compare the price of a 3 or 4 star rated AC in Dual-Inverter series, the price difference would be of more than Rs. 10,000. This is why I recommended buying any model in Inverter series which may fit your budget, as it might take many years to recover that amount you spent in buying high star rated models.
Also, lower the star rating, higher will be the air circulation rate, so your room will get cooled down faster.
Energy Efficiency Ratings (EER)
So many companies advertise their air conditioners EER as a value of achievement, showcasing the level of efficiency of their models. But honestly, I do not take this point with utmost importance. As EER is directly proportional to the star ratings. Higher the star ratings, higher the EER will be. And the difference of EER between models of different manufacturers is marginal. Hence, I would rather prefer having an air conditioner with features I require provided below than favoring the decision on model offering highest EER.
Also read: Everything You Need to Know About LG Dual Inverter Technology
Hot and Cold AC or Cooling only?
Having an AC in summers is like mandatory nowadays if you live in a place like Delhi, and Delhi faces harsh summers and winters both. Usually, because of the cost difference, people do not buy a Hot & Cold AC, rather buy a Cold only air conditioner. Another reason is, they've not experienced how air conditioners perform in heating mode, will it be that effective?
My answer is Yes. I have got a Hot & Cold AC at home, and no matter what weather I had outside, it has kept me comfortable inside. Warmer in winters and chilled in summers and it has not disappointed me ever, and because of this, my AC runs almost the whole year except the month of changing weathers or during spring, because that time you don't need an air conditioner.
So, if you'll ask my preference, I would prefer a Hot & Cold AC over cooling only, as I live in Delhi. But not all people require that feature, so they can opt for cooling only models.
Also, it's more energy efficient to run an AC in winters for heating, as you'll save a lot in energy bills if compared to room heaters, which runs on a constant level of heating with a constant level of energy consumption. So, hot & cold air conditioners are highly efficient compared to a room heater and would cover much more area of your room for a uniform heating in winters.
For example, 1.5 TON hot and cold AC power input would be 1500-1700 watts whereas, for an effective heating from a room heater, you'll be required buying a 2000 watts model. Now a Hot & Cold AC upon reaching a required temperature, say 28 deg C in the room, will consume less power if you run it for hours while the room heater will constantly run on 2000 watts costing you 2 units per hour.
Features Not to be Missed
Most of the budding customers of air conditioners hardly look at the features being offered by brands. There are some noticeable features like Mosquito Away by LG, PM2.5 filter in Daikin or Panasonic, Auto cleaning of the filter by Hitachi. However, in the longer run, the feature any consumer would need most is 4-way swing, means the flaps should move up, down, left and right as per the requirement. Some manufacturers call this feature as 3D cooling.
Also, I would prefer if the AC may show the current room temperature in air conditioner and remote control both.
Quick cool, Jet cool, Himalayan cooling (naming varies with different manufacturers) like features comes handy when you require quick cooling in the room, happens in the scenario when you come from outside facing extreme weather situations.
If you live in a place where mosquitoes are a headache for you, a feature like Mosquito Away feature being offered only by LG as of now in some models would come handy and it's not a gimmick, as I've seen the effectiveness of it in a live demo by LG.
Also, having air filters like PM 2.5 or 3M filter in air conditioners is a good option; however, it does increase the cost of the air conditioners and is available in premium models only.
Another feature I would require is Auto restart in case of electricity interruption. Most of the people forget considering this feature and you must not!
Dehumidifier, which you'll only find in premium models, comes handy in rainy reasons or to the people who live nearby coastal areas and face high humidity.
Having glowing buttons and backlit in remote controller display comes handy, however, display with backlit you won't find in most models, hence don't give that much importance.
Copper or Aluminum Alloy Made Condenser?
When you start your research, a local dealer will brainwash you by saying that copper made condenser are better and you must consider buying their (high margin) models over the companies who are selling air conditioners with condenser made of aluminum alloy.
Which is better is a topic of debate, but as of today, I won't consider buying an AC just because it offers a condenser made of copper.
Many big companies who are innovating, has already shifted to offer condenser made of aluminum alloy only rather than of copper. Those who are still offering copper made condenser don't tell you that they're thinning the coil and hence those coils are more suspected to leakages when compared to an aluminum alloy condenser, as the new refrigerant being adopted these days operate at higher pressure.
Also, those aluminum alloy condensers are coated with the anticorrosive material (doesn't matter if a brand mentions that or not, it is done by default by all manufacturers), and it is said that it uses the same alloy (strong and light) which is used in car radiators. Hence, these condensers are sturdy and would last for years without any issues, and this is a fact!
And those colors of anti-corrosive coating like some do blue, and some do green, some transparent. Colors are just a marketing gimmick for me, nothing more. If any brand really doesn't do anti-corrosive coating on fins of the condenser, just skip that brand.
Installation & After Sales Service
If buying a Split AC, it is recommended to keep the distance minimum between indoor and outdoor unit or keep the distance between a range of 15 meters.
If you're buying the air conditioner from a local dealer, most probably he'll recommend installing the AC from their guys. Do not agree for that and get it installed by company persons only, until and unless you don't have a choice.
Why it is important, as few manufacturers offer a warranty on Gas leakage too, so if you get the AC installed by any local guy, leakage warranty won't be that useful in those scenarios.
Particularly in the case of Inverter AC's, they must be installed by company persons only, no matter what or how much money it may save you by getting it installed from a local guy. Do not make that mistake.
Also, do take out time in getting a demo from the company person for learning how to operate the air conditioner if you're buying it for the first time.
This is very important to know, how much good after sales services are of various manufacturers. Brands like LG, Daikin, Samsung or Panasonic are considered best in after sales service, followed by Bluestar, Carrier, Godrej, etc. Worst in after sales service are Voltas and Hitachi. These both companies has outsourced their after sales service to private companies, and they fail to keep the customer satisfied. I've like listened to thousands of feedback from my readers before writing above points.
Hence, do take some feedback from around and read reviews online on e-commerce websites and take decisions accordingly before deciding the right model for you.
If you have any specific question which is not covered here related to air conditioners (other than deciding model & brand), you can ask me in comments. For enquiring which models or brands, please submit comments in other brand specific articles on this website.