HMD Global introduced the Nokia Lite Earbuds BH-205 back in 2021, and it helped HMD Global fill the gap in the TWS market. In some markets, it came bundled with the Nokia X20 5G. With this, Nokia attempts to fill in the vacuum in the TWS headset made by HDM global. I was hoping to try these earbuds out, mainly due to the simple but elegant design, the choice of color, and finally, I got a chance to test them out for a month or so. So, here's my full review of the Nokia Lite Earbuds BH-205.
Nokia Lite Earbuds BH-205 Review
Design and Build
The Nokia Lite Earbuds BH-205 is available in Polar Sea Blue and Charcoal Black. Both the colors look elegant, but I prefer the Polar Sea Blue. The buds have a plastic build with a dangling stem with touch controls. Designwise, there's nothing radical, but I liked the subtle shiny outline that looks like a water droplet. The buds come in a compact case, shaped like a pebble with a USB-C port for charging. There are LED indicators on the front to quickly check the battery and charging status.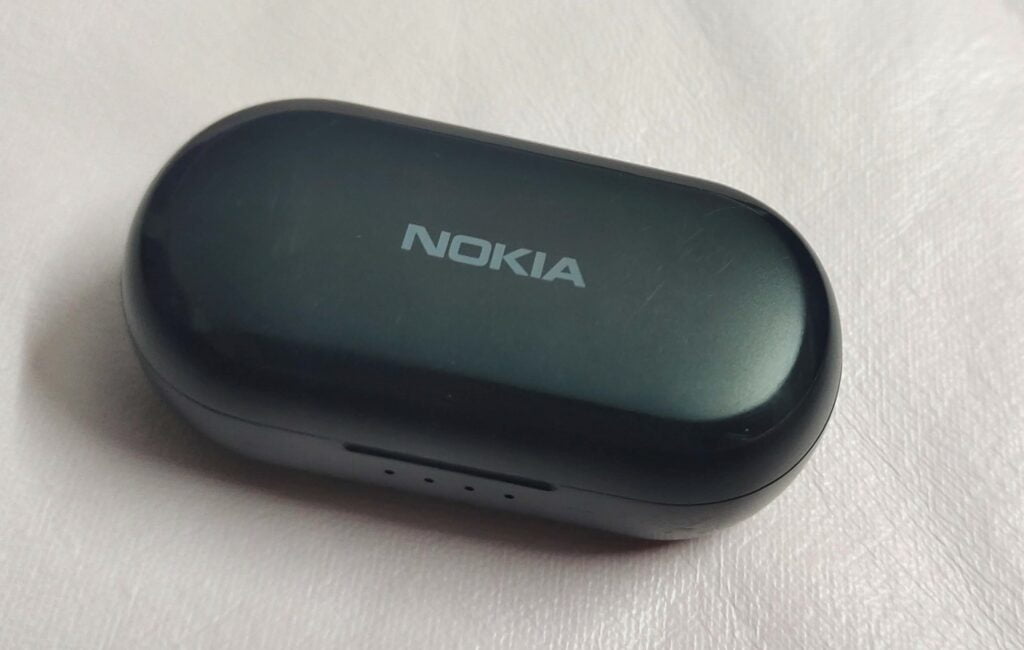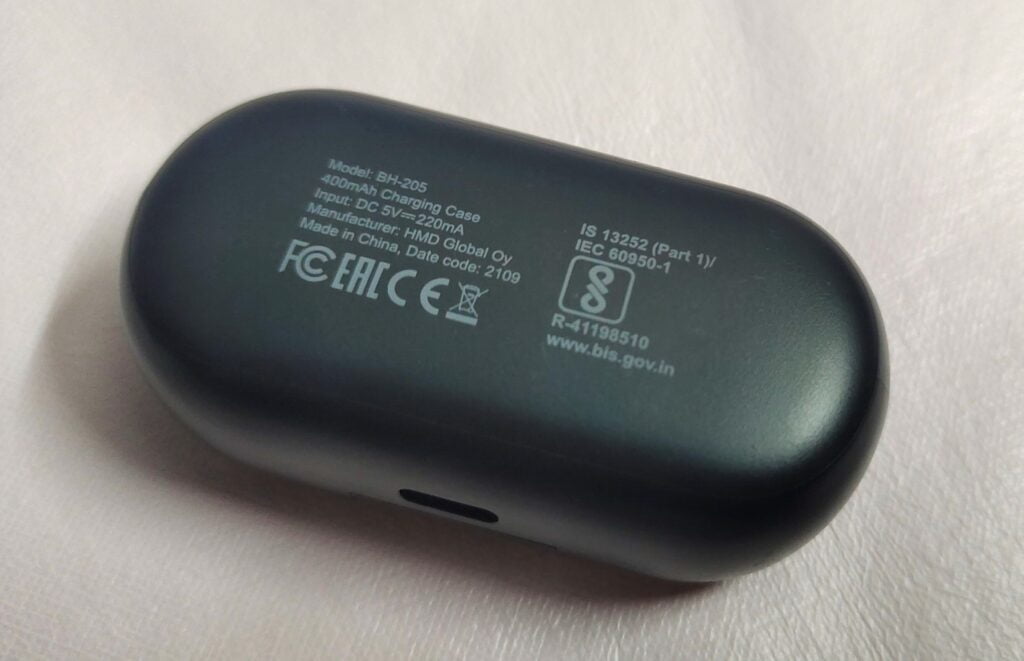 These earbuds come with an oblong-shaped case with an inbuilt battery of 400mAh capacity. For charging the case, there is a Type-C charging port at the backside which is fantastic, and four blue LED indicators at the front, which show the battery level of the case. Both earbuds sit neatly inside the case and are held with a powerful magnetic force, which means they won't fall down if you hold the case upside down.
Fit and Comfort
Nokia Lite Earbuds BH-205 is one of the most comfortable TWS earbuds I have used recently. Unlike other TWS in the same price range, these buds have rubberized earplugs that give a comfortable wearing experience even during long usage sessions. The buds are designed to sit with an angle with a long stem and fit nearly perfectly inside the ear-cavity. Not all TWS fits the ear-cavity comfortably, but this one does with ease. These don't fall off during walking or running, so that was one of the major USPs for me.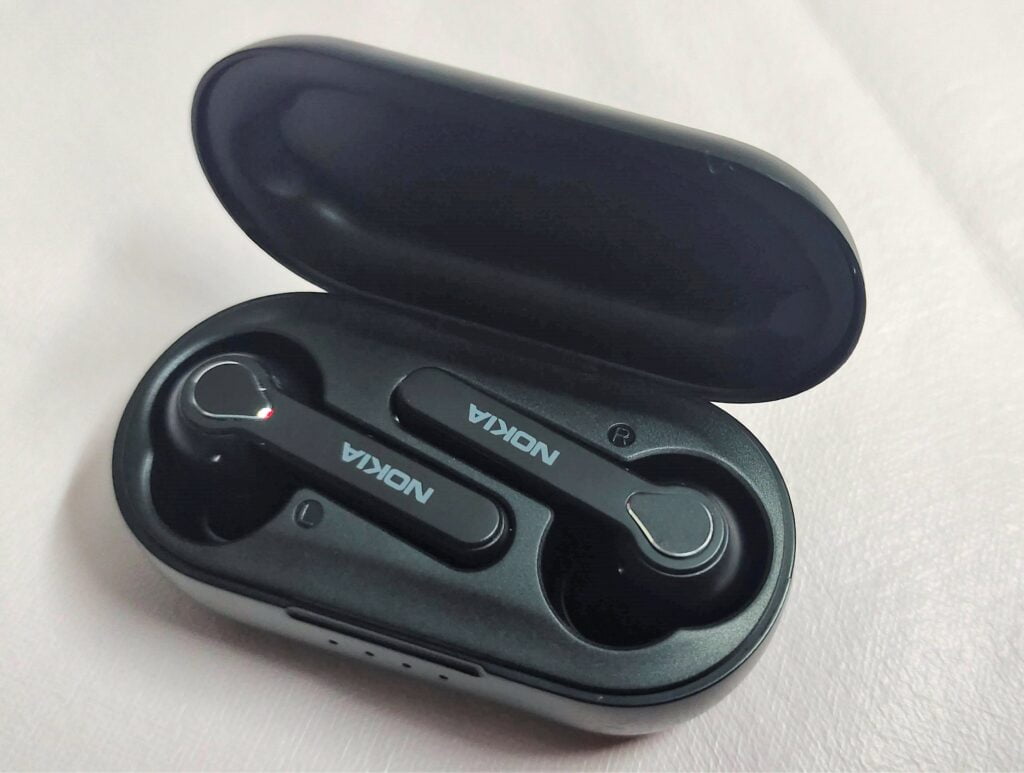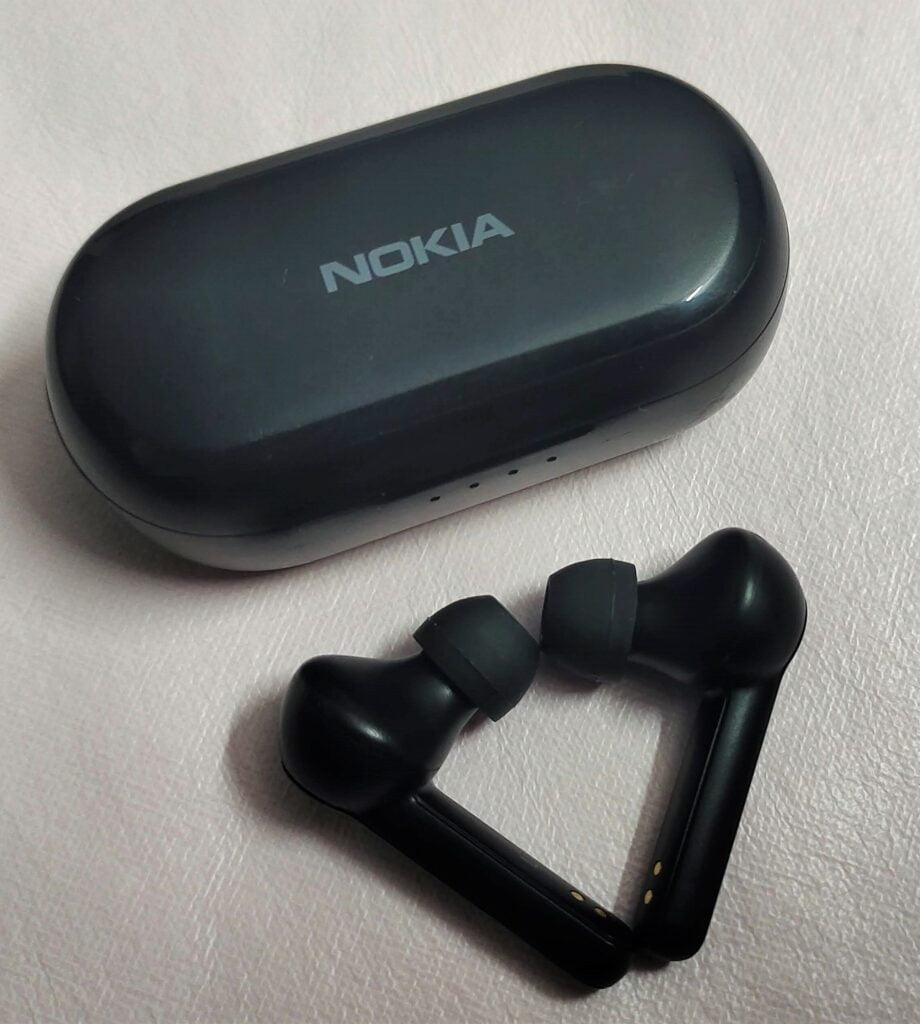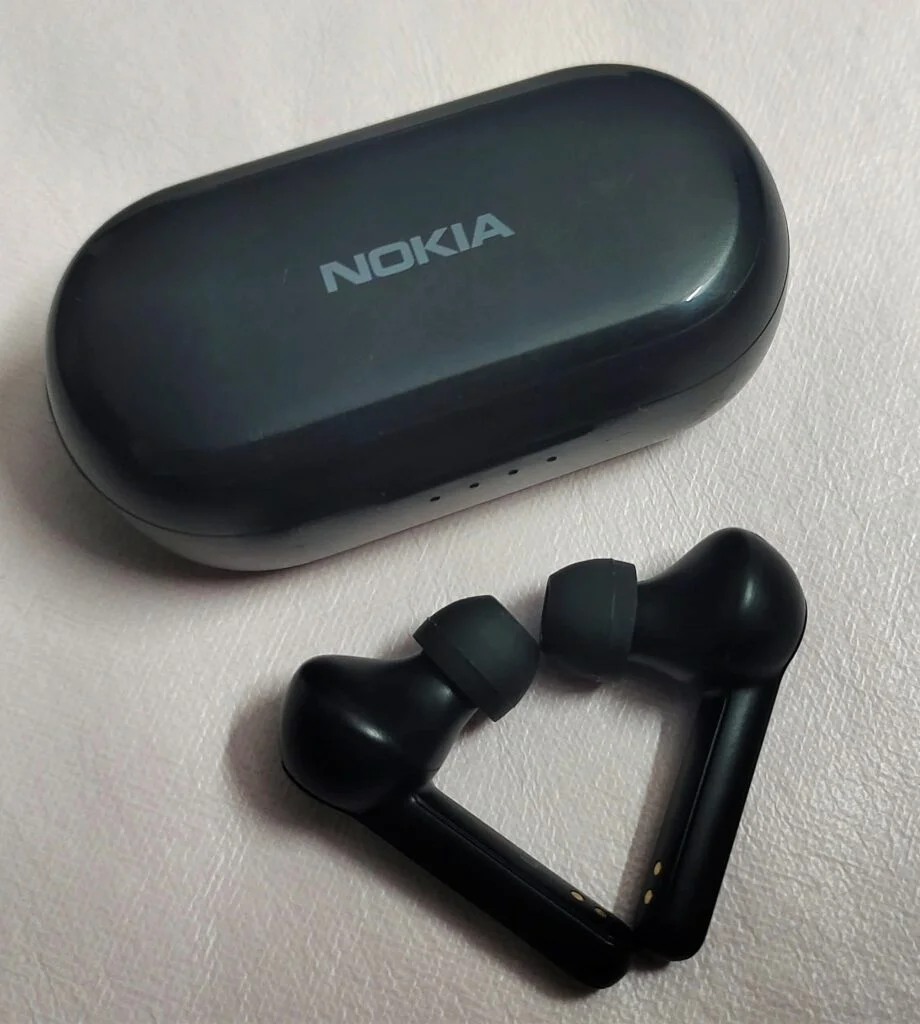 The buds come with silicone ear tips in three sizes, and the medium-sized ear tips fit me well. There is no issue with comfort as these are pretty lightweight, and I didn't face any problem wearing them all day at work and while driving, although I usually avoid most of the calls while driving. For the touch controls, you can change tracks, invoke the AI assistant and can also increase/decrease volume, which is super rare to find in this price range TWS.
Audio Quality
In terms of sound quality, the Nokia Lite Earbuds BH-205 could be an excellent choice for many, especially those stepping into the world of TWS. These buds are well-tuned and have a  balanced audio output with deep bass and crisp treble. I tried them with different genres of audio as well as movies, and they didn't disappoint me.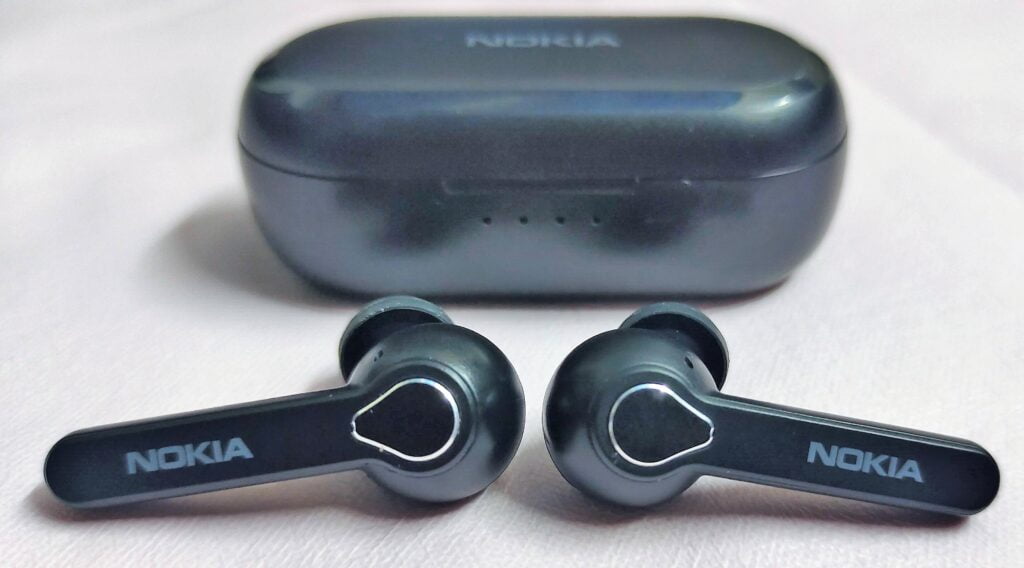 Thanks to the tight-in-ear fit, passive noise cancellation is very effective and works better than TWS with poorly implemented active noise cancellation. These earbuds connect easily with both iOS and Android devices and also recognize the high-quality audio codec-AAC on OnePlus devices.
Nokia hasn't developed a companion app yet that can help users tweak the equalizer and all, but it's acceptable due to the entry-level price. Also, it is worth mentioning that Nokia managed to give a similar level of sound engagement, which you might have experienced on Apple lossless music before. So, you don't need a high-end smartphone now to get a premium quality sound if you own a good pair of TWS like Nokia Lite Earbuds BH-205.
Pairing Process
Pairing these buds with the phone is just like pairing any regular device via Bluetooth. Connecting these buds to the phone is mostly effortless. Once you pair them for the first time, they will pair with the phone as soon as you take them out of the case. Also, once paired, the range seems to be excellent.
Battery Life
These earbuds blew my mind with the amazing battery life they provided throughout my usage. The buds lasted for 5-6 hours or maybe more on a single charge. The case provides an additional 36 hours, so a total of five or six charge cycles can be expected out of these. For me, with daily use of maybe three or four hours, I could go through one whole week and beyond. If you're looking for inexpensive TWS earbuds, the Nokia Lite Earbuds BH-205 could be a perfect choice in terms of battery life, and it will be a great choice, especially for those who make a lot of phone calls.
Apart from all these, the buds are IPX7 rated, so random water slashes can't ruin the buds. You can wear them outdoors without worrying about two significant concerns that most people have- water splashes and losing them outdoors activities.
Conclusion
If you're looking for TWS buds at an affordable price with killer battery life and good audio, the Nokia Lite Earbuds BH-205 is worth considering without a doubt. It has been more than a month, and though I have tried many premium TWS buds, these can be my companion on busy days. Honestly, at this pricing of Rs 2799, this is one of the best options in India, this level of sound quality and battery life is a flagship killer combination.