TWS these days have gone past discussing simply the sound as the LG Tone Free FP9 headphones are intended for the people who keep hygiene as one of their key prerequisites. The Tone Free FP9 is the newest TWS by LG, which was launched a few months back; it's the best TWS I have ever tried so far, and I have tried a lot. If you have read our LG Tone Free HBS-FN7 review, this TWS, in a similar manner, offers UVNano sanitization, which is a remarkable feature and an essential one, particularly when hygiene becomes a necessity in the midst of the Covid-19 pandemic.
But that is not the only USP of this product anymore; LG added some more features to it and improved audio quality to a level that makes me wonder what they'll bring in the next version. And the way they just fit in the ears is near perfect.
LG TONE Free FP9 Review
LG TONE Free FP9 Design and Wearing Experience
LG nailed it this time when it comes to design or the way it fits in the ears. It has a more streamlined design compared to its predecessor, i.e., FN7. The earbuds are more or less the same size as FN7, but they feel lighter (5.2gm each) and are not distracting when you're wearing them. With the comfort level, it gives & the way it fits, consumers with smaller ear sizes are going to love this design, as they are the most who struggle with if any particular pair of TWS will sit/fit well in their ears.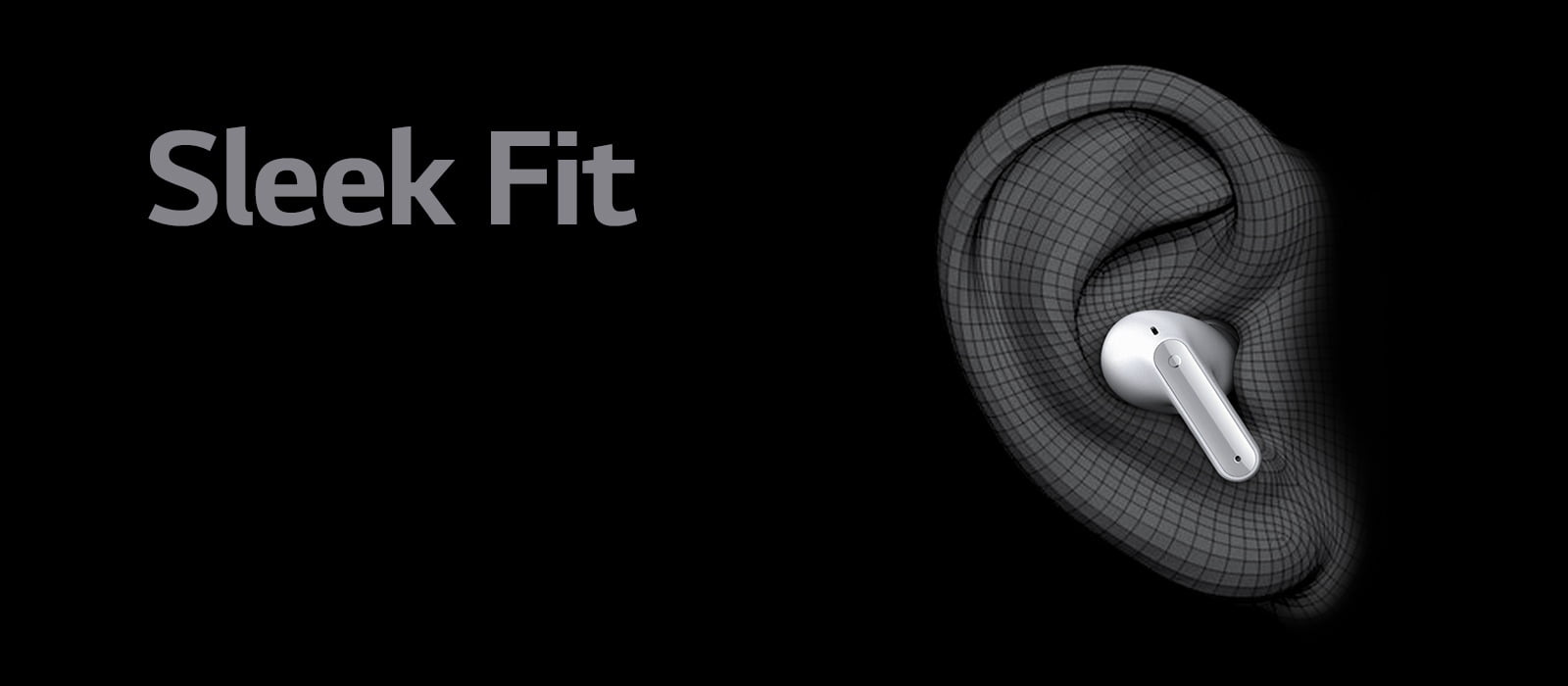 LG calls this design – Sleek Fit, and these are Concha-Shaped earbuds. These earbuds have a contoured design developed by analyzing hundreds of ears. They conform to the shape of the ears to stop them from falling out and provide a more comfortable and stylish fit. They are also IPX4 water-resistant, which means you can wear them while doing extreme workout sessions and will not face any issues because of sweating.
The ear gels which come along the buds and the 2-extra pairs (in-box contents) are medical-grade ear gels. These are made with hypoallergenic silicone that causes no itchiness or allergy, and you can wear them worry-free for all-day use. The charging case is also designed to be the smallest size possible and easily fits in the pockets along with the phone. It has a Type-C port for charging and is quite lightweight to carry around. It has a matte finish over it and doesn't attract any fingerprints or smudges. The case can be easily opened with one hand, and the magnets inside are strong enough to keep the buds in place even if you drop the case by mistake.
LG TONE Free FP9 Features
Plug and Wireless Mode
The latest and biggest feature LG added to TONE Free FP9 is to make almost any device with a 3.5mm audio output wireless. All you have to do is slide the toggle provided on the case to the right to activate the Plug and Wireless mode. Upon toggling, the LED will flash in green giving the activation confirmation.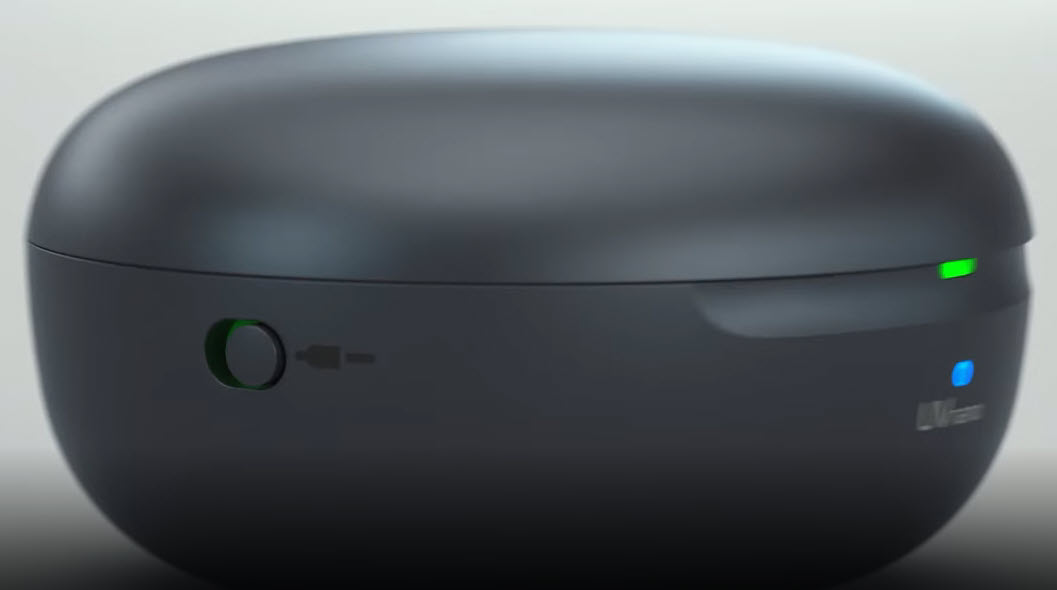 Now connect the Type-C end of "Type-C to aux cable" (provided in the box contents) to the case and the aux side to the device you want to listen to wirelessly. There are many use cases of this feature, like when you want to listen to the gaming console output wirelessly or gym equipment, in-flight entertainment system, or even on the old desktops that don't come with Bluetooth. I have started using this feature for my TV regularly as it doesn't have Bluetooth, and I want to watch TV quietly at night when everyone else is asleep.

UVnano
If you're afraid of bacteria causing an ear infection (at least I am), if you're worried about hygiene, and clean your earbuds frequently, then LG Tone Free FP9 is a perfect TWS for you. While this is not a new feature now, as it was already there in FP7 too, even after a year, LG is still the only brand to offer such a feature, which makes it quite unique.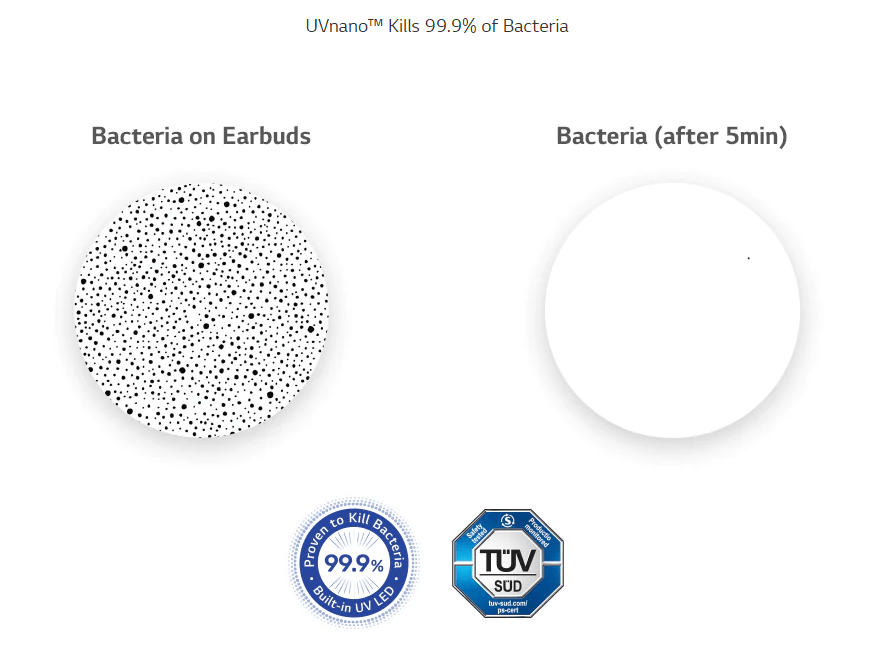 What UVnano does is sanitize your earbuds' speaker mesh and the surroundings. It operates only when both earbuds are in the case, and the case is on charging. Whenever you plug it in, it operates for 5 min and gets the work done. While there is no way I could test its effectiveness, independent tests show that it kills 99.9% of bacteria just after 5 minutes of UV exposure. If you open the case during this process, it immediately turns off the sanitation process, making it safe to use.
Listen to Ambient Sound (LAS)
If you have these earbuds, this is probably the feature you will use daily. LAS provides you an option of how much ambient sound you want to hear along with your music or calls. It provides an option to choose between Listening Mode and Conversation Mode.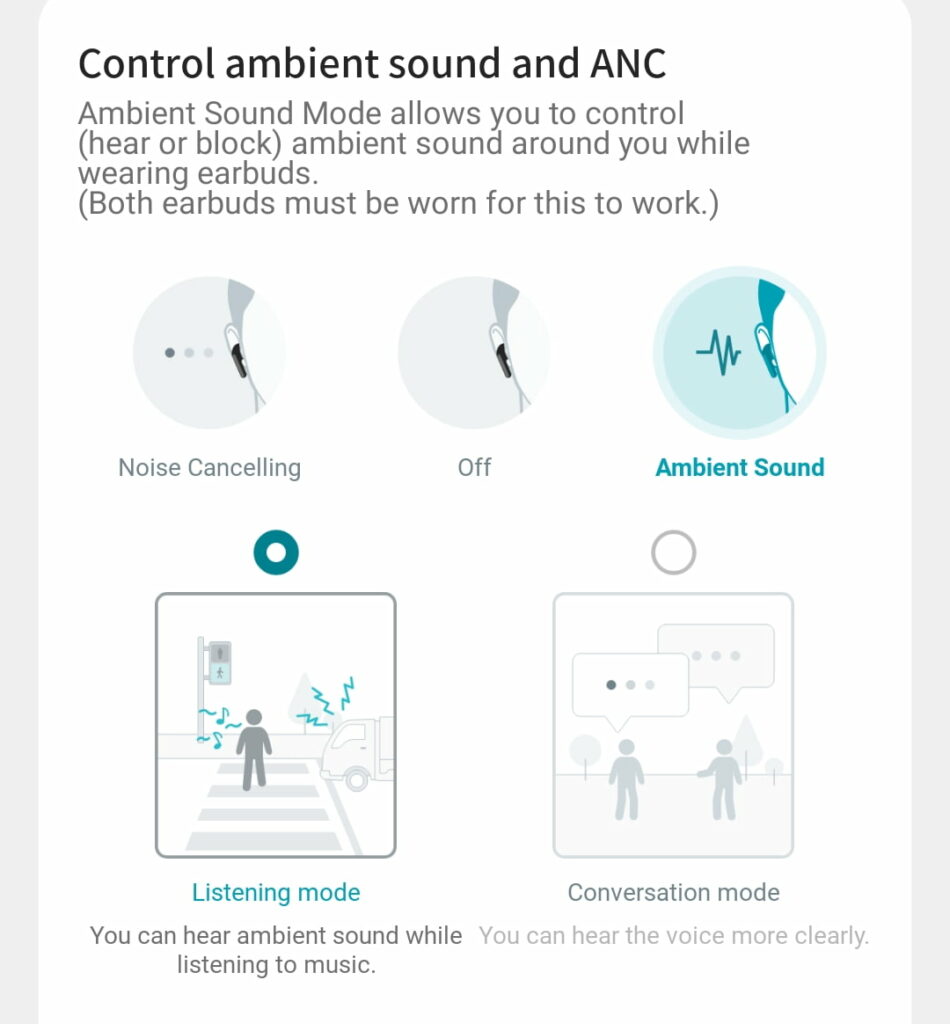 Listening mode is what you will prefer when walking outside, and you want to stay aware of the surroundings, for example, while crossing a road. Conversation Mode or Chat mode you'll prefer to use when conversing with others without taking out the earbuds.
Active Noise Cancellation
The Active Noise Cancellation (ANC) blocks the unwanted noise/external sound by generating an equal amount of anti-noise. To switch to ANC or toggle between LAS and ANC, touch and hold the left or right earbud. There are settings in the LG TONE Free app for both ANC and LAS. Both features can be used when being idle, listening to music, or being on calls.
Fast Pair & Swift Pair
Google Fast Pair first came in the FN7 model and is now in TONE Free FP9; all you need to open the cover of the charging case with earbuds mounted on the case and touch any left or right touchpad for 3 to 5 seconds until the battery status indicator starts blinking blue and that's when you check your phone as you'll see a pop-up for fast connection of the earbuds with the phone. If the pop-up doesn't appear for some reason, you'll be able to find the device in the add new Bluetooth device list. Android devices also show the battery levels of Case and each earbud as a pop-up too.
TONE Free FP9 also supports SWIFT Pair as when you enable the ready-to-pair option as described above; you'll also see a pop-up in Windows 10 too to connect with the earbuds quickly. I have tried this, and it works seamlessly.
Whisper Mode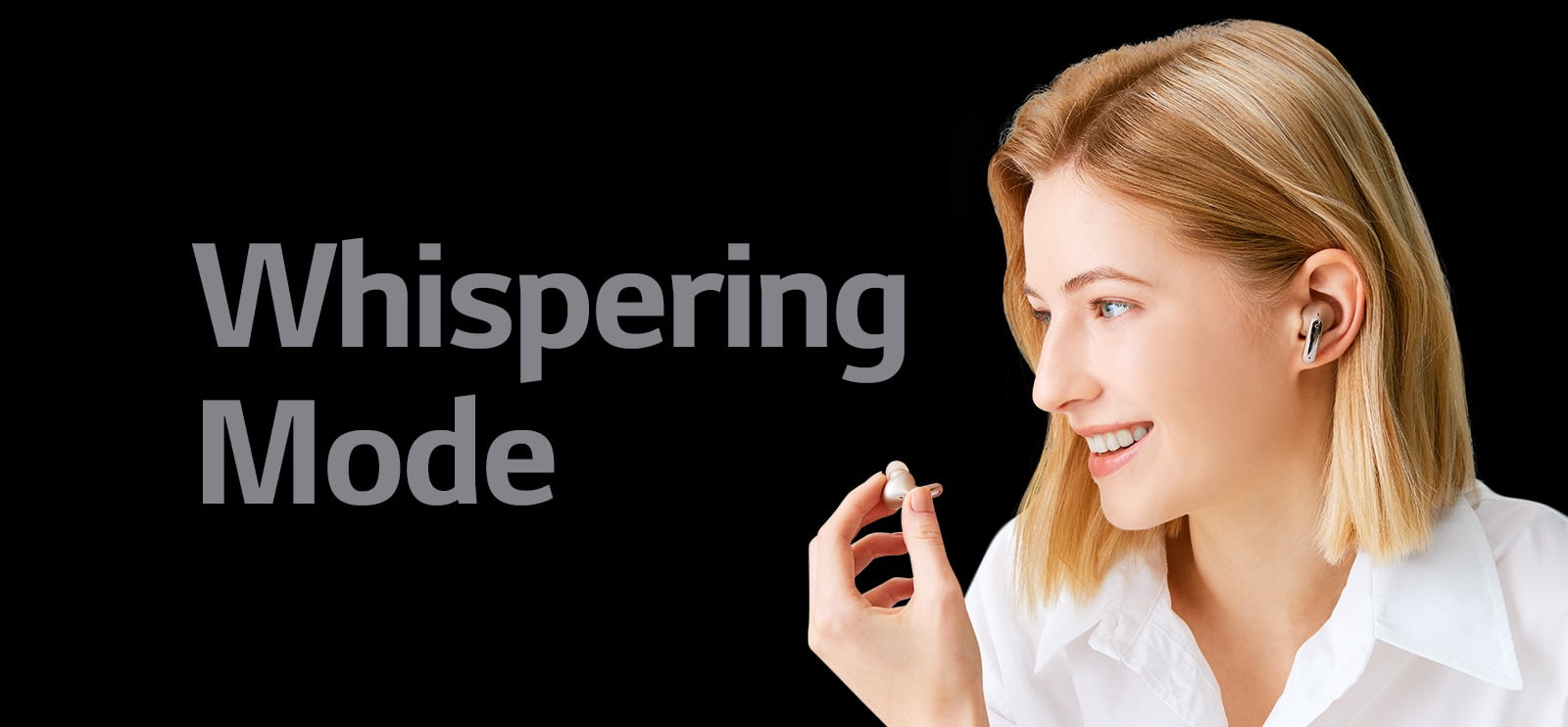 Whisper mode helps when you suppose are at some place like the library, and you simply cannot talk at your normal voice level; that's when you can use this mode by holding your right earbud close to your mouth for speaking on the call. You can whisper on the earbud and hear from the left earbud, and the other person on the line will still be able to hear you loud and clear.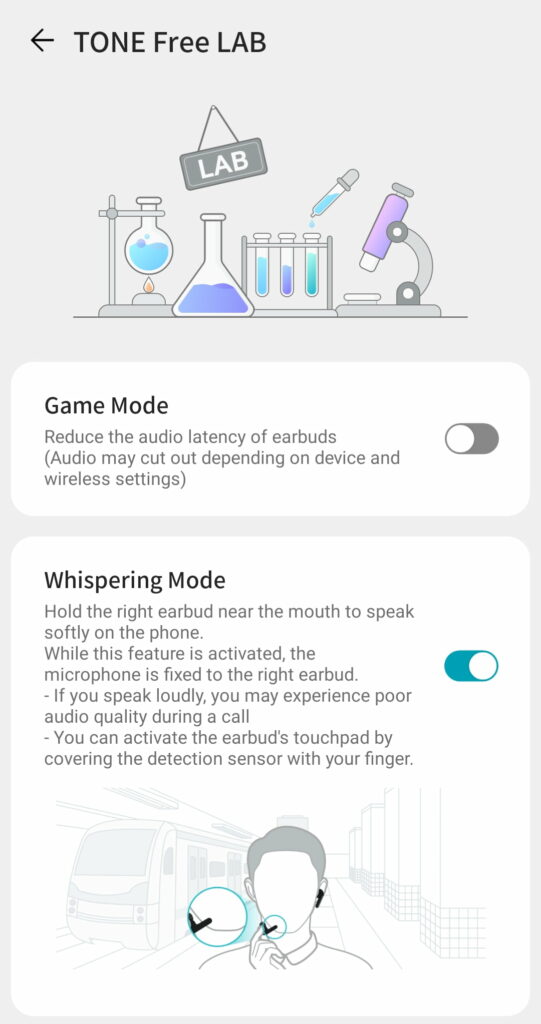 Out of Range
When the connected device is out of range or if the effective communication range is lost, these earbuds auto connects to the device when the device is back in range. If it has been out of range for a longer period, you can just touch the left or right earbud once to connect back automatically.
LG TONE Free FP9 Audio Performance
LG, along with the partnership with British audio firm Meridian has created a masterpiece when it comes to the audio quality of TONE Free FP9 earbuds. The moment you wear both earbuds and play any high-quality audio, you'll get a similar feeling as if wearing a high-quality studio headphones. The kind of detail you'll be able to listen to with these earbuds is exemplary, and the difference can be easily observed when compared with any other TWS. For example, first, watch any musical reel on Instagram on a phone speaker, then on a different brand TWS and then LG TONE Free FP9, and you'll instantly realize what kind of details you have been missing so far in the audio quality. These earbuds offer a crisp & powerful low-end bass while maintaining the best possible clarity and definition.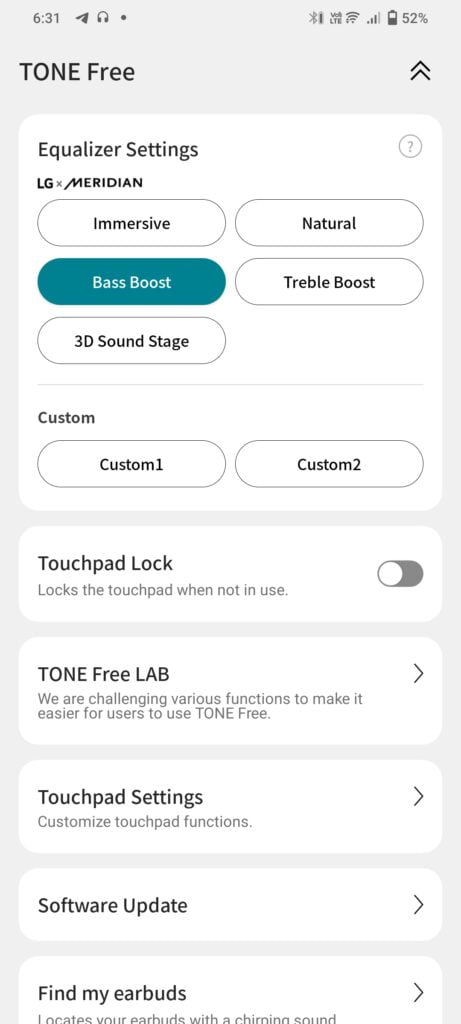 For a personalized experience, LG TONE Free App offers 5 preset equalizer settings, i.e., Immersive, Natural, Bass Boost, Treble Boost & 3D Sound Stage, and there is an option to set 2 custom profiles as well. When you select the 3D Sound Stage equalizer, it enables a new feature, i.e., Spatial Sound. Spatial Sounds uses spatial upmixing to expand the sound stage and gives a more lifelike surround sound.
The Bass Boost equalizer is what I used most of the time during the review period; it is a well-tuned equalizer that delivers a good bass level without stressing your ears. The audiophiles are going to love this improvement in loudness and bass delivery when compared with the FP7.
In the TONE Free app, you can adjust the level of noise cancellation you want, and it works the way it is intended to. The isolation level is quite effective when selected to High in the app. All the surrounding voices, ambient noise, and other unwanted sounds vanish away, and all you hear is the high-quality audio from the buds.
The Ambient Sound mode (LAS) is what I use most of the time when in public to stay aware of my surroundings. It's a nice feature to have and gives the user the freedom to use the earbuds the whole day without taking them off for small conversations with others.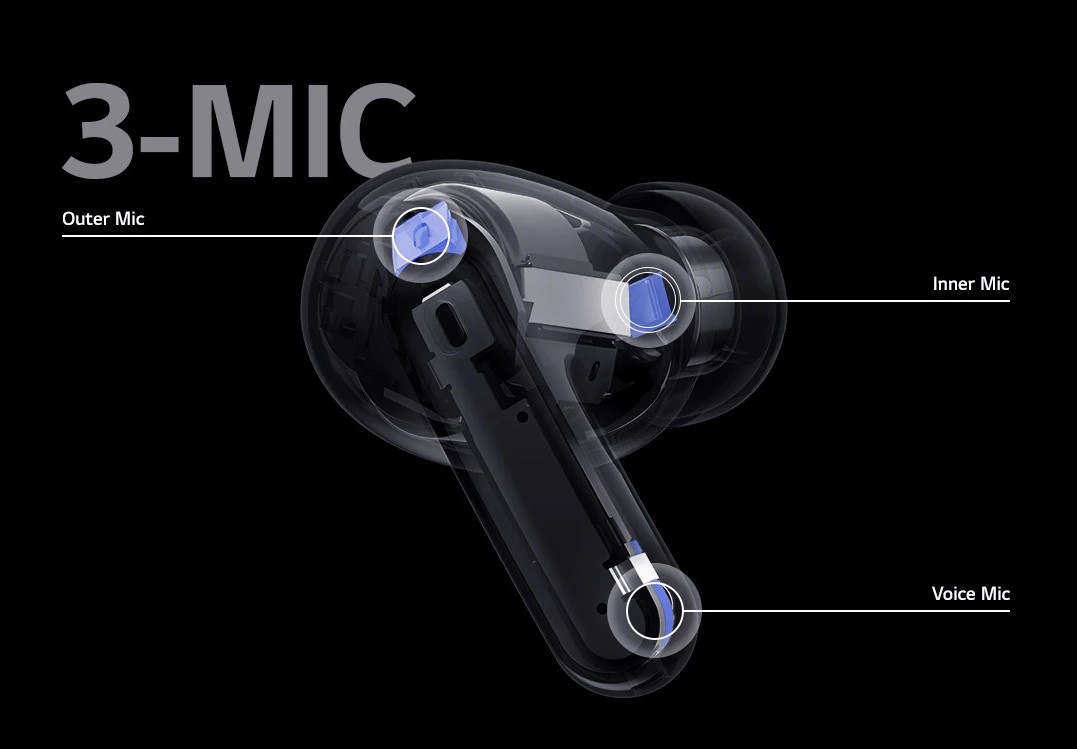 Also, you don't have to speak louder during calls when using these earbuds. Even in my normal voice, the person on the other end could hear me fine. Probably that's the benefit of having 3 mics on each earbud.
LG TONE Free FP9 Battery Life
LG officially claims the battery life to be of 24 hours on a single charge, 10 hours with the earbuds, and additional 14 hours from the charging case, but in normal usage, I was able to use the earbuds without charging for a week and with some more usage, around 3-4 days. My daily usage of the buds, on average, would be around 2-3 hours, mostly including calls and watching videos. The full charging time from 0 to 100 with earbuds inside takes around 1 hour, which means fast charging works great.
Verdict
LG TONE Free FP9 is a perfect package for those who want the best audio quality and a set of useful features. There are no gimmicks or anything; any feature it offers works perfectly how it is intended to. If you're a true audiophile, you're really going to appreciate this unique product because of its studio-level audio clarity. The noise cancellation is excellent, and it fits really well. These are very comfortable, so now these are the ones I use daily all day. LG TONE Free FP9 easily stands out from its competitors due to the features like UVNano, Plug & Wireless mode, and even the Whisper mode and the level of customizations it offers, you'll hardly find in any other earbuds in the respective category.