As an avid home chef and tech enthusiast, I'm constantly seeking out cutting-edge kitchen appliances that can maximize convenience while customizing my cooking experience. LG's newly launched wi-fi-enabled convertible side-by-side refrigerators have immediately piqued my interest with their unique flexibility and intelligent features. As someone passionate about cooking, technology, and well-designed appliances, let me give you an in-depth look at what makes these new LG fridges such a revolutionary addition to the modern kitchen.
LG Revolutionizes Connected Refrigeration with Launch of Innovative New Wi-Fi Enabled Convertible Side-by-Side Fridges
Overview of the Extensive New Range
The newly launched 2023 lineup of Wi-Fi-enabled convertible side-by-side refrigerators from LG offers an expansive range of options with 9 different available models to choose from. This allows you to select the perfect fit for your family's needs and preferences.
These refrigerators come in two stylish finish options – an elegant glass finish with a smooth, glossy look or a more understated matte finish. Both variants feature full-length chrome handles that complement the minimalist flat door profile. The interiors are adorned with eye-catching metallic accents that add a touch of sophistication.
Designed thoughtfully keeping in mind the requirements of larger, modern households, these refrigerators come with a generous 650-litre capacity. There is ample space to accommodate massive grocery hauls and organize fresh produce, beverages, leftovers, and more.
The pricing ranges competitively from ₹122k to ₹152k, which I find reasonable given the sizable capacity, innovative features, and premium aesthetics.
Pioneering Remote Convertible Freezer Technology
The most revolutionary aspect of the new lineup is the ability to remotely convert the freezer compartment into additional fridge space using the intuitive LG ThinQ app. This provides unprecedented flexibility and convenience, allowing complete control to customize the storage configuration based on dynamic needs from anywhere at any time.
For instance, if you urgently need extra fridge room after a big grocery shopping trip or online food delivery, you can simply use the app to adapt and add fridge space instantly. Similarly, if you require extra freezer room for meal prepping or storing frozen foods, you can free up freezer space by transferring some fridge items remotely.
This groundbreaking feature minimizes cold air loss, enhances energy efficiency, and takes convenience to extraordinary new levels. LG has truly redefined what's possible with refrigeration tech.
Sophisticated Design for Modern Kitchens
In terms of aesthetics, these new convertible refrigerators feature an elegant, minimalist, modern flat exterior profile. The premium glass and matte finish variants add an understated yet sophisticated touch.
The thoughtfully designed interiors focused on utility are accented by metallic finishes that lend a contemporary, luxurious feel. The fingerprint-resistant flat profile and fuss-free full-length chrome handles allow the fridge to integrate seamlessly into both traditional and modern kitchen decors.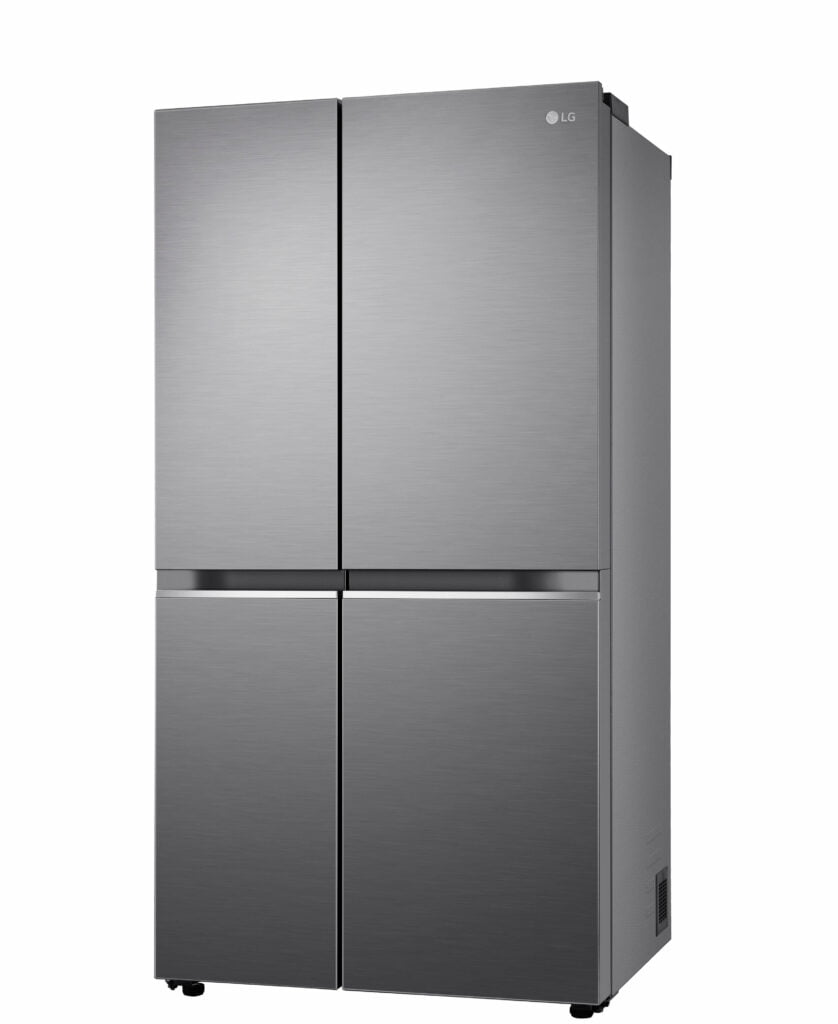 The refrigerators also come equipped with a dedicated wine rack that provides secured storage for your favorite wine bottles. The rack is designed to prevent unnecessary movement of bottles when opening and closing the doors, keeping wines properly stored and easily accessible when needed. As a wine enthusiast, I find this to be a beneficial inclusion that adds to the overall utility and flexibility of storage.
As someone who appreciates good industrial design, I find these refrigerators check all the boxes when it comes to blending world-class engineering with practical, refined aesthetics. They upgrade your kitchen decor instantly.
Cutting-Edge Technology for Freshness
LG has equipped these refrigerators with its proprietary Smart Learner technology that harnesses artificial intelligence and algorithms to study usage patterns and optimize cooling accordingly. This maintains peak freshness by intelligently adjusting temperature and airflow based on your usage.
They also utilize LG's Hygiene Fresh+ air filters that have been independently validated (by TUV Rheinland) to reduce bacteria and mold by up to 99.99%. As a parent, I appreciate having such high hygiene and air quality standards inside the fridge.
Additional tech like the adjustable Smart Inverter Compressor also ensures quieter, more energy-efficient operation.
Advanced Temperature Management and Energy Efficiency
The innovative DoorCooling+ system in the new LG fridges evenly distributes cool air and minimizes temperature differences between the inner compartments and door sides. This prevents fluctuations and preserves food freshness even with frequent door opening.
The Smart Inverter Compressor also automatically adjusts its speed based on cooling demands. This enables quieter operation, reduced energy consumption, and enhanced compressor durability.
Key Takeaways
To summarize, here are the key highlights of LG's revolutionary new Wi-Fi-enabled convertible side-by-side refrigerators:
Remotely convertible freezer via app for unprecedented customization
An expansive range of 9 models with generous 650L capacity
Elegant minimalist design in glass or matte finishes
Cutting-edge AI and technology for optimization and hygiene
Advanced temperature management and energy efficiency
Reasonable pricing starting from INR 122,999
As an enthusiastic home chef and technophile, I'm highly impressed by the smart innovations, convenience, and design aesthetic of the new LG convertible fridges. The ability to seamlessly adapt the fridge configuration from anywhere unlocks new possibilities. LG has set a new benchmark for customizable, connected refrigeration – these wi-fi enabled fridges are definitely on my wishlist!