The all new Sony EXTRA BASS series of headphones and wireless speakers in India for 2017 has just been launched. They have launched three new headphones- the wireless MDR-XB950B1, the vibrant and stylish MDR-XB550AP and MDR-XB510AS a splash proof, in-ear sports headphones. These headphones will offer deep bass and will offer a premium sound quality filled with bass to music lovers. The headphones are priced at Rs.12,990, Rs.3,290 and Rs.2,790 respectively and will be available from April 20th onwards.
Sony EXTRA BASS Series Headphones
MDR-XB950B1 offers Near Field Communications (NFC) technology. The music experience can be enhanced using the 'Sony Headphones Connect' smartphone application. The CLEAR BASS feature will let you adjust the bass to match your preference. The XB550AP comes with splash proof design and The XB510AS headphones come with four sizes of earbuds and arc supporters for proper fitting.
Features of Sony EXTRA BASS Headphones
The listening experience can be controlled with the "Sony Headphones Connect" smartphone application. The app enables listeners to fully control the sound levels with an easy to use interface.
The built-in rechargeable battery provides up to 18 hours of continuous, wireless music playback. When the battery does run low, passive mode allows for continued listening with the supplied cable.
One can enjoy the convenience of hands-free calling on the XB950B1 with an integrated microphone and Bluetooth® connectivity.
This battery-powered enhancer increases low-frequency sound using Digital Signal Processing to give a multi-sensory listening experience.
The headphones come with metallic headband with soft cushions underneath for wearing comfort. The ear-cups have been ergonomically designed using the soft premium quantity pressure relieving cushions for long hours of listening.
The in-line remote in XB550AP wired headphones with microphone allows for simple control: call answer/end, and audio track play/pause functionality while a durable, serrated cable design makes for a tangle-free experience. The free Smart Key App lets one customize the control of the in-line remote via your smartphone.
The XB510AS In-Ear Sports Headphones come with 4 sizes of earbuds and arc supporters for stable fitting, as well as a clip, cord adjuster, and mesh carrying pouch to further enhance your workout, before, during, and after.
Sony EXTRA BASS Series Bluetooth Speakers
Sony also expanded its EXTRA BASS series with four new portable wireless speakers — SRS-XB40, SRS-XB30, SRS-XB20, and SRS-XB10. They are priced at Rs. 13,990, Rs. 9,990, Rs. 6,990 and Rs. 3,590 respectively. All of these four wireless speakers from Sony EXTRA BASS Series comes with one-touch connectivity and music streaming with NFC as well as the conventional and Bluetooth compatibility.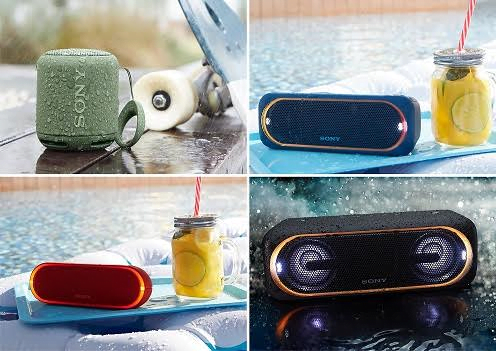 SRS-XB40 features lighting effects while the SRS-XB40 and SRS-XB30 will double as power banks. All of these four Sony EXTRA BASS wireless speakers are IPX5 rated that means you won't ever have to worry about splashes. The wireless speakers will be available at Sony India Retail outlets. The full price table and color options are mentioned in the table below.
Features of Sony EXTRA BASS Bluetooth Speakers
All speakers attribute easy, one-touch connectivity and music streaming with NFC and Bluetooth® compatibility.
Are extremely portable and can be carried around in every setting. The perfect combination of style and convenience, this newly expanded EXTRA BASS wireless speaker series looks and sounds great wherever ones put them, indoors or outdoors.
Exhibit flexible two-way design which gives great sound, wherever the system is placed. Set it up horizontally, or flip it vertically if subsequent short on space.
Sony EXTRA BASS Headphones Pricing:
| | | | |
| --- | --- | --- | --- |
| Model | Price | Availability | Colours |
| MDR-XB950B1 | Rs.12,990 | 20th April, 2017 | Black, Blue |
| MDR-XB550AP | Rs.3,290 | 20th April, 2017 | Black, Red, Blue, Green, White |
| MDR-XB510AS | Rs.2,790 | 20th April, 2017 | Black, Red, Blue, Green |
Sony EXTRA BASS Wireless Speakers Pricing:
| | | | |
| --- | --- | --- | --- |
| Model | Price | Availability | Colours |
| SRS-XB40 | Rs 13,990 | 25th April, 2017 | Black |
| SRS-XB30 | Rs 9,990 | 25th April, 2017 | Black, Red, Blue |
| SRS-XB20 | Rs 6,990 | 25th April, 2017 | Black, Red, Blue, Green |
| SRS-XB10 | Rs 3,590 | 25th April, 2017 | Black, Red, Blue, Gree |