Are you one of the person who regularly cooks or enjoy deep fried or say normally fried foods? That said, we know that these items are delicious, but these traditional cooking methods involving deep-frying turns our favorite snacks into unhealthy food. This is way, Air Fryer technology took over the market with storm. Many company are selling solo Air Fryer products and enjoying premium prices on them. What drives the sales of these products are the health benefits. Lesser the consumption of Oil, lesser accumulation of fat, more you'll be healthy in longer run. And these products helps you making food items with just usage of 1-2 spoons of oil. That saves the costs of Oil too.
But what if i say, that now some Microwaves also comes inbuilt with this Air Fryer technology. In this article, i am going to tell you about LG Diet Fry technology which works on the same pattern of Air Fryer technology and comes inbuilt in microwaves. And the complete features list offered by these Microwaves have no match if compared to a solo Air Fryer product. Also, the capacity of microwaves (quantity of food which can be cooked in a single go) is almost twice or 3 times compared with a solo Air Fryer product.
How LG Diet Fry Technology Works?
What it does, that it circulates hot air around the food. The mechanical fan provided in the microwave circulates the hot air at very high speed, cooks the food and produce a cooked crispy layer around the food. This process makes the outer surface of the ingredient dry and crispy while keeping it's inside soft and moist, unlike the deep frying where the fat content is way too much to digest. Although, from taste point of view, in start, many fans of deep frying might not like the flavor, but food made by Diet Fry technology score more for the crispness.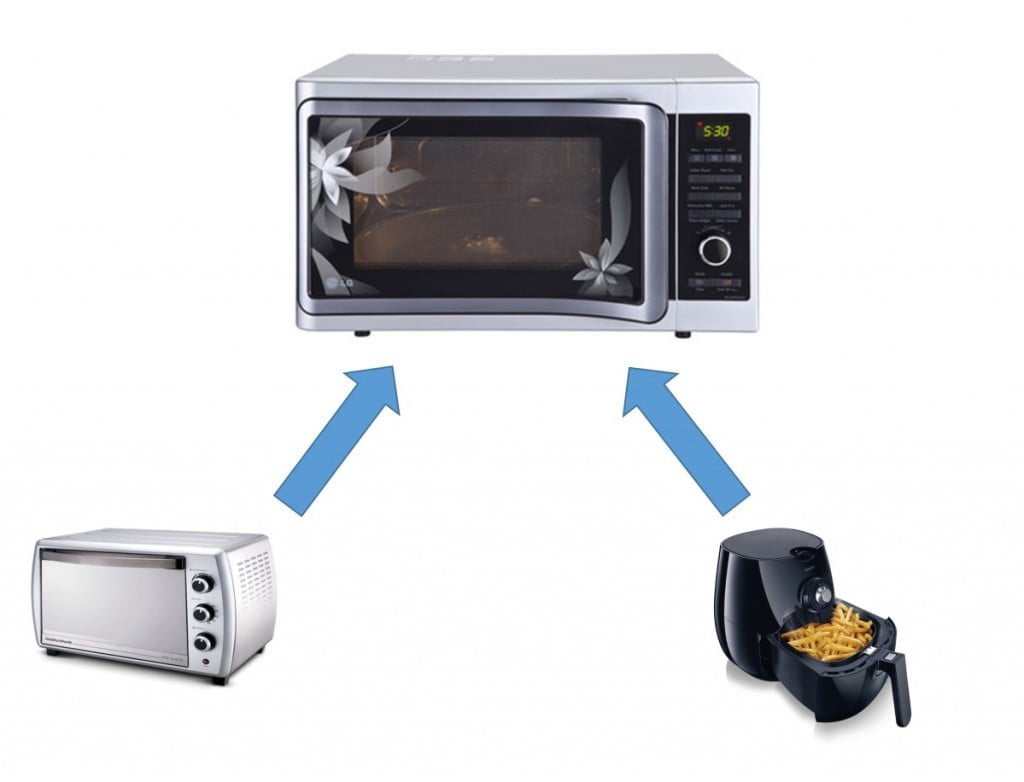 Why to use Diet Fry Feature and Avoid Deep Frying?
Some calories are good, but Extra Calories are malicious. A deep fried food while being popular for the taste, oil in it soaks all the natural mineral and oxidants required by our body and turn the dish into a tasteful with nothing to offer on the nutrients part. Also such food soak up all the fat from the oil, increase the calories and this whole process leads to obesity which then causes many unwanted diseases. Choice is Yours!
When you try such deep fried dishes outside, you actually don't know by which oil is used in making of these dishes. In most restaurants, such dishes are being prepared using hydrogenated or partially hydrogenated vegetable oil which is code for Trans-fat. Trans-fat if you don't know, is a man-made fat which is used to improve the shelf life of processed food, but at the same time it also raise cholesterol level and increase the risk of heart disease and stroke.
You're unknowingly inviting cancer by consuming these deep fried food. Deep frying change the structure of other nutrients in food being cooked and it loose most vitamins and minerals which is not a good omen. Also, when carbohydrates rich products (high-calories products) are heated to high temperature, they produce acrylamide, a carcinogen associated with cancer. So, our body becomes more prone to cancer on regular usage of deep-fried foods.
When fans of deep fried food find smell of these dishes delicious, it still leaves an unpleasant aroma behind, especially if the food is overcooked or burned. Also cooking with the Oil is cumbersome and even a small spill of oil do good damages on our skin.
[quote_center]Also read: Top 5 Microwaves Available in India[/quote_center]
Why to Prefer a microwave over a Solo Air Fryer?
A microwave with Air Fryer technology is more convenient to use, considering it's just one touch simple operation with a simple ON/OFF button. It's a must for those who forget about food when cooking and the microwave reminds them when it's cooked.
A solo Air Fryer product occupies space, not that much of a microwave, but it's not a microwave. While, all modern kitchens are designed keeping in mind a permanent space of a microwave. That's because, a microwave can play every role of an Airy Fryer. So, if you have a microwave with Air Fryer technology i.e. Diet Fry feature, you don't need a separate Air Fryer product.
A solo Air Fryer product components are made of plastic. Components like Knobs, bowls (to catch excess oil) usually break off or wear down over time. But a microwave is designed to last long for years and so are the accessories. And even if, some accessories, may not last long, they are replaceable at lower costs.
Quantity of food being made at a time in microwave is 2 times of the quantity you can make in an Air Fryer in one go.
[quote_center]Also Read: Why Buy Many? When One Microwave Does it All[/quote_center]
Sample Recipes Showing Nominal use of Oil in Diet Fry Technology
If you're still not sure, how a Diet Fry feature works in LG microwave, go through these two recipes provided by LG itself to prepare an Oil-less dish:
Chicken Nuggets
For preparing 0.3kg in quantity, you need following ingredients:
| | |
| --- | --- |
| For | 0.3kg |
| Bonal- Chicken | 200g |
| Bread-slice | 2 nos. |
| Pepper Corns | 6-7 |
| Cloves | 4-5 |
| Garlic Paste | 1 1/2tsp |
| Olive Oil | 2 tsp |
| Salt | As per taste |
| Chopped Garlic | 4 cloves |
Method:
In a microwave safe bowl, put boneless chicken, pepper corns, cloves, olive oil and chopped garlic. Mix well and cover. Select Chicken nuggets options from auto-cook menu in microwave and press Start.
When it beeps, remove the bowl from microwave oven, allow it to cool and grind the content in a mixer. Put the content back in the bowl, add salt and crumbled bread slices and mix well.
Make small round shaped nuggets from the mixture, keep it on Multicook Tawa (one of the microwave accessory), and place the tawa on the high rack (another accessory).
Press Start.
When beeps, turn over the nuggets.
Press Start.
When finished, serve hot with tomato ketchup and shredded salad.
Paneer Pakoda
For preparing 0.4 Kg of them, you require following ingredients:
| | |
| --- | --- |
| For | 0.4 kg |
| Paneer (cut into small cubes) | 400 g |
| For Batter | |
| Besan | 1 cup (130g) |
| Water | 200 mL |
| Salt, Red chilli powder, Haldi, Garam Masala | As per taste |
| Oil | 2 tsp |
Method:
In a bowl, add besan, haldi, red chilli, garam masala, salt. Mix well. Gradually, add water in small amounts to make the batter of pakoras without any lumps. Grease the tawa with 2-3 drops oil.
Keep the tawa on high rack, keep inside microwave, select the respective option and press Start.
When beeps, place all paneer pieces evenly coated with the batter on the tawa. Keep tawa on high rack. Press Start.
When beeps, turn the pakoras and pour 2 tsp oil on all pakoras and again press Start.
When finished cooking, serve Hot with Chutney or Sauce.
[quote_center]Also Read: Find Out Why to Prefer to Pasteurize Milk over Boiling It?[/quote_center]
Final Verdict
I have personally tried the Diet Fry feature in my LG microwave, and i can tell you that it offers the same taste and crispiness level of what an Air Fryer can offer. Plus i can make hundreds of dishes more in a microwave. Everyone knows, how important having a microwave is. No?