Philips AquaTouch has been in India for a long while, yet consumers are hesitant for buying these for few reasons like whether it would be able to give close shave, will it work on hard beard, how well is the trimmer part of this device or because of the price factor. There are many more question regarding this device consumers ask, and in this review, i'll try to resolve your each known query to me.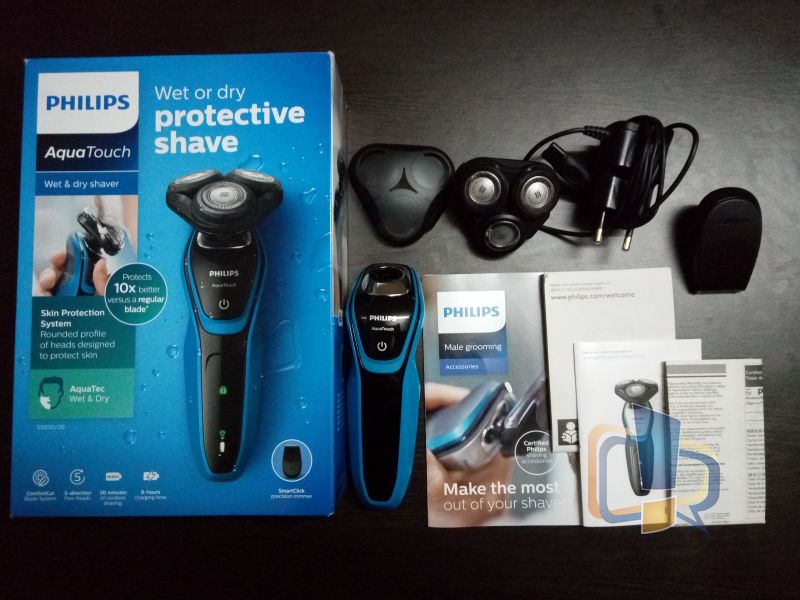 Philips S5060/06 AquaTouch Shaver Review
Philips S5060/06 AquaTouch is the most brilliant product by Philips ever in Grooming category. This product is equipped with a comfort cut blade system with rounded profile heads, which helps in gliding the shaver smoothly over the face. Also, ComfortCut protects your skin from any kind of cuts. If you have used previous version of this product, you'll the biggest enhancement in this product is 5-directional flex heads which are capable of 5 independent movements which helps ensuring close shave even at neck or jaw line. This ComfortCut system consists of blades on rounded profile heads which glide smoothly over the skin. But the skin must be either proper dry or properly wet during the shave.
This is why, this product is 100% waterproof and you can shave by wetting the skin with gel or foam or even could shave under the shower. Once fully charged, it gives a cordless shaving of 30 minutes, although before writing this review, i have already done 4 shaves with this product and still low battery symbol has not showed up.
This device also comes with a trimmer, major use of this for maintaining mustache and trimming the sideburns. It also must be used when you have a shave of over a week or 2. In that case, i'll not advice you to run the shaver directly on a hard beard and you must run the trimmer first for lowering down the length of hairs. Then run the shaver over face, and you'll get the closest shave ever.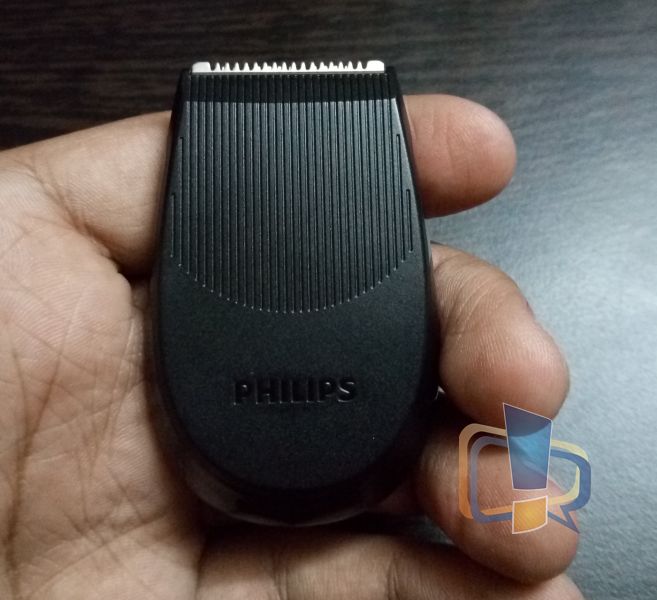 This shaver is completely safe to use and you'll not get any kind of cut or red patch if used properly. On my first usage, i won't say i had the comforting shave, as it takes little time and learning to glide the shaver over the face. But once you learn it, it'll the most comforting shave you ever had. And the level of shave is the best which you can compare with some high-end razor which are definitely not cost viable if you shave daily or even twice or thrice a week.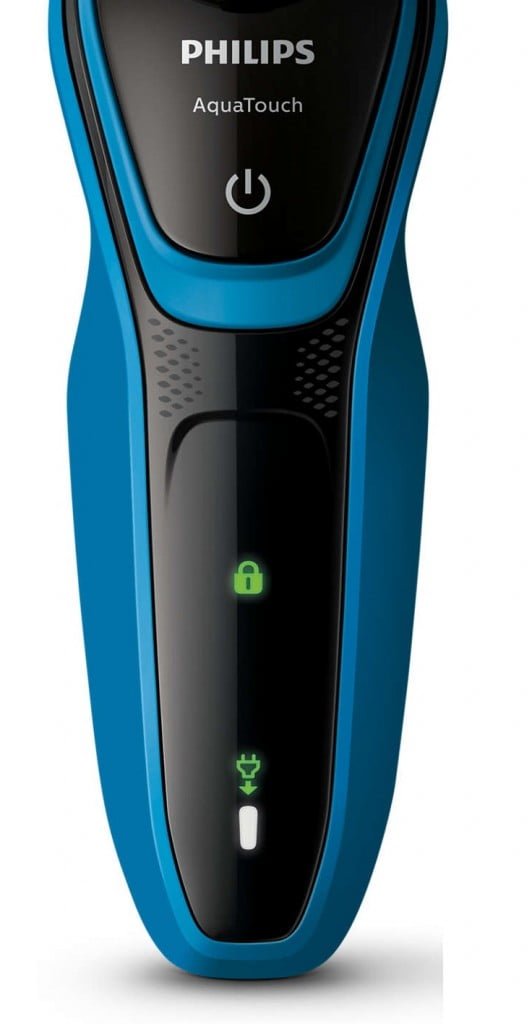 It also have a LED display which shows various indicators symbolizing information like Battery level indicator (during charging), Cleaning indicator, Low battery indicator, Travel Lock Indicator and Replacement Head indicator. And, as i mentioned, it has a travel lock, which you must enable if you're carrying this in your bag while travelling. Also, you cannot use it while charging. That's why it's being said cordless shaving. The device won't run the shaver while charging at any condition.
Why to Choose Philips S5060/06 AquaTouch Shaver
Why to choose this device, when we already have lower priced alternative which does almost . It's because it just not about the level of shave, it's the user experience which comes with a cost. This new design of flex heads by Philips allows more flexibility due to swivel head, which helps in a more comfortable "user experience". This is a premium shaver which offers both an user experience as well as a quality shave which is at par when compared with other half priced Philips shavers.
How to Use Philips S5060/06 AquaTouch Shaver
You'll not be a perfectionist in 1st use of this shaver. But may be on 4th shave, Yes. While it take some time to get accustomed to it, but once you know how to glide, you'll get the closest shave you ever had. You just have to glide the shaver opposite to the direction of shave, so that it may get a proper cut during your shaving movements. You need to glide the shaver in circular motion over the face for getting the closest shave. Also, you must lower down the neck (contrary to keeping the head up when using a razor) when you shave your neck. That'll loosen up the skin and the swivel head will get more proper contact with skin and you'll get a proper shave at your neck and chin area.
How to Change Blades of Philips S5060/06 AquaTouch Shaver
Philips S5060/06 AquaTouch Shaving Result
I didn't shaved for 2 weeks to try this shaver on my beard. As i also have a hard beard (i think so), hence i thought to try the product at extreme conditions.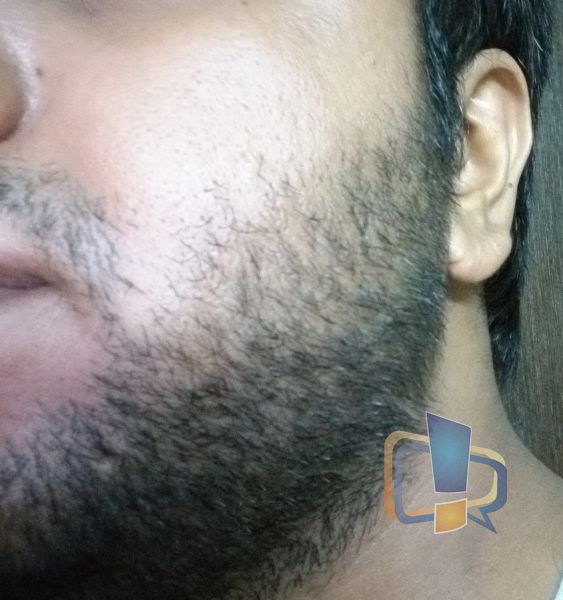 As you can see in the picture, my beard length was quiet good (as per me), and hence if you run shaver directly on such long hairs, shaver might can pull the hairs which you'll not find comfortable. Hence, as suggested by some friend, i ran the trimmer first and then shaver, which resulted in such a close shave, which i never had with razor. This is why, many people say, that they got red patches while shaving, it's because they don't run the trimmer first on long beard, or even if it's of just 1 week. You must run the trimmer first on long beard and then shaver. Thus how you'll never get any red patches on skin then. Although during first 2 shaves, it took me time to learn the right gliding movements, but now the complete shaving time is a matter of 5-10 minutes for me.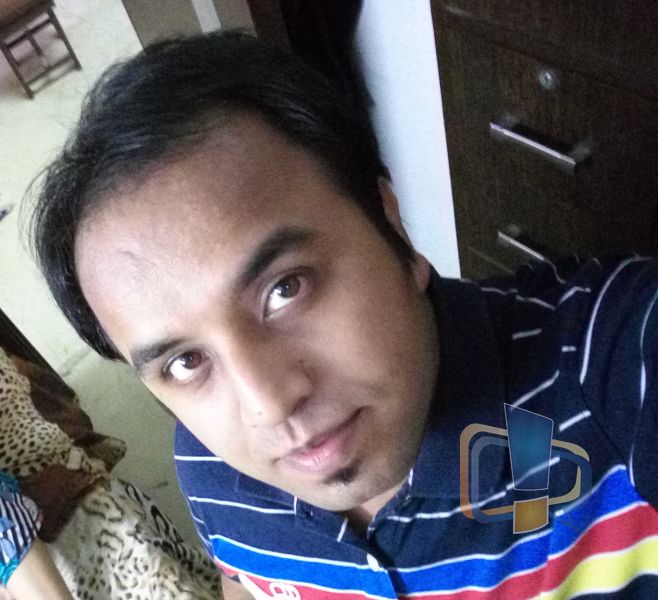 Some FAQ for Philips S5060/06 AquaTouch Shaver
Q1. Why to prefer this Philips S5060/06 AquaTouch rotary flex head shaver over Foil Shaver?
Ans: A foil shaver is most probably a cutter which cuts the hairs in a linear way (from left to right or up to down) whereas a swivel rotary head is designed considering that beard grows into different directions and this rotary head is able to cut hairs of any direction.
Q2. Is this product suitable for Hard Beard?
Ans: Yes, you can use this product for any kind of beard. If you think you have a hard beard, prefer to do a wet shave with foam or gel.
Q3. Will it give a close shave as that of a razor?
Ans: Yes, this rotary swivel head is designed to give the best closest shave. All you need to learn few gliding correct gliding movements, which you'll learn easily in first few shaves.
Q4. This product is way too costly than razors. Why to buy this?
Ans: Blades of this razors are meant to least for 2 years even if you shave daily. Now you can easily calculate the money you spent on razor monthly x 24 months. Either the cost of razor shall surpass the cost of shaver or shall cost somewhere nearby.
Q5. Can we replace the blades?
Ans: Yes, we can replace the blades of this shaver. Usually, replacement of the blades is required once in 2 years, and you can check from Philips customer care from where you can buy the blades?
Q6. How's the battery backup?
Ans: Although after 4 shaves, it haven't showed me low battery indicator. Hence i believe it'll work for 1 or 2 shaves more considering the 30 minutes cordless shaving.
Final Verdict
User experience comes with a cost, so does the quality. If the high price of this product pinch you, do consider that user experience and quality of shave matters too. I didn't liked the 8 hours charging time of this product, however it consumes only very few watts of energy, hence it won't bring any impact on your electricity bill. Overall the product is capable of delivering closest shave and leaves a good feeling of quality shave on your face.