Razors with blade having a movement of up and down on a vertical axis has been a standard on Gillette products since start. And razors from them has seen a great development since 1977 when they launched their first Atra men's razor. Since, then many razors models have been introduced in market for both men and women and Gillette with time has keep adding features in those like the formulation of moisturizing strips built into the cartridges.
Gillette has gained an expertise on engineering the closest shave. They have a mastery to encounter all curves and contours on a man's face, so that the blade don't even miss a single hair. To achieve such success, they kept making changes in men's grooming since they introduced their safety razor in 1901.
Now, Gillette has come up with another product which has reduced the difference of features compared with any high-end electric shavers when it comes to movement of blade. I am talking about Gillette Fusion ProGlide with Flexball technology. This product is designed to pivot and hug the contours of a man's face, Fusion ProGlide with FlexBall Technology allows better adherence to curves. That means maximum contact to get virtually every hair.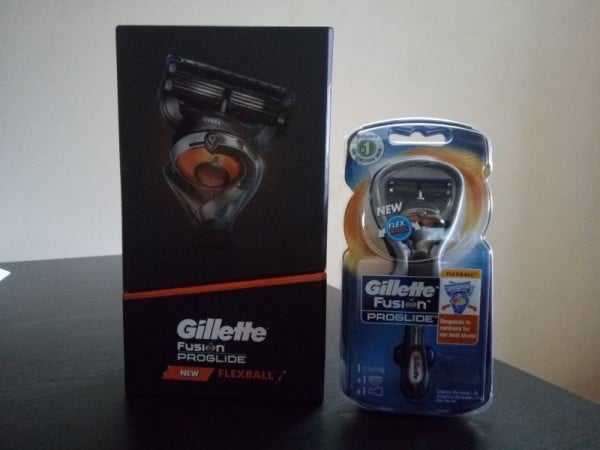 Gillette Flexball Fusion ProGlide Review
So, how this product works? Gillette Fusion ProGlide has a 4-way flex for maximum contact over contours and gives a more ergonomic grip for better control while shaving. Its blades are re-engineered low-cutting force blades with thinner, fine edges and an advanced, low-resistant coating for effortless cutting through hair, with less tug and pull.
There is a blade stabilizer which allows the blades to adjust as per the contours on a man's face. And streamlined comfort guard which maintains an optimal blade contact and stretches skin for a closer and comfortable shave.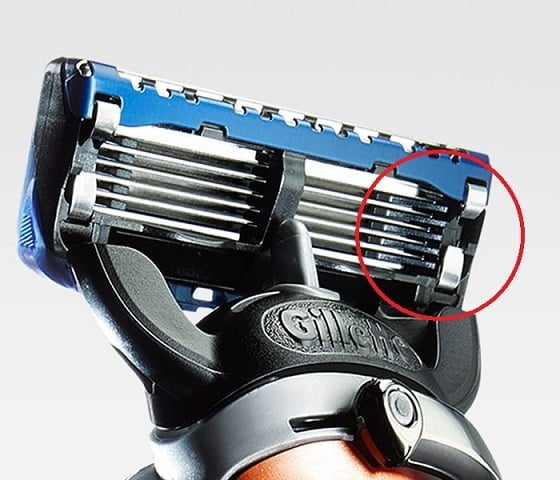 There is an enhanced Lubrastrip which ensures smooth movement over skin when doing repeated strokes. And last but not the least, trimming precision has improved if compared with previous version of Gillette Fusion by enhancing blade, comb guard to align long hair and rinse through slots.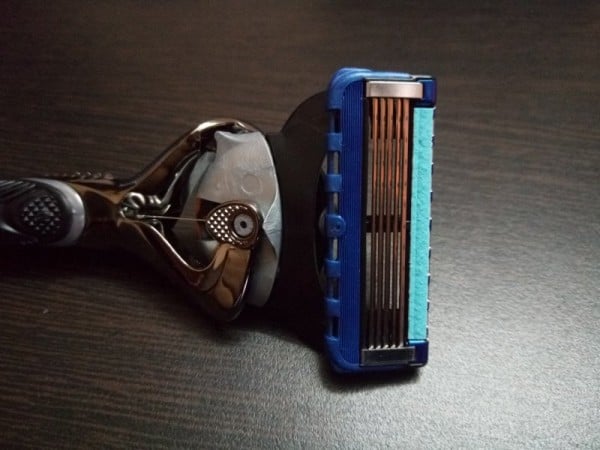 The first look on this product shall make you notice that it's shaving head is slightly smaller. Bottom of blade head has been redesigned to make way for the hairs and excess cream which stretches the skin a bit and lifts the hairs to pass through easily which Gillette calls it "Streamlined Comfort Guard". This redesign also helps the razor to glide more smoothly over the face too, enhancing the overall experience of doing a shave.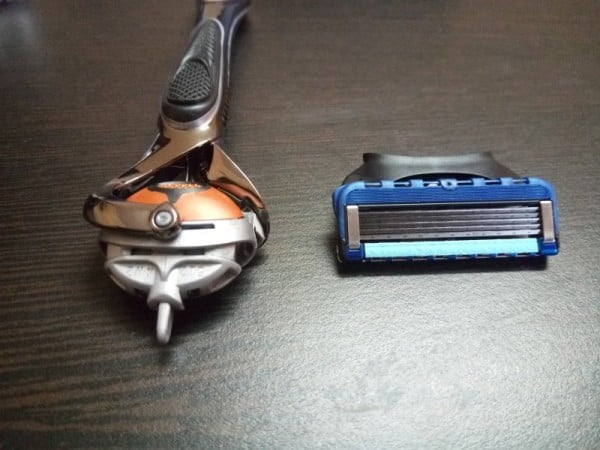 Gillette Fusion Pro Glide also uses slightly thinner blades compared to its previous version, the advantage I see of it that it has provided more space between the blades for the hairs to pass through. And another improvement is, now blade rests in a stabilizer to maintain proper blade spacing. You can check the same on backside of the cartridge.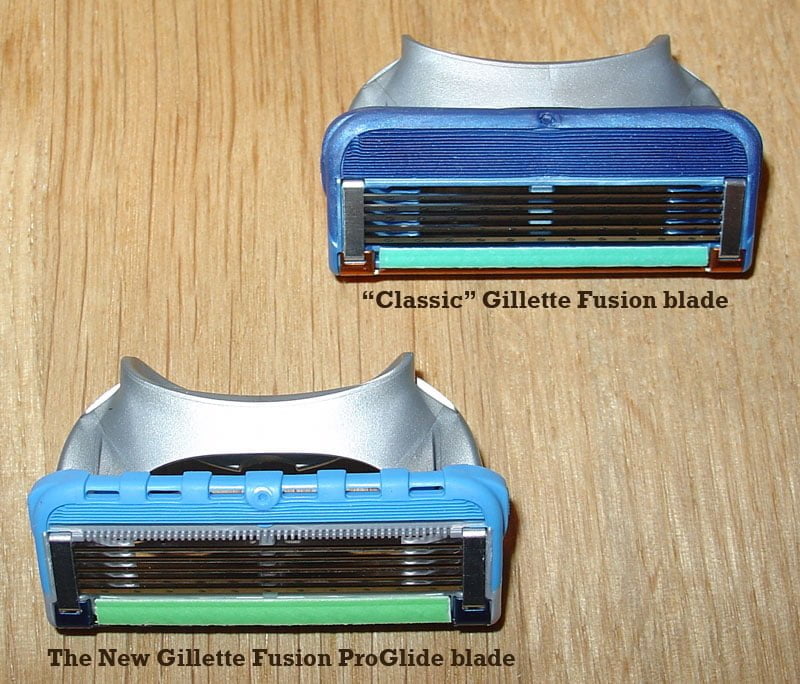 Another important change I observed that Gillette has enlarged the lubricating strip and has included a "microcomb" which helps guiding the hairs into the blades and lastly. Trimmer on top of blade head also has a guide comb in front of it now.
Overall the refinements has been improved majorly and Gillette Fusion ProGlide gave me the best shave I've head at home with almost no irritation. In case if you already have an Old Gillette Fusion Shaver (Fusion Power or Fusion Manual), you can only buy the replacement cartridge to upgrade your razor to Fusion ProGlide.
The only thing I didn't liked is the cost of additional cartridge. A pack of 4 comes at a price of Rs 1K approx. and if you're a middle class person who shaves daily, this could be a bit high on pocket. Or if you're a lazy person likes me who do shave once or twice a week, a pack of 4 would last for 6 months or more and then I can say, for the quality of shave it does, the cost is justified.
The Real Difference Gillette Fusion ProGlide Makes?
To test the real life difference, I shaved one side of my face with my daily razor and one side with Fusion ProGlide. And asked my wife to compare the smoothness of both sides of faces and try to observe with side had the most closet shave? It just took her few seconds to pronounce that the side with Fusion ProGlide had the closet shave and gliding hand over the face was smooth.
Final Verdict
With this product, it's probably one of the best every by Gillette by fusing state-of-the-art engineering in man's grooming product niche. And Gillette Fusion ProGlide is the one which ensures you may have a smooth shave without any irritation, and I can say that it's probably the best you can get in a razor.