When it comes for buying an air conditioner or microwave, the only best option i see in market of India is from LG. Recently i got my hands on LG charcoal lighting microwave MJ3283BCG. There are many choices available in market to choose from like from LG, Samsung, Panasonic or even from whirlpool, but what attracts me most towards LG is the health benefits their microwaves offers. Like others, i was also into an illusion, if buying a microwave is a useful thing or not? But, after using this microwave for almost an month, all my illusions disappeared and i realized how much this appliance is useful for anyone.
LG Charcoal Lighting Microwave Review
I am not writing this review just in the form of telling and explaining you features of this microwave. What i felt that i must convey how this microwave can do lots of cooking for you automatically. It doesn't matter whether you're a house-wive, a cook or even a bachelor living away from parents from studies. I specifically want to raise this point for bachelors who stays away from home and then they don't know cooking. That's where this microwave can help you a lot, i really mean a lot by auto cooking. All you need to do is to just follow the pre-defined recipes procedure blindly and as my experience with it, i can guarantee you for a tasty food, a taste which can make you feel like being at home.
[review]
I liked the idea of LG when they offer 3 FREE cookery classes to all their microwaves buyers. You can take those classes, learn how to cook with microwave and find out what unique or useful things their product model is capable of. I decided to take this class personally and indeed the chef was very helpful in nature and answered every single query i raised even as a blogger. If you want to take these classes, you can call on nos. given on LG recipe book and book a date as per your convenience. Let's talk about few features of this microwave:
Upon getting this microwave, a new kind of enthusiasm took birth inside me for cooking something. And to learn something out of it, as it's such a convenient method, no heat dissipation and clean methods to do cooking, just the way i like to do. And with the help of recipe book where everything is explained properly, how to cook, how much ingredients required and how much time it would take to cook properly, things get lots easier as i know what i need to do to get the cooking done even without any assistance.
Features
Charcoal Lightning
LG is the only company which sells microwave with charcoal lighting heater. The main USP of this heater is that it's filament is made of charcoal which helps in enhancing the taste of food and it also helps in evenly distributed cooking in a much shorter time. And everything cooked under this charcoal filament is natural and there's absolutely nothing to be worried about, just in case if you may think that it'll give artificial taste, these are all absolute myths. The best part here i liked of this heater is that it enhances water absorption from the food, resulting in a total natural cooking and hence you gets a taste like as if it's grilled over real charcoal. Few examples recipes you can made in this mode are Murg Tandoori, Bharwan Baigan, Tandoori mushrooms, corn kababs, malai tikka. There are in total 27 recipes to choose from.
LightWave Technology
Lightwave technology is something which even if i explain properly, it just can't be gulped easily. It's something which using lightwaves to cook food evenly throughout and the results are that food remains crispy from outside and juicy from inside. It's kind of an multi-heating system which is meant for keeping the food healthier with minimum of fuss. This technology helps that the food may retain its natural flavours through out the whole cooking process.
Active Convection
Evenly cooking is something which is not easy to obtain until you may have heaters at various directions. Hence, this microwave comes with 4 heaters, where 2 are placed at top and 2 at rear. This helps a lot in wider, fuller and even cooking. Active convection is a trade marked technology of LG which also helps in power saving by adjusting speed of the fan and heating of the grills simultaneously.
Motorised Rotisserie
It's my favorite attachment also called as barbeque being provided by LG with this microwave. It consists of 4 sticks to grill plenty of food at a time like if you're making Paneer tikka, you can stuff all 4 sticks at once to grill them. Usually in other company microwaves, they provides two sticks attachment, which might not please many. That whole barbeque attachment fits perfectly to the motor system and works with a even speed to ensure proper and evenly cooking of food.
Indian Bread Breakfast
This is the feature which actually surprised me a lot, that this microwave is capable of cooking various morning snacks like naan, stuffed paranthas, thepla, masala roti, missi roti or even kulche. Surprisingly you cannot make normal roti in it as you may have wanted, but these snacks can be made properly even with low fat. Means you'll need very less "ghee" required for cooking those stuffs. All you need to follow the provided recipe for it properly. Few examples are Lachha parantha, Appam, Thepla and there are 12 such recipes to try from.
Diet Fry
This is again a trade marked technology from LG, where you can cook various kind of snacks which usually requires deep frying in oil, but in this microwave, you can cook those with just 5% oil of the total quantity required in deep frying. And it will surprise you that those snacks include Samosa, bread pakoda, chicken nuggets or even fish amritsari. There are about 12 such recipes to try.
Stem Chef
Stem chef includes many modes which are kind of unique with this microwave. In this mode, you can makes Momos, sprouts, steamed chicken, can boil eggs, or can even make Gajar ka halwa. There are 16 such recipes to try.
Nutri Care/Steam Clean
Ever wondered to make Salad using your microwave? Well even i got surprised to know that you can make Beetroot Salad, Pasta salad, rice salad, chicken in tomato tower, tiranga salad and there are like 14 such recipes to try. In my review period, i just missed out trying this feature but next time i am surely going to try this and shall update this article accordingly.
Health Plus
Now here's is something for diet conscious people and especially for chefs, because people don't usually make this stuff at home or may be that i am now aware of. In health plus mode, you can make recipes like lemon chicken, kala chana, karela subzi, nutrinuggets, curd brinjal and there are like such 13 crazy recipes to try from.
Soup
Want to make or try different kind of soups, but never knew how, here's under Nutri care category, you can make various kinds of soups on auto like chicken shorba, sweet corn soup, Rasam, Tom Yum Kung, Rajma soup or even Limbu Dhania Shorba. There are such 16 types of soups you can make using this microwave. I tried sweet corn soup and it tasted awesome.
Continental
There are various continental dishes you can make using this microwave like Veg Au Gratin, baked mushroom, potato dumpling, thai chicken, Mediterranean crostini, spaghetti with tomato sauce and more. There are in total 15 recipes you can made in auto mode.
Indian Rasoi
Ok, let's get back to desi things. Things which we are meant to cook regularly on daily basis can be also be cooked in this microwave. There is a big long list of dishes you can make using various vegetables and pulses in Indian Rasoi mode. This is the part, which is my most favorite in this microwave making these true Indian dishes. Dishes which i can and i wanted to cook by myself, so as to learn cooking Indian food.
Such dishes include various Indian cuisine like Mix Veg, Kadhai Paneer, Dal tadka, Sambhar, Baati, handva, baigan ka bartha, gatte ki subzi and many many more. There are 33 such recipe which you can make on regular basis within few minutes automatically and there's isn't much human attention required as per recipes procedure.
Sweets
Obviously after having dinner or lunch, presence of sweets to tongue is required. So, i am surprised to know that i could make various sweet dishes like Suji halwa, Besan ladoo, payasam, nariyal burfi, Sandesh, kalakand or even Kaju barfi. There are 16 such sweet dishes you can try making and impress other by your cooking skills. And do tell them later on that you made these in microwave, they'll be impressed more. I can guarantee you that.
Rice Delight
I just forgot to add rice in this whole variety of dishes which can be cooked in auto mode too. Cooking rice in a microwave is what people least prefer to do so, and when they need to be cooked in a combination, then they definitely prefer conventional methods, but i can tell you, if you try any recipe mentioned in rice delight category of this microwave, you'll not be disappointed. Chicken biryani, Gosht dum biryani, pinapple fried rice, zafrani pulao, veg pulao or even curd rice. There are 16 such dishes you can made combining rice with other in auto mode. And obviously feel free to try anything manually as food combinations has got no limits.
Chatpat Corner
Now here's is some which most females like. Having some chatpata and spicy things like Apple Tomato chutney, lemon pickle, pizza sauce, tomato sauce, aam ki chutney or even coconut chutney. Now tell me do you ever thought that you can even make chutnies in a microwave? That's sounds insane but it's a truth that yes you can.
Kid's Delight
Breakfast for everyone
For diet conscious people, who likes to have something in breakfast, Kid's delight breakfast menu is applicable for you too. Dishes like Poha, upma, besan cheela, veg sandwich, ven pongal, scrambled eggs, kozhukattai and many more can be made in auto-cook mode in this microwave. There are 14 such recipes to try from.
Snacks
Coming to snacks, there is a big list to choose from. And the dishes are like as if you're choosing something to eat at a restaurant. And obviously it would take same or less time for cooking if compared to an order delivery in a restaurant. This menu includes pav bhaji, dhokla, paneer bhurji, khandvi, batata vada, aloo kand chat, misal or even chivda. There are 21 such delicious recipes to choose from.
Child's favorite
Now this menu consists of things which children's most like omeletee, pizza, garlic bread, bread pudding, cheesy nachos, chocolate balls, veg burger, apple pie etc. There are such 15 recipes to try from.
Bakery
This microwave has got lightwave technology in convection part, which makes it unique and more featured that any other microwave available out there in market of any other company. There are many plus points in baking a cake in this microwave compared to other similar models of other company as this microwave has 2 convection fan with various heaters at top and back to do evenly baking. Dishes like chocolate cake, lamington cake, doughnuts, whole wheat cookies, apple cup cakes, patties. Other than cake, there are few dishes which people thinks that are impossible to bake or cook with a microwave but this microwave can change their thinking. This part is a must try section for everyone who buys this microwave. There are 14 such dishes they can try from.
Utility Corner
This category includes some miscellaneous yet important and unique features like Defrosting Veg and non-veg, de-humidification or light disinfect. You can also ferment pizza base, flavored yogurt or yeast dough. Especially for Bengali's, you can cook various sea food like fish cutlet, crab curry, mase kalavan or shrimps in garlic butter.
Also for making baby food, you can make apple custard, fruits desserts, raggi kheer or daliya khicdi. And at last, you can even make Chinese food too like chilli chicken, hakka noodles, schezwan chicken, veg manchurian or even steamed egg with tofu. There are in total 35 recipes to try in utility corner.
Here's the 301 recipes list for your reference:
Ok, moving forward, let's talk few more points about the capabilities of this model, other than the auto mode.
This microwave convection input power is upto 2400 watts depending on the mode you selected and same is for the combination mode too. While output for micwave is 900 watts which is quite impressive for the speed it could cook.
You get to choose 5 power levels for cooking your food. It's like dimming your gas stove at different intervals to cook food properly at various stages.
Reference of Various power levels in cooking.
Power Level
Output
Usage
High
900 W
– Boil Water
– Brown Minced Meat
– Cook Poultry pieces, Fish, Vegetables
– Cook Tender Cuts of Meat
Medium High
720 W
– All Re-Heating
– Cook Mushroom and Shellfish
– Cook Foods containing Cheeze and Eggs
Medium
540 W
– Bake cake and scones
– Prepare Eggs
– Cook Custurd
– Prepare rice and Soups
Medium Low or Defrost
360 W
– All Thawing
– Melt butter and chocolate
– Cook less tender cuts of Meat
Low
180 W
– Soften Butter & Cheeze
– Soften Ice-creame
– Raise yeast Dough
Talking about control panel, most functions are scrolled using 'Tact Dial' and then there are dual VFD to show you the current mode or your selection of recipe name and temperature and remaining time.
There is a child lock to keep the microwave safe for preventing unwanted usage. And during this mode, you'll also be unable to use any functions and no cooking can take place.
Various Cooking Modes
Grill Cooking
You can use this mode for cooking your food in grill mode for 12 minutes.
Grill-Combi Cooking
In this mode, which is a combination feature, allows you to cook food with heater and microwave for quick results. You can program the oven to run with microwave power and grill for a cooking time of 25 minutes. You can set three levels of microwave power (180 W, 270 W and 360 W).
Convection Preheat and Cooking
This mode help you cook your food at a temperature of 230 deg C for 50 minutes. The inbuilt convection oven has a temperature range of 40 deg C and 100~230 deg C. The Oven has a ferment function at the oven temperature of 40 deg C. You'll need to wait until the oven is cool because you cannot use a ferment function if the oven temperature is over 40 deg C. The oven will take few minutes to reach the selected temperature.
Once it has reached correct temperature, oven will BEEP few times to let u know that it has reached the correct temperature. Then you can place your food in the oven and start cooking.
Always use oven gloves or any piece of clothe when removing the food and accessories after cooking as the oven and accessories will be very hot after convection cooking procedure.
If you'll not set a temperature, this oven will automatically select 180 deg C, the cooking temperature can be changed by COOK MODE/DIAL.
Convection Combi Cooking
In this mode, you can program the oven with microwave 270 W and at a convection temperature 200 deg C for a cooking time of 25 minutes. You can set three levels of microwave power (180 W, 270 W and 360 W).
Control Panel
This is the only microwave with numerous options to choose from. No other competitor of this microwave is even nearby in providing features it is equipped with. With 2 displays and whole auto cooking menu available in buttons with DIAL to choose recipes and temperature level, this microwave looks like an advanced start-of-the-art appliance.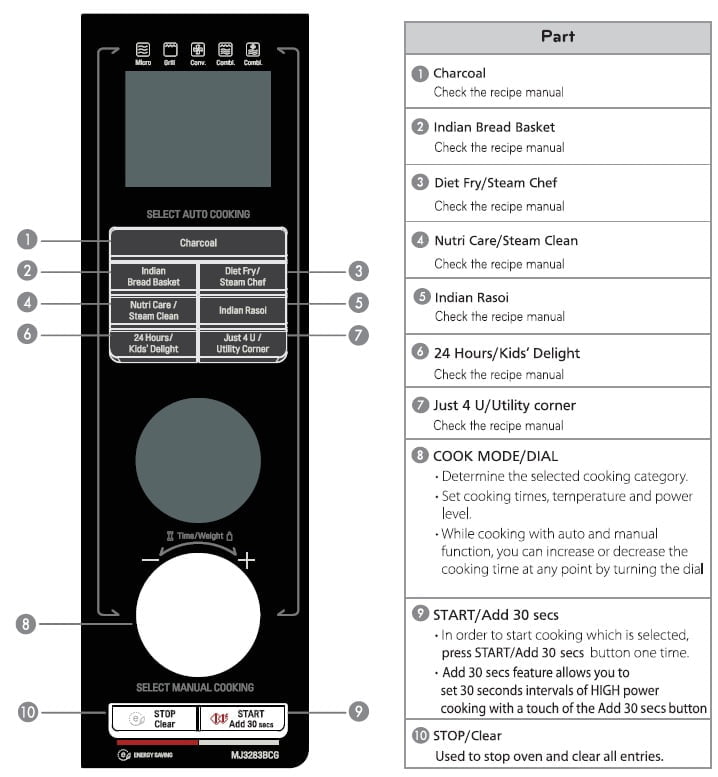 Accessories
Accessories are an important part which consumers keep in mind while buying a microwave. And sometimes few company exploits this point by offering more accessories than their competitors to prove their product better. But that's not something i follow, as i needed to understand the product first rather than it's accessories. But that doesn't mean that i ignored accessories completely. I went to market to know which other companies are offering in competition to this microwave. And found, only Samsung was providing one more accessory when compared with this product, i.e. steam cleaning accessory. But that's not something which diverted my mind. I checked Samsung's barbeque accessory which was with 2 sticks whereas LG provided that one with 4 sticks. Now that's something which i found comparable. Here's the accessory list being provided with this microwave:
Glass tray
Rotating Ring
High Rack
Low Rack
Steam Cover
Steam Plate
Steam Water Bowl
Rotisseries Bar
Rotisseries Bar Handle
Above accessories are the ones which comes in-box with the microwave. Other than that, a microwave starter KIT of CraftPac is also given free of cost with this microwave. That kit consists of:
Cook & Serve with Lid (1 pc)

Idli Stand (2 pcs)

Dhokala Maker/Steamer (1 pc)

Measuring Cup (1 pc)

Roti Crisper (1 Pc)

Spatula (1 pc)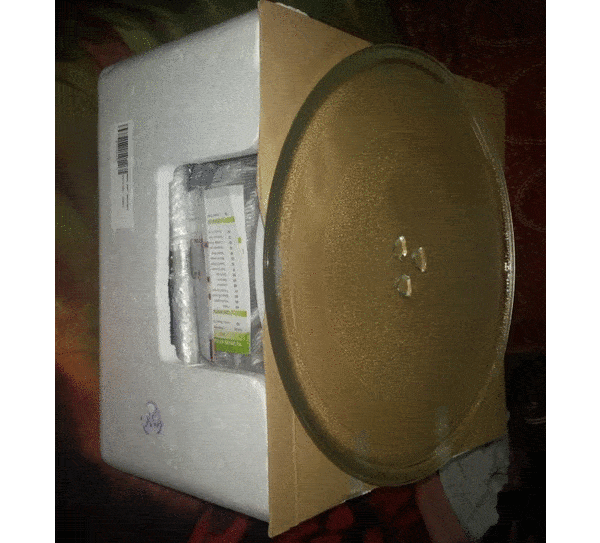 Initial Impression
I tried this microwave to make various dishes, here's an outcome for few recipes i tried in auto mode. Means i just followed the procedure provided in the recipe book blindly, chose respective mode and voila, food was ready in few minutes. So many people would doubt and think what taste outcome they would be having with predefined recipes, but i can assure you with my experience, that the recipe taste isn't going to disappoint you rather, all your labor would be accomplished. Here are few examples of recipes i made in LG microwave in auto mode:
Pizza
Before baking, prepared it as per recipe.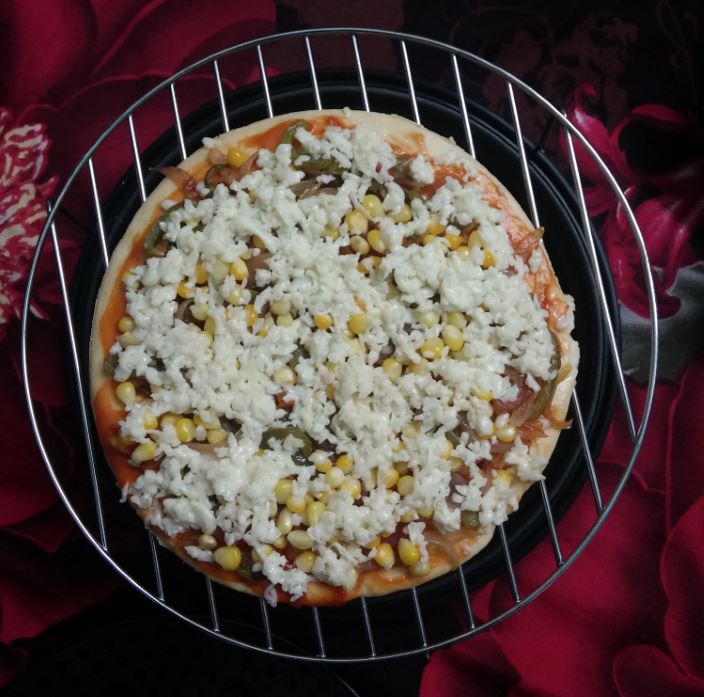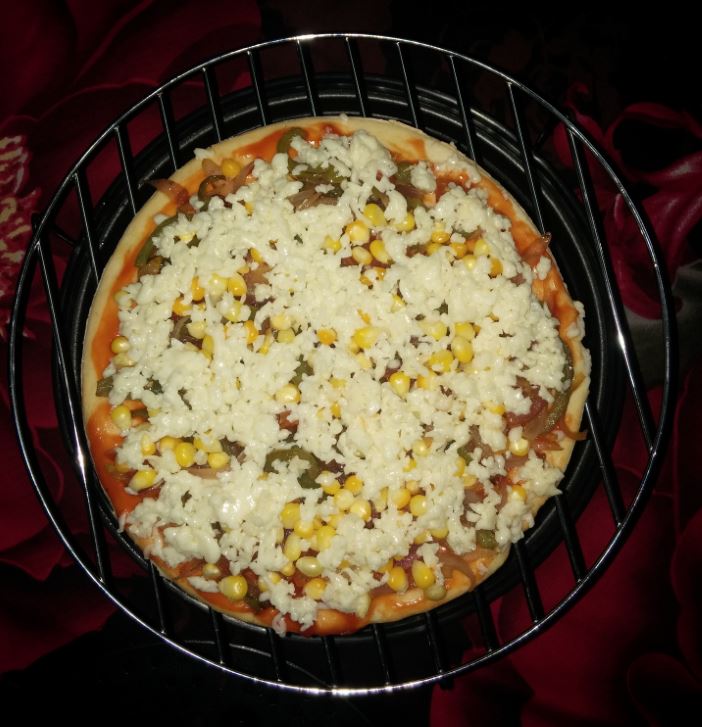 Here's the outcome after baking in oven: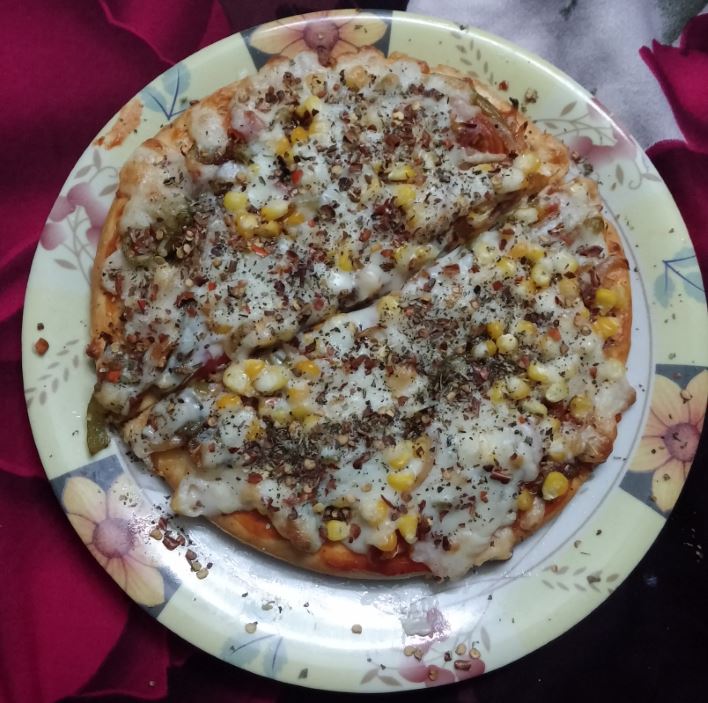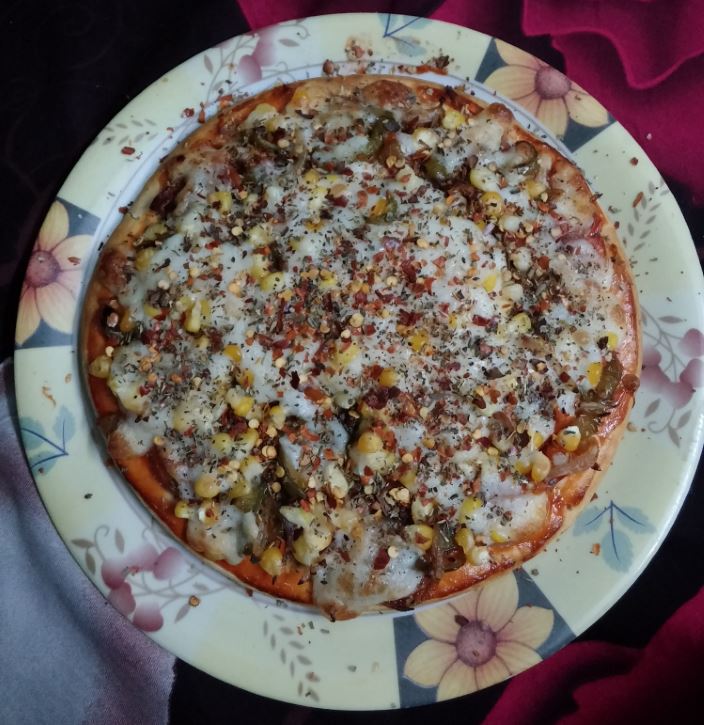 Veg Tahiri or Pulao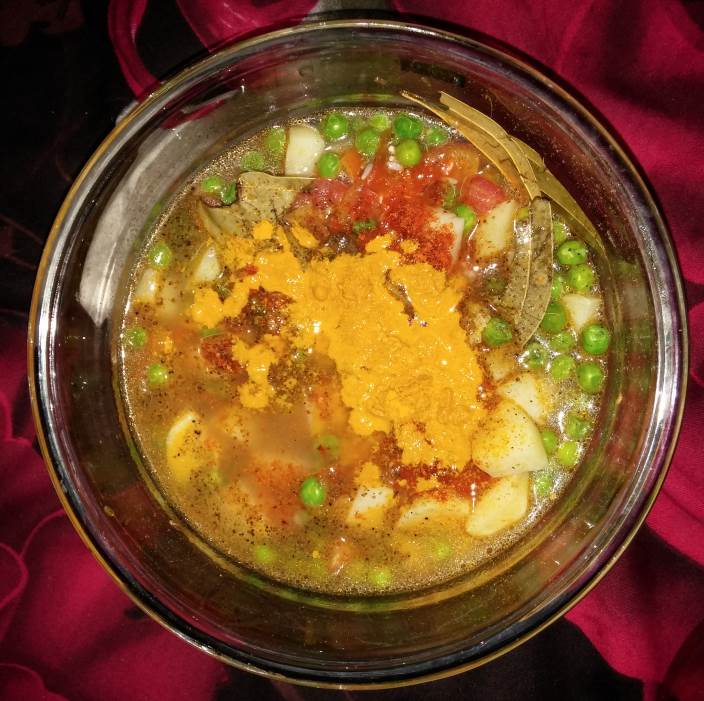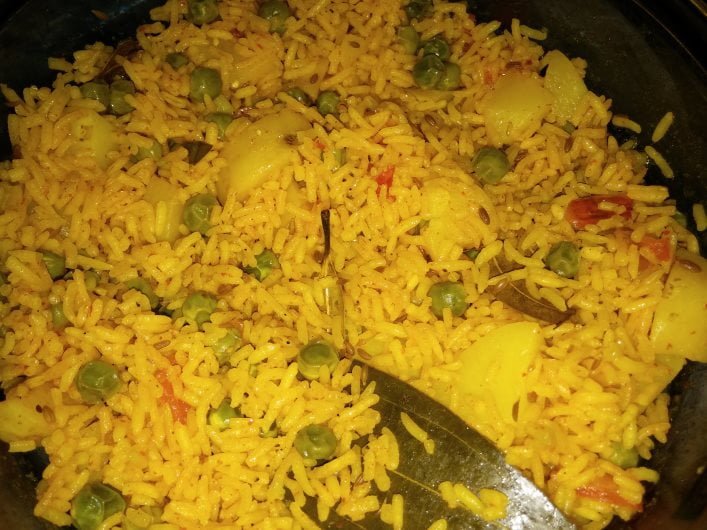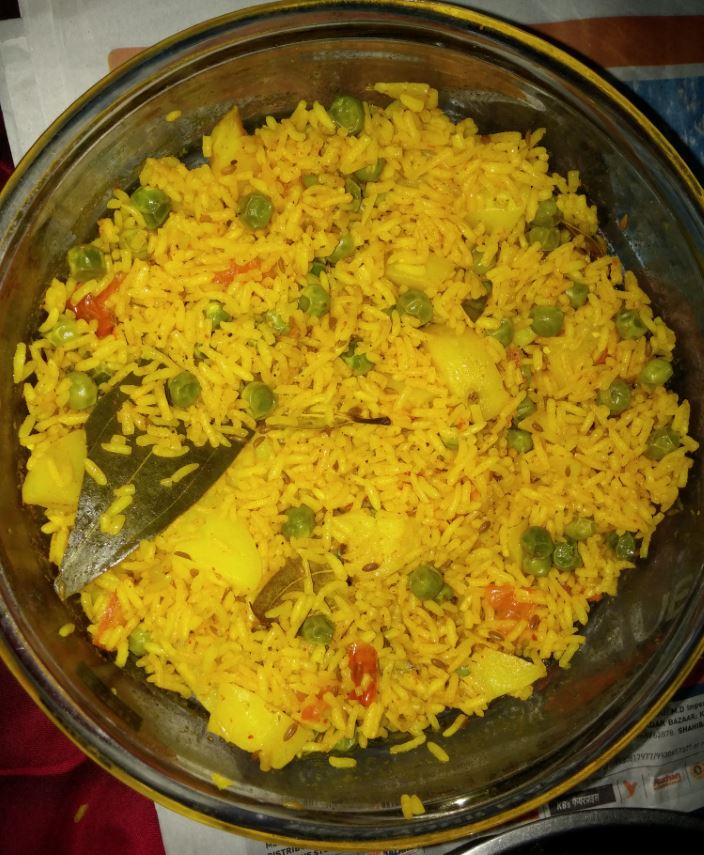 Tandoori Gobhi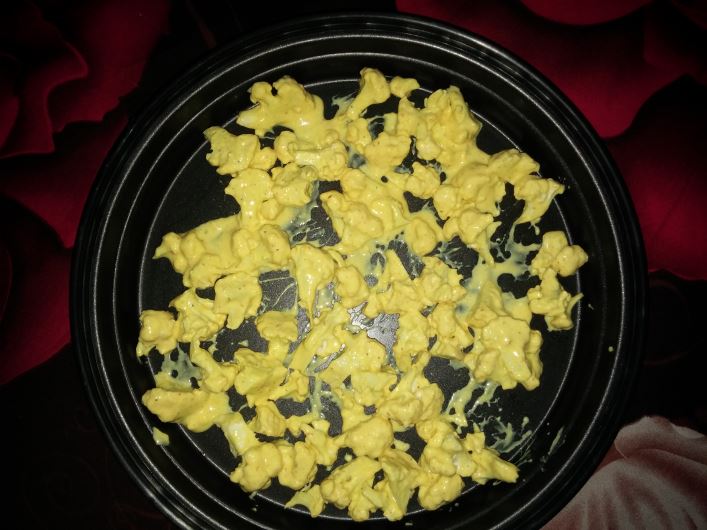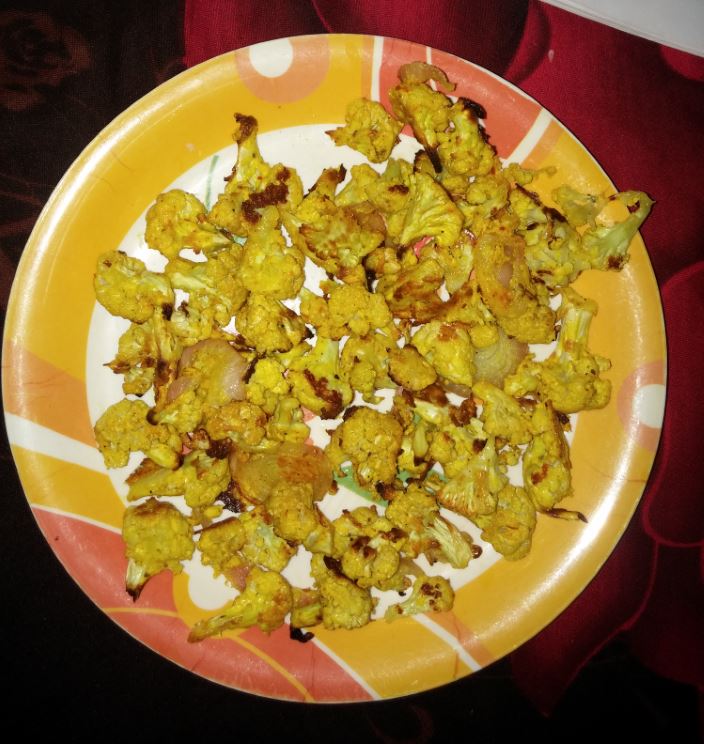 Tandoori Aloo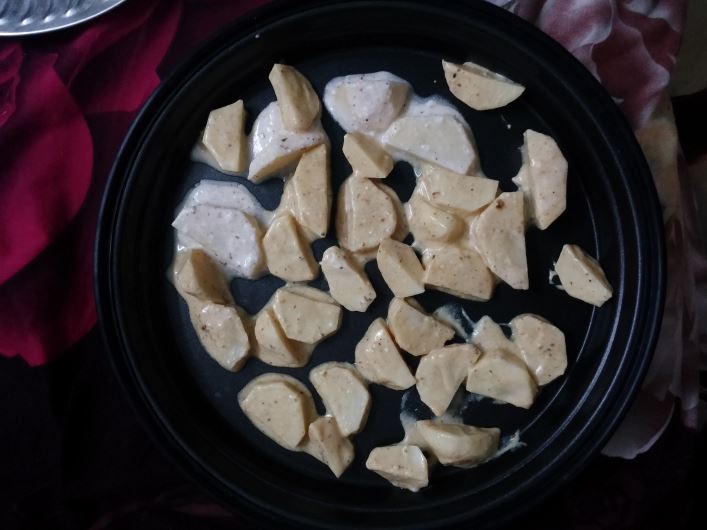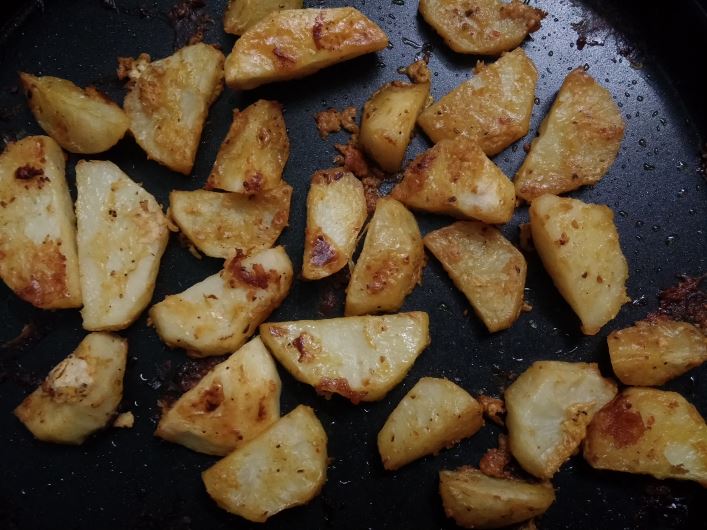 Karela Subzi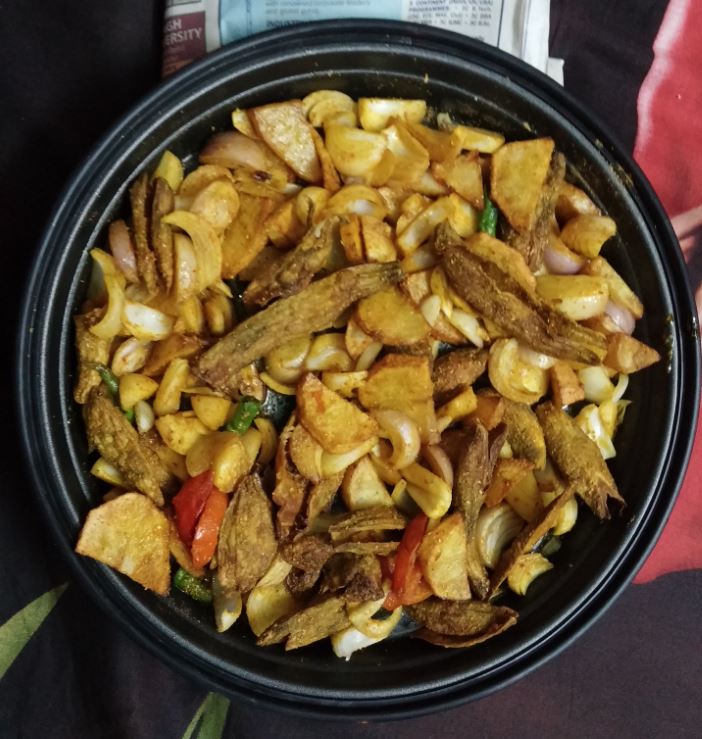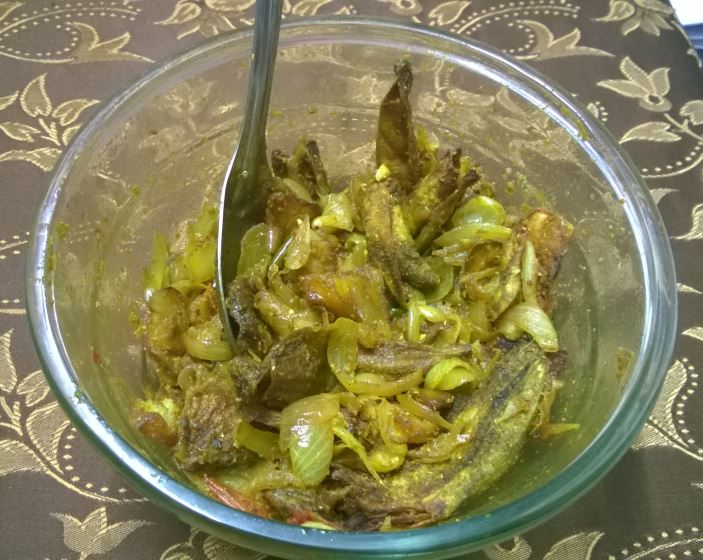 Few Feedback points for LG
Although i couldn't find any flaw which may give this microwave any negative point, still i would wish that LG may improve following points in this microwave:
While in auto mode, when one step or stage completes, microwave beeps to notify user that their presence is required. But that beep volume is not that very high that we may could listen to it when being outside kitchen.
Same as above, i believe, the microwave should stop when it completes one step in auto mode, and wait till the user instruct it to continue.
When in auto mode, LG could have chosen to display users, in which mode their food is being cooked or baked. It's like, if i made chicken biryani in auto mode, then probably it may could show when it's using microwave or when convection or when in grill mode. But this cannot be counted as a negative point.
Final Verdict
This microwave is an ideal appliance especially for those who are not that great in cooking, yet wish to cook tastier food without asking anyone or for those who wish to surprise their spouse, loved ones with their cooking. Obviously this microwave can bake, has convection, grill along with microwave, which calls it as one of the must have product in our kitchen. And then, no other company provides this much features in one microwave. Although it's price is on a higher side with Rs. 29K MRP tag, yet if you can afford it, there is no point looking for any other product. It's market price should be nearby Rs 26K.