The LG G3 has received early praise from industry experts for innovations in its display, camera, design and user experience (UX). Developed with the motto "Simple is the New Smart" in mind, the G3 was empowered with the best of what current technology has to offer; providing consumers with a simpler and easier user experience.
Highlights include:
First global implementation of 5.5 Quad HD display (538ppi) with four times the resolution of HD and almost two times higher resolution than a Full HD display for sharper, crisper, clearer images and more realistic colour reproduction.
1 3MP OIS+ (Optical Image Stabilizer Plus) camera with faster Laser Auto Focus in a smartphone to capture quality images and videos with minimal blur, even in near complete darkness.
Premium-feel rear cover featuring a brushed, hairline metallic skin that is light-weight and fingerprint-proof Floating Arc form factor that incorporates LG's innovative Rear Key and feels incredibly comfortable in the palm of one hand.
Simple and intuitive UX including Smart Keyboard which reduces input errors by up to 75 percent by tracking and analyzing users' typing habits; Smart Notice, a personal assistant application that provides real-time i formation and notifications e~en before being asked; Smart Security, a suite of security features including LG's proprietary Knock Code™, Content Lock and Kill Switch.
Premium accessories such as the QuickCircle™ Case (sold separately) that provide users easy access to six frequently used functions without having to open t he cover, as well as a collection of Slim Guard Cases an~ premium Slim Hard Cases to prof ect the G3 in the style its original designers had intended.
Top 13 Features
01: Quad HD Display
LG's reputation in the display arena is second to none and the development of the G3's breathtaking Quad HD display was the result of years of innovation in display technology. With a pixel density of 538ppi, the G3's Quad HD display sets new viewing standard producing images that are sharper and clearer than traditional smartphone displays. At 5.5, LG G3 boasts a screen ratio of 76.4 percent with thin bezels all around so the phone feels as comfortable in the hand as a smaller traditional smartphone.

LG equipped the G3 with a 3,000mAh removable battery and advanced optimization technologies to further maximize battery efficiency. By replacing the metal in the battery cathode with graphite, LG engineers were able to extend the lifespan of the G3's battery. The result is a battery that can keep up with the Quad HD display's ultra-high performance without losing steam in the middle of the day.
02: Camera: Laser Auto Focus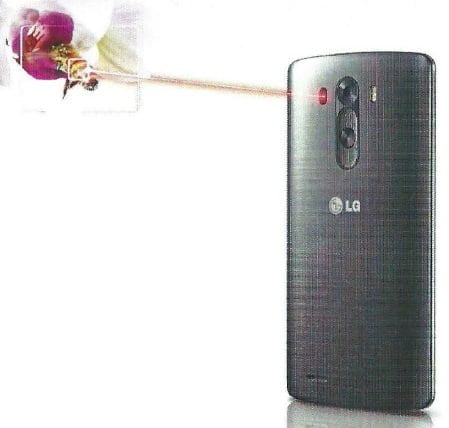 Laser AF technology offers the fastest auto focusing experience. -".Already focused before you know it'.'
03: Camera: Touch & Shoot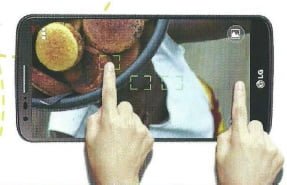 No more focus-frame-shoot. Tap once and take the picture for a hassle free experience. No need to go through multiple steps for a single picture or change modes to shoot videos.
04: Camera: Dual Flash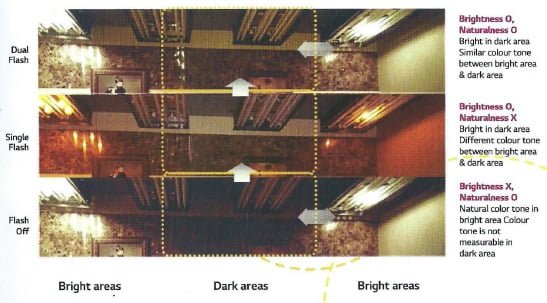 Using cool and warm color tones, LED flash makes it possible to take clean and bright pictures in any lighting conditions. The totally blur-free pictures with natural colors are as close as you can get to reality.
05: Camera: Evolved Front Camera
The advanced front camera activates with the detection of hand motions, allowing you to take easy and fun selfies. The increased sensor pixel size heightens sensitivity and improves resolution while the use of brighter lens allows more light to be absorbed. Hand gesture recognition and front flash offers brighter, more vivid pictures when taking selfies.
The G3's advanced 13MP OlS+ camera is designed to quickly and easily capture life's special moments as they occur, not necessarily when you want them to occur. This is made possible with G3's innovative Laser Auto Focus, the first of its kind in the smartphone industry. This technology enables the G3 to capture the best moment – even in low light – by measuring the distance between the subject and the camera using a laser beam. So no more fuzzy pictures of your son scoring his first football goal or missed shots because your camera couldn't decide quickly enough which toddler in the playground to focus on. Combined with the proven and popular lS+ technology first seen in the G Pro 2, the G3 is sure to impress even the most discerning shutterbugs.
LG also simplified the process of actually capturing those special moments. Rather than having to focus on the subject in preview mode and then pressing the shutter button, with the G3, tapping the subject to focus will simultaneously also trigger the shutter. What's more, the G3's 2.1 MP front camera incorporates several new enhancements such as a larger image sensor and large aperture for more light throughput and better-looking selfies. A unique twist has been added to the standard timed selfie mode by incorporating gesture controls – when ready to shoot, simply clench your hand into a fist and the G3 will recognize the gesture and begin the automatic three-second countdown. It couldn't get any simpler than that.


For video, the G3 offers superior sound quality with instinctive microphones that measure the environment to identify the optimal audio level for the clearest recording. And with the built-in 1 W speaker with Boost AMP. you can enjoy videos and music accompanied by richer sounds and clearer tones.
06: Design
The advanced front camera activates with the detection of hand motions, allowing you to take easy and fun selfies. The increased sensor pixel size heightens sensitivity and improves resolution while the use of brighter lens allows more light tc be absorbed. Hand gesture recognition and front flash offers brighter, more vivid pictures when taking selfies.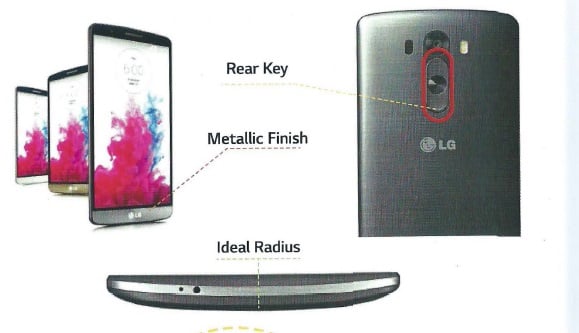 The Floating Arc design of the G3 with its ergonomic arch and slim side profile provides an extremely comfortable grip for everyday one-handed use. The Rear Key continues to anchor LG's innovative design language, with a newly designed power key and volume buttons as well as more premium quality materials and finish. LG also refined sophisticated technical features and advancements located on the rear by arranging them in a clean and singular layout consistent witn the G3's well-balanced design language. The stylish metallic skin·with matte finish which keep the G3 looking clean and fingerprint-free will be offered in five vibrant colors: Metallic Blad, Silk White, Shine Gold, Moon Violet and Burgundy Red. To compliment the new external design, LG adopted a minimalist user interface design with flat graphics. The circular motif of the graphic assets in the new UI was derived from the shape and concept of LG's logo, reflecting its unique visual style and identity.
07: KnockCode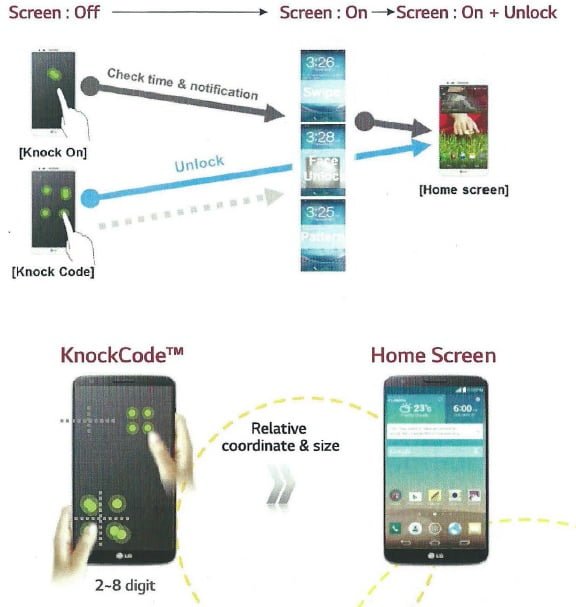 Now access the home screen in one step even if the screen is off. You can tap on any part of the screen because the KnockCode recognizes the pattern of the coordinates. There's no need to press a hardware key. Just tap in your code, and you're on the home screen.
08: Smart Keyboard
It's designed for ease, speed and accuracy. Take advantage of functions like quick edit, swipe-up, word preview and smart personalization. Type as usual and we will do the hard work.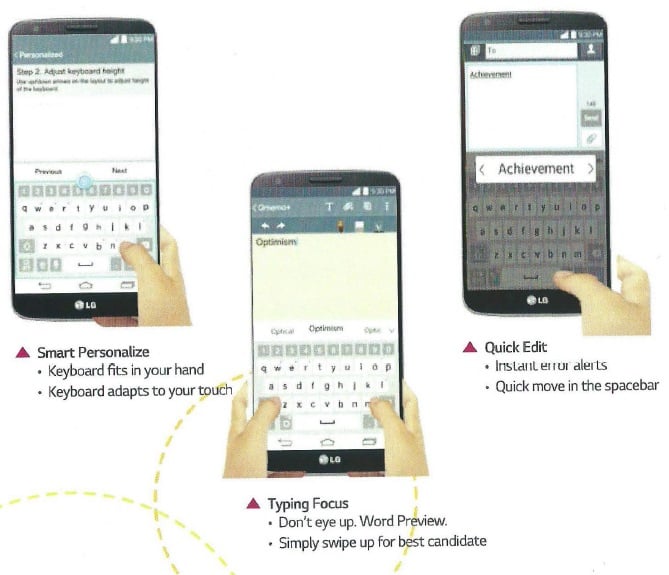 Smart Keyboard: Adaptive technology learns as you type for faster input with less mistakes. Smart Keyboard reduces input errors by up to 75 percent by tracking and analyzing typing habits and intuitively "knowing" what word the user intended to type. The height of the keyboard can also be adjusted to better fit the user's hands and position of the thumbs. Individual keys can also be customized with frequently used symbols for even faster input.
09: Smart Notice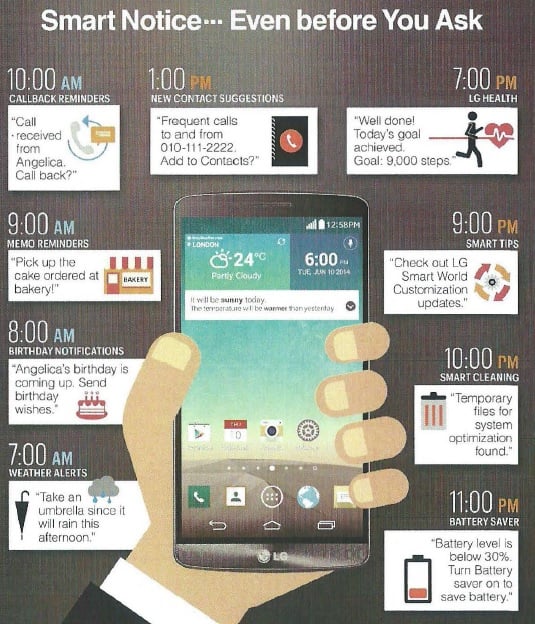 The phone can predict your needs and give you helpful "nudges'.' Get the information you need about times, places, events, mobile status updates, etc. Smart Notice suggestions give you the information you need, before you need it.
10: 1 Watt Speaker with Boost Amp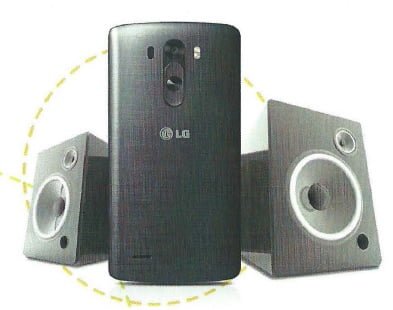 The enhanced 1 W speaker is 4-SdB higher than the 0.7W speaker on average and better emphasizes the mid/ low pitches. So you get higher quality sounds when listening to music or making calls.
11: GUI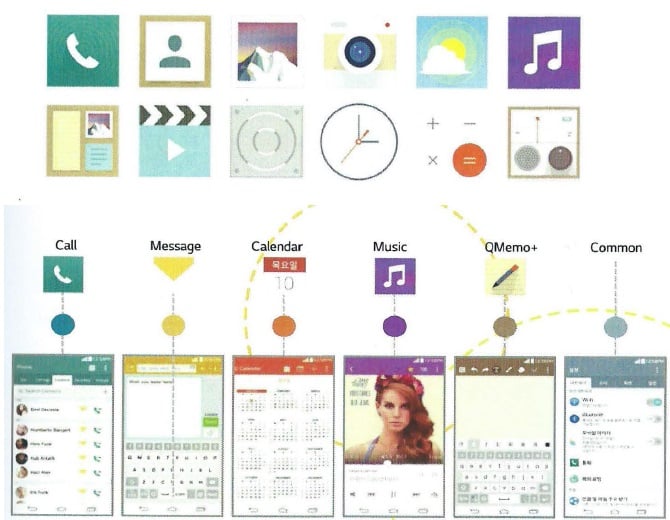 Unnecessary visual elements have been removed for simplified GUI with increased visibility. The new GUI embraces the trend for simplicity, modernity and maturity. At the same time, it retains LG legacy with the intuitive and familiar values as well as leaves the cards metaphor remain unchanged.
12: Software Diet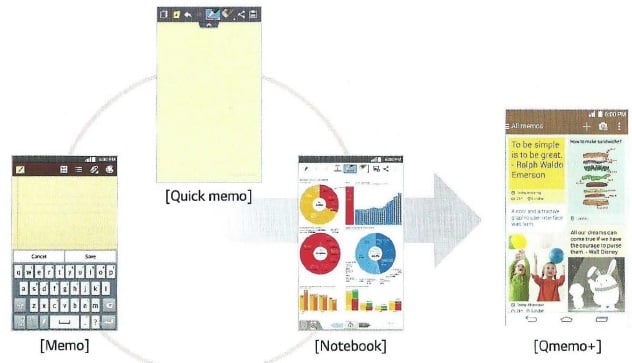 With less applications, there's more memory space for you. Similar apps were merged to reduce the number of pre-installed apps by 30%. The number of apps you can delete has increased by 30%, providing even more free space.
13: QuickCircle Case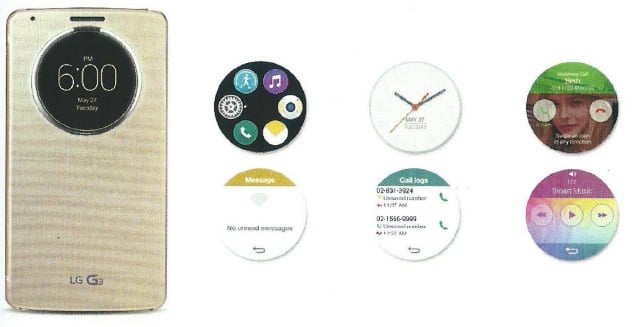 The striking clock design, lighting effects, wireless charging supports and slim yet protective design make this more than a simple cover or case. It's now available in 6 metallic colors to suit your style. The 6 functions (clock, music, call, message, wellness, camera) can be controlled on one easy tab UX.