While Microwave despite having a slow growth in gaining a space in Indian Kitchen, it's one of the sought item for Indian food makers. Although lack of awareness of usability of a microwave is of the biggest reason for slow growth of Microwaves in Indian market, yet with birth of new families (marriage), most people do buy a microwave too as one of the must household item. Also, as the kitchen is getting modernized, with betterment of lifestyle, Microwave does play a big role there. So, let's find:
Top 5 Microwaves Available in India
1. LG MJ3283BKG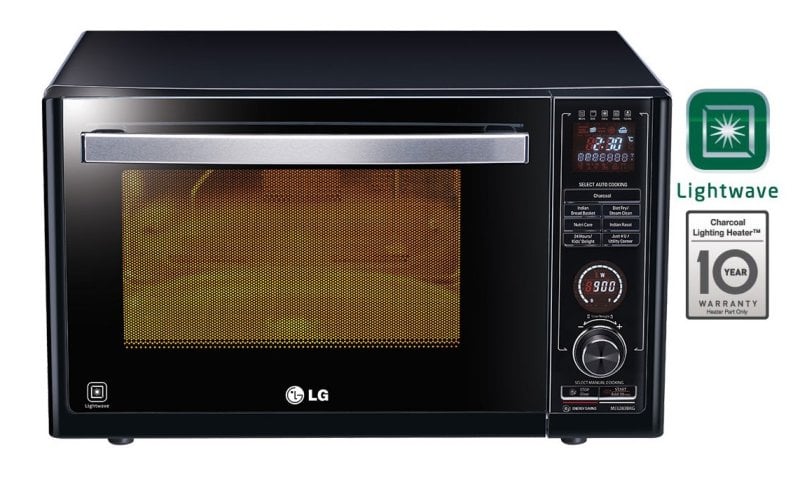 LG is the most popular name in India for microwaves followed by Samsung and then Whirlpool as per my experience. But LG has done some exceptional research in bringing most advanced technologies in a Microwave. Why LG MJ3294BG is one of the top Microwave in India, is because of it's cost and the features it offers. This model is one of the mid-ranged priced of Charcoal lightning series by LG and it has almost everything what you can sought from a microwave. Features include Charcoal Lightning Heater, Dual VFD Display, 301 Auto Cook Menu, Motorised Rotisserie, Convection, Grill, Air Fry and many more. You can also make various Indian morning dishes like Roti, Naan, Lachcha Paranthas, Thepla and many more.
2. Samsung MC28H5025VB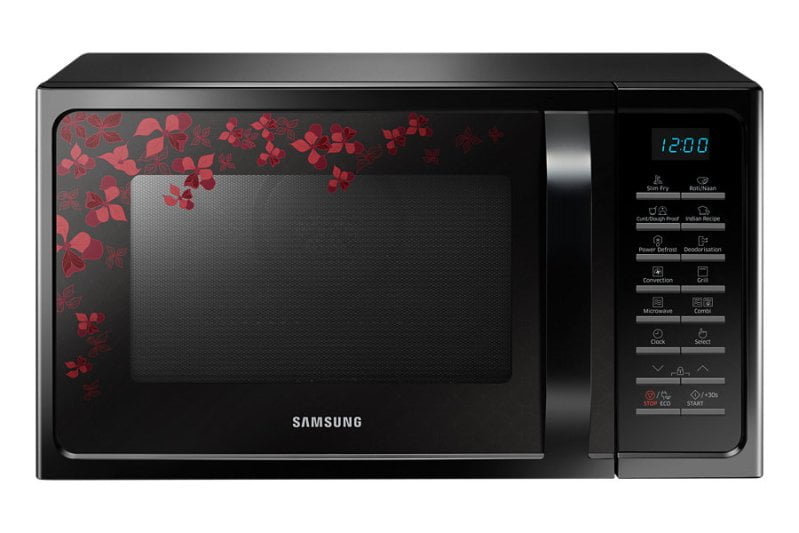 While Samsung is also a big name in microwave industry, yet their microwaves are not that features packed if compared to LG microwaves. This is one of the most popular microwave by Samsung, which has Tandoor technology and can also help in making curds. It's Tandoor Technology creates tandoor-like-conditions with a temperature of 200 degree Celsius and can help making tandoor rotis at home. It also has a feature of Curd any Time or say Fermentation function which set the right temperature for making curd. Along with it does have features like Convection, Grill and Solo.
3. LG MC3283FMPG or LG MC3283PMPG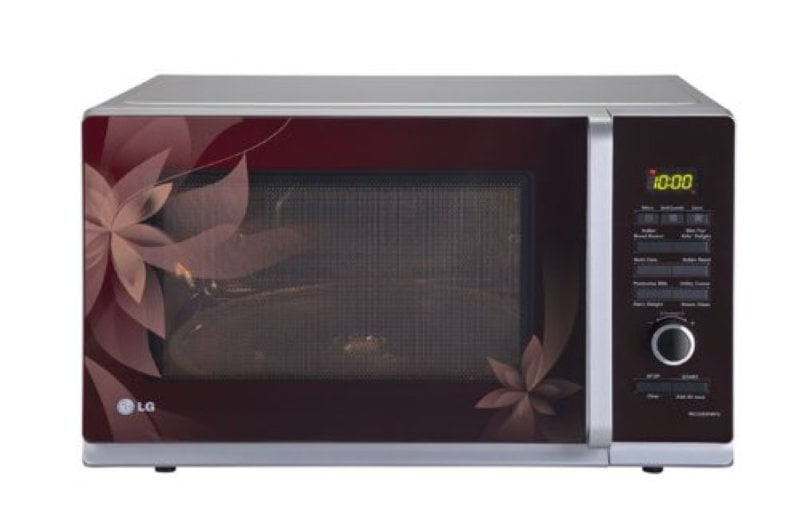 These microwaves is one of the notable as they have Milk Pasteurizing feature which is a unique feature no other manufacturer is offering other than LG. Both model nos i.e. LG MC3283FMPG & LG MC3283PMPG have this feature along with Stainless interior, 201 Auto Cook meny, Motorised Rotisserie, Convection, Grill, Solo or Combined mode. Another point is it also supports Indian bread recipies like i said for LG MJ3283BKG, that you can make Roti, Naan, Lachcha Paranthas, Thepla and many more. Why Pasteurized feature is highlighted, because Milk pasteurized from this microwave preserve Nutrition and protein loss is minimal unlike boiling of milk and the process is completely hygenic. Also it comes with a utensil for this purpose and same can be used for storage inside fridge.
4. IFB 30SRC2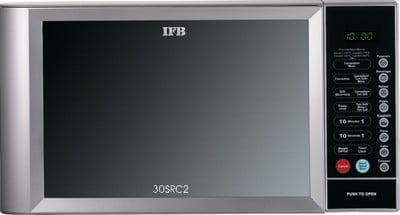 This one comes from IFB and is one of the good looking microwave in mid-ranged price. Good things about this microwae is fully touch panel, design, 30L capacity and like LG Microwaves, it also have 101 Auto Cook menu. Another notable feature is Keep warm feature, that uses low microwave pulse which helps in maintaining a constant temperature for food up to 90 minutes without overcooking it. Another feature which is usually found in upper range microwave i.e. Weight Defrost. Which means, when you're unsure about how much time a product would require to defrost, you can enter weight of the serving for defrosting purpose.
5. Godrej GME 25GP1 MKM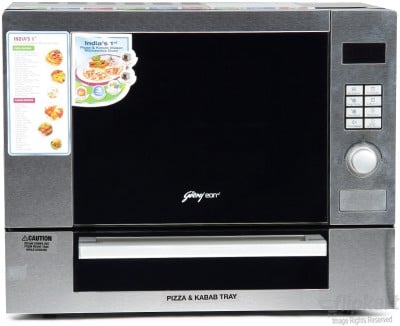 Godrej microwave made it too on top 5 as this microwave i mentioned is one of the unique design you'll not see normally in any Microwave in Indian market. This microwave comes with a special built-in-tray for making pizzas and kebabs. Although the feature also can be counted as downside, as it increase the height of microwave by few inches and might not fit into various Indian kitchens easily. Although design is not very appealing, yet it's eye catching because of the bottom tray. Also, this microwave offer 5 power levels and also has 201 InstaCook menus. Also like IFB above, it also comes with Defrost feature by weight or time.