Editor Rating

Rated 4.5 stars

Outstanding
₹5399
---
Reviewed by:

Published on:

Last modified:
---
Orient Aerostorm is the latest offering from Orient Electric in their Aero Series ceiling fans. Last year they launched Aeroquiet ceiling fans and this year, I can say the latest flagship of Ceiling fans from Orient Electric is Aerostorm. Their Aeroquiet series got a great response last year, and Aerostorm is the next upgrade which is bigger at sweep length and with much-improved air delivery and Winglet technology in the blades. Is this fan the "Very Silent, Very Powerful" as per Aero Series theme, we shall find out in this review.
Orient Aerostorm Ceiling Fan Unboxing Video
Orient Aerostorm Ceiling Fan Review
When it comes to beautifying the interior, it's not just the paint finishes, furniture, and accessories in the room, it now includes the looks of electronics as well. It is important how well they blend with the looks of the interior plus how great they look. That's when along with other accessories, the market of premium fans also saw a steep rise. Upon picking a right ceiling fan, it can add a zing to overall aesthetics of the room and this is possible if the fan comes with futuristic looks and aerodynamically designed profiled blades. Orient Aerostorm fulfils all the points of a futuristic fan along with an aerodynamic design which runs silently and delivers air delivery of 300 CMM which is highest in the segment.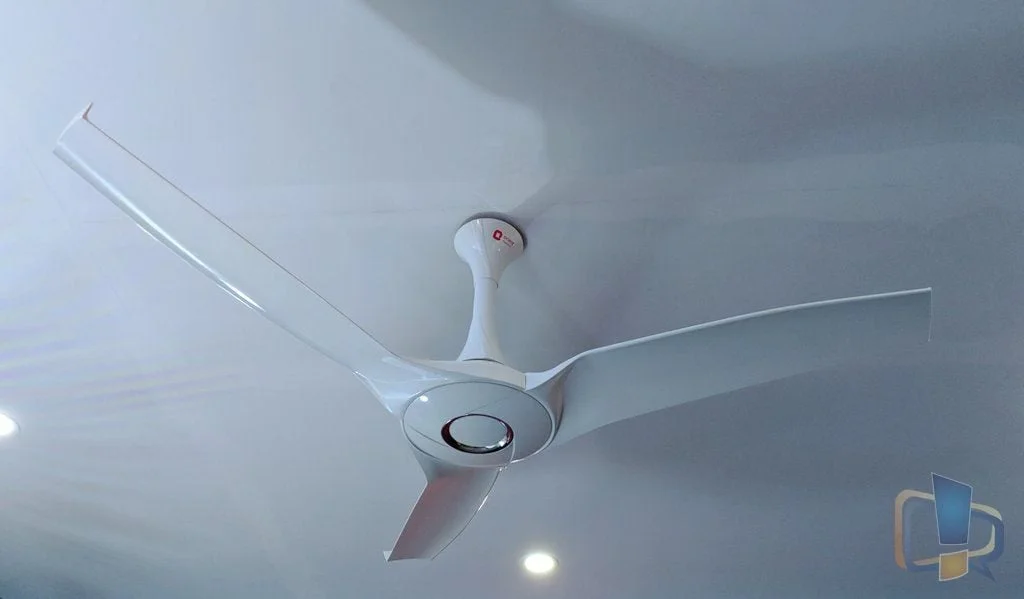 Design
Orient AeroStorm is probably the best looking fan in its category. Although it doesn't come attached to any fancy accessory, its simplicity makes it the best in its class. The complete fan is aerodynamically designed which not only offers a futuristic modern design but is also more efficient when it comes to the air delivery. Its monolithic seamless design with no gaps between the fan and blades gives a unibody appearance to the fan.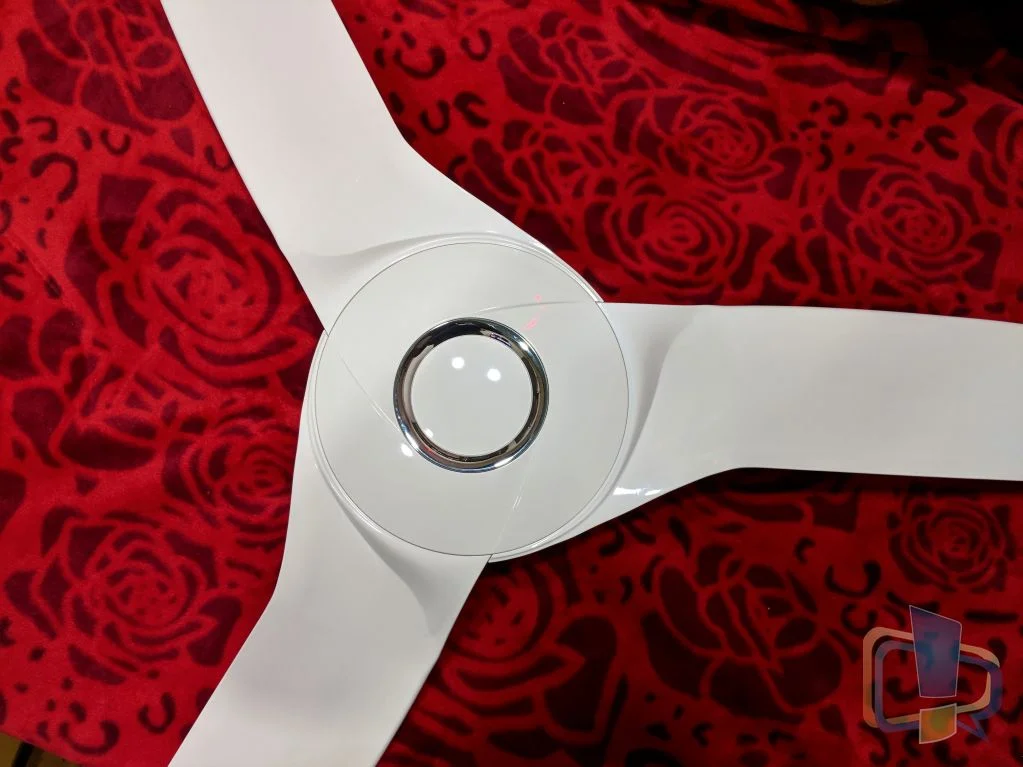 There are no visible joints or ugly exposed screws on the fan from the front, which not only gives striking good looks but it also effectively increases the surface area of the blades to enhance airflow.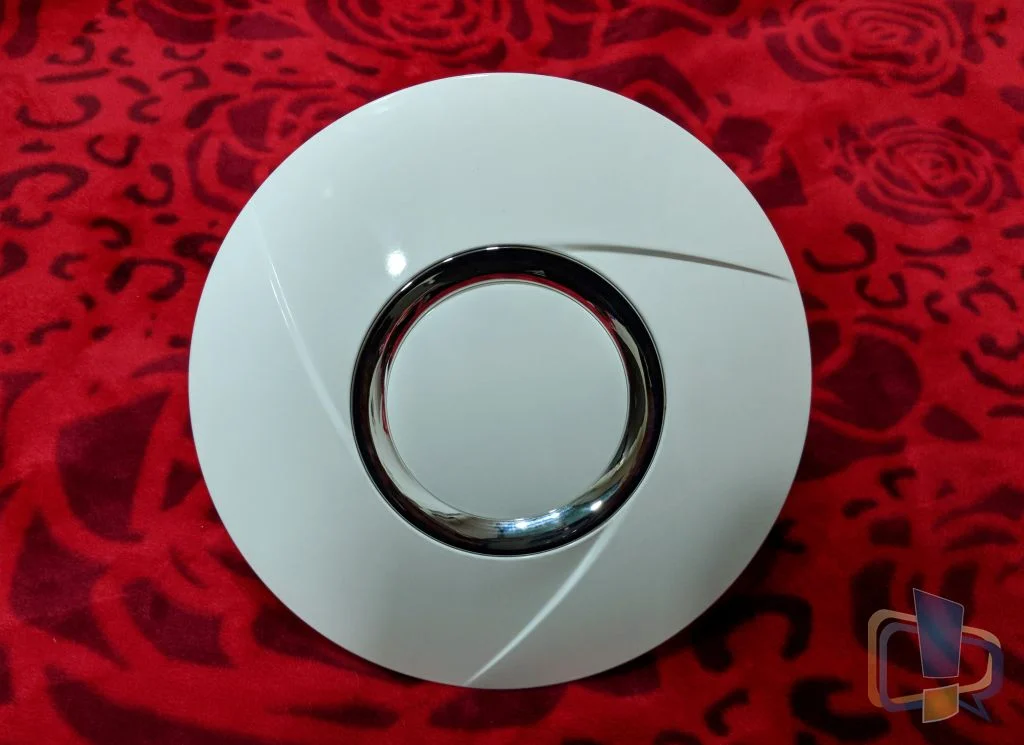 The chrome ring at the centre looks great surrounded by the premium white PU-finish estate of the rotor and blades. Overall Orient Aerostorm in terms of design balances out the home decor and elegances and suits most people sense of taste.
Why Orient Aerostorm?
Orient Electric which also happens to be a part of $1.6 Billion C.K Birla group has invested a lot in R&D for ceiling fans, hence Aero Series was launched after a lot of research from the brand and Aerostorm is the latest model from them which comes with winglet design in blades which minimizes the vortex and helps delivering higher air thrust with minimal noise. Here are some quick features of Orient Aerostorm:
Aerodynamic blade design for Higher Thrust & Air delivery.
300 CMM Air Delivery which is the highest being delivered by any ceiling fan in the Indian market.
Winglet* in blade design to minimize the air vortex & noise.
Blade profiles inspired by the aerodynamic design of Aircraft wings.
Eye-catching spiral curves in the canopy, curves in blades and bottom cover plate for bold & dynamic looks with elegance.
High gloss premium finishing with PU paint.
UV Metalized Deco Ring for premium looks.
Seamless design to ensure no gaps & clearance in the various parts of the fan.
Smooth Airflow with negligible air cutting noise.
100% Rust free blade made of High grade compounded ABS for longer life & reliability.
Sturdiest & Heaviest 18-pole motor design for longer life.
Orient Aerostorm is not only a cleverly designed ceiling fan, it also set a benchmark for other brands to innovate for a better futuristic design.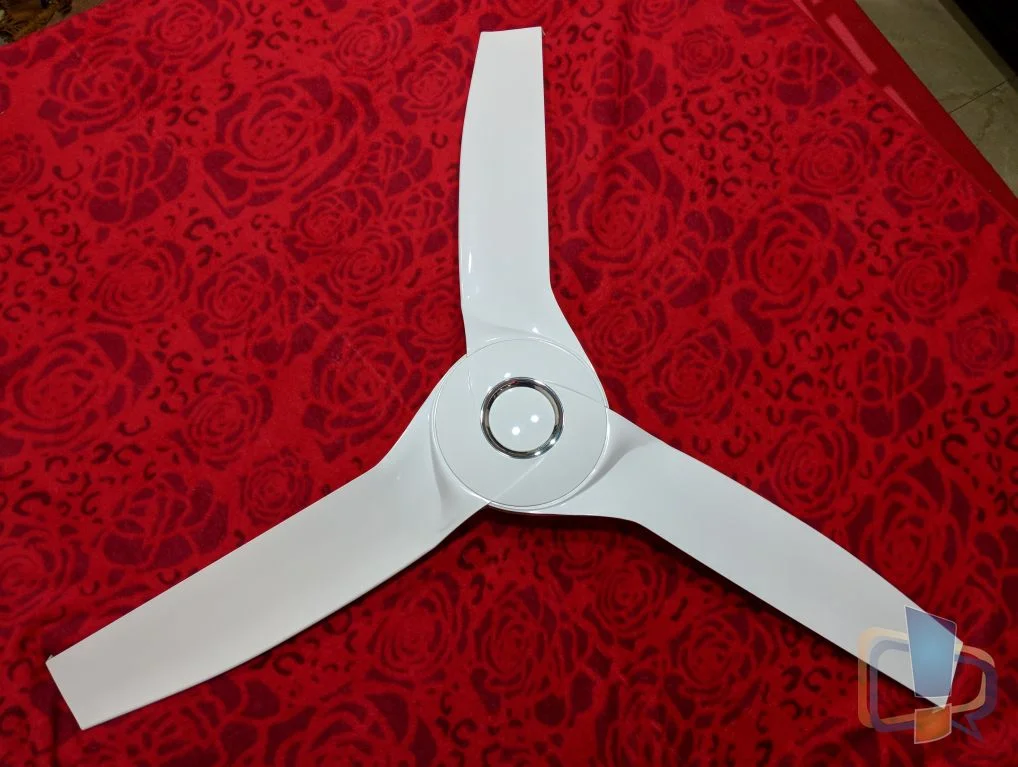 Powered by an 18-pole induction motor which is made of high-quality copper windings, strong magnets, and efficient commutation assembly. It consists of a superior double ball bearing which also helps in the silent operation of the rotor.
Once you get to see the fan in person, just pick the rotor hub to know how much heavy it is. The heavier it is, better the quality would be of the fan. In addition to sturdy mounts, a good motor has plenty of high-quality bearings and high-purity copper windings which adds up to the weight of the rotor hub. And you'll find the rotor hub of Aerostorm fan significantly heavier than any conventional fan available in the market.
*What's the Importance of having Winglets in Ceiling Fans?
Winglets in a ceiling fan work in the same manner as that on an aircraft. When the fan rotates, it creates a pressure at the blades which creates a vortex and drag because of sudden pressure difference of the air.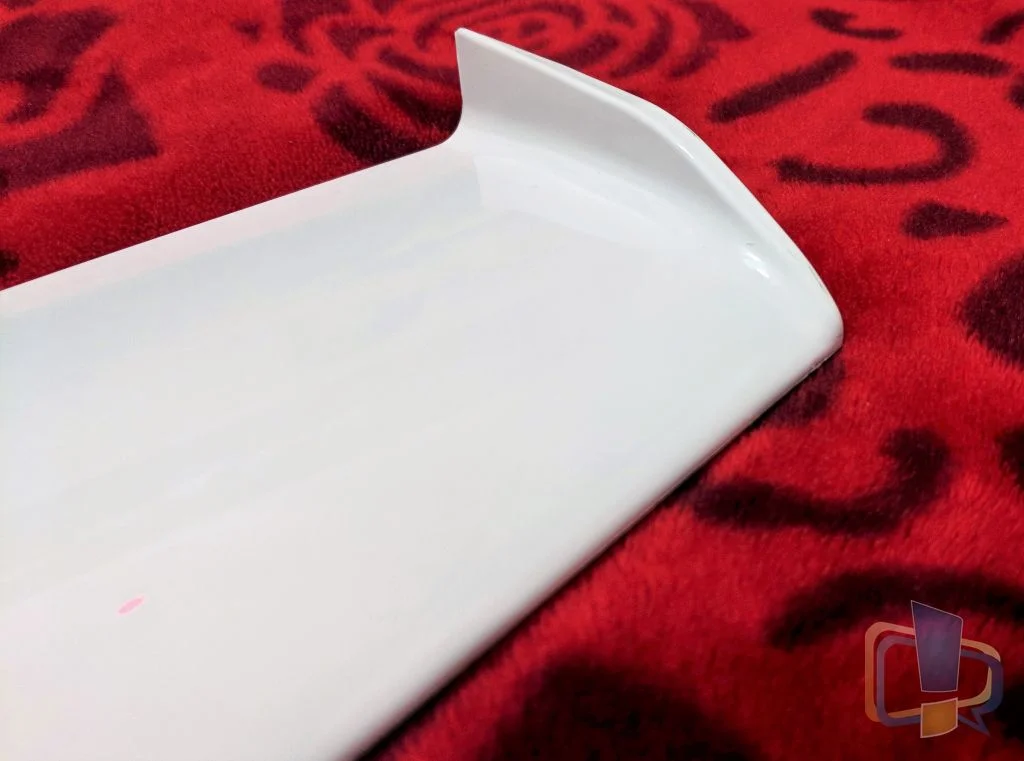 This vortex creates the vibration on the blade and air which ultimately generates the noise. That's where Winglets help by providing a path to direct the airflow from a high-pressure zone below the blade to low-pressure zone away from the blade.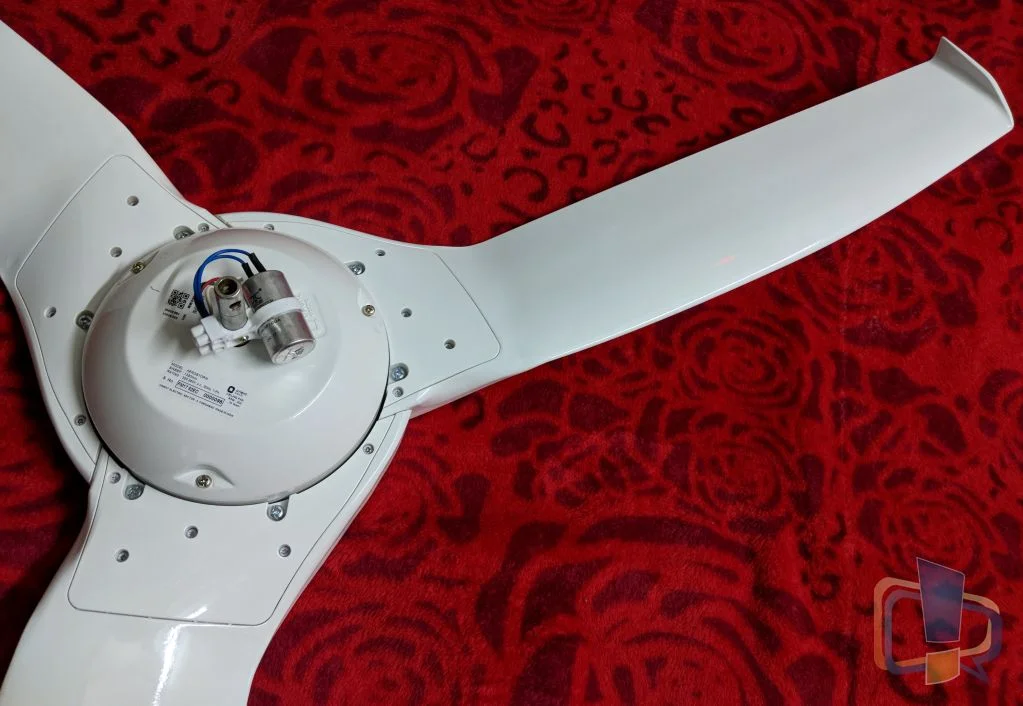 This results in minimization of the vortex as the pressure difference becomes significantly low and that also reduces the noise in the fan.
Aerodynamic Design
A higher number of blades doesn't always mean higher air delivery. In the market, you'll find fans with 4 blades as well which claims of higher air delivery, but those also don't deliver anywhere nearby to the air delivery benchmark of 300 CMM. Also, more blades increase drag, add more noise, are less power efficient and none of them you'll find with an aerodynamic seamless design.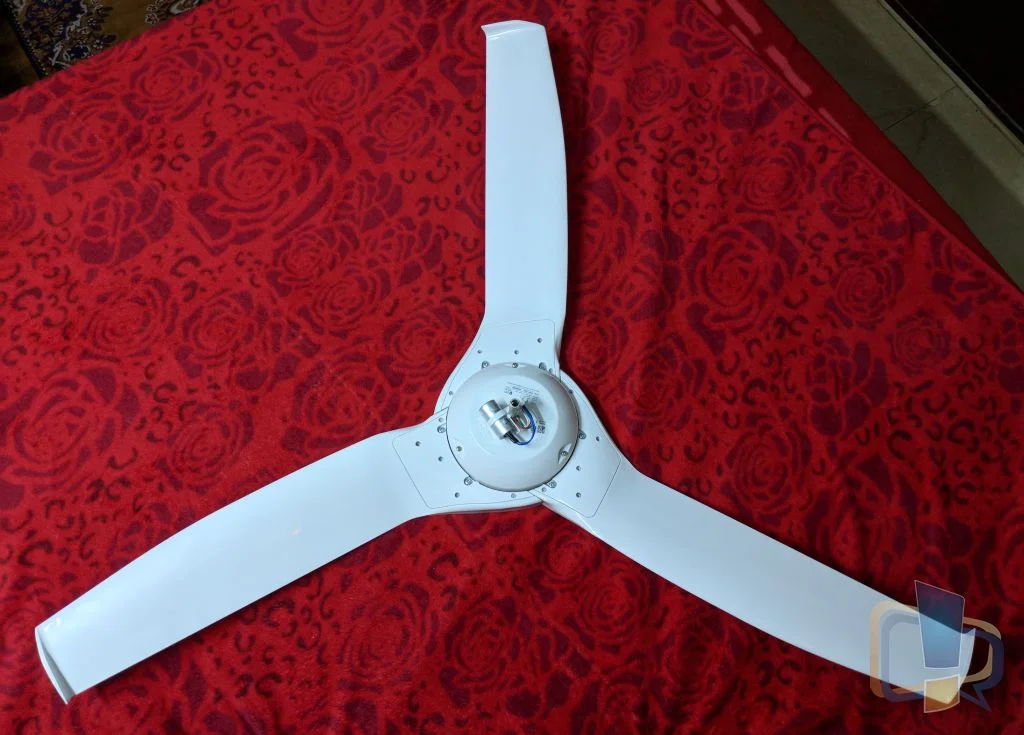 Thus having Aerodynamic design is another USP of Orient Aerostorm. Orient Electric has gone great lengths in developing Aerofoil designs blades of this fan. Air delivery by fans depends on the air velocity and area covered by the fan, if air thrust increases, the air delivery also increases and that's where the Aerofoil design plays a prominent role by increasing the air thrust and air delivery both. It also helps to give laminar flow on its lower surface which gives high lift, low noise, and better thrust.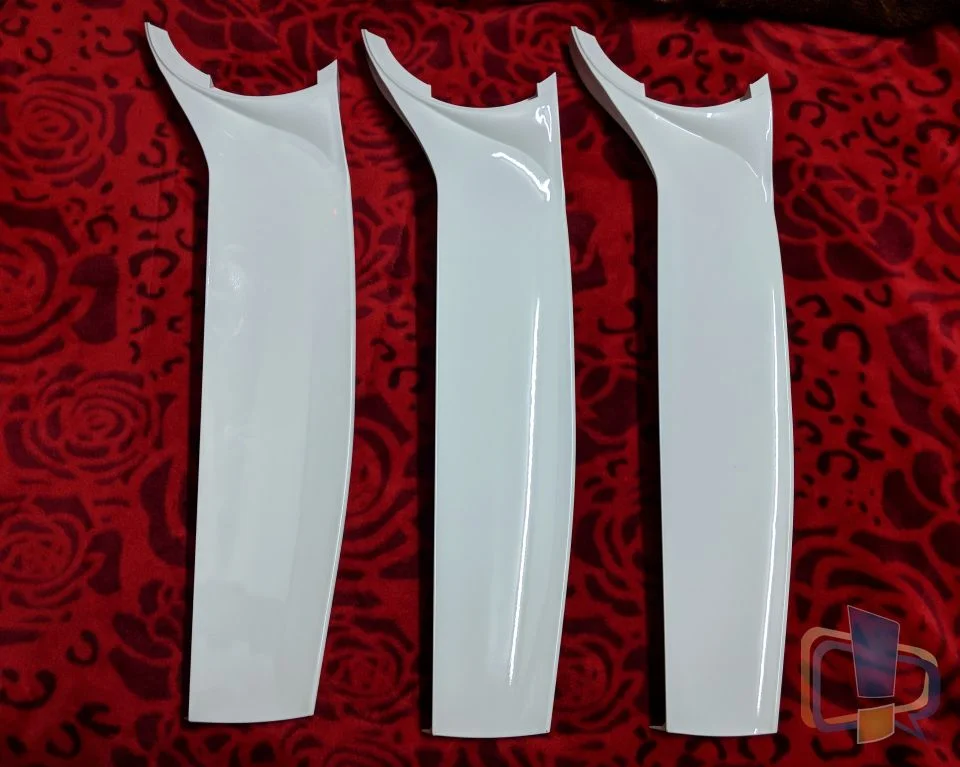 Aerodynamic design is not the only USP of Orient Aerostorm blades. They are made of a glass-filled ABS (100% rust-free) which not only are the toughest but are very light in weight along with high-quality PU finish on them.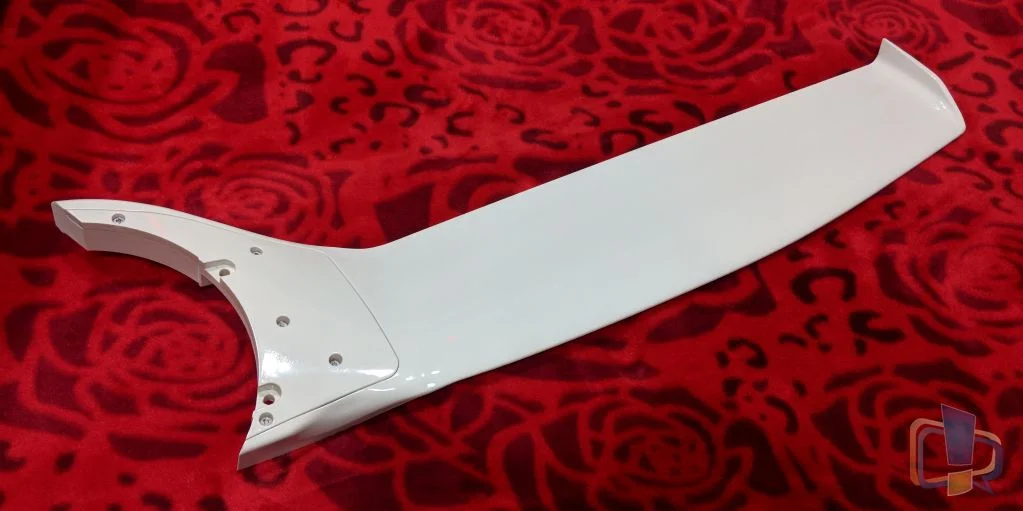 These blades are so tough that I personally tried to bend them hard, but couldn't do it. Not only these blades spin fast but also increases the power efficiency of the fan.
Performance
For doing the review, I replaced my old conventional fan with Orient Aerostorm. This change brought me a huge difference in sound level in the room. The biggest difference I have now is that I can record a video in the room while the fan is running which was impossible in the past. Not only I got freedom from the additional noise my old fan motor was making, overall ambiance is less noisy than before. And the Aerostorm is virtually inaudible at saner speeds.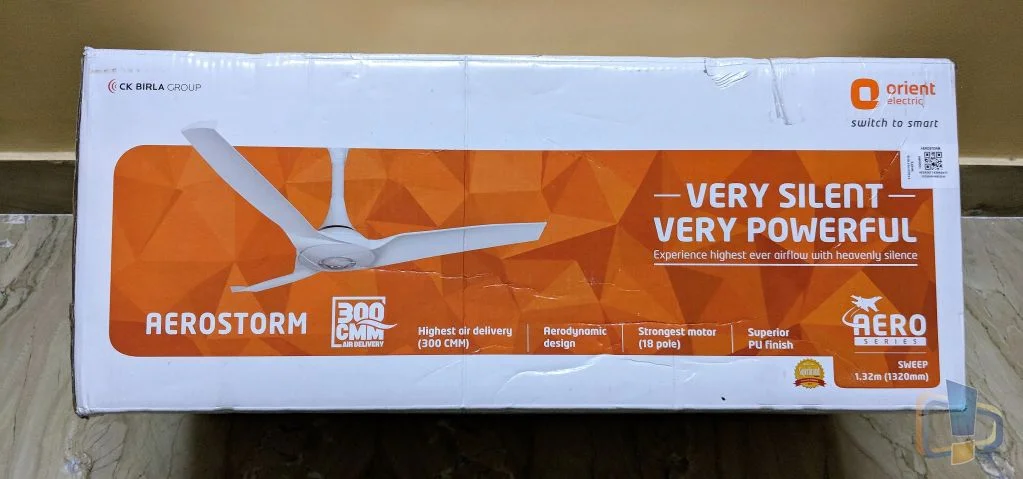 In terms of dB level, I found my room has now at least 10 dB of less ambient sound than before and Aerostorm fan delivered more air than the old one I had in same speed setting, that's the level of the difference an aerodynamic fan brings along. With an air delivery benchmark of 300 CMM at 300 RPM, I found that Aerostorm delivers more than 40-50% airflow than standard ceiling fans which are usually capable of delivering around 150-200 CMM.
Final Verdict
Orient Aerostorm is probably the best ceiling fan available in the market today in terms of design and features. It quickly grabs the attention of any as being unique in design and powerful in performance. Orient Aerostorm is available for Rs 5400 approximately exclusively at Amazon.in online and can be bought from offline markets as well. Few might find this price expensive, but when you actually compare it with other premium fans available in the market in the same price range with 1320 sweep length, you'll find the Orient Aerostorm a perfectly priced ceiling fan. And then there is no other fan in the market which is even nearby offering 300 CMM air delivery or aerodynamic design or is even as silent as the Aerostorm.