Amazon Echo Spot, the most versatile visual AI assistant yet in India, is the most useful Assistant I have ever come across. Imagine this device as an AI which gives the answers visually and aurally both. It can show you things and can surprise you with his abilities which cannot be covered in one single article. If you want to see current weather, news flash, set the alarm, play music, do audio/video calls, watch videos, maintain the calendar, get answers visually and much more, Echo Spot is your companion to help you with all. Before knowing what Echo Spot can do, watching below embedded video can help you understand more about the device first:
What Amazon Echo Spot can do in India?
The Echo Spot can do everything the Alexa Assistant manages on other Echo speakers, but it takes the interaction to next level by including a visual element. This device has a 2.5inch round LCD Screen (480×480 resolution). While the display size isn't much large, the idea behind is to make the screen available for personal use, not for watching movies and TV shows, although you could do that on it if you want. You can also connect external speakers to the Echo Spot using the Audio Out port. Here are the major features one must know about Echo Spot if you're considering to buy one: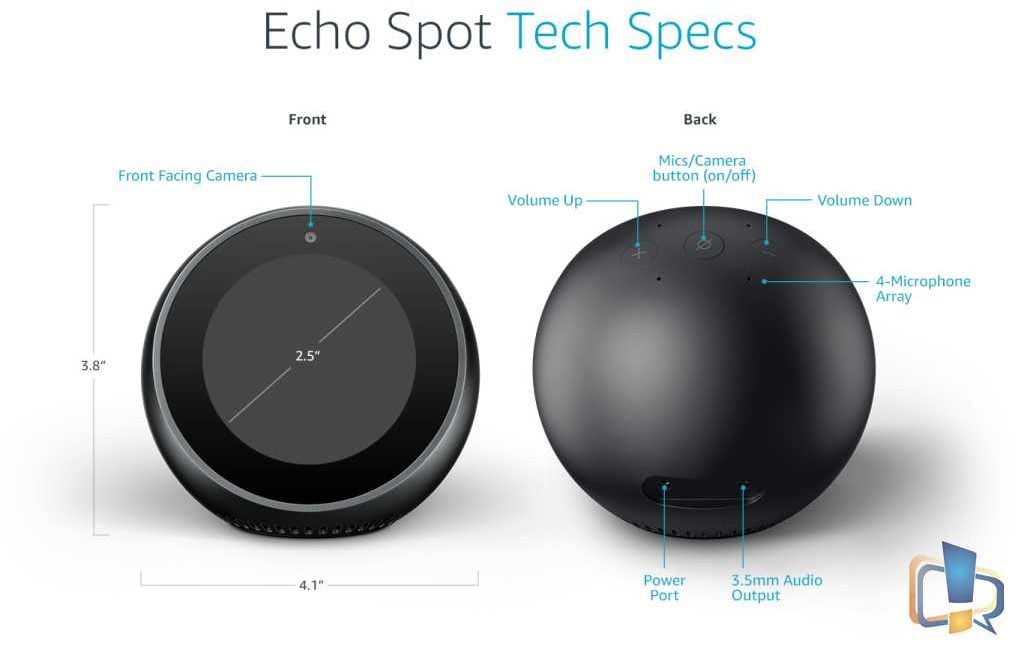 Drop-in Calls (Like a CCTV)
The very first thing I wished Echo Spot to do was to do (hands-free) video calls without requiring user interaction to pick the call on Echo Spot. Turns out, it is possible using the Drop-in feature. You can make audio and video calls to your Echo Spot using the Mobile Application from your phone or directly from another Echo Spot without requiring from the other side to pick the call. The calls connect automatically, and you can see what's happening on the other side. I use this feature a lot to see what's going on at kids room when I am out at the office.
If there are privacy concerns, then you turn-off this feature, thereby requiring the person on another side to accept the audio/video call. By default, this feature is turned off and has to be activated once. You can also give other family members the access to make drop-in calls on your Echo Spot. The caller can also turn off the display of his/her camera & audio too during a call, making it one-way video communication like a CCTV.
Regarding the camera quality, it's quite good and doesn't disappoint, although it requires normal lighting in the room for the camera to work best (no night vision). The audio pickup is fantastic, thanks to beam-forming technology & noise cancellation, Echo Spot can hear the voice of the person sitting even from 3-6 meters away.
Make Audio/Video Calls
You can make audio/video calls from Echo Spot to Echo Spot, Echo Spot to Alexa App in any phone and vice versa. You can command Echo Spot to call the person like "Alexa, Call Neha" and by default it'll start making a video call to the concerned person. The person on the other end, after picking the call, can choose to turn off their camera if required making it 2-sided audio call and one-sided video call. The audio/video call requires the Internet to work and is not dependent on any telecom network.
Playing Youtube Videos
Although there is no Youtube app in Echo Spot, nor there are any hacks to make youtube work on it. Still, Alexa can play videos from Youtube for you on Echo Spot. It uses the Bing search to search the video you asked for and play the top result. Although it doesn't always play the correct video, it works fine for most of the popular music videos available on Youtube.
Play Music
Alexa on Echo Spot supports playing music from many popular services like Amazon Prime Music, Saavn and Tune-in. Echo Spot also shows a thumbnail of the song on display with controllers. You can also ask Alexa to play a song of your favourite artist, specific genre or mood or any particular playlists you've on Prime Music or Saavn.
Tune-in is for playing LIVE radio stations like you can say "Alexa, Play Mirchi Radio Station" and it'll start broadcasting it. Amazon Prime customers get free access to Amazon Prime Music which is a huge library, and you can find almost any song in it.
Get Information Visually Instantly
Echo Spot can show you the latest news flash from NDTV, Times Now, ESPN Cricinfo, Aaj Tak and more. Ask her about cricket scores, movie ratings, general knowledge questions, local businesses, to tell you a joke, make a conversation, what's trending, questions related to Sports, Places, Entertainment, Horoscope, Education, Politics & Business, Traffic, Weather and much more.
To know more about what Alexa Assistant can do in India with supported skills, see this article. I regularly update this article with new commands being included in Alexa for India.
Control Smart Devices
Controlling smart devices & its wide compatibility is what made Alexa so popular worldwide. Alexa has around 70% market share worldwide of AI speakers which speaks for itself for the popularity of same. Same way, using Echo Plus, you can control a wide variety of devices and having a display helps as it shows some controls on display too like I can adjust the light brightness via voice or from the display of Echo Spot, both!
Echo Spot can automatically discover the Alexa compatible smart devices on the connected Wifi network and would show instructions to connect to them. After that, you can enable the respective skill of that smart device to control it via voice commands.
You can also group smart devices in a room like you might want to group light and fan in one group, and then by saying, "Alexa, turn on [group name]" would turn ON both devices for you at the same time.
Consumers can control a wide array of products using Alexa in India including smart lights from brands such as Philips Hue, Syska, TP-Link and more. Smart Plugs have made it simpler for consumers to make any appliance in their home connected to Alexa and voice controlled. Alexa is happy to resolve the eternal conflict of who will get up to switch on the geyser in the morning, all they have to say is 'Alexa, switch on the geyser'.
Various Indian startups such as Oakter and Smarteefi have also become popular with customers. The ecosystem is rapidly growing in India with other popular smart plug brands such as Thrumm, TP-Link, Vetaar by Anchor and Crabtree by Havells's addition to the Alexa Smart Home skills store in India.
Alexa compatible devices list is increasing fast in India, and there are quite a good number of popular brands who now sell Alexa compatible smart home devices in India. Here's a list of brands up to my knowledge who sell Alexa compatible products:
I'll keep updating the list with more brands/products as soon as they're launched.
Monitor CCTV / Smart Camera Feed
If you have a compatible smart home camera, you can use Echo Spot to access the live camera feed on display. The length of streaming time depends on your camera model & settings, and upon reaching the limit, the feed automatically times out. You can command Alexa to "Show [camera name]", and it'll start streaming the live feed from the camera.
Create Routines
Unlike creating a group of devices, routines allow you to add multiple actions and run them using one command. For example, just say "Alexa, movie night!" and Alexa can be programmed to switch on the TV, dim the lights and turn on the AC simultaneously. Watch the below-given video to understand more:
Read Kindle Books
You can anytime command the Alexa on Echo Spot to read you a Kindle book. Alexa can read the books purchased from Kindle store and Borrowed from Kindle Unlimited or Prime Reading.
A Special Place in the Kitchen
Especially because of the display, Echo Spot gets a special space in the Kitchen because of the convenience it offers to the users. Echo Spot can make your 'time in the kitchen' more interactive and enjoyable. You can use Echo Spot to turn on your kitchen lights when your hands are full to reach the switch; it can help you turn on other appliances like coffee machine, induction cooktop, toaster, chimney or anything.
Echo Spot can show you recipes from popular chefs like Tarla Dalal and Sanjeev Kapoor, also help you in reading the recipe instructions step-by-step along with your cooking. If you're a fitness freak, you can also ask Alexa on Echo Spot questions like how many calories does an Omelette have compared to Dosa. Also, you can enjoy your favourite music while you put your culinary skills to use.
With compatible devices, Echo Spot can also control your microwave, set timers, bake and much more. If you run of out any stuff in the kitchen, you can immediately ask Alexa to add that stuff in the shopping list or could directly purchase it if you're a prime member. Use Echo Spot to remind you for specific tasks like de-frosting the chicken in the evening before you start making the dinner.
With Alexa, you can be the boss who does things the 'smart way' in the kitchen too!