Livpure has launched India's 1st Smart RO which empowers consumers to control the taste of purified water, model i-taste. Livpure is an innovative brand and a pioneer in smart and intelligent products. With i-taste, Livpure redefines the concept of water purifiers with its hi-tech technology and to offer Indian consumers the most advanced water purifier ever.
Livpure i-taste RO, That Lets you Control Taste of Your Water
i-taste is a smart, innovative & wi-fi enabled water purifier that can be controlled through your smartphone via an Android app. It auto communicates with the Livpure service center facilitating proactive preventive maintenance/filter replacement on time as required.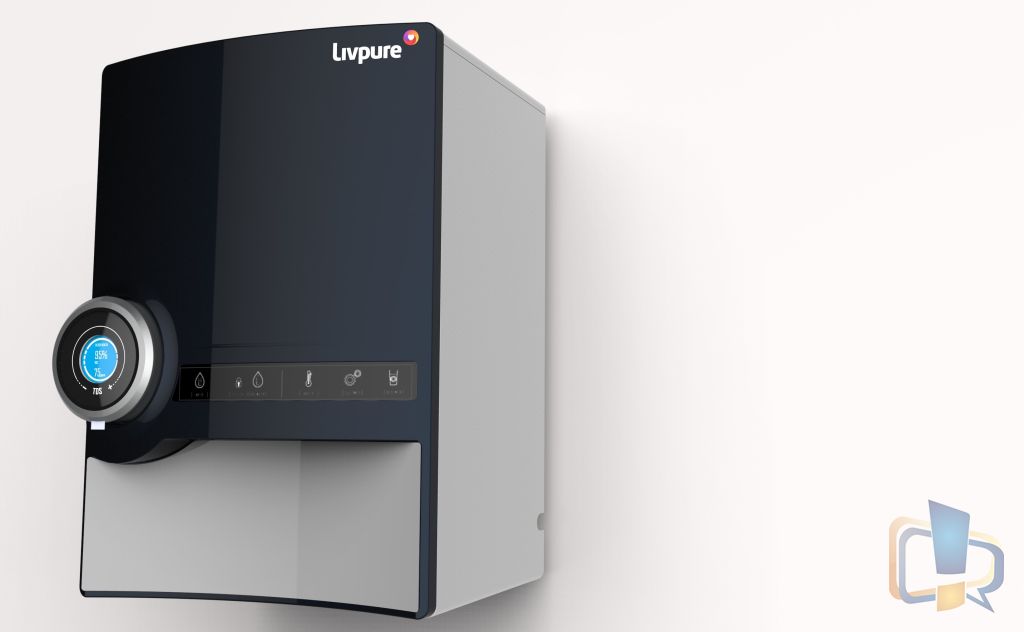 This product has features that make it remarkable in the category. To ensure healthy water, i-taste gives us a health edge because it comes with a unique Anti-oxidant and Mineralizer Cartridge. It is an advanced 8 stage water purifier that provides hot, warm & ambient water dispensing to facilitate preferred drinking water temperature.
Along with i-taste, Livpure also launched a water dispenser – knight. It is a premium looking water purifier cum dispenser with RO+UV+UF & Taste Enhancer. Knight has 8-stage purification with hot & cold water dispensing. It ensures pure water quality and a high efficiency and low noise compressor for stable cold water output.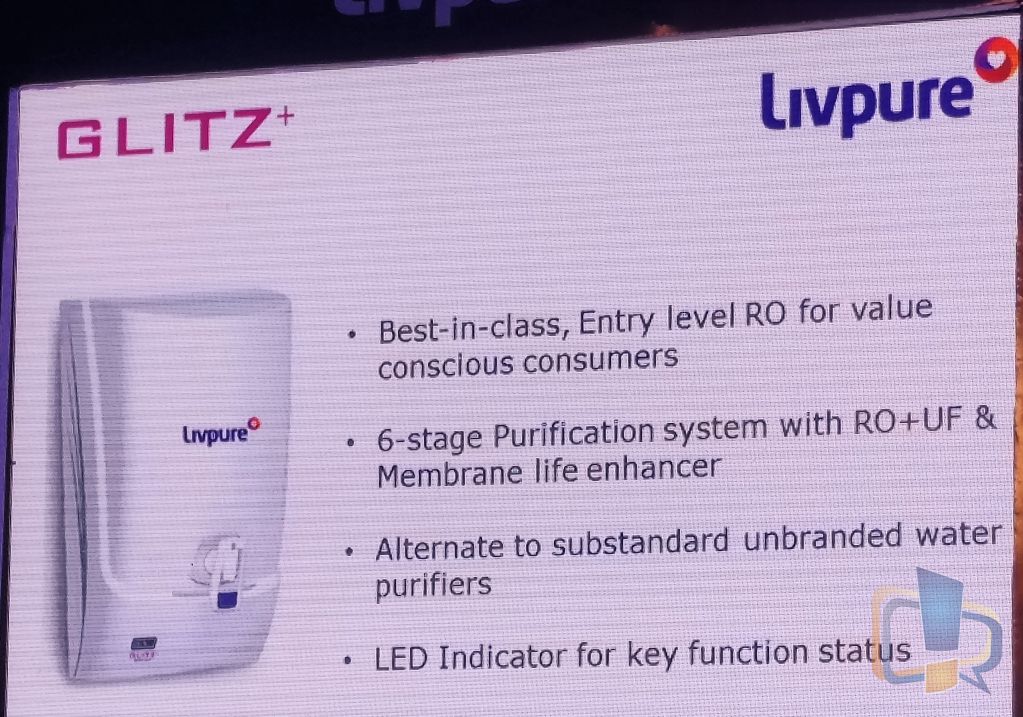 In continuation with i-Can philosophy, Livpure also launched an entry-level RO, model Glitz+ (RO+UF) to provide pure drinking water to value conscious consumers who currently opt for substandard unbranded water purifiers in the market.
On the launch of the slew of new products Rakesh Malhotra, Founder, Livpure said, "Innovation around consumers is the core of everything at Livpure. We firmly believe in empowering our consumers to take control, which extends into our ethos of 'i-can'. I am pleased to announce launch of an exciting range of RO products: i-taste, a sophisticated and intelligent RO that enables the consumers to control the taste of their own water. This product also can remotely communicate through wi-fi with Livpure's service infrastructure to pre-alert in the case of impending service need ensuring uninterrupted purity. Knight, a unique combination of purity & convenience with 8 stage advanced purification system built inside a hot & cold dispenser. This product will serve diverse customers ranging from SOHO, retail, office, large families, etc."
Furthermore, i-taste has features that make this product a remarkable one: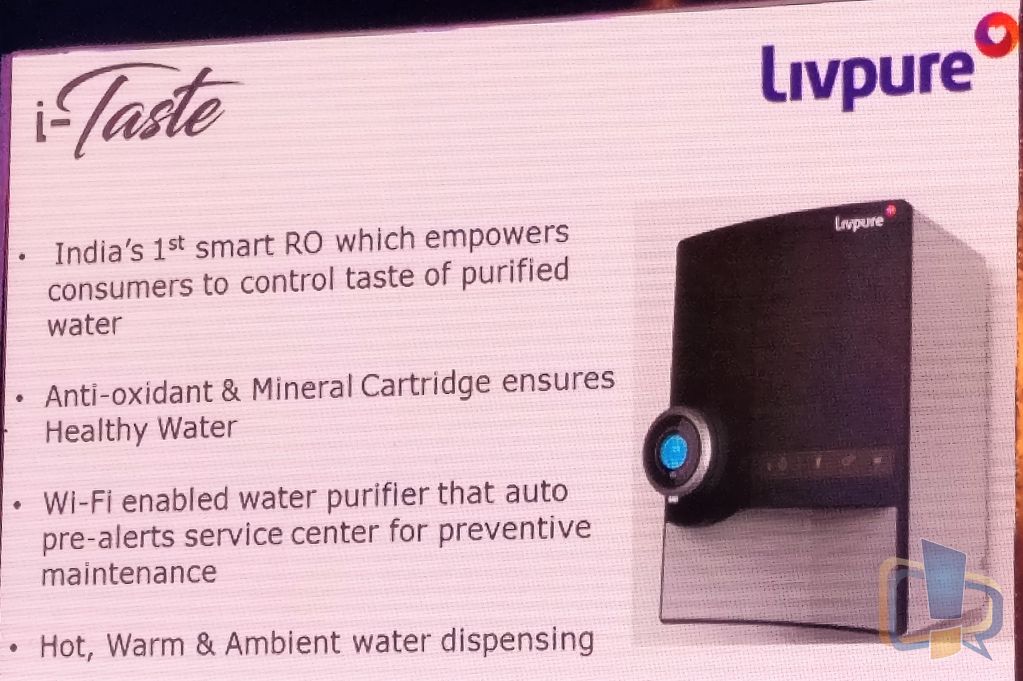 Hot, warm & ambient water dispensing to facilitate preferred drinking water temperature
Antioxidants enriched water that ensures healthy and not just pure water
Interactive LCD display that helps you control the taste of your water & monitor essential RO parameters
Smart dispensing mode lets you control the volume of purified water – unique to your requirements
Insect-proof water storage tank eliminates any chance of contamination by any insects like ants
Advanced 8 stage purification
Livpure i-taste Technical Specifications
1.
Purification Technology
RO + UV + UF + Deoxy
2.
Purification Capacity
Upto 15 liters/hour
3.
Max Duty Cycle
Upto 75 litres/day
4.
Storage Tank Capacity
7 Litres (approx.)
5.
RO Membrane
75/80 (Gallons per Day)
6.
Purification Cartridges
8 Stage Purification
-Sediment Filter
-Pre-Activated Carbon Filter
-Antiscalant Filter
-Reverse Osmosis Membrane
-UV Disinfection Column
-UF Cartridge
-Post Carbon Cartridge
-Deoxy+ Cartridge (Antioxidant)
7.
UV Disinfection Column
24 L/Hr (Design Registration No.- 264546)
8.
UF Cartridge
0.1 μm
9.
Minimum Inlet Pressure
0.3 Kg/Sq.cm
10.
Maximum Inlet Pressure
3 Kg/Sq.cm
11.
Input Voltage
140-300 V AC / 50 Hz
12.
Operating Voltage
24 V DC
13.
Hot Water Dispensing
Two Water Heating Settings / Dispense Options
-Warm Water @ 45°C
-Hot Water @ 80°C
14.
Hot Water-Child Lock
-Child lock prevents accidental dispense of hot water
15.
Heating Element Wattage / Input Supply
500 W/ 230 VAC
16.
Hot Water Tank Capacity
0.8 L
17.
Recommended TDS Range
Upto 2000 ppm
18.
User Interface
Capacitive Touch Activation with Symbols Backlit
20.
Customize Dispensing Mode
To Fill One Glass/One Bottle/ Custom Volume
21.
Filter Life Indication
Alert on Display when filter life is about to Finish
22.
Fault Indication
Fault Indication on Display, if Electronic part is faulty.
23.
Water Quality Change Alert
Alert on Display, if there is change in Water Quality