Daiwa recently announced their 32" and 40" android TV series. The company is a part of Videotex International Pvt. Ltd, a 32-years-old, premier LED Television ODM Company that manufactures for a majority of leading brands in the Indian market. Touted to be an amalgamation of both optical and acoustic delight, the company announced the launch of their four range of TVs, 32" SMART TV, 32" 1 HDMI 1 USB HD Ready TV, 32" 2 HDMI 2 USB HD Ready television and 40" Full HD TV.
Daiwa 32" and 40" TV Series Features
Embracing the burgeoning e-commerce segment for its launch, the company evidently demonstrates its shrewd go-to-market strategy, securing its profitability as a new player in the market. Furthermore, the products have been launched across multiple online portals ensuring maximum brand penetration.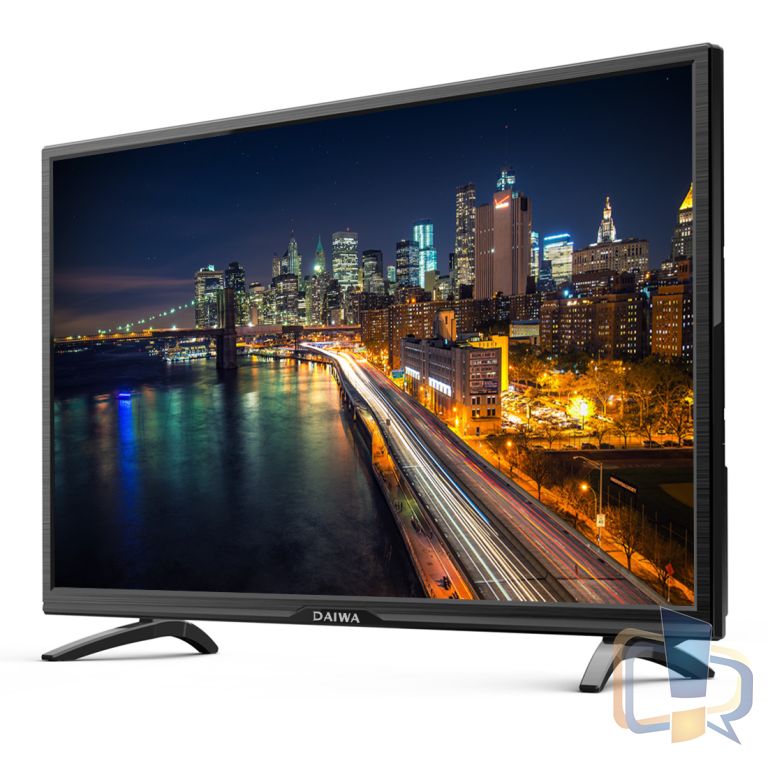 With the motto of "Expect the unexpected", all the TV variants exude an impeccable mix of technology, innovation, quality and cost. Each of these launched TVs are nearly half the price of similar products from the competition. In fact, Daiwa delivers more value for money to customers hosting a number of innovative features that can upscale basic set-top box content and gaming to more detailed, sharper images and high fidelity audio – a perfect marriage of sorts between technology and entertainment.
Commenting on the launch, Arjuun Bajaj, Director, Daiwa, commented, "At Daiwa, our primary objective is to break the myth that best-of-breed products comes with a hefty price tag. All products that come out of our stable therefore brings along state-of-the-art-quality at attractive price points. Particularly, our 32" SMART TV which we just launched, is revolutionary in every sense, and we are confident that this particular variant is poised to create a disruption in the space."
The company believes that the discerning Indian consumers are always exploring something new and at affordable price points and great offers. Ensured by that, it offers various sizes of Full HD LED TVs, SMART TVs and various services suited to the Indian market and its price dynamics. Daiwa will also enter into other categories in the consumer durables domain.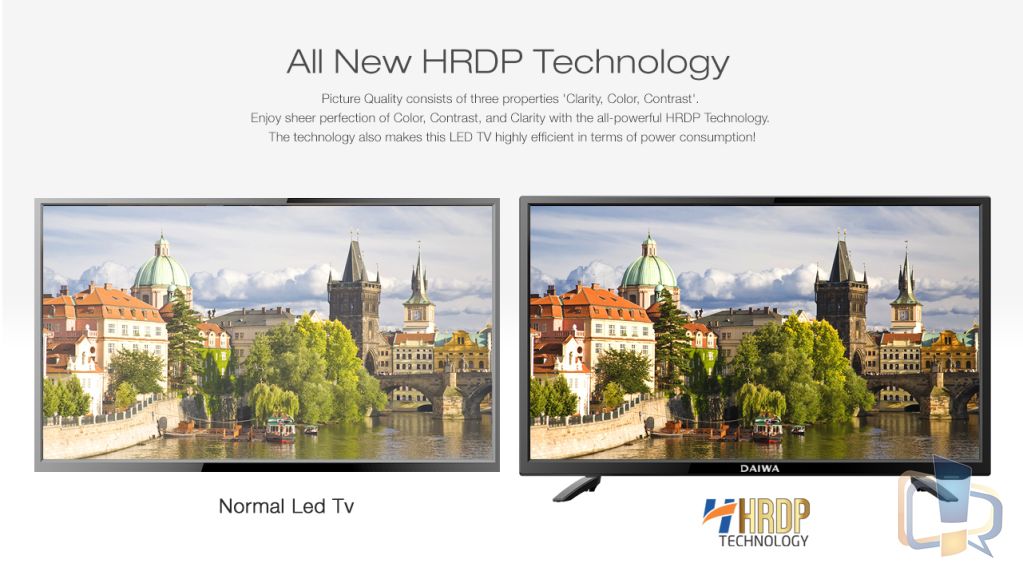 Speaking on the online launch, he further added, "The online marketplaces have gained immense popularity as trusted platforms for buyers, who are looking to purchase high-end high-value products. Additionally, the Television category of these platforms, have been one of the fastest growing categories ever. It thus made perfect sense to collaborate with these platforms to bring our product to the market. We wanted to be where our customer is and today's netizens and millennial are predominantly online."
Lucratively priced, catering to every stratum of the Indian society, the 32" HD ready TV is available from the starting price of INR 9399, SMART 32″ with 1 GB ram and 2.4GHz web Cruizer remote at INR 15,990 and 40″ Full HD TVat INR 15999.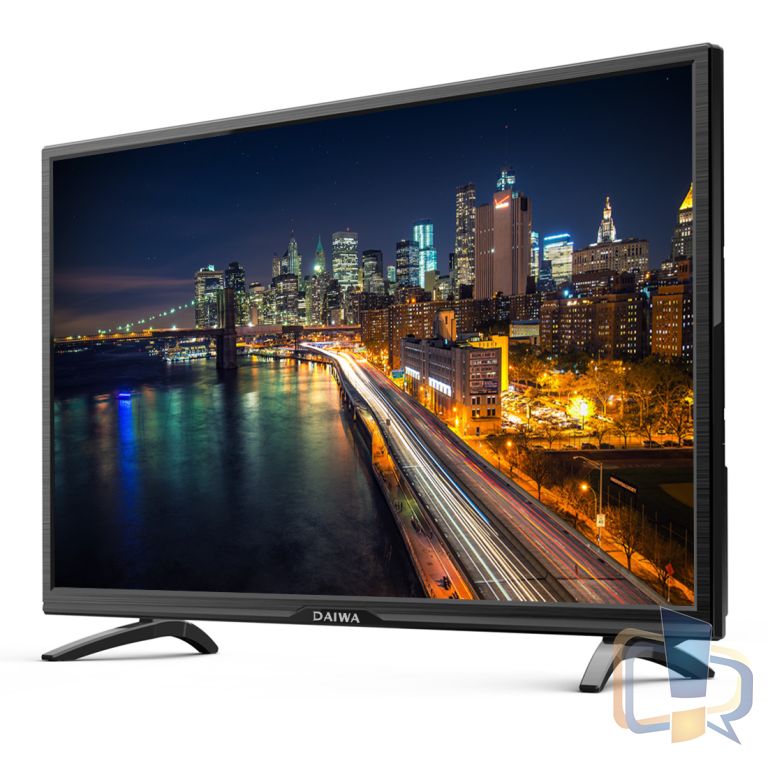 Daiwa 32" SMART TV: The range touted to be a technology marvel, is built on Android platform. It is appealing to the eyes with its thin bezel and brush finish, svelte and slender frame, screen mirroring (M cast). It also brings an almost real aural experience with its 10 Watt speakers. Additionally, it comes loaded with 1 GB DDR3 RAM, MHL, 178° wide viewing angle and unique features like the ability to kill apps running in the background and quick screen grab features. It also has a mini remote called the 2.4 GHz web cruiser. Enabling easy and maximum data transfer, TVs in this range come with 3 HDMI and 3 USB, and it also comes with 4 GB inbuilt memory.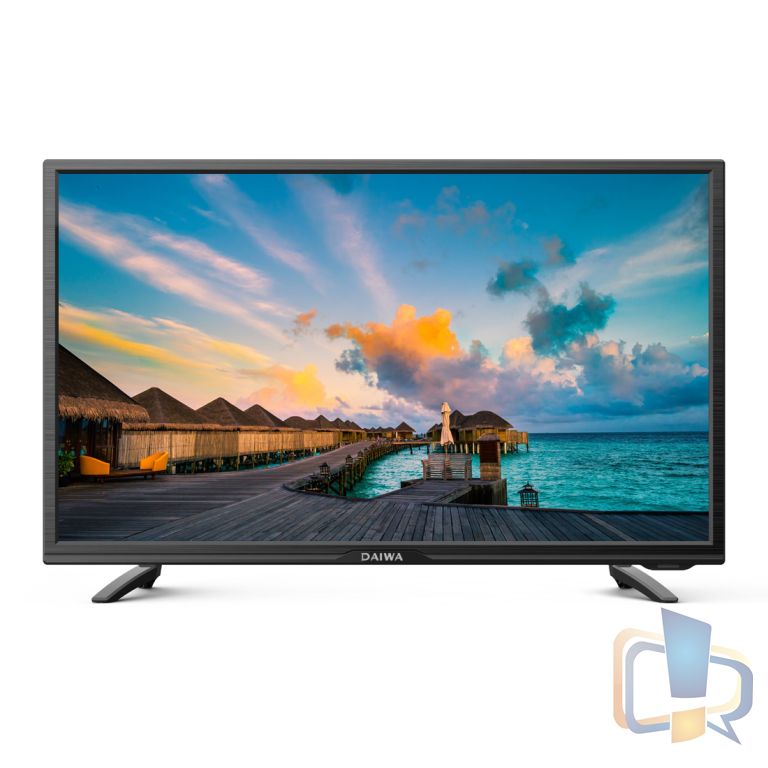 Daiwa 32inch 1 HDMI 1 USB HD Ready TV and 2 HDMI 2 USB HD Ready TV: Offering a life like experience to its viewers, this range is bestowed with Cinema Zoom Mode which allows the viewer to enjoy a film as the director intended, preserving the original aspect ratio, ultra-low power consumption. Furthermore, appeasing the gaming bug in its watchers, it is driven by HRDP technology for a superior gaming experience with clearer and crisper picture, 1366X768 HD screen, multi-media connectivity, power audio, wide viewing angle. Moreover, it also offers useful features like USB-to-USB data transfer, high fidelity surround sound, smart energy saving, all in one remote that connects not just to the TV, but also to media players and wireless headphones, connected to the home entertainment system.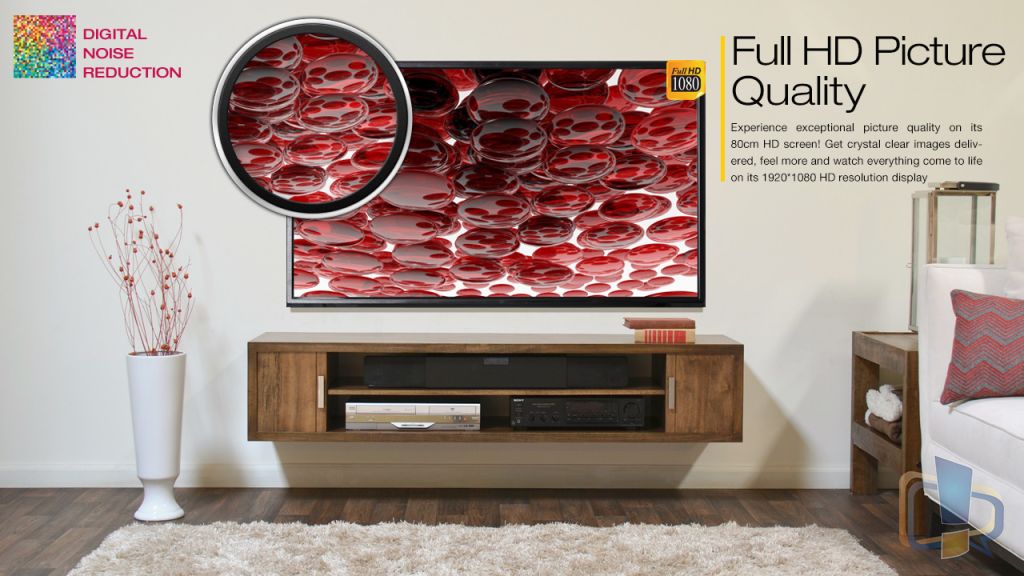 Daiwa 40" Full HD TV: This is a range that satiates every requirement of today's astute consumers, who wish for an all-inclusive experience in one Television set. Power packed with technologies that make watching anything in it, a worthwhile experience. It comes endowed with Cinema Zoom Mode, Smart Energy Saving Eco Vision, Full HD, HRDP tech for fast moving gaming with crystal clear picture quality, multimedia connectivity via 2 USB and 2 HDMI ports, and power audio. Additionally, the range is a visual treat, even when not in use, with its slim depth and narrow bezel. It also offers life-like audio experience with it high-fidelity surround sound. Its other features comprise, USB to USB data transfer, Zero dot LED panel for superior picture quality, etc.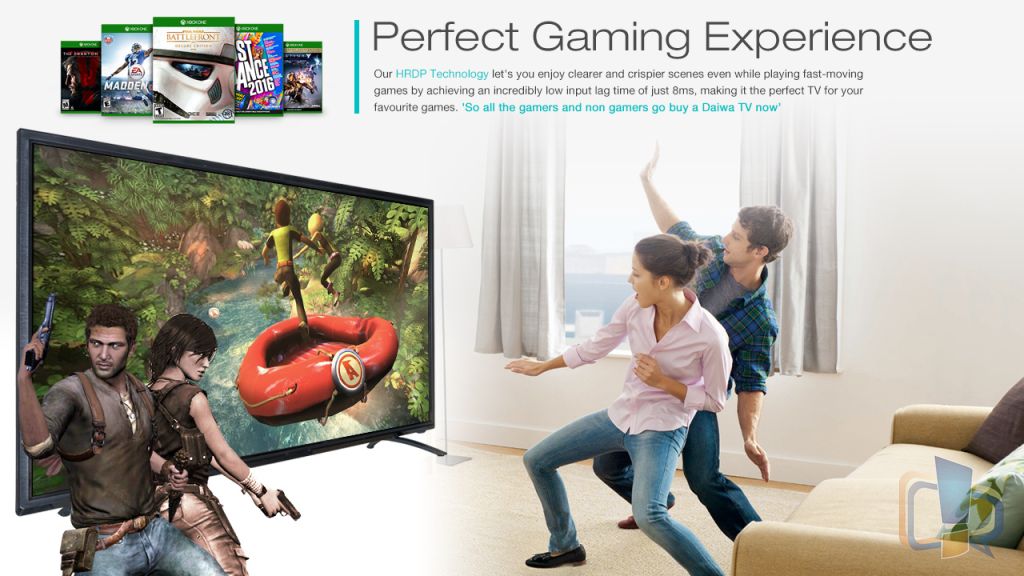 Moreover, the series also boast of being indigenous and is manufactured by the company owned, fully automated plant in Greater Noida. Ensuring world class quality every TV out of the plant is endowed with A+ Grade Panel. Furthering its services, Daiwa also offers free installation and demo at the doorstep of its customers PAN India.
Daiwa 32inch TV Specifications
Brand
Daiwa

Physical Size

Model
Daiwa D32B3S
LED
740x440x80mm
With Stand
740x475x192mm
Box
795x140x505mm
Net Weight
4.6Kg
Gross Weight
6.8Kg Approx

Optical Features

Panel
Zero Brt Dot
Panel Size
80cm (31.5″)
Panel Make
Samsung
Panel Part No.
LSC320AN02
Panel Type
LED
Resolution
HD Ready 1366×768 pixel
Dynamic Contrast Ratio
300000:1
Brightness
>250nits
Viewing Angle
178/178
Panel Interface
10bit Dual LVDS (38Pin/2.0)

Main Board

Main Board
Single Board (Combo Type)
Solution
Mst6A628
Video System
PAL, SECAM, NTSC
Sound System
BG, I, DK, MN, L
Receiving Channel
ATV:200 (1~200)
HDMI
480i, 480p, 576i, 576p, 720p, 1080i, 1080p
HDMI Support
HDMI-CEC, HDMI-ARC, HDMI-MHL
USB Support
USB2.0 & USB3.0
YPbPr/ YCbCr
480i, 480p, 576i, 576p, 720p, 1080i, 1080p
PC-VGA
Format – Upto 1920*1080@60Hz
Color – 16bit, 24bit, 32bit

Input and Output Port

RF Input
1
AV IN
1
Y Pb Pr
1
HDMI
3
USB
3
VGA+PC Ain
1
Coaxial
1
AV Out
1
RJ45
1
Earphone Out
1

Power

Key Function
CH+/-, Vol+/-, Menu, Source, Power
AC Input (Normal)
100~240V AC 50/60Hz
AC Input (Range)
90~264V AC 50/60Hz
Management
Low power consumable mode (Stby <0.5W)
Power Consumption
<65W
Energy Saving (Eco Mode)
Yes

Sound

Audio Output
2x8W
Speaker
45×128 8E/12W
Sound Type
Bottom Firing
Stereo
Yes

In the Box

User Remote
Yes
Air Mouse
Yes (With dongle and data cord)
Base Stand with Screw
Yes (L+R)
Wall Mount
Yes
User Manual
Yes
Warranty Card
Yes
Battery
Yes (2x 'AAA' size)
Smart Features

CPU
ARM Cortex A7 Quad Core 1GHz
GPU
Multi Core Mali-450MP2
RAM
1GB
Storage
4GB (Internal)
Android
4.4.4
Network
RJ45 Ethernet Support (10/100M, DHCP)
RJ45
10/100M, DHCP
WiFi
802.11 b/g/n
Browser
HTML5 Support
USB
2*USB2.0, 1*USB3.0
HDMI
1.4
TV
Yes
OSD Language
English
Chipset
MSD6A628VX/MS6A628VXE
Surfing Net
Wireless Mouse and Keyboard

Features

Weak Signal Enhancement
Yes
Noise Reduction
3D
Comb Filter
3D
De-Interlace
3D
Expension Function
WiFi
Picture Mode
Normal-Vivid-Sports-Eyesafe-Cinema
Sound Mode
Standard-Music-Movie-Sports-User
Backlight Adjustment
Yes (0~100)
Color Temperature
Normal-Warm-Cool
Aspect Ratio
16:9, 4:3, Auto, Just Scan, Zoom1, Zoom2
OSD Display Time
Adjustable
Sleep Timer
Yes
Lock
Default Password: 0000
Multimedia Support
Picture-Music-Video-Text
Image Freeze
Yes
Auto Power Off
Yes
Eco Mode
Off-High-Mid-Low
Favorite (ATV)
Yes
Q. View
Yes
Auto Channel Search
Yes
Channel Manager
Yes
Bass/Treble
Yes
Equalizer
Yes (5-Band)
Auto Volume Leveller
Yes
Surround
Yes
Music Mode
Yes
SPDIF Output
OFF-RAW-PCM
Mira Cast
Yes
HDMI3/MHL
Yes
Air Mouse 2.4Ghz
Include
Dropbox
Yes
Email
Yes
Google Play
Yes
Skype
Yes
Youtube
Yes
Google Chrome
Yes
Media Centre
Yes
Application Manager
Yes
Music Player
Yes
Screen Shot
Yes
Hotspot
Yes

Multi-Media Format Support

Picture
.jpg, .bmp, .png
Movie
.avi, .mpg, .dat, .vob, .div, .mov, .mkv, .rm,
.rmvb, .mp4, .mjpeg, .ts, .trp, .wmv, .asf, .flv
Music
.wma, .mp3, .m4a

International Standard

Safety
UL60950/UL60085
EN60950/EN60085
GB4943-2001/GB8898-2011
Daiwa Android TVs Quick Specifications
Brand
DAIWA
Warranty- Product
1 Year
1 Year
1 Year
Warranty- Remote Handset
3 Months
3 Months
3 Months
Non-warranty- Wall Mount, Battery, Foot/Stand
0-Month
0-Month
0-Month
Product
32″ LED TV
32″ LED TV
40″ LED TV
Model Name
D32A1
D32A2
42LE400
Screen Type
D-LED
D-LED
D-LED
Response Time
8mS
8mS
8mS
Type
LED TV
LED TV
LED TV
Size
80 cms
80 cms
102 cms
Screen Resolution
1366*768
1366*768
1920*1080
Screen Resolution Type
HD Ready
HD Ready
FHD
Screen Size
80 cms
80 cms
102 cms
Brightness
250 nits
300 nits
330 nits
Display Color
16.7M
16.7M
16.7M
Viewing Angle
178°/178°
178°/178°
178°/178°
Panel
Zero-Brt Dot
Zero-Brt Dot
Zero-Brt Dot
Dynamic Contrast
400000:1
400000:1
1000000:1

Key Features

HRDP Technology
Yes
Yes
Yes
USB-USB Copy & Delete
No
Yes
Yes
Picture Enhancement
Yes
Yes
Yes
External Speakers Function For Real Surround
Yes
Yes
Yes
Power Audio For Home Theatre
Yes
Yes
Yes
Multi Media Playability
Yes
Yes
Yes
Multi Display Function
Yes
Yes
Yes
Eco Vision
Yes
Yes
Yes
High Color Gamut
Yes
Yes
Yes
Exclusive Features
USB-USB Copy & Delete (Only for 2-USB models)
Power Audio For Home Theatre Connectivity
External Speakers Function For Real Surround Sound
USB Playability (Video, Music, Photo and text)
Eco Vision for Green Energy
Cinema Zoom
Gives the perfect gaming experience due to the low response time.

Connectivity Features

TV
1*RF IN
1*RF IN
1*RF IN
AV1 Input
RCA
RCA
RCA
AV2 Input
Mini 3.5mm
Mini 3.5mm
RCA
Component In
No
No
No
PC Input (15Pin D-Sub)
VGA
VGA
VGA
PC Audio In
Aux In 3.5mm
Aux In 3.5mm
Aux In 3.5mm
HDMI Input
1* HDMI
2* HDMI
2* HDMI
USB Input
1*USB2.0
2*USB2.0
2*USB2.0
SATA HDD Support
Upto 1TB
Upto 1TB
Upto 1TB
AV Out
Mini 3.5mm
Mini 3.5mm
RCA

Audio Features

Equalizer
Yes
Yes
Yes
Surround Sound
Yes
Yes
Yes
Bass/Treble Control
Yes
Yes
Yes
Sound Standard Mode
5-Mode
5-Mode
5-Mode
Auto Vol Leveller
Yes
Yes
Yes
Power Audio Control
Yes
Yes
Yes
External Speaker Out
Yes
Yes
Yes
Sound
Stereo
Stereo
Stereo
Audio Output RMS
2*10W
2*10W
2*10W

Video Features

LED Display Type
Direct LED
Direct LED
Direct LED
Aspect Ratio
16:09
16:09
16:09
Viewing Angle
178°/178°
178°/178°
178°/178°
High Bright Panel
250 nits
300 nits
330 nits
Response Time
8mS
8mS
8mS
Type
LED TV
LED TV
LED TV

Standard Features

TV System (PAL/NTSC)
Yes
Yes
Yes
Program No.
Yes
Yes
Yes
Program Edit
Yes
Yes
Yes
Favorite Program
Yes
Yes
Yes
Clock
Yes
Yes
Yes
On/Off Timer
Yes
Yes
Yes
Sleep Timer
Yes
Yes
Yes
Auto Sleep
Yes
Yes
Yes
Picture Standard Mode
4-Mode
4-Mode
4-Mode
Color Temperature
4-Mode
4-Mode
4-Mode
DNR (Dynamic Noise Reduction)
Yes
Yes
Yes
Image Freeze
Yes
Yes
Yes
De-Interlace
Yes
Yes
Yes
Comb Filter
3D
3D
3D
Cinema Zoom
Yes
Yes
Yes
Hotel Mode
Yes
Yes
Yes
Power Saver
Yes
Yes
Yes

Power Features

AC Input
90~270V
90~270V
90~270V
Power Consumption
< 50W
< 55W
< 65W
Stand By Power
< 0.5W
< 0.5W
< 0.5W

In The Box

LED TV Unit
1
1
1
Table Stand
1 Pair
1 Pair
1 Pair
Remote Handset
1
1
1
Battery "AAA"
2
2
2
User Manual
1
1
1
Warranty Card
1
1
1
Wall Mount
1
1
1
Pros
Revolutionary 32" SMART TV with 1 GB RAM, 2.4GHz Web Cruizer Remote and Screen Mirroring technology.
The 32" 1 HDMI 1 USB TV with features like Cinema Zoom Mode, Power Saving, HRDP technology for gaming, 1366X768 HD screen, multi-media connectivity, power audio, 178° wide viewing angle.
The 32" 2 HDMI 2 USB TV with USB-to-USB data transfer, high fidelity surround sound, smart energy saving.
40" TV packs in a sleek 1920X1080 HD resolution display, Zero bright dots A+ Grade LED panel in conjunction with other ace features.