Although the era of gaming laptops in India has just started, Asus is aggressively targeting this upcoming market with the launch of a various new gaming laptop. This laptop was however launched few months back, and this article is about Asus R510J laptop review. While pricing of many gaming laptops can burn a hole in your pocket, and they cost even more than creating a high-end gaming rig, yet mobility is the first thing consumer demands nowadays. Although whenever we speak of gaming laptops, Alienware series or HP Omen lineup are a very common name to hear, if you want to try something new, Asus 510J is a worthy contender.
Asus R510J Gaming Laptop Review: Design & Features
Equipped with Nvidia GeForce GTX 950M, you can call it the starting range for a gaming laptop, nevertheless with the pricing and specs it offers, it's a balanced blend of features and performance which is hard to turn down. Speaking of design, since it's a gaming laptop, it's not designed the usual boring way like other mainstream laptops being used for the professional purpose. For gaming purpose, it has a good wrist support and large trackpad.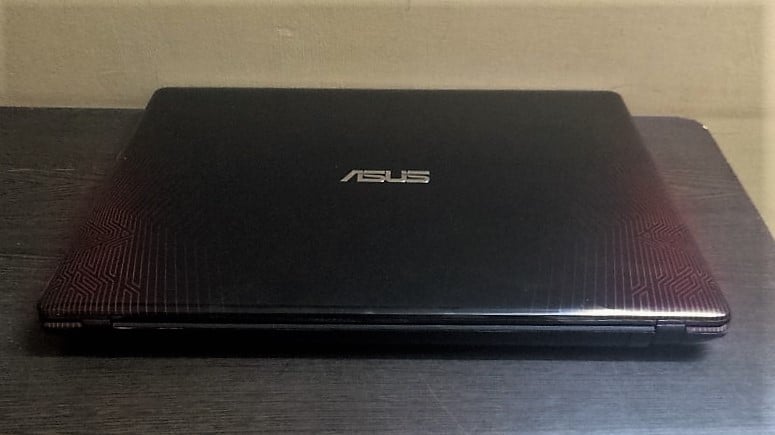 Design-wise, it's a beautiful combination of red geometric lines combined with black background and a piano finish on top shell looks pretty. However, the top is susceptible to smudges and scratches. Hence, putting on the skin is highly recommended. Inside, it's a matte finished textured material which can resist tear and wear better. Overall, the build quality of the Asus R510J is pretty good.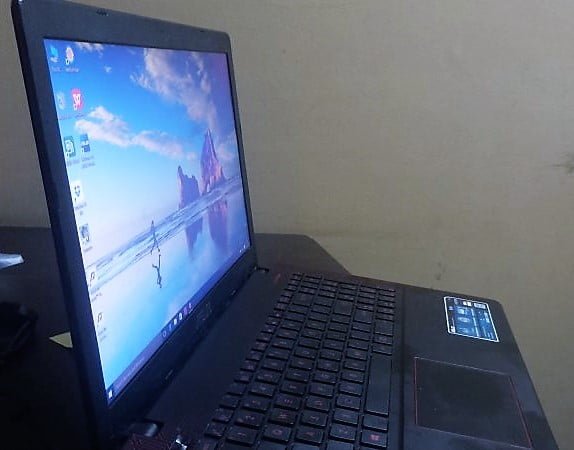 Speaking of display, it has a matte screen which helps in eradicating reflections. Display color reproduction and sharpness are pretty good, though, and the viewing angle is excellent. It's a Full HD display and is suitable for viewing multimedia and general content with ease.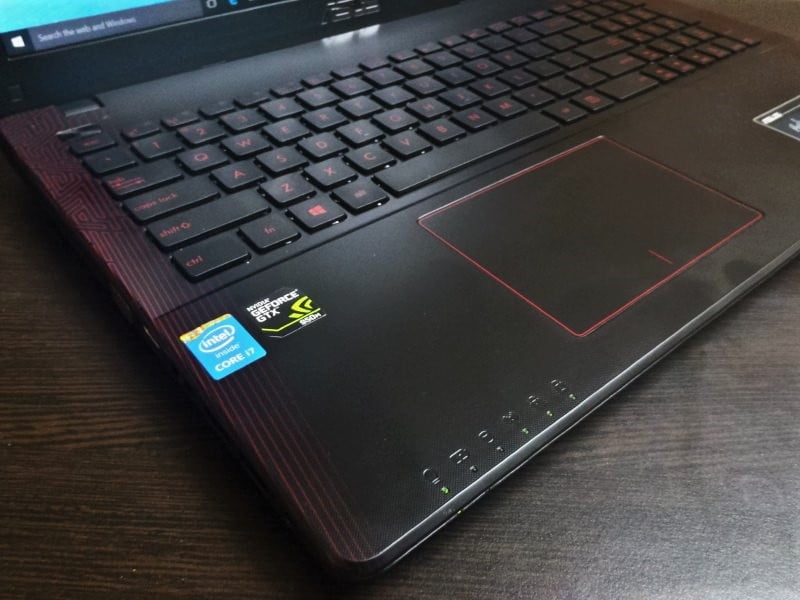 Typing on Keyboard is a breeze, and all the keys are well-spaced as per chiclet design. All keys offer excellent tactic feedback, and the letters are embedded on black keys in deep red hue color. While at this price range, Asus could have considered providing backlit keyboard too.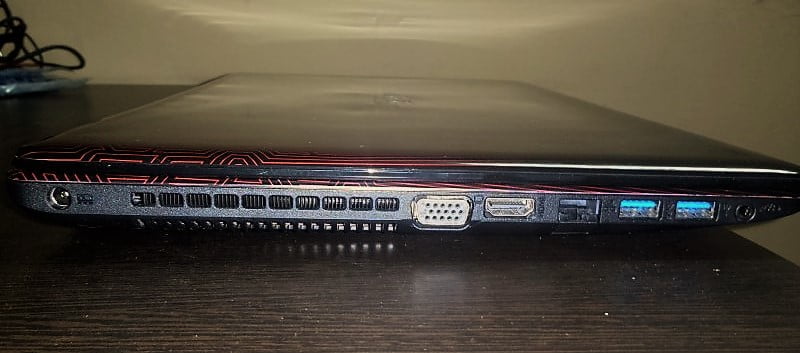 There are plenty of connectivity options though from a gamer's perspective in the laptop. There are 3 USB ports, out of which 2 ports supports high speed 3.0 standard. There's an HDMI & Ethernet port with VGA & Headphone slots.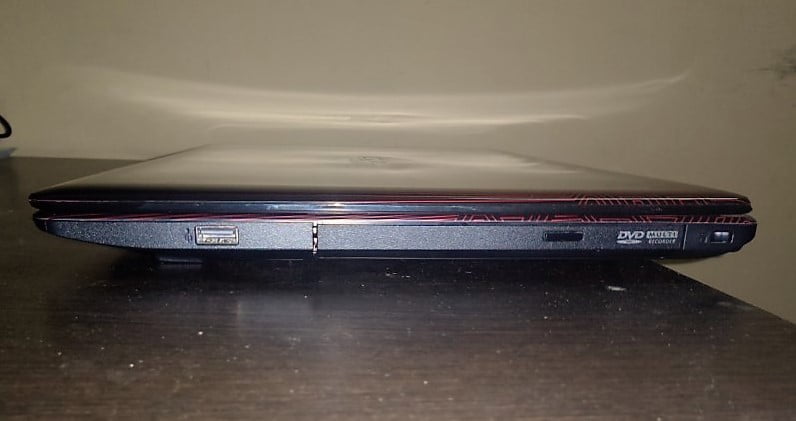 There is 1 TB of internal storage via SATA Hard disk. Being a gaming laptop, the VGA resolution webcam is just fine, not to keep high hopes with that, as the videos look grainy during a Skype chat when sitting inside a room.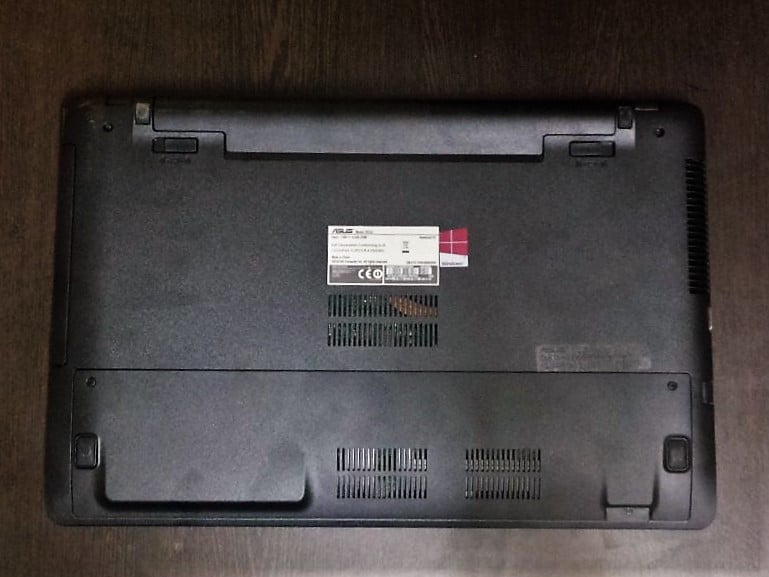 While there isn't much of bloatware added by Asus in this laptop, there are usual software's which almost every company provides pre-installed like an Antivirus, Asus Web Storage and USB charger plus. There is some stuff related to gaming too, directly accessible from the desktop.
Also read: Asus launched ROG GL552JX Gaming Laptop with 4GB Graphic Memory
Asus R510J Gaming Laptop Review: Performance
On the performance part, a gaming laptop has to be extraordinary with specifications and cutting-edge components, and Asus R510J fulfills all such requirements. Powered by Intel Core i7 4720HQ CPU clocked at 2.6 GHz with 8GB DDR3L RAM, doing daily tasks on this laptop are a breeze. For gaming, the Broadwell architecture CPU has the chops for tackling latest games, and the ample amount of RAM supports that as well. NVIDIA GeForce 950M is one of the popular GPU being used in this laptop with 2 GB RAM in it.
Also read: Asus Launched New Laptops in "Republic of Gamers" Line up in India
Here are the scores obtained after running various benchmarking tools:
Heaven 4.0: Default: 821@32.6fps; Max: 438@17.4fps
PCMark 8: 3178 points
3DMark: Cloud Gate: 14269; Sky Diver: 10744; Fire Strike: 2801
Valley 1.0: Default: 1335@31.9fps; Extreme: 524@12.5fps
PCMark 8 Battery Life: 2542 points; 2 hours 13 minutes 8 seconds
With such amazing scores at benchmarking, Asus 510J in this price range is a value for money product. PC Mark and 3DMark scores are pretty impressive, and you'll be able to run most games, including the latest ones too by tweaking some settings if necessary. Upon playing some games for hours in high-performance mode, it didn't become too hot which is commendable. Apart from gaming, this laptop also fulfills the regular usage and handling media content smoothly, and you won't find any issue in doing multitasking.
Also read: Asus Zenfone Zoom Review: One of the Best Camera Smartphone
With a good amount of RAM and 2 GB of Nvidia GPU, this laptop can handle anything like intensive web browsing, playing HD files or doing intensive graphic editing of media content.
Asus R510J Gaming Laptop Review: Battery
While gaming laptop are tweaked to give the maximum performance during a gaming session, they're not designed for giving an exceptional battery life, especially when you're using a power hungry CPU and GPU, which takes a toll on the battery. This is why, during a gaming session, it lasted for a little more than 2 hours and on daily life usage, it maxed between 3 to 4 hours depending on the tasks you're doing.
Also read: Asus Zenbook Models with 6th Gen Intel Processors Specifications & Price
Asus R510J Gaming Laptop Review: Final Verdict
Although I don't find any perfect laptop for gaming, unless you're looking for one with a budget of over a lakh. But Asus R510J just fits the budget and is a good combination of prices vs. performance, keeping the balance right. Hardware and performance wise, this laptop is really impressive and leaves little to NO grudges to crib about. It has Windows 10 pre-installed and overall its a value for money product.