With a grand event at Agra, Asus launched their much awaited flagship phone i.e. Asus Zenfone Zoom. With this phone, Asus created a benchmark for other companies to achieve for embedding a camera with optical zoom capabilities in a phone yet not compromising on the thickness of the phone or giving it odd looks like what Samsung did in their S4 Zoom camera phone where the lens protrudes out of the back. That looked odd. Asus Zenfone Zoom represents the brilliance of what company is capable of doing and what they do at their R&D is brilliant. In 2013, Nokia did the same thing by launching Lumia 1020, but that phone had no Optical zoom, rather it had 4X lossless digital zoom which was impressive that time, not now. Priced at Rs. 38K, is this camera phone worth a buy or do it look overpriced like all Samsung flagships phones, we will find out that in this review.
Asus Zenfone Zoom Review
Design & Build Quality
Speaking of the build quality, it's just 5mm thin at edge with dedicated shot and record button. It's body is made of a aluminium unibody frame which has metal at edges and inside the metal is fused with high-grade plastic using nano-molding technology for giving super strength to internal parts.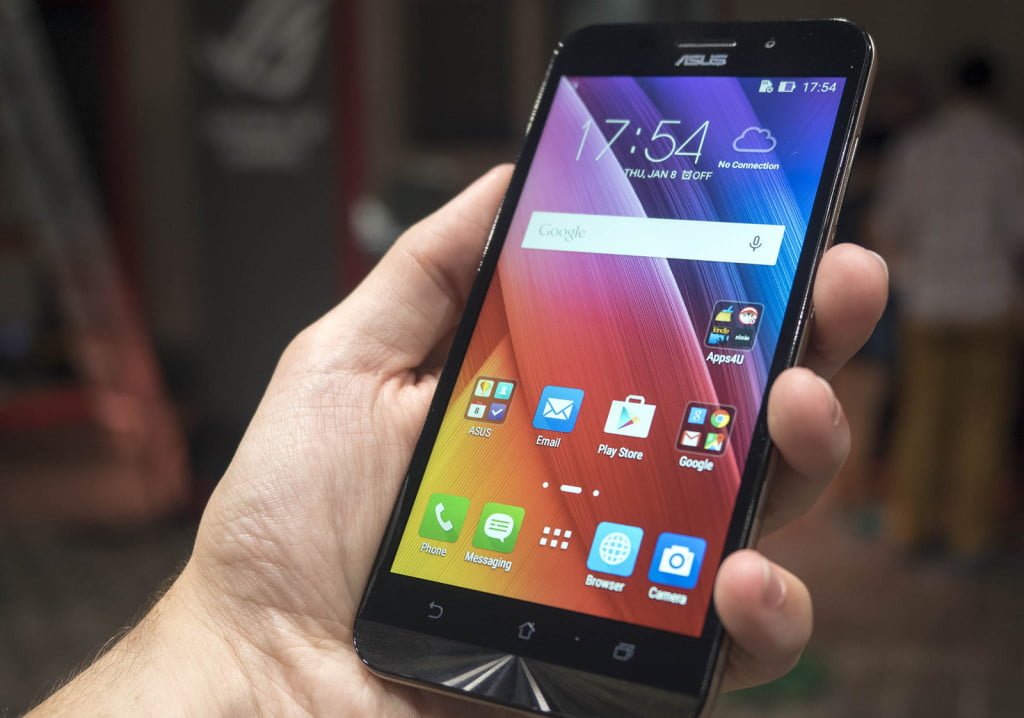 Although this phone looks like any other Zenfone at front, it's real engineering can be seen on the back with looks like a phone with camera with high-end abilities. This slump at the back of camera represents that Asus in it's 2 years of research has worked hard in housing the optical zoom mechanism in that small space and then smartly designed the phone, so that the bump may go unnoticed.
Zenfone Zoom also got Good Design award because of their design improvements which includes diamond cutting edges with aluminium unibody frame with 5mm ultra-thin edges. Also they changed the location of power button from top to side.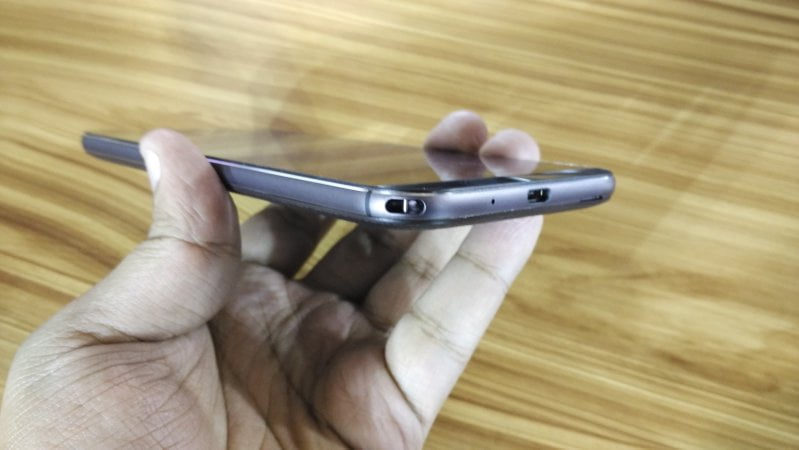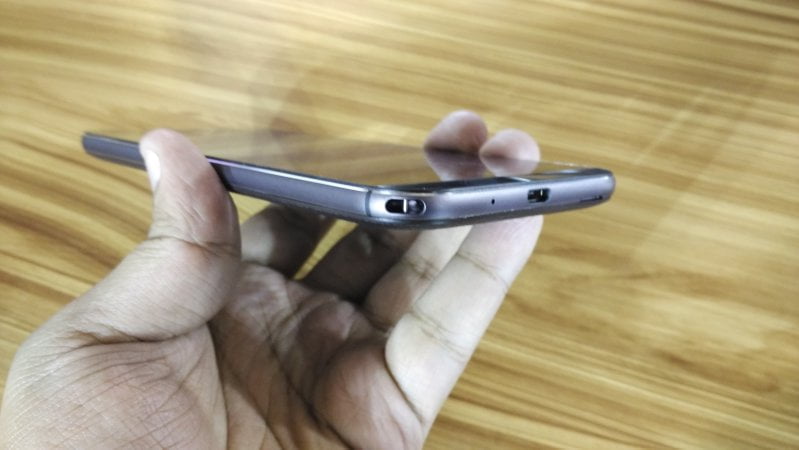 Now at the right edge of the phone, it has volume controller buttons (which can also be used to zoom in-out in Camera), power button along with dedicated video and image shutter buttons.
At the left there are no buttons and it's the complete unibody frame.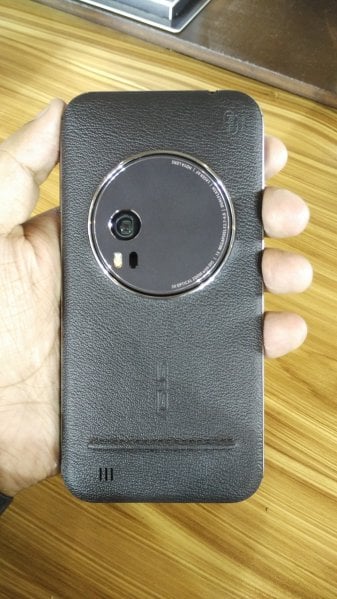 Looking at the back, they've given a leather like texture which gives a unique and premium look to the device. There is a speaker grill at the back bottom of the smartphone along with the bump to level the device with camera slump.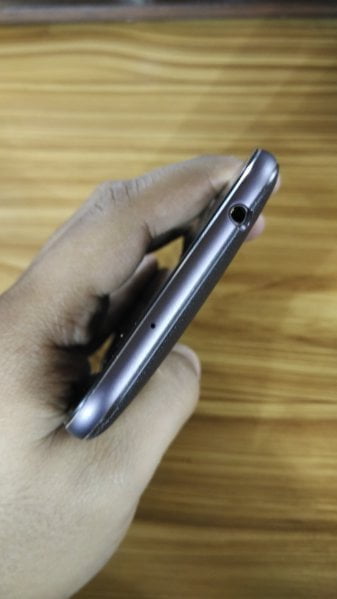 The audio 3.5mm Headphone jack is at the top corner of the phone and at the bottom it has the USB connector to charge the phone or for data transfer purpose.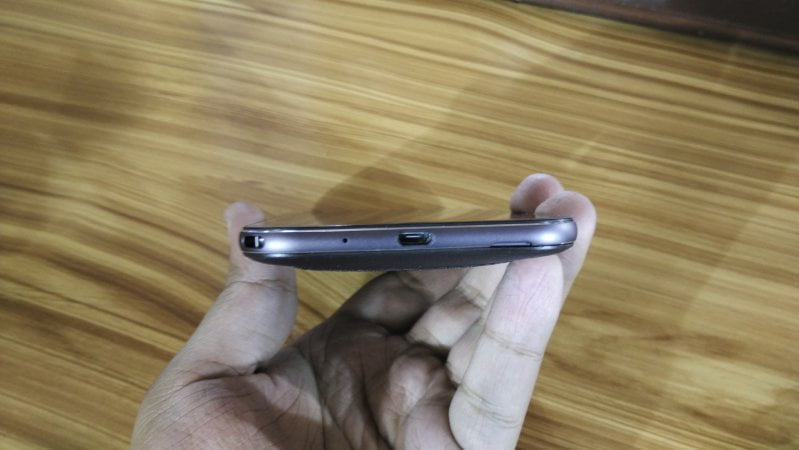 However, its the back of the phone with diamond cutting edge at the corner which makes it look rich in design. The leather like finish at back gives a good grip to hold the phone.
Display
When many manufacturers are bringing Quad HD Display in such price range, I still believe that it's a good decision to give Full HD Display because of the battery consumption reasons. Phones with Quad HD display are yet not able to give a good battery life and even our eyes cannot differentiate between FHD & QHD in daily usage.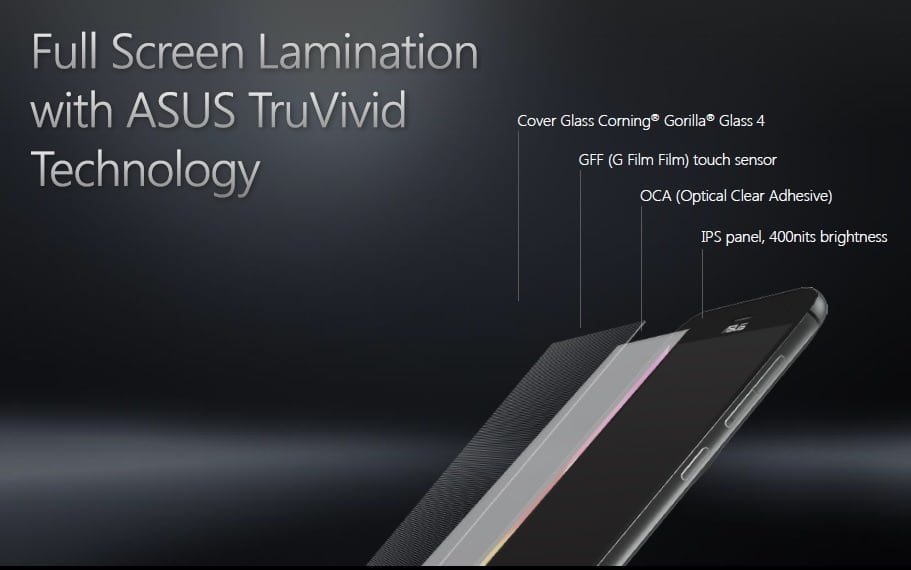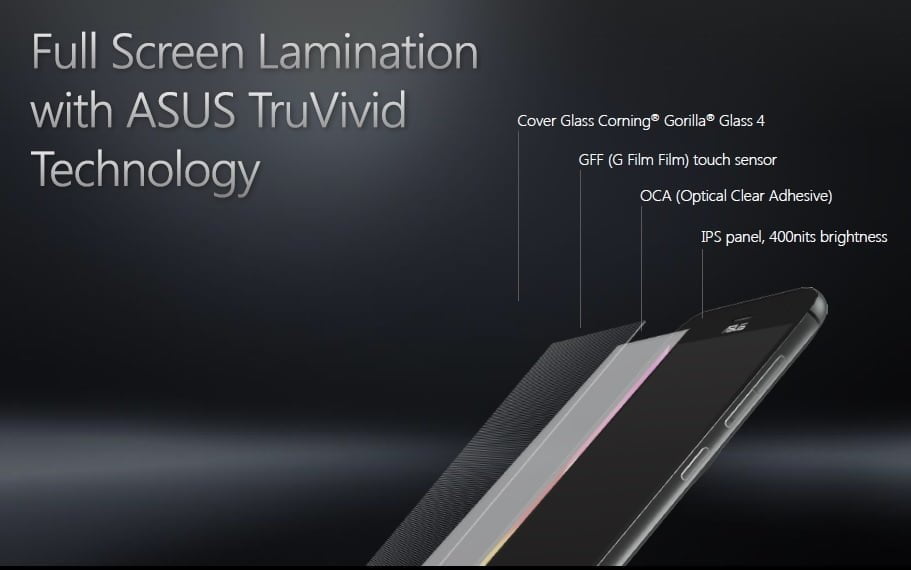 To make it stronger, it has Corning Gorilla Glass 4 which is till now the strongest glass available and hence this phone is capable of rugged usage.
Also the display has great viewing angle even at bright sunlight. Also we didn't face any delay in touch sensitivity in our review period.
Performance
Powered with 64-Bit Intel Atom Z3590 processor clocked at 2.5GHz with 64-Bit Dual Channel 4GB RAM, this phone is a fluid in daily usage with no lags and jitters. I have heard few people saying that ZenUI lags but in my review period which is for a good long time and even considering that it has 4 GB of RAM, how can a phone lag? It doesn't lag practically nor it can theoretically. Previously i reviewed Asus Zenfone 2 Laser which with 2 GB RAM never lags, then how come a phone with 4 GB RAM lags? Those who says it lags, is a blunt LIE.
Gaming Performance
Along with a PC-grade processor, it has PowerVR G6430 GPU which helps delivering an amazing gaming experience. Upon testing, we didn't found any issue playing any high-end games and if i remember it right, it's the same technology which is being used on Apple-devices for graphics performance. This technology ensures to deliver high performance even at high energy consumption. Here's a gaming performance video by one of my friend:
Also we didn't faced any issues in doing multitasking. I found many apps restored on exact position where i left them off, or usually what Android does to free memory, it kills the app in background, yet keep them in recent with last seen thumbnail. But since this phone has 4 GB RAM, at many instances, i restored Facebook app at same exact position where i left off like while writing any comment or while viewing any timeline of anyone. That's the difference a phone with good amount of RAM brings to users.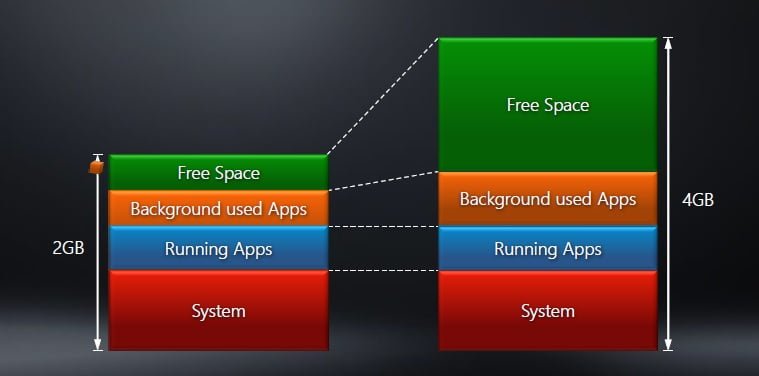 Although when Asus says that it has a PC grade performance. I don't really understand that why there is a need to compare a mobile processor with a PC grade processor. However Intel Atom Z3590 or Z3580 processor is what categorized and compared with Snapdragon 810 processor, and yet people prefer having the phone with Intel processor.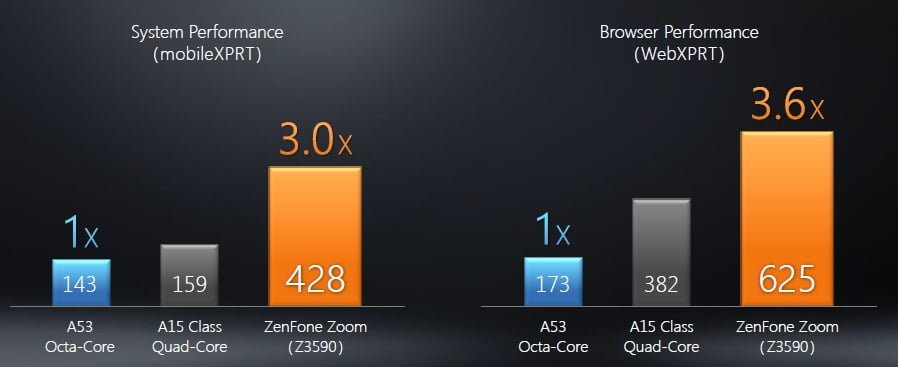 Camera
Zenfone Zoom is something which is aimed to reduce the gap of DSLR-level camera and a smartphone photography experience. I am sure Canon & Nikon must be furious after seeing such advancement in smartphone cameras. May be they should too consider selling phones too with excellent cameras, No? On this device, Asus is offering a 13 MP camera at rear with Panasonic FSI Sensor with 3X Optical Zoom with 10-element lens. It also comes with Optical Image Stabilization and a dual-color LED Flash. Here's a detailed camera review by Sharmaji Technical:
At front, it has a 5 MP camera with BSI High sensitivity sensor with 5P lens, F/2.0 Aperture and 88 deg wide angle. Upon testing we found phone taking good selfies, however we'll write a separate review for the camera of Asus Zenfone Zoom in coming days.
Battery
For testing battery, my usual habit is to install as many apps as rookie geek would do and then using them in usual manner like we do in a normal day. Hence, with 1 hour of gaming, 2 hours of watching video (thanks to Netflix addiction), 1.5-2 hours of calling, shooting some images and videos and then the phone battery lasted more than a day.

Also it comes with Boostmaster fast charging technology which helps you charge the phone from 0 to 100 in 1-1.5 hours max. Also charging with it's own charger which is of 9V/2A 18W, can charge up the phone enough for 4 hours of talk time in 10 minutes.
GPS Connectivity
Although this part i don't usually cover in phone reviews as separate entity, but this phone completely surprised me by connecting and locking to GPS even when the phone was in pockets while driving a car. I use Navimaps by mapmyindia a lot for navigation purpose and those maps works completely offline until i require traffic information. Trust me, Navimaps has horrible reviews on play store, but those work perfectly in this phone. So, now i just add set the destination, start navigation and keep the phone back in pocket. That helps me in concentrating more on the roads and the speakers of the phone are good loud enough, that i hear the driving directions and keep driving. This sounds odd i know, but i like it this way now. Also, upon doing the research on phone, i found that it supports 5-satellite navigation system i.e.:
GPS (US Global Positioning System)
GLONASS (Russia Global Navigation Satellite System)
BDS (BeiDou Navigation Satellite System)
QZSS (Quasi-Zenith Satellite System)
SBAS (Satellite Based Augmentation System)
Sound
Although while reviewing a phone, we don't really look into the sound of the phone in detail, but in Zenfone Zoom, Asus has made some serious improvements by providing a 5-magnet speaker with a dedicated sound chamber inside phone.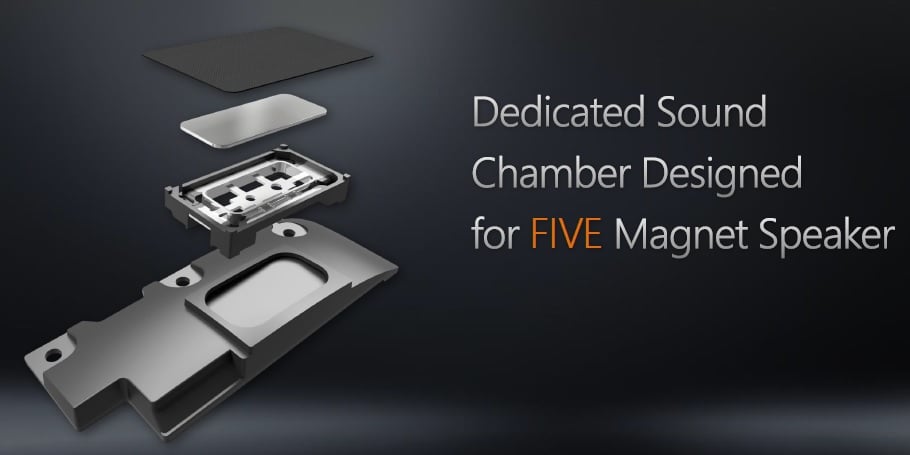 This phone is good loud enough for playing music in a room and even at full volume, audio doesn't distort and it's AudioWizard app gives various reverb options.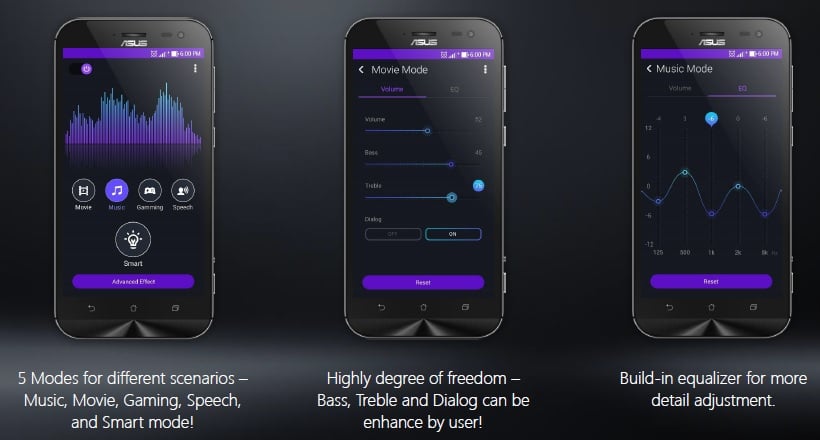 Final Verdict
Asus has done 2 years of research on this phone, hence did a grand event to launch this phone. Asus with this phone, wants to show that they're pioneer too in what they make. Asus Zenfone Zoom is an excellent phone when it comes to camera and overall user experience. Priced at 38K, it's pricing is somehow at higher end as it doesn't comes with a fingerprint sensor and doesn't support 4K recording. Hopefully i'll expect Asus to push an update for supporting 4K recording in this phone, but 4K is still something which is not being used widely because of horrible file sizing. Asus with my experience focus more on the features which are being used commonly by most users and improves them first.