Usha one of the leading consumer durable company recently launched their latest model of cold press juicer in India. Main USP of Usha Nutripress is juicing in the most natural way. It extracts the juice at low temperature to retain nutrients, instead of high-temperature grinding which happens in most conventional centrifugal juicers. Not just fruit juices, you can use Nutripress for extracting juices from hard vegetables, green vegetables, can make frozen deserts and extract milk from nuts and grains.
Usha Nutripress Cold Press Juicer
Usha Nutripress Cold Juicer extracts the juice in the most natural way any machine can do. It extracts juice by squeezing and pressing the ingredients at low temperature (65 RPM) to retain nutrients, instead of high-speed grinding of centrifugal juicers. With such process, the machine ensures that the user gets the highest quality of taste and nutrition, retaining most nutrients like Vitamins, enzymes, and trace minerals.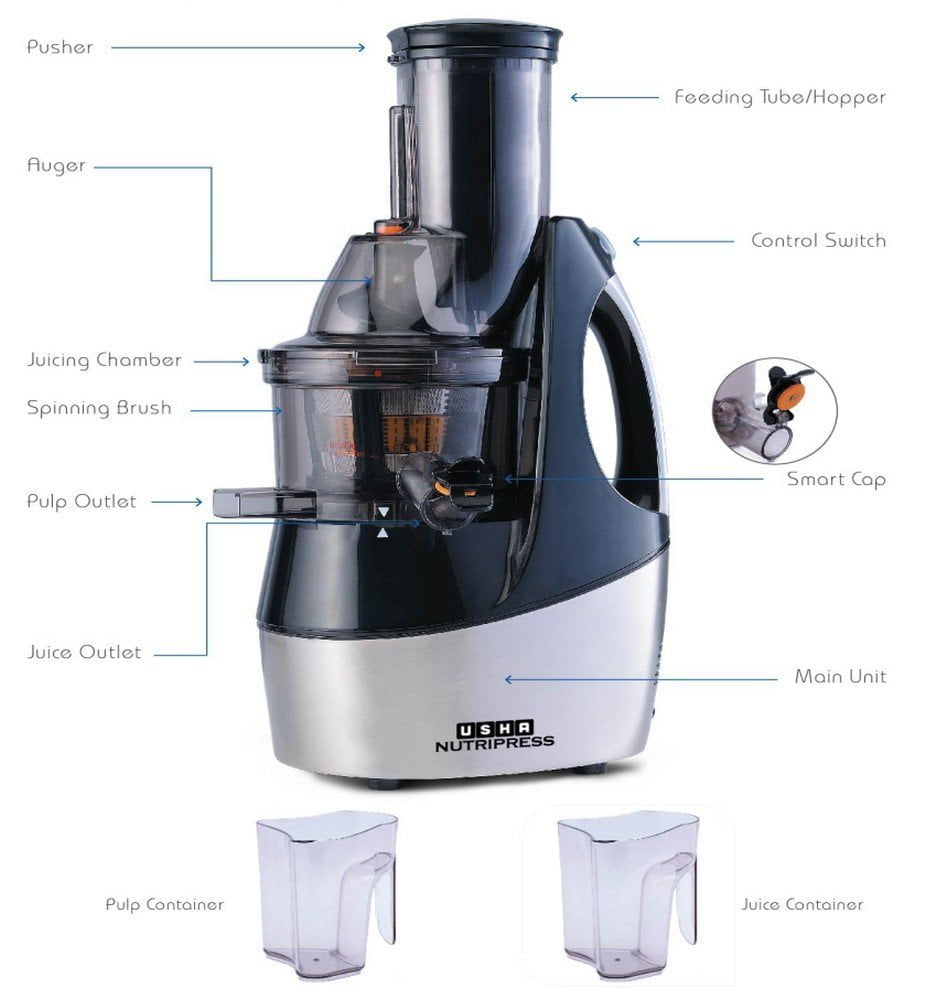 Due to its price range, maybe it's not in reach of every kind of customers, but it does meet the needs of a modern Indian consumer demand for a healthy life. Usha Nutipress not only preserves most nutrients, but it also delivers more juice per fruit/vegetable. This is in sync to the product tagline "GET MORE JUICE OUT OF LIFE" and underlying the key message of living a healthy life.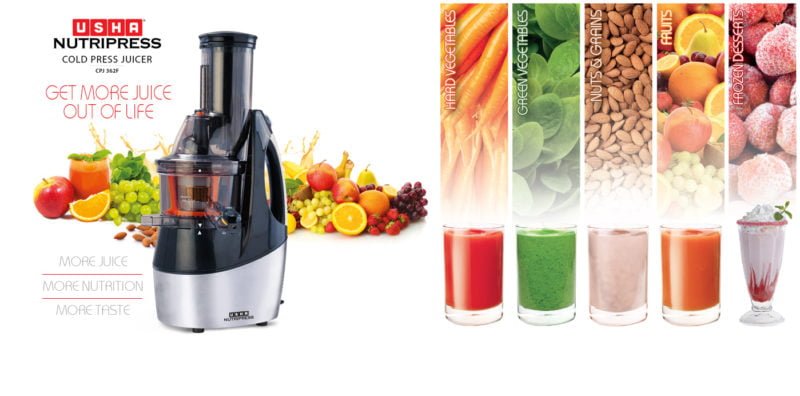 Usha Nutripress uses a powerful and effective motor, and there is 5 years warranty on it. This advanced motor operates silently unlike the noise created by high-speed rotation of the spinning blades of centrifugal juicers.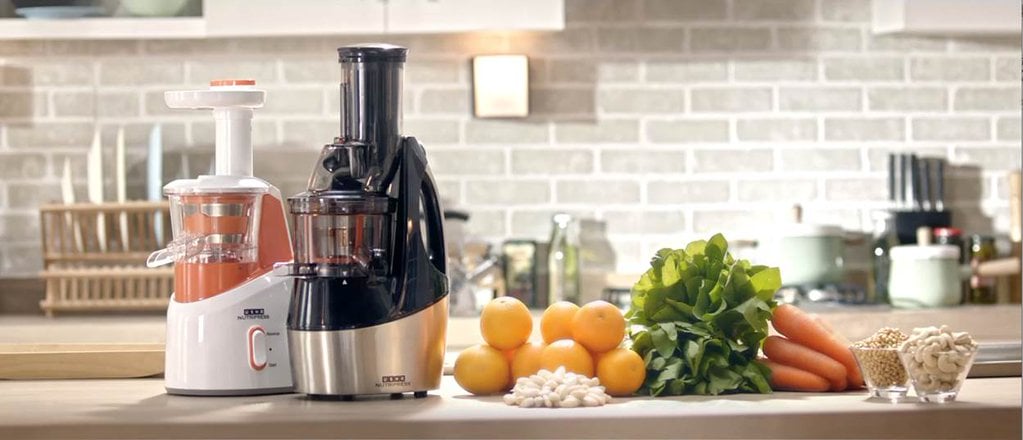 Usha Nutripress is available in two variants. The flagship model comes with 3 filters for different applications and a 75 mm wide full mouth feeding tube. Both of the models comes with a free recipe book and carries a 5 years warranty on motor.
https://twitter.com/luckyankit/status/722011130697293824
Prices of Usha Nutirpress Cold Press Juicer models are Rs 27990/- and Rs 20990/- and online it is exclusively available at Amazon.in and would be available soon across all modern retail stores by 15th May 2016. There will be a counter demonstration at many places in Delhi/NCR, Mumbai, Bangalore, Chennai, Hyderabad, and Pune. In same cities, Usha is also providing free home demonstrations to all budding buyers.
Usha Nutripress Cold Press Juicer In-Box Contents of Flagship Model
Main Unit

The main unit of the juicer contains
the motor and controls

Hopper/Feeding Tube

Use the feeding tube to feed in fruits,
vegetables and nuts & grains

 Auger

The Auger is used to crush slowly ingredients for Natural Juicing.

Low-temperature natural juicing at 65 RPM to retain nutrients in silent operation

Pusher

Use the Pusher to push down fruits along the feeding tube when required

Juicing Bowl

Juice Bowl holds the Auger, Filter & Spinning Brush for juicing

Spinning Brush

The Spinning Brush is used as a rotating wiper in the juicing bowl

Pulp Container

Use the pulp container to collect pulp & frozen fruit desserts from pulp outlet

Juice Container

Use the juice container to collect juices, smoothies & nut milk from juice outlet

Cleaning Brush

Use it to clean Filter/Auger/Juice Bowl

Fine Filter

Useful for making pure juices with little to no pulp, such as green vegetable juices or fruit juices

Coarse Filter

Useful for making thicker, pulpier juices, smoothies, lattes, and soups.

Frozen Dessert Filter

Useful for making Frozen Fruit Dessert.
How to Use Usha Nutripress Cold Press Juicer
Get your Juice ingredients ready, before plugging in the Juicer's power cord into an outlet.

Hard Vegetables: Slice hard vegetables before juicing to avoid putting excess strain onto the motor.

Greens: Fibrous ingredients like spinach, celery and kale should be cut into small lengths before juicing.

Fruits: Cut wedges before feeding them into the juicer. Also, remove seeds, if any.

Desserts: Use frozen fruits, after thawing them.

Nuts: Soak nuts and grains in cold water before juicing.

Press the ON button to operate only after inserting few ingredients into the feeding tube.
Insert the prepared ingredients one piece at a time.
Use the smart cap to make mixed juices, smoothies and to stop juice from dripping, or for a quick rinse between different juices. You can create mixed juices by keeping the smart cap closed during juicing.
After juice and pulp are completely extracted, switch the unit OFF.
Usha Nutripress Cold Press Juicer Technical Specifications of Flagship Model:
Wattage: 240 Watts
Speed: 65 RPM
Voltage: 220V~240 V
Rated Frequency: 50 Hz
Maximum Use: Less than 30 min
75mm Full mouth feeder tube for full fruit juicing
Smart Cap (For Juice mixing/ To prevent spillage of juice)
3 Filters (Fine, Coarse, Dessert Filter)
2 Jars (Pulp Container, Juice Container)
Usha Nutripress Cold Press Videos
Usha Nutripress Cold Press Recipe Book
Usha Nutripress Cold Press Instructions Manual