LG Electronics India unveiled its 2023 Soundbar lineup, offering an array of innovative models that provide an immersive audio experience and boast convenient features and sustainable designs. LG's 2023 high-end soundbars (Models S95QR, S90QY, SC9S, and S75Q) offer multi-channel audio that creates a realistic soundstage. Their unique center up-firing speaker clarifies dialogue and precisely locates sounds to make movies and content more lifelike.
The flagship model of the 2023 lineup – the LG S95QR soundbar, is the perfect model for home theater lovers, delivering 810W power, 9.1.5 channels, and 5 up-firing speakers (3 on the soundbar, 2 on the wireless rear speakers). This top-of-the-line unit lets you experience mind-blowing surround sound with Meridian, Dolby Atmos, DTS:X, and IMAX-enhanced content.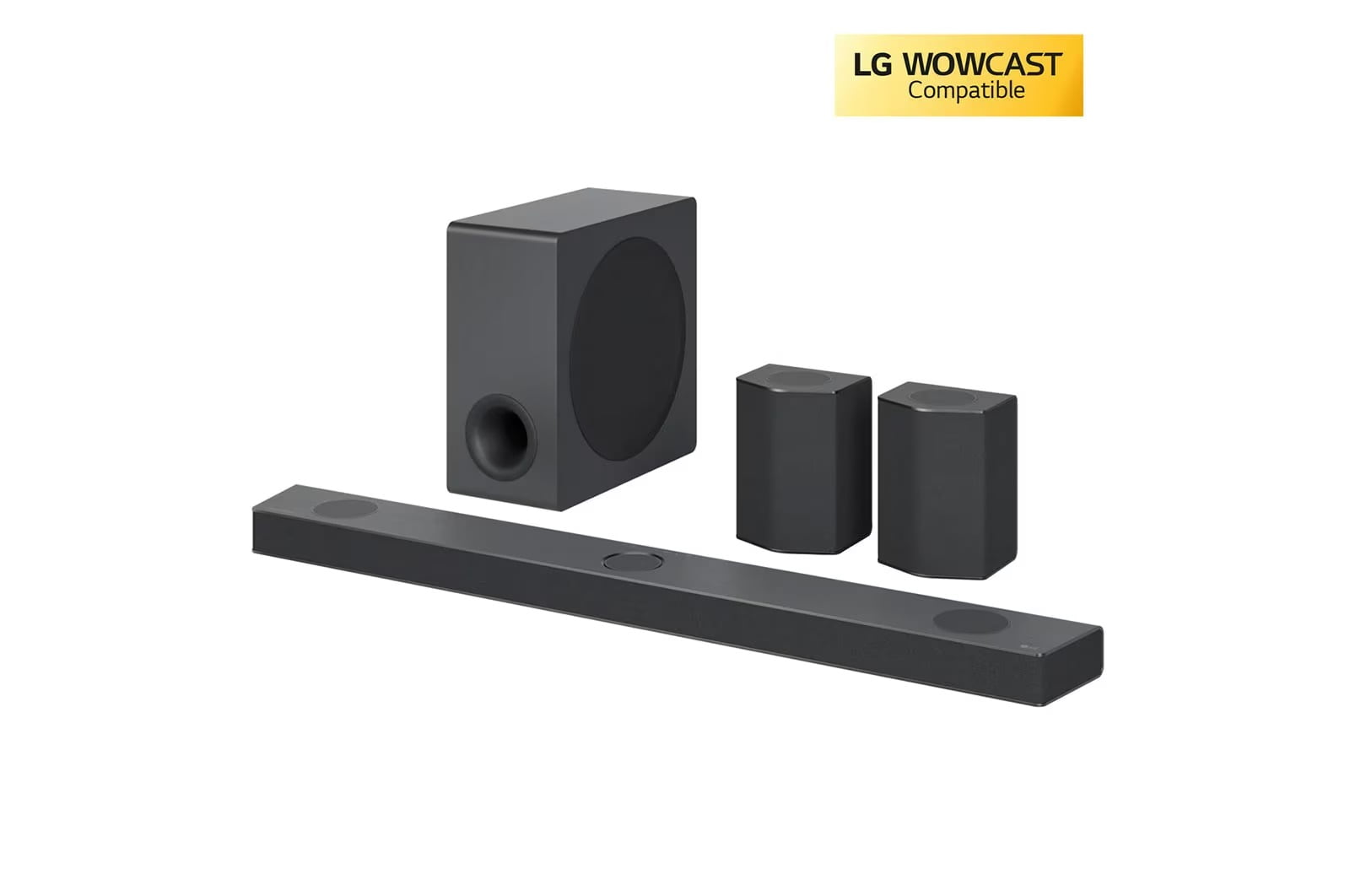 This year, the S95QR premium soundbar boasts upgraded wireless rear speakers with six channels, an improvement from its predecessor's four channels. The rear speakers feature triple up-firing drivers and four front/side drivers, distributing sound evenly across an impressive 135-degree angle. This enhanced capability gives users greater speaker placement flexibility, particularly for those with limited space.
LG's S95QR and other select 2023 Soundbars come with a more sensitive receiver that allows for greater distances between the soundbar, subwoofer, and rear speakers without compromising audio quality. The premium models also feature improved wireless connection stability, ensuring uninterrupted viewing and listening pleasure by largely preventing any drops or lag in the audio output. Additionally, the Music Mode with Meridian Audio's Horizon technology up-mixes two-channel audio to 9.1.5-channels, providing a more realistic acoustic surround sound experience.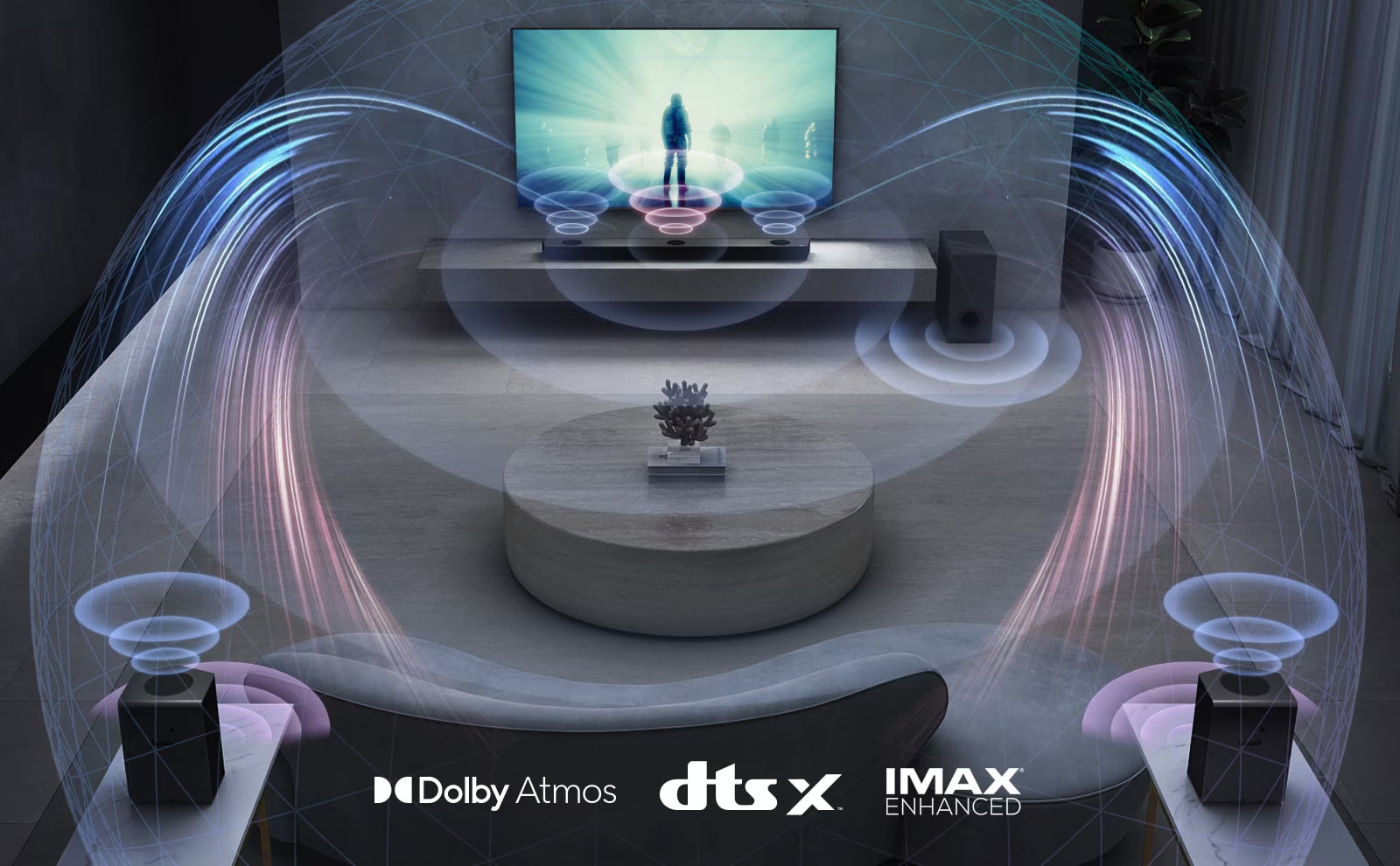 LG's latest high-end soundbars support IMAX Enhanced (Model supporting IMAX Enhanced: S95QR), Dolby Atmos, and DTS:X (Models supporting Dolby Atmos and DTS:X: S95QR, and S75Q), allowing movie enthusiasts to enjoy authentic cinematic experiences from the comfort of their living room or private theater. This year, the soundbars also welcome MERIDIAN support, which offers a new level of audio three-dimensionality when playing compatible content.
Along with the variable refresh rate (VRR) and auto low latency mode (ALLM) that make console gaming more immersive by syncing the sound with the gameplay on screen (Model supporting VRR and ALLM: S95QR), LG's soundbars are also equipped with 4K/120Hz pass-through, providing the best image quality.
The WOW Orchestra feature of the soundbar offers a rich surround effect by using TV speakers. Additionally, the soundbars come with an improved volume UI design for connecting external audio devices. The 2023 models also feature AI Room Calibration, which intelligently adjusts low-frequency performance to the room's dimensions for optimized sound delivery. The frequency band is expanded from 200Hz to 400Hz to improve the balance and loudness of the voice.
LG Soundbar continues to prioritize eco-friendly design, using materials that are recycled or easily recyclable and consuming minimal power. Their 2023 models have been recognized by SGS Société Générale de Surveillance SA of Switzerland for their low environmental impact. They feature polyester jersey fabric made from recycled materials that meet Global Recycled Standard (GRS*). Furthermore, their soundbars use recycled plastic resin and are UL-verified through Environmental Claim Validation Procedure (ECVP). Thus, all 2023 models are ENERGY STAR® certified for their energy efficiency.
* Materials certified by UL 2809 Environmental Claim Validation Procedure (ECVP) for recycled content and polyester jersey fabric made from recycled materials that meet the Global Recycled Standard (GRS) apply to LG Soundbar models S95QR, SC9S, S75Q. The amount of recycled fabric varies by model.