OnMobile Global Limited, the top provider of mobile entertainment, recently released its financial results for the Third Quarter and Nine Months of FY23, which ended on December 31, 2022.
Highlights from the results are as follows:
Challenges Arena: 52% quarter-over-quarter and ~7x year-over-year increase in revenue, totaling ~21x growth over the last 7 quarters. Had 62 cumulative customer confirmations and was live with 35 customers at the end of Q3FY23. 13.64 million gross subscribers as of Q3 FY23. The net active base rose to 3.1 million users by the third quarter of FY23, up from 1.98 million in September 2022.
ONMO B2B: 18 customers confirmed and 4 live customers in Q3FY23. Revenue grew 77% quarter-over-quarter.
INR 1,369 Mn in Q3FY23 revenue was flat quarter-on-quarter. Gross profit improved 3.4%, making INR 706 Mn and gross margin increased 170 bps to 53.9%.
Revenues for 9MFY23 reached INR 4,145 Mn, an increase of 0.8%. Gross profit was INR 2,101 Mn, a 4.3% YoY growth. A 150 basis point YoY improvement in gross margin is seen (~52.9% gross margin in 9MFY23).
In Q3FY23, Profit After Tax (PAT) rose 555% quarter-on-quarter to INR 41 million, up from INR 6 million in Q2FY23.
Marketing costs rose 10.5% quarter-on-quarter and 87.3% year-on-year in Q3FY23, largely due to new product investments.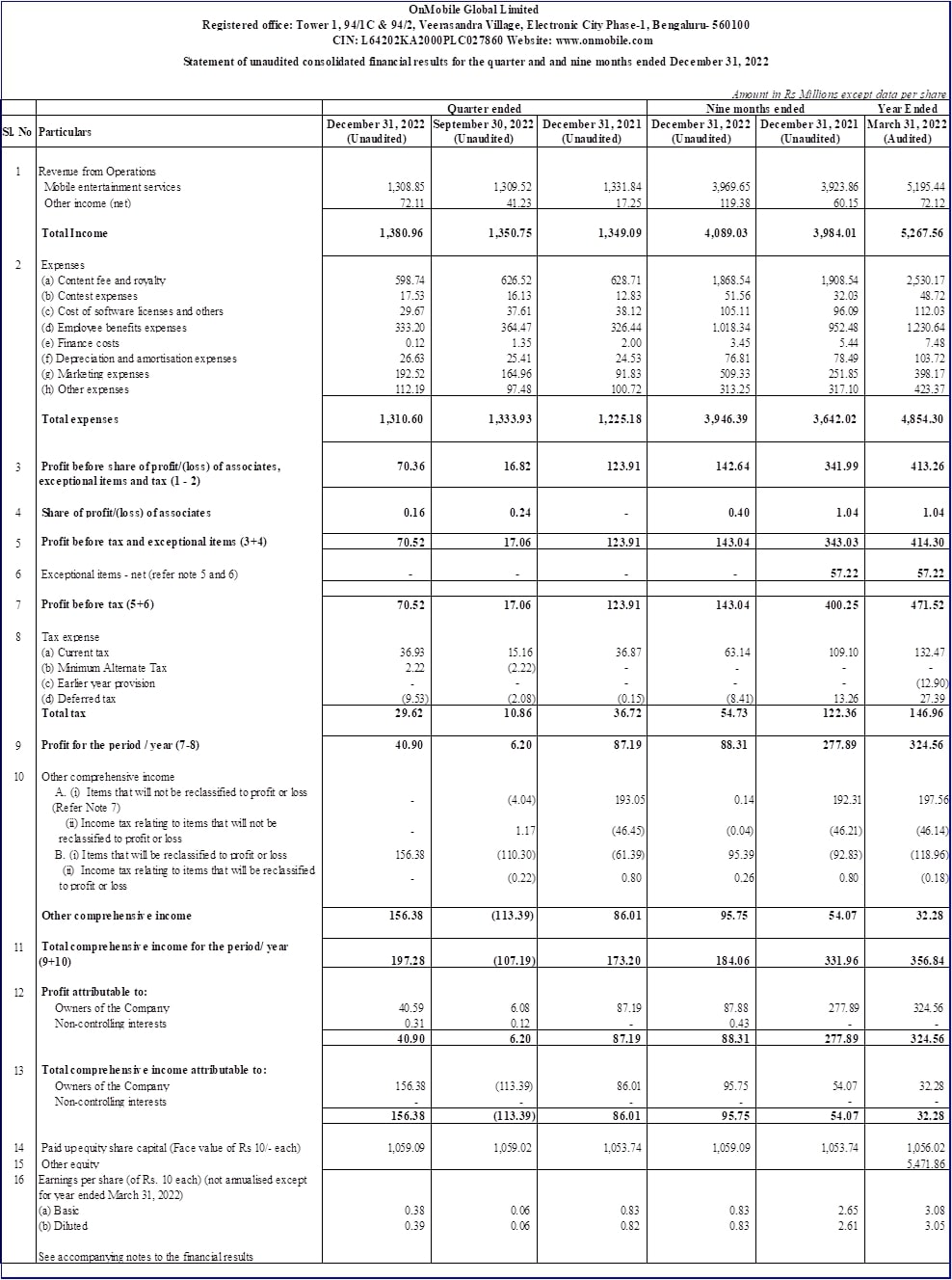 Commenting on Q3FY23 results, Sanjay Baweja, CEO & MD, OnMobile, said, "Revenue was flat on a sequential basis. According to our strategy, we will continue to invest in marketing to increase our profitability in the long run. The worst is behind us, and CA and ONMO are gaining traction. We are well-positioned to achieve our goal of creating cutting-edge mobile gaming solutions thanks to our targeted execution and continued efforts to digitize our core B2B businesses."

Asheesh Chatterjee, Global Group CFO, said, "EBITDA saw substantial growth from last quarter, lead by improvement in gross margins on account of revenue mix increasing in favor of CA which has higher margin. We are making good progress in both CA & ONMO and would see CA contributing to profitability and ONMO towards revenue growth in the coming quarters."