Bharti Airtel Limited has launched the Airtel Internet TV which is basically a step towards digital home. The new Internet TV Set Top Box is a hybrid DTH Set-top box, powered by Android TV and Wi-Fi that combines the online content from Netflix, YouTube, Airtel Movies, games along with more than 500 satellite TV channels.
The new set-top box will be available exclusively on Amazon India from April 12, 2017 at Rs. 4999 only with 3 months of DTH subscription and also, users can pay Rs. 7999 for one year of access to the DTH subscription.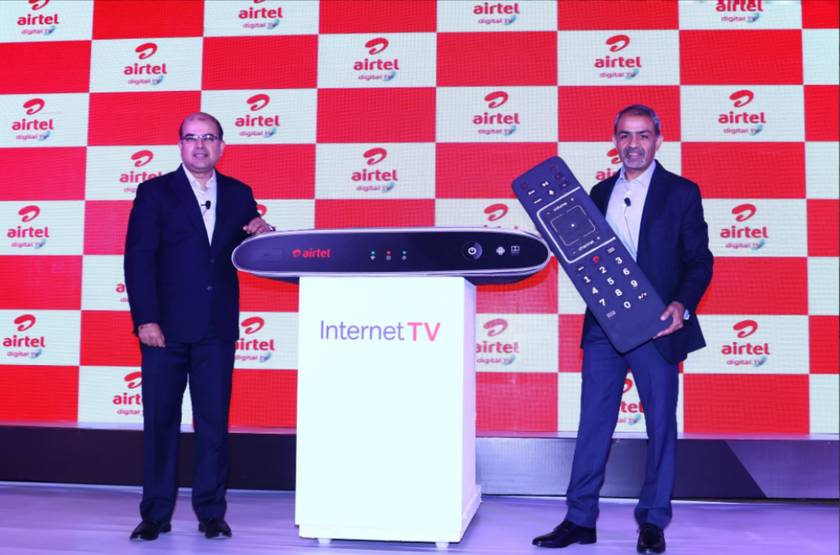 Some of the key features of the Airtel Internet TV box are-
Enjoy content from Netflix, YouTube, Airtel Movies etc. Also, the catalog will expand as Airtel is talking to Amazon Prime, Hotstar and Voot.

Full access to Google Play Store so that you can enjoy apps and games.

It comes with Google Voice Search- The brand has claimed that the Airtel Internet TV comes with India's first STB remote with a voice-based search feature.

Built-in Chromecast support will let you casting, mirror content from your phone and tablet to your TV.

Supports 4K content with Dolby Atmos Audio
The set top box comes with 8GB of storage which is expandable via USB 2.0 and USB 3.0 ports provided and we're not joking about it as you can add even your 2TB portable HDD to it if you want to transfer any content. The USB also supports Bluetooth dongles.
So, basically, the Airtel internet TV is here to transform your boring TV with regular channels to a great online experience, full of online content from Netflix and YouTube, games from Play Store, seamless casting from any mobile device and much more. Here's the official Airtel Internet TV commercial that tells you a bit about its offerings.
Sunil Taldar, CEO & Director – DTH, Bharti Airtel said, "Growing broadband penetration is driving the popularity of online content, particularly in urban homes, and with Airtel 'Internet TV' we are bringing world-class content from the web and much more to the TV screen. This latest innovation has been designed keeping in mind the needs of Indian homes and it bridges the gap between online and offline worlds to enable an end to end entertainment experience with the convenience of a single device. We will continue to add exciting content platforms to Airtel 'Internet TV' and invite customers to experience this innovative offering."

Reed Hastings, Co-founder and CEO of Netflix added,"India is one of the most important and vibrant countries in the world and we are delighted to be teaming up with Airtel to make it much easier for consumers to enjoy Netflix, In the months and years to come, we look forward to bringing our Indian members more compelling stories from all over the world, an ever-improving viewing experience, and incredible joy."
The Airtel Internet TV set-top box will go on sale soon on Amazon India from April 12th onwards, and you can also purchase one as they will be made available via Airtel Digital TV touch points – retail stores/website/contact centers soon after online launch. Airtel has also got some offers for its home broadband customers. Internet TV users just need to register for myHOME on MyAirtel app and they can avail up to 25GB additional data on their Airtel broadband account every month. The Airtel Internet TV will available in selected cities as of now so be sure to register at Airtel Website so that you can be contacted.