LG Electronics aims to transform itself from a top home appliance company into a "smart life solutions" provider that links diverse customer experiences, CEO William Cho announced. Speaking at the LG Science Park in Seoul, Cho outlined a vision targeting 100 trillion Korean won in global revenues by 2030.
The new vision is built on three growth engines:
Pursuing new platform-based service businesses through the advancement of business portfolios.
This includes expanding the company's existing service businesses, such as its home appliance repair and maintenance service, as well as developing new service businesses that leverage LG's technological expertise. For example, LG is developing a platform that will allow customers to remotely control their home appliances and receive notifications about maintenance needs.
Accelerating business-to-business (B2B) and exploring new business areas such as electronics vehicle charging and digital health.
LG is already a major player in the B2B market, with products and services that are used in a wide range of industries, including hospitality, healthcare, and retail. The company plans to expand its B2B business by developing new products and services that meet the specific needs of businesses. For example, LG is developing a smart building management system that will help businesses to optimize their energy use.
LG is also exploring new business areas that are related to its core competencies, such as electronics vehicle charging and digital health. The company is developing a range of products and services that will help to make electric vehicles more convenient and affordable, and it is also developing a digital health platform that will help people to manage their health.
Identifying electrification, servitization and digitalization as key inflection points to achieve rapid mid- to long-term growth.
Electrification is the trend towards using electricity to power devices and appliances. This trend is being driven by the increasing availability of renewable energy sources and the need to reduce carbon emissions. LG is well-positioned to capitalize on this trend, as it has a strong portfolio of electric appliances and solutions.
Servitization is the trend toward providing products and services as a package. This trend is being driven by the increasing demand for convenience and the need to reduce the cost of ownership of products. LG is already a leader in the servitization of home appliances, and it plans to expand its servitization offerings in the future.
Digitalization is the trend toward using digital technologies to improve business processes and customer experiences. LG is a leader in digital technologies, and it is using these technologies to improve its products, services, and operations. For example, LG is using artificial intelligence to develop new home appliances that are more personalized and efficient.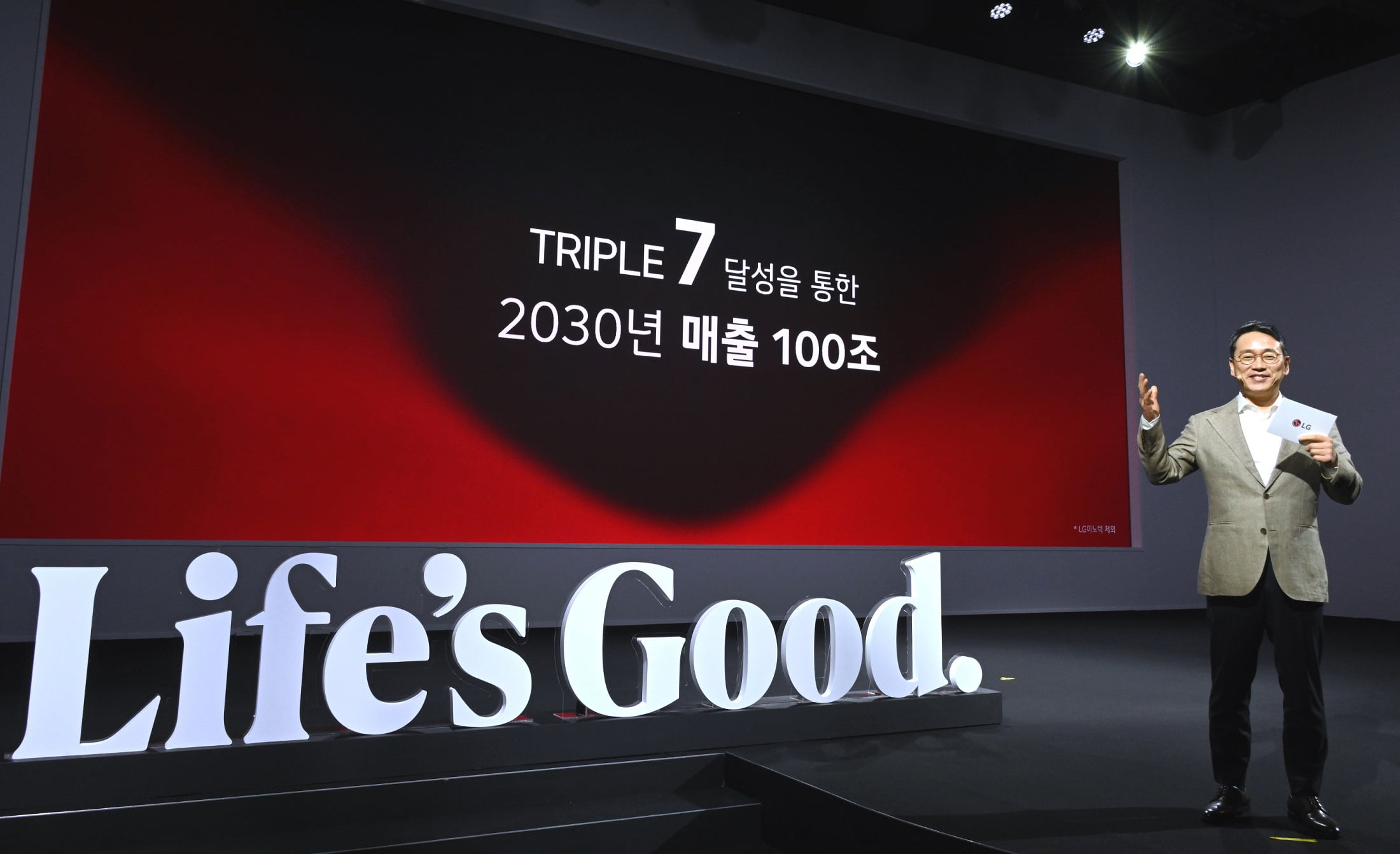 Cho also highlighted the company's financial objectives. LG plans to achieve "Triple 7," which encompasses an average growth rate and operating profit of 7 percent or more as well as enterprise value to EBITDA ratio of 7. With the goal of raising sales from KRW 65 trillion last year to KRW 100 trillion by 2030, LG will establish itself as a company that is correctly recognized by the market and customers. With this bold vision centered on services, platforms, and new growth areas, LG Electronics aims to connect diverse customer experiences while pursuing rapid expansion over the next 7 years.