Although the title i wrote is a bit cheesy, Gionee has deserved so many cheers for them for working hard on slimming down the phones. Even though they don't hold the record of having world slimmest phone now, they are eligible to say that their phones do come with a eye candy factor. Gionee Elife S7 which i am talking about in this review, is the latest flagship offering of Gionee, which is not yet the slimmest phone, but with a thickness of 5.5, it's indeed one of the slimmest phone available in market. Previously Gionee had been bragging for slimming down the phones for holding the world record, but with S7, they broke their monotonous intention and did what's right for the phone and for the consumers as well.
Although i expected S7 to be slimmer than Vivo X5 Max, but it's not and i believe this turned out to be a good thing. Gionee is yet obsessed for detailing in design and build quality and again Elife S7 is a great example of that. Let's talk review of this phone in detail:
Review of Gionee Elife S7
Build and Design
This phone is engineered in such a way that it's bezel is supported by a U-Shaped frame made from an aviation-grade aluminium alloy. That U-shape edges are covered by alloy frame giving it a look of channel around the phone. Corners of the phone are gently curved and front and rear side of the body is made entirely of Corning Gorilla Glass 3. Phone has a premium feel in hands and in looks and solidly built because of the use of materials like glass and aluminium alloy.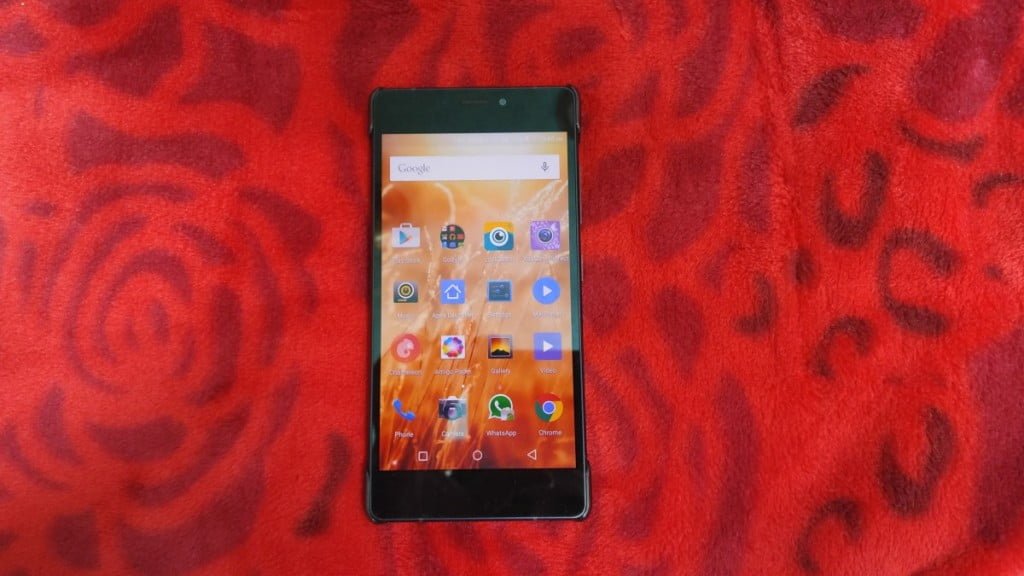 Elife S7 is built on a unibody design, so you can't take out battery or back cover from it. This sacrifice is just because for slimming down the phone and to complete the design it's meant for. This phone not even looks sleek, but it's ridged frame which holds the phone is made of metal with insert for antenna at the top and bottom edges.
Gionee knows well how to make use of optimum space, hence Elife S7 is compact even with a 5.2 inch screen. It feels comfortable while using it with one hand and challenges the ergonomics of LG G3 for one hand usage. At the front, there is 5.2inch Super AMOLED display, front camera and ambient sensor and there are no capacitive buttons at bottom as that functionality is incorporated inside the OS screen itself as on-screen buttons.
At back, while there is a Corning Gorilla Glass 3, is a fingerprint and dust magnet, but has a glossy finish and features the camera lens and LED flash at the top-left. However, if company may could have given matte finish at back, that would have been more useful considering the thinness and better grip, as on current design, phone slips easily on a soft flat surface with the slightest incline. Gionee has flushed camera lens and flash so perfectly that from no where it's stick out, which made me remember that Xiaomi Mi 4i camera lens is extruded out and is prone to scratches. Also there's minimal branding at back, which gives overall a better look of phone from seeing at back side too.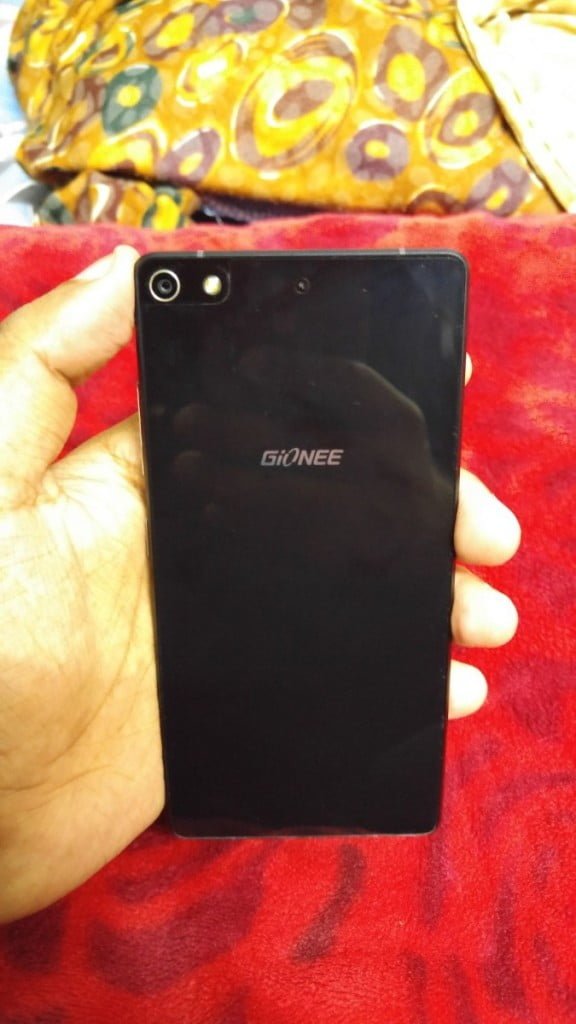 There are no buttons at left side of phone and at right, there are volume rocker and power button which has great tactile feedback even when they're are slightly jutting out, it's because they're sit snugly inside the metal frame. The Sim Tray is combined as it's a dual SIM phone and houses space for Micro-SIM cards. Bottom of phone has Micro-USB port, 3.5mm Jack, speaker grille and microphone for phone calls.
Overall, Elife S7 not only looks sleek, but is also durable with it's metal frame around it's bezel.
Display
Speaking of Display, as i mentioned previously, it has 5.2inch Super-AMOLED screen with a resolution of 1920×1080 with a density of 424ppi. On-screen colors are really vibrant and brightness level is also pretty high. Black levels are good and display looks good with black themed apps and wallpapers. Sunlight legibility and viewing angles are also great and won't disappoint you anywhere. After LG G3, it's one of the best display i have seen recently and even colors are not over-saturated.
Software Interface
Gionee Elife S7 runs android 5.0 atop with skin of Amigo 3.0 and S7 is the first phone coming with Amigo 3.0. With this version, Amigo got a makeover with material design like using pastel colors and flat icons, which gives it a modern look compared to previous version of amigo's. Also Gionee has take user feedback seriously and has made this time software more responsive than ever and overall UI looks great compared to other skins by different manufacturers.
The phone has on-screen navigation keys and position of back key can be customized as per your comfort. This time notification drawer is pretty simple and has no settings icons as those can be accessed by iOS like center-pull-up-tray. It's called the control center and phone nowhere notifies you first time how it can be accessed. For opening control center, you need to swipe up from bottom edge of screen over any button.
Like MiUi or many other popular skins, Amigo 3.0 too don't have a separate app launcher and home launcher and app launcher are one and all icons are placed in different screens of phone desktop. However this can be changed by using any third party launcher like Nova launcher. 6 themes are available for amigo launcher and you cannot add any new theme or download it.
There is also an interesting app named Chamaeleon which uses the camera to automatically choose 3 colors from surroundings and make it default color for your theme and icons color. For example if you see an yellow object, you point the camera towards it, select the color and then all menus, system apps would start using that color. This sounds gimmicky but once you start playing with it, you'll might can get addicted to it.
Camera
While Gionee Elife S7 comes with a 13MP camera at rear and 8MP at front, it's default app too comes with a lot of options, which includes a professional mode that allows control over the exposure iso, offering controls for granular settings, while balance, aperture and focus. Camera also features Image+ technology which captures 6 images in about 1 second and combine it to a single picture and adjusts automatically the brightness and image noise.
Magic focus is another feature using which you can precisely control the area of focus after they have been captured. This mode works best when subject is clearly defined in the background. I captured some really detailed pictures using it's rear camera and it's one of the fastest camera i have seen across. Some shots taken by this camera were so good that it felt even better than Xiaomi Mi4 or One plus one which both have great cameras. Although low-light came out fine, but they had some noise which effects overall detailing in pictures. HDR mode works fairly well for fixing exposure issues and colors were not over-saturated.
Selfies taken from front camera were of good quality and in-built beauty mode does a good work in enhancing them. While sometimes it struggles for letting adequate amount of light in at low light, overall it does a fine stuff in detailing of images when taken outdoors.
Performance
Gionee Elife S7 houses a 1.7 GHz MediaTek MT 6752 octa-core processor and 2 GB RAM. The phone boasts powerful hardware and it's performance is comparable to any mid-ranged premium phones of other manufacturers. While i have already seen Desire 820S using same SoC with 720p screen, it was exciting to see how this would perform with 1080p display and i can say with confidence that it performed well without any lag whatsoever. Using multiple apps, playing high end games like Asphalt 8, Dead Trigger 2 or scrolling in daily usage, all ran smooth without any hiccups. Moreover, Gionee ensured this time that phone don't get uncomfortably hot while doing intensive tasks on it like gaming, which is an usual issue with major slim smartphones.
In benchmarks scores, Gionee Elife S7 achieved a score of 44,546 in AnTuTu and 15,486 at Quadrant and 61.8 is Nenmark 2 benchmark tests. These figures are somewhat similar of what we have seen of HTC Desire 820S, yet these scores lags behind Xiaomi Mi4 or OnePlus One but the margin is very small to be considered. But i won't recommend you making a buying decision solely on base of benchmarks score, as real world performance vary from phone to phone even if there is a big variation in bench-marking scores.
During video playback, i tried many formats with video size up to even 2GB which phone played smoothly without any jitters or frame drops. Rather, i had a great viewing experience because of Super AMOLED screen with great deep black levels and then black body of my review device caused the video to pop up in dark environment. Mono speakers set, it has are loud enough to do the job and bundled headphones are of really good quality and with DTS audio, it works actually as advertised and amplifies the sound with great quality.
Battery
Gionee Elife S7 excels at battery backup department. Even though it comes with 2700 mAh which is lesser on paper for a flagship phone, Gionee has optimized the OS well that it easily for one and a half days with moderate to heave usage. Also there is power saver mode, which upon activating increases the battery life to even many hours.
Final Verdict
Gionee has now an expertise in making well curved slim phones and knows what consumers want and offering this phone adds a value addition to their luxury collection. It's distinguised looks adds an eye candy factor and balances out perfectly between the ultra-slim profile and a solid build. While you may not call this phone a performance beast, but it's not a slouch either. Although the phone is a bit slippery in hands, because of having gorilla glass at both sides, Gionee has provided a leather cover and a back cover in box contents which is a big help and i am more impressed with it's back cover as it mends well with the looks of phone and just don't add any extra thickness to phone. Leather Cover is the smart cover with a window which shows various notification and actionable tasks like picking calls etc.
Although with a cost of Approx Rs 24K, we feel that this phone is going to get fierce competition by Xiaomi Mi4 or OnePlus One and Gionee is banking heavily on S7's Good looks.