Samsung Electronics Co. has released SmartThings Station, a smart home hub that also serves as a fast charging pad. This affordable device is designed to make it easy for users to connect and control multiple smart home products, including Matter devices. SmartThings Station allows users to automate various aspects of their home and create routines to save energy and increase convenience. Its quick setup and compatibility with a wide range of smart home products make it a dependable choice for those looking to expand their connected home.
Effortlessly Connect and Control Your Smart Home with SmartThings Station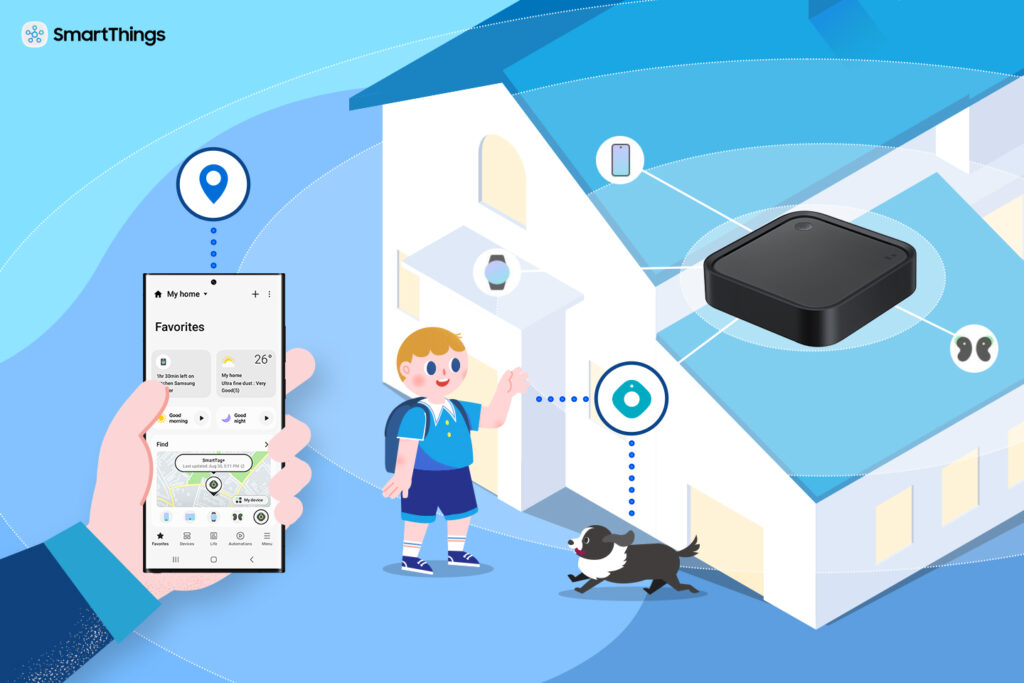 Setting up SmartThings Station is a breeze thanks to its user-friendly design. When users turn the device on for the first time, they will receive pop-up messages on their Samsung Galaxy smartphone to help them connect it easily. Alternatively, users can quickly onboard new devices by scanning a QR code with their smartphone camera. Overall, SmartThings Station makes it easy for users to create a smarter home with minimal effort.
Seamless Smart Home Integration and Automated Routines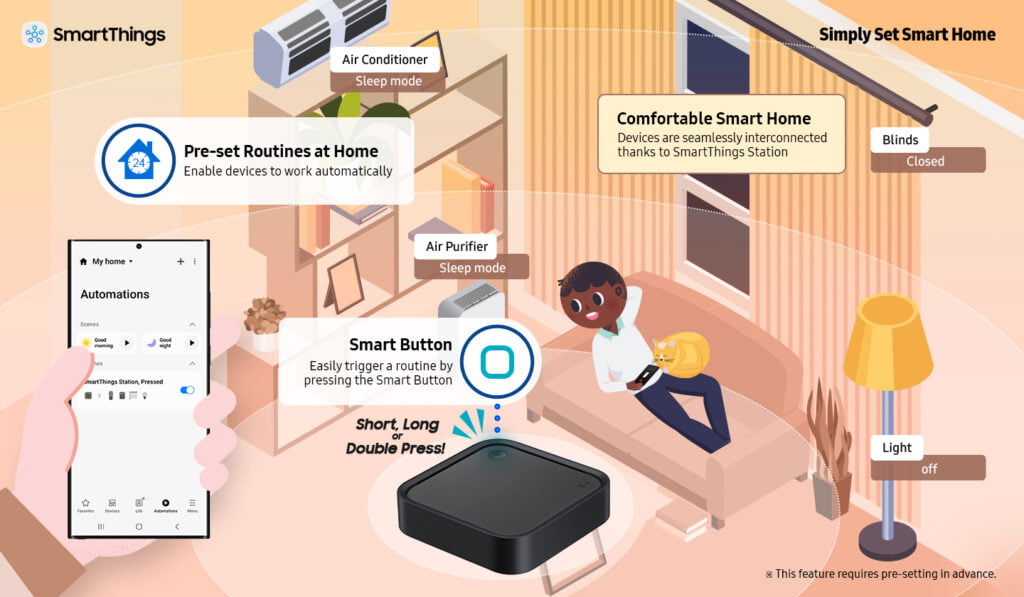 SmartThings Station seamlessly integrates with multiple devices in your smart home, allowing them to work together harmoniously. With the SmartThings Station, you can easily automate routines created in the SmartThings mobile app, eliminating the need to control individual devices manually. Simply press the Smart Button on the SmartThings Station to activate a routine, such as turning off the lights and adjusting the temperature when it's time for bed. Or, press the button to trigger a movie night routine that turns on the TV and dims the lights.
When you're away from home, the SmartThings Station can turn off power outlets and appliances to save energy and activate your security system. You can create a gaming routine that adjusts TV and lighting settings and turns on "Do Not Disturb" mode.
Up to three different routines can be activated with short, long, or double presses of the Smart Button, and routines can also be activated through the SmartThings app whether you're at home or away.
Find and Manage Your Devices with Ease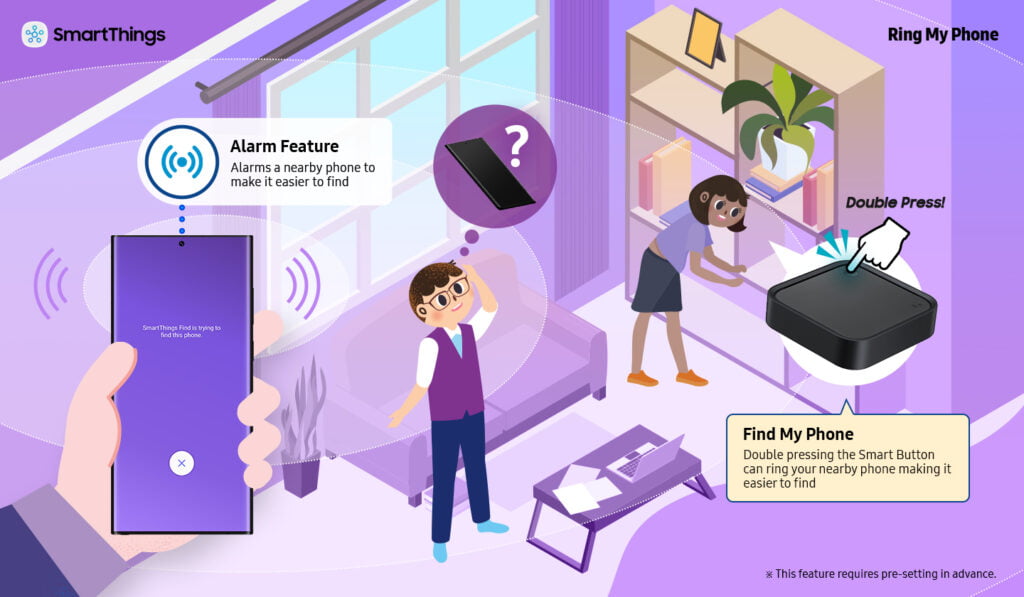 SmartThings Station is equipped with SmartThings Find, a powerful asset-tracking service that helps you locate misplaced devices. Simply double-press the Smart Button to make your phone ring, making it easy to find. SmartThings Station also serves as a device scanner that helps you keep track of the location of your registered devices, including smartphones, tablets, watches, earbuds, and even personal belongings like keys or a wallet equipped with a Galaxy SmartTag or SmartTag+ device.
SmartThings Station will routinely scan for these devices and share an alert on your smartphone when a tag or device leaves or returns home, giving you peace of mind and helping you stay organized.
A Fast Charging Pad for a Smarter Home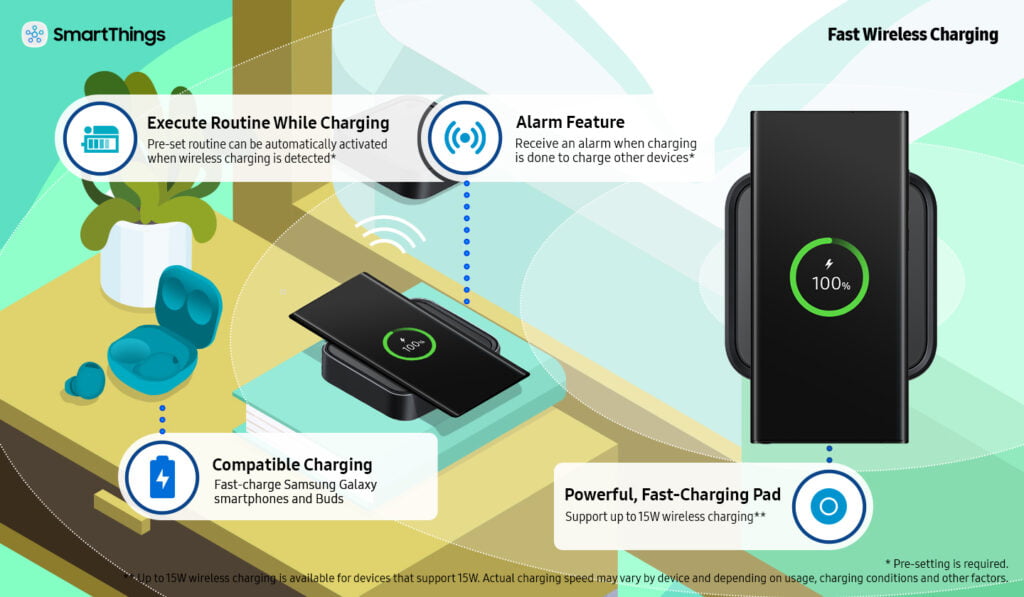 SmartThings Station is not only a smart home hub but also a fast charging pad with the ability to support up to 15W wireless charging. This convenient feature is an excellent addition to any smart home, allowing you to charge your devices while keeping them organized quickly. SmartThings Station will send you an alert when charging is complete, so you can switch to another device or pick up where you left off. Overall, SmartThings Station is a versatile, powerful charging pad that fits seamlessly into any smart home.
"Having a smarter home shouldn't be complicated or expensive. So we wanted to create SmartThings Station as a simple, reliable and expandable smart home hub," said Jaeyeon Jung, Executive Vice President and Head of SmartThings, Device Platform Center at Samsung Electronics. "The number of devices in a connected home continues to grow, especially in light of the recent Matter standard launch. We're proud to play a role in making it easier to embrace this exciting technology."
Availability
SmartThings Station will be available in the United States and Korea in black or white starting in early February 2023.