Huawei which is a leading smartphone manufacturer recently launched Huawei Ascend G300 which has a 4 inch display and is categorized at mid-ranged smartphones currently present in India. Currently this phone has a price tag of Rs. 9999 (Flipkart price – 01 Jan 2013), and is among few of smartphones which offers big display at such price band.
In the past, Huawei has given Indian market many successful phones like Huawei Honor and Huawei IDEOS X5 Pro, and indeed the time when i had Honor with me, i am still a fan of that phone, since at a very competitive price, it had outstanding specs that moment of time. Now, let's find out, how much Huawei Ascend comes out to be.
Looks and Feel
When you first time look at this phone from a distance, it might look alike as HTC Desire to you. And this was the reaction of many when i asked them about first impression of this phone. And i won't say that it's the best looking phone, but yes it do gives competition to other phones in it's category.
The biggest selling point this phone got is it's 4 inch display and a super metallic finished plastic body around the display which blends fine with it's back cover which also has a similar metallic finish. Although, like other phones, it's back cover don't cover the whole rear but still it melts with overall looks. There is a black bezel around the device, with distinguish the front and back panels.
The whole device looks nice with it's sturdy design, angular edges and smooth curves. Overall the phone has great grip on hands and you won't feel uncomfortable while handling it whole day. The front display is prone to fingerprints, which is a usual thing and will need a screen-guard on it as remedy. Coming to rear, it has 5mp camera residing above flash at top mid of device. At the very left of camera, speaker opening is there. The camera lens surrounding is little leaned up and is covered by a metal bezel and in mid of device, there is a Google logo and with Huawei logo along with DTS branding is given at bottom.
Looking at the side, there is nothing special as such, with power button given at top. Noticeable thing about power button is that it's not actually located at extreme left or extreme right, but is placed almost nearby at right of mid (when looking from front) which is an unusual thing. Since like in other phones, it used to be at right or left, so it might can take time for you to get habitual if you're switching from one smartphone to this device. And as usual, charging port is given at bottom mid and volume rocker are given at left top. There is no dedicated camera key as such. Overall you'll gonna like the phone and it weighs just 140 grams.
Display
Coming to display, 4inch screen is the USP of this phone. The screen is capacitive and touch response is good. You'll find an accuracy in registering most of the touch commands. Since the display is a IPS LCD screen, it reproduces images and videos well but the colour intensity is not much great if compared to IDOES X5. It has a resolution of 800 x 400 which is great in mid-ranged smartphones category. Hence overall the display is good, sometimes it becomes trouble to see things at peak daylight outside.
User Interface
Currently the phone is on 2.3.6 Gingerbread version of Android, and there is nothing fancy about the huawei inbuilt launcher it has. There are 3 touch buttons on phone below display of menu, Home and return. The only physical buttons it has for applications are of volume rocker. It has a lock screen which gives 4 short-cuts to call log, messaging, camera and screen unlock. You can keep upto 5 screen on huawei launcher for keeping your widgets and short-cuts. Overall the launcher is very light and fast.
Performance
With 1Ghz Cortex A-5 processor, this phone won't let you down in terms of performance during gaming, watching big videos, or even running many applications at once. But you'll need to restart it once in 2-3 days when you have bloated it with above 30-40 apps, or you'll start feeling it as slow. However, when phone runs out of RAM because of running any particular big app for a longer period, Huawei launcher does it wonder for freeing RAM automatically when you close that big particular app. Hence, overall performance by this device is satisfactory.
Operating System
With specs like 4 inch screen and 1 Ghz processor, this phone deserves to have ICS pre-installed, however even with gingerbread it works really fine. We expect ICS update of this phone shall be available very soon in India too.
Battery Life
We are not really pleased by the battery backup it has currently of 1350 mAh which as per company, it gives talktime of 5hrs on 2G and 5 hours on 3G. With average usage of 2-3 hours calls, full day on 2G, 3-4 hours usage of facebook, twitter and many other apps, this phone will not run more than a day.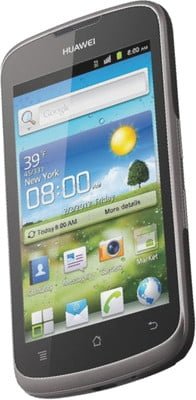 The only thing impressive about battery is that it gets charged very quickly.
Multimedia and Entertainment
With large display and powerful processor, this device perform greats while playing videos and games. We were able to play Angry Birds, Temple Run and few more with ease. However, for few apps, we observed a delay when a app fully opens on the phone, but overall it's satisfactory. I even installed Sygic navigator on it and it run very smooth without any lag all the time.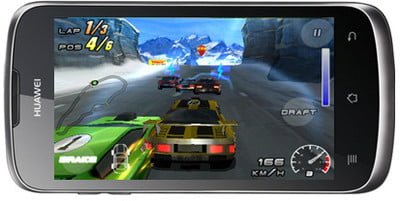 Speaking of music, it has pre-installed Google music and default android music player. Nothing fancy, but yes FM radio too. Speaker output is great however you might avoid to play that on full volume on many songs. And last not the least, headsets supplied with this phone are not up to mark, and you'll need to buy a new better quality headset for enjoying music.
Camera
This phone comes with 5mp autofocus camera with flash. It is also capable of recording videos at 30 fps rate, and video resolution would be WVGA or 800p x 400p resolution. Audio quality in videos is great but images taken are of fine quality. Images results have fine colour detailing with crispness.
Final Verdict
With a current price band of Rs. 9999, this phone can prove for you as a nice purchase because of it's excellent build quality, nice looks, great display and satisfactory performance. If you see in competition, that other brands are offering higher specs in this price range, do consider this point, that this phone will last longer in usage and can even handle rigid usage because of excellent build quality which is always a plus point for Huawei devices just like people rely on Nokia phones for longer usage.