Apptab Sleek Tablet Review and Price
Tablets once a luxury are now in the reach of everyone, thanks to cutthroat competitions in between the electronic giants and flooding of our market with budget tablets from multiple manufacturers.
Those who don't know AppTab is a Bangalore based company which was formed in 2012 and currently has 5 Tablet PC models on the catalogue. Tablets start from a mere amount of Rs. 5,299 and go upto 15,000.  
The range includes 4 Tablets of 7″ screens and One Tab of 9.7″. All the tablets are equipped with some very good features and are worth the money you are paying for it. AppTab sleek is backed up with a one year warranty. With a total of 251 service centers.
AppTab Sleek
When I was intimated that I have to review AppTab Sleek. I expected a shoddy, cheap plastic tablet with the traumatizing touch screen, but I was amazed upon receiving the tablet in person. All my apprehensions vanished as I held the tab in my hands.
The tablet looks and feels much more upmarket in comparison to the price and the brand value. Though the packaging could have been better.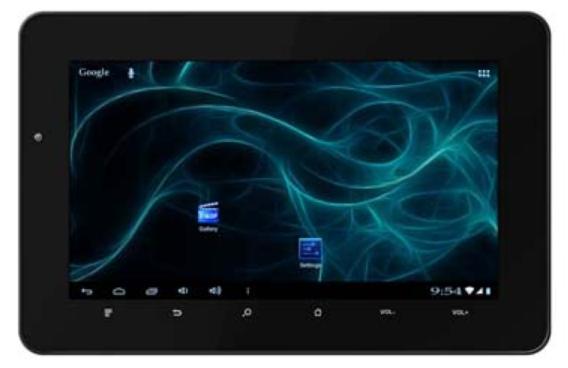 Once you start it up you are greeted by the android bot like every other android run tab. The booting time is good but it could have been better. AppTab Sleek runs on a Cortex A8 1.5 GHz Processor and the speed is sufficiently good. 
An insight into the Specifications and the Feature list as provided by the Company,
FEATURES

Size

17.78 cm's (7 inch)

Panel Type

Capacitive Touch Screen(5-point)

Resolution

800*480 (16:9)

CPU

Boxhip A10 (CPU+GPU+VPU+APU) Cortex A8@1.5GHZ

RAM

512MB DDR3

NAND Flash

4GB(Expandable up to 32GB option)

Android 4.0

4.0.3 ICE CREAMSANDWICH

Front Camera

0.3M Piexls

Back Camera

2.0M Piexls

WIFI

802.11B/G

ExtendableMicroSDcard

YES(MAX. 32GB)

Speaker

2*1W

USB Interface

USB 2.0 OTG+USB HOST

Microphone

YES

Earphone Jack

YES

HDMI

YES

Li-ion Battery

3.7V 3000 mAh

Working Time

4 hours

G-Sensor

YES

3G

External support trough 3G Dongle

Keyboard & Mouse

Support
Now lets start with a point wise description of the AppTab Sleek Tablet PC.
Looks and Build Quality
It looks good from all angles, No cheap quality plastic, No shoddy buttons and No dangling and crying for help panels. The construction is good and the tab is sturdy to hold in your hands. The build quality is extremely good for the price tag it carries and It doesn't look Made in PRC in anyway.
AppTab SLEEK Images
https://www.facebook.com/media/set/?set=a.433909956666879.100498.228734290517781&type=3
Performance
Well What can one say when you have a 1.5 GHz Processor running ICS with 512 Mb RAM, Games and apps do not lag and load easily.
I found the touch response a bit on the lower side as sometime the inputs went to the exactly opposite end of the screen, Maybe just because of the plastic coating on the screen.
Inbuilt Features

The AppTab Sleek has a number of features which are very functional and useful,
1. Internet Connectivity: Apptab Sleek provide you with an option to connect to the Internet through WiFi and External 3G Dongles. However I tried using my 2G CDMA Reliance Dongle and Voila it was supported. 
2. Connectors: Apptab Sleek has three connectors. 1 Full USB 2.0 Port, 1 Mini USB Port and Once Mini HDMI Port, The Tablet also has a Micro SD card slot and support even the Flash drive through its full size USB port.
3. Quick Access Buttons: Apptab Sleek has two Physical button and Six Touch Button to help in navigating through the tablet and bringing out the most of it.
4. Camera: AppTab Sleek is equipped is with Two Cameras. The primary camera is 2 Mega Pixels and the Secondary is 0.3 Mega Pixels (VGA).
Battery Life
Battery life is pretty decent of the AppTab Sleek having a 3000 mAh. I watched around two movies back to back. On browsing the battery life is decreased considerably and I drained out the battery within 3 Hours when online videos and browsing was done.
Final Verdict
AppTab Sleek is a very good value for money Tablet. In cases you are not very brand cautious and can live with only the functionality of a product rather than its name and lineage. Than AppTab Sleek can be a good choice for you.
The processor is good and backed up with the possibility of a USB dongle support and Twin Cameras its is a good buy.
The company has a SSL secured site for purchasing the Tablets online and it is not available with other e-commerce sites .
Here is the official website link for checking more updated prices and upgrades.