When you hear about Huawei phones, what point or image usually comes in your mind? Is that it is a company who made phones or 3G dongles for Tata or Reliance? That's it? Or if your not aware then in brief Huawei Devices is a leading telecom products & solution provider and is affiliated with Huawei Technologies Co Ltd. which is a leader in providing telecommunication solutions for operators around the world including India as well. They also have there own R&D setup at Banglore since 1998. Recently we got new model of Huawei IDEOS X5 Pro for review which is an upgraded version of IDEOS X5.
Huawei IDEOS X5 U8800 Pro Review
Here are some pics we clicked of this:
This is a mid-ranged android 2.3.5 phone with some very competitive technical specifications which hardly any other good company is offering at its price-range. Since the competition in cellphones market is quite high, consumers do get benefit from this by getting high end features at lower prices. This phone is a perfect example for that.
Huawei IDEOS X5 U8800 Pro Looks And Hardware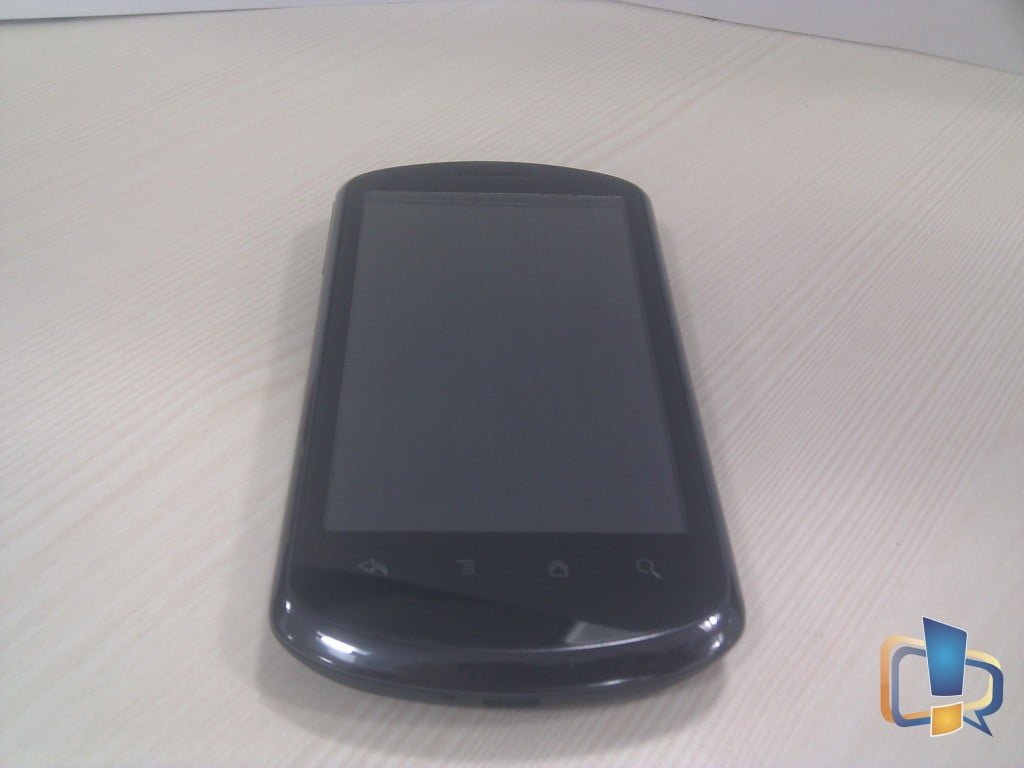 The first impression or looks is very nice and looks are good enough that it attracts some views from others on the way. Its design is not like a typical square smartphone design but with curves at corners which makes its looks quiet unique.
There are 4 capacitive touch buttons at bottom which respectively function as Back, Menu, Home and Search when seeing from left to right. This phone has got a 3.8″ Wide Screen WVGA display TFT LCD which is crisper enough to do right judgement while playing HD videos with a screen resolution of 800×480. But the screen is prone to finger prints as it is very glossy, so having a screen-guard is a must for this phone. This glossy screen however absorbs much of sun-light too which makes it easier to see screen contents in full day light. Also the screen blends with the body very well and gives the looks of one piece.
Also, the build quality of phone is excellent. This is one of the best thing i like about this phone and the finishing from every corner is upto mark. You'll never have a cheap plasticity feeling from its back neither from its front. Its back cover is made from some good grade quality plastic which gives a nice grip on hands as well. However if your hands get sweat, then you'll have to keep this phone with a cover to get more better grip on it. Unfortunately, you'll have to buy a new cover from outside, as there is no cover available officialy with this phone.
Volume rocker buttons are available on the left side of phone, rather than on right. The idea behind keeping these on left might be to prevent accidental pressing of them while holding the phone, since most of the time, the phone remains on left hand while your walking and the buttons get prevented from being pressed.
Also the charging port is given at bottom center and mic hole is just nearby it. So, it is advisable to remove the phone from charging before picking up any call. On Top, 3.5 mm headphone jack and power button is available.
At the back, there is a Google Logo Branding in middle on back cover. Camera is given at top center with flash on its right and the speaker is also lined up with flash itself. The camera is leaned up at the back, which is not an appreciable thing as the camera lens glass can get scratches, but even after 2 weeks of rough usage, it didn't got any single scratch on it. May be its because the the glass is hard enough to prevent scratches. The back cover can be easily opened just be pulling it little towards bottom.
LED
Also if you see above 1st pic, there is a LED near speaker, which is hardly available in any other models of other companies in this range. This LED lets u know by blinking in different colors which notification is pending by us to check. Like if you had pending missed call or SMS to check, green LED will blink, if you had push notification from Facebook, LED will blink in Blue and you can even set which application may blink in which color, like i had set Red color for Plume (twitter) when new tweets are there to check.
Huawei IDEOS X5 U8800 Pro Performance
With having 1GHz Snapdragon Processor and 512 MB RAM, this phone is the fastest phone in its price range category. Rather than doing Benchmarks or linpack tests to check its performance, i decided to check it's performance in a desi manner by flooding it with those applications which runs in background all the time and consumes CPU & RAM resources both all the time. This step i took since, i feel, whatever the specs says, the phone should perform accordingly. So even when the phone has 12-13 active applications running at background like Facebook, Plume (for Twitter), Google+, WhatsApp, Instagram, FourSquare, Maps and many more, still the phone runs smooth. Then i loaded the phone with 6000+ SMS, inserted an almost full 8GB SD card and then keep using it. I still didn't observed any slowness in phone other than now SMS inbox took 3-4 seconds to open and fully loaded rather than previously it get opened instantly. But it is acceptable, that having 6000+ msgs can impact speed of anything.
Huawei IDEOS X5 U8800 Pro Camera
This is the main USP about this phone. The phone has got 5MP camera with Flash which is capable of recording 720p HD video as well. Below 5 pics are sample pics taken from this phone camera. I believe action speaks louder than words!!
Huawei IDEOS X5 U8800 Pro Battery
This phone has got a huge 1500 mAh battery. This battery was enough to last more than a day when i had kept 2G ON all the day, synchronization of Facebook, Plume (Twitter), Gmail, WhatsApp, Foursquare, Google+ was also ON all the time, watched 2 hours of movie and 3-4 hours of music. This is pretty good time range for battery since synchronization and watching movies consumes hell lot of battery.
Also it had inbuilt Power Saving Mode, which ask if we want to activate it or not when battery reaches a level of 30%. If, when activated, it takes following steps to save battery:
Bluetooth & Wi-Fi will be off.

Animation & Haptic Feedback will be off.

The screen timeout will be 15s, and the LCD brightness will be set to its lowest value.

Background data and enabled always-ON mobile data will be off.
Huawei IDEOS X5 U8800 Pro Software And Features
This phone has currently Android 2.3.5 version, which will be upgraded to Android 4.0 ICS as per promises by the company. It has inbuilt inbuilt 1.5 GB of Internal memory for your personal usage like storing pics, songs and many more. Also 800 MB separate memory is available for application installations and there data files which i feel is quite enough to fully flood phone with applications without any tension.
This phone offers some exclusive features available to Huawei users only. I am going to mention only major features worth mentioning below:
Cloud+ Drive
Huawei offers its customers 16GB cloud space of Huawei Cloud+ Drive just like other companies are offering of Dropbox. But the main benefit here is that this storage is valid for lifetime rather than in dropbox which offers more storage for only 2 years. You can backup any particular files or folders or even all files on cloud and can set automatic synchronization as well.
HiSpace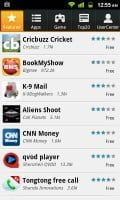 This applications shows the users a list of only best and most downloaded applications being downloaded on android market that too category wise. It's a very handy application when you're always running out of time. It gives options to choose applications from Featured, Cateogry Wise, Games, Top 20 and has a User Center as well which keeps tracks on how many applications requires update, My Collection & My Downloads.
All Backup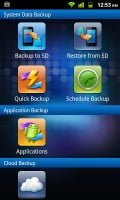 This applications offers user to take backup of System Data, Application Data to SD Card or to CLOUD storage. It gives following options:
Backing up of System Data at SD card & Cloud Storage

Backing up of Applications to Internal memory
Huawei IDEOS X5 U8800 Pro Technical Specifications
Model

 

U8800 Pro

Type

 

Smartphone

Operating System

 

Android 2.3 (Gingerbread)

Input Method

 

Android™ keyboard, Swype

Band

 

GSM/GPRS/Edge 850/900/1800/1900 MHz

 

WCDMA 900/2100 MHz

Network Access

 

HSPA+: Download 14.4Mbps,Upload 5.76Mbps

Processor

 

1GHz

Style

 

Bar, Full Touch

Dimension

 

120mm×62mm×11.6mm

Weight

 

About 130g

Display

Size

9.7cm (3.8″)

Type

TFT LCD, Capacitive Touch

Resolution

WVGA (800×480)

Camera

 

5MP with Flash

FM Radio

 

Yes

Multi Media

Video Format

MPEG4, H.263, H.264, REAL, RMVB, WMV

Audio Format

MP3, MIDI, AMR, AAC, eAAC+, WMA

Image Format

PNG, GIF (87a/89a), JPEG Baseline

Streaming Media

Video Format

H.263/H.264, MPEG4

Audio Format

MP3, MIDI, AMR, AAC, eAAC+

Audio Codec

WCDMA

AMR

GSM/GPRS

FR/EFR/HR/AMR

Audio Jack

 

3.5mm

Messaging

 

SMS and MMS, Features based on Android

Email

 

POP3/IMAP/Exchange, Based on Android

Browser

 

HTML, Based on Chrome Lite on Android

Memory

RAM

512MB

ROM

4GB (eMMC)

Internal Memory

Upto 1.5GB

Expandable Memory

Upto 32GB

USB Function

 

Mass Storage

 

USB Tethering

 

Charging

Wi-fi

 

802.11 b/g/n, Support Wi-Fi Router

Bluetooth

 

V2.1 + EDR

Tools

 

Calculator/Note pad/Clock/Gallery/Calendar /Document To Go/ Exchange push email

Google Mobile Suite

 

Google Mail, Google Search, Google Talk, Google Maps, Google Calendar, YouTube, Android Market

Preloaded Apps

 

Task Manager, All Backup, Huawei Cloud+, Huawei Streams, Message+

GPS/A-GPS

 

Yes

Sensor

 

Proximity, light & G-Sensor

Battery

 

Lithium ion

Battery Capacity

 

1500 mAh

Standby Time

 

Up to 380 hours(2G); Up to 440 hours(3G)

Talk Time

 

Up to 500 mins(2G); Up to 400 mins(3G)
Huawei IDEOS X5 U8800 Pro Box Contents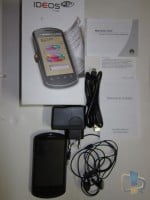 Phone

Charger (USB Version)

Earphone

User Guide

Warrant Card

Warranty Activation Instructions
Huawei IDEOS X5 U8800 Pro Comparison With Other Phones
General Features
Huawei Ideos X5 Pro (Black)
Samsung Galaxy Ace Plus S7500
HTC Wildfire S
Motorola Defy Plus

Price

Rs. 13800

Rs. 15500

Rs. 13599

Rs. 14499

Platform

 

 

 

RAM

Single SIM, GSM

Single SIM, GSM

Single SIM, GSM

Single SIM, GSM

Operating Freq

GSM – 850, 900, 1800, 1900; UMTS – 2100

GSM – 850, 900, 1800, 1900; UMTS – 2100

GSM – 850, 900, 1800, 1900; UMTS – 2100

GSM – 850, 900, 1800, 1900; UMTS – 2100

OS

Android v2.3 (Gingerbread)

Up-gradable to 4.0 ICS

Android v2.3 (Gingerbread)

Android v2.3 (Gingerbread)

Android v2.3 (Gingerbread)

Processor

1 GHz Qualcomm Scorpion (ARM V7)

1 GHz Qualcomm Scorpion

600 MHz ARM11

1 GHz

Graphics

Adreno 205

Adreno 200

Adreno 200

Adreno 200

Display

 

 

 

Type

TFT LCD

TFT

 

 

Size

3.8 Inches

3.65 Inches

3.2 Inches

3.7 Inches

Resolution

WVGA, 480 x 800 Pixels

HVGA, 320 x 480 Pixels

HVGA, 480 x 320 Pixels

FWVGA, 480 x 854 Pixels

Colors

16 M

16 M

256 K

16 M

Primary Camera

5 Megapixel

5 Megapixel

5 Megapixel

5 Megapixel

Flash

LED

LED

LED

LED

Video Recording

1280 x 720, 30 fps

640 x 480, 30 fps

24 fps

30 fps

HD Recording

HD

 

 

 

DIMENSIONS

 

 

 

Size

62 x 120 x 11.6 mm

62.5 x 114.7 x 11.2 mm

59.4 x 101.3 x 12.4 mm

59 x 107 x 13.4 mm

Weight

130 g

114 g

105 g

118 g

Internet & Connectivity

 

 

 

Internet Features

Email, Adobe Flash 10.1

Email

Email

Email

GPRS

Class 10, 48 kbps

 

114 kbps

Class 12, 48 kbps

3G

14 Mbps HSDPA; 5.76 Mbps HSUPA

7.2 Mbps HSDPA

7.2 Mbps HSDPA; 384 kbps HSUPA

7.2 Mbps HSDPA; 2 Mbps HSPUA

Wifi

802.11 b/g/n

802.11 b/g/n

802.11 b/g/n

802.11 b/g/n

USB connectivity

micro USB, v2

micro USB, v2

micro USB, v2

micro USB, v2

Multimedia

 

 

 

Music Player

Supports MP3, eAAC+, WAV, MIDI

Supports MP3, WAV, eAAC+, MIDI

Supports MP3, WAV

Supports MP3, WAV, WMA, AAC+

Video Player

Supports MP4, H.263, H.264, WMV, HD Video Playback

Supports MP4, H.263, H.264, 3GP

Supports 3GP, 3G2, MP4, WMV

Supports MP4, H.264, H.263, WMV

Sound Enhancements

SRS WOW HD

SRS WOW HD

 

 
Huawei IDEOS X5 U8800 Pro Price
This phone is available for sale at a Price of Rs. 13800. If you're looking to buy it in more competitive price, then you can check this listing at Tradus.in where you can get more Rs. 500 by entering coupon code "REVIEWCENT". 
Some Optional Points Which May Need Your Attention:
Install Go Keyboard rather than using Default keyboard in it. You'll be more than happy using it.

Use Camera 360 Ultimate which is better than default Android Camera Application.

Use any third-party music player like PowerAmp to fully utilize the power of SRS WOW HD music quality. You'll be blown by music using Power Amp. 

Had the Screen Guard pasted on the screen for sure.

This phone also had an active community on XDA-Developers where you'll find so many custom ROM's to try, for this phone. Having a active community helps the user in long run and guys there help on even those those topics where sometimes service center guys feel helpless for any company.
Final Verdict
With so much of Competitive specs available in this phone some great features, this phone is definitely a recommended buy because of its low price and Big screen and Good quality music and a Nice camera. 
Related Reviews: