Orient Electric, the largest fan manufacturer in India, recently launched a new range of IoT enabled inverter i-Series fans. Powered by ECM technology, these fans can save up to 50% in energy bills compared to ordinary fans. This new range of inverter i-Series fans include i-Floral, Hector 500, and the flagship model of 2020, i.e., IoT-enabled & voice-controlled i-Float ceiling fan. Available in a variety of colors and designs, these fans are suitable for any kind of setting and decor.
As per new rules set by Bureau of Energy Efficiency (BEE), from July 2020, it'll be mandatory that all ceiling fans must have star ratings varying from one star to five stars as we have for products like air conditioners and refrigerators. If you compare the old ratings to new ratings, the old 5-stars rated fan would now be equivalent to the latest 1-star rated fan. This is being done to promote energy efficiency, and then higher the star ratings, higher will be the power savings. Also, this is how the brand helps you in doing your bit for the environment in reducing the carbon footprint and save money, too, while doing so.
Speaking of i-Series, all of the fans in this range are BEE 5-star rated as per the new norms and have 50% better service value than the ordinary fans. Not only these fans operate silently, but they also deliver an astounding 230 CMM air delivery. Since these are inverter fans, they work smoothly even at low voltages, which is a plus point compared to traditional fans. All three variants of i-series range, i.e., i-Float, i-Floral, and Hector 500, offer great looks, are aerodynamically designed, and have a super-efficient noiseless motor, 100% rust-free blades and high-gloss premium finish.
If all fans installed in India are replaced with i-Series fans, it will help the nation save 10.4 crore MWh of energy annually with a cost saving of approximately Rs 67,780 crore.

With a modest assumption, Atul Jain, Executive Vice President, Orient Electric said:
How i-series inverter fans can reduce your electricity bills to half:
| | | |
| --- | --- | --- |
| | Conventional Fans | i-Series Fans |
| Power Consumption | 75W | 32W |
| Hours of usage per day | 16 | 16 |
| KWhr Units per day | 1.2 | 0.512 |
| Electricity bill per day | 7.8 | 3.33 |
| Electricity bill per annum | 2847 | 1215 |
| Carbon footprint reduction (kg) | 0.72 | 0.31 |
| Fan Operation | Normal Regulator | Normal Regulator |
Annual Savings on 1 Fan: Rs 1632
Annual Savings on 4 Fans: Rs 6529
Here's a features comparison table of different variants of Orient Electric inverter i-series fans:
Features
i-Float
i-Floral
Hector-500
Saves up to 50% of Electricity
✓
✓
✓
Inverter Motor
✓
✓
✓
5-Star Rating
✓
✓
✓
Works on Low Voltage
✓
✓
✓
Very Silent
✓
✓
✓
230 CMM Air Delivery
✓
✓
✓
Metalized Decorative Ring
✓
✓
Aerodynamic Design
✓
✓
IoT Support
(Google & Alexa Assistant Supported)
✓
Orient Electric i-Float Review
Orient Electric i-Float, the one fan which you must consider while finalizing the purchasing decision this year as it is a complete package one would want in a ceiling fan. What features do you expect your ceiling fan to have? Inverter motor – yes | energy-efficient – yes | Silent – yes | 5-star rated – yes | good looking – yes, and most of all, you can manage it from your phone via the Orient Electric App, which has additional features you can play with.
Orient i-Float raises the bar of premium fans by its mesmerizing looks, is made of high-quality materials & has a glossy premium finish. This fan is available in four colors, i.e., Pearl white, Cosmos Black, Lakeside Brown & Space Grey. My favorite here is the black and grey one, they look stunning.
Speaking of the design, i-Float and even other variants of i-series fans are aerodynamically designed with blades having a sweep length of 1200 mm, which gives an impressive air delivery of 230 CMM while it runs completely silent. When it is running, it gives the impression of a floating fan, hence the name i-Float. The change i-Float ceiling fan gets from last year Aeroslim ceiling fan is that it has a Metalized Deco Ring on the rotor, which gives a very unique never seen before looks.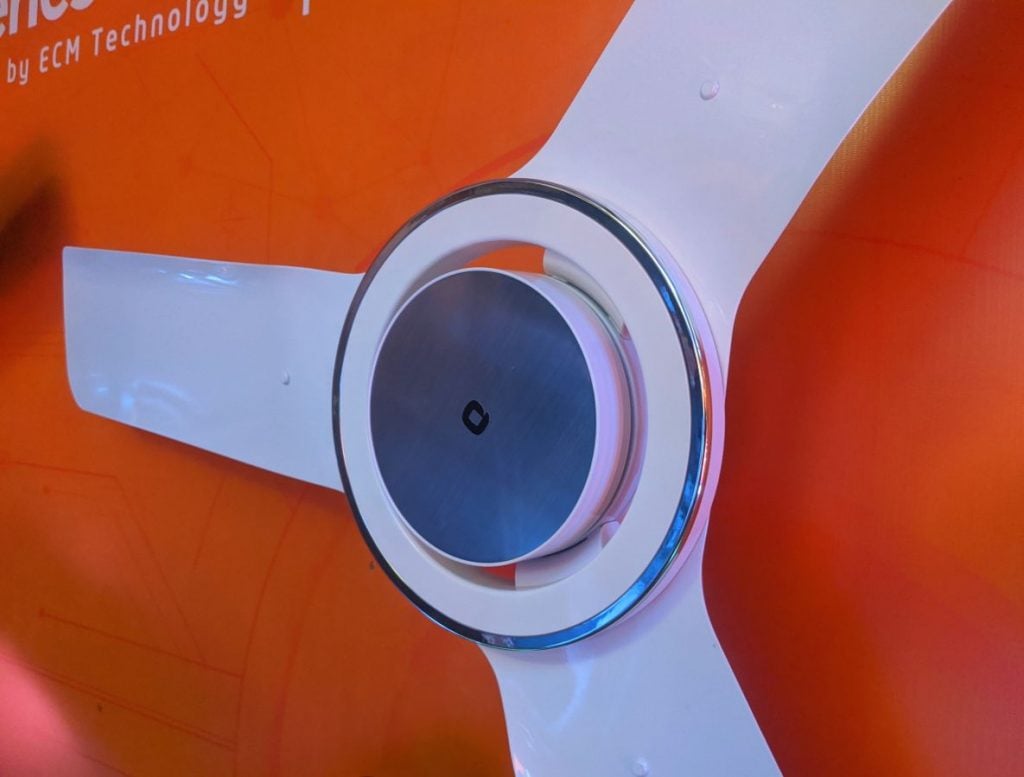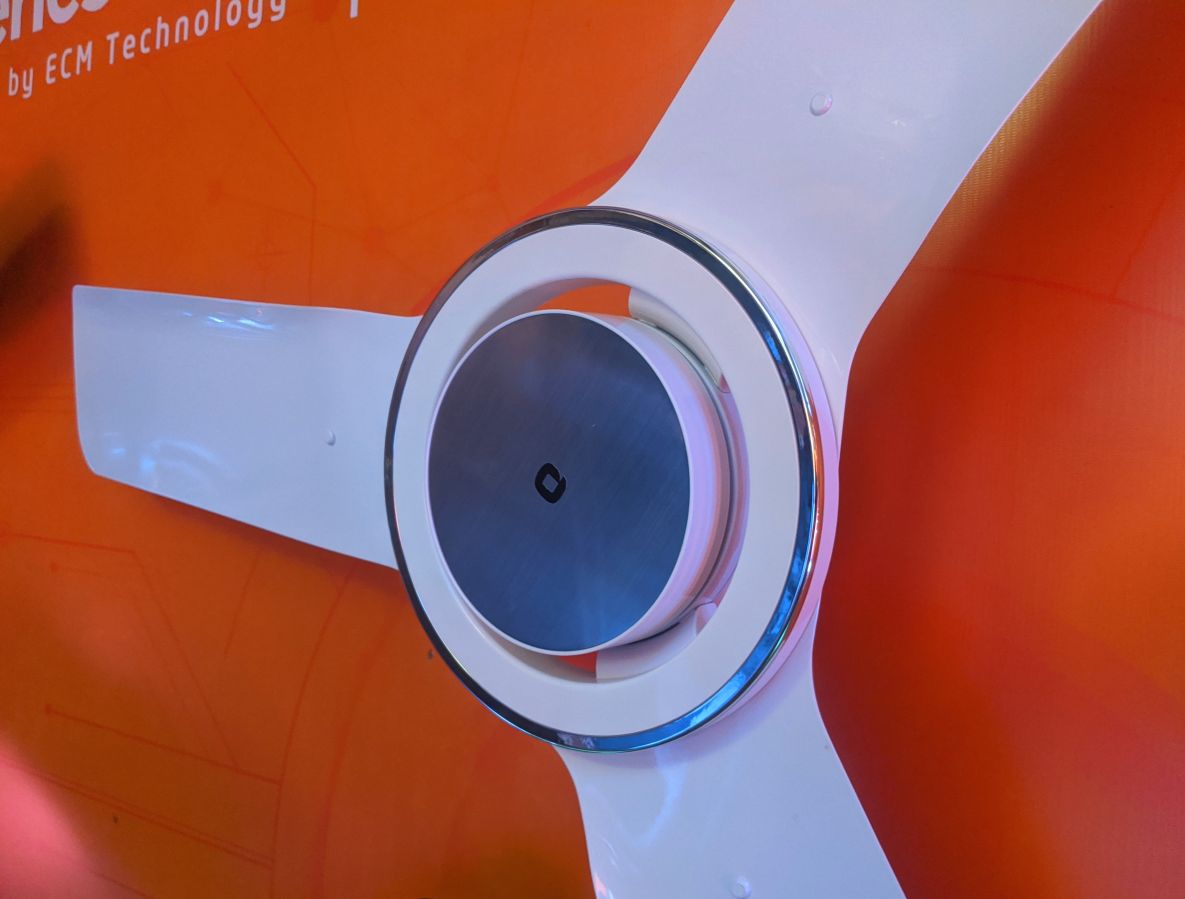 When it comes to performance, this fan is powered by ECM technology, which is designed not only to reduce energy consumption by a lot, but it also works smoothly on low voltages (140 ~ 270V) too. The fan only consumes 35W of energy, which is next to negligible even if you may run the fan for extended periods daily. To reduce the energy consumption and yet managing to deliver an astounding air delivery, this fan has an Advanced BLDC motor, which, as I said before, is powered by Electronically Commutated Motor (ECM) technology.
The benefits you get from ECM technology are:
Energy Efficiency
Longer Service Life
Almost Zero Heat Loss
Surge Protection
Efficient Speed Modulation
Better Service Value
Orient i-Float is the only fan in the i-series range with the IoT support, and yet the brand managed to price it lower than Rs 5K. While the MRP on the fan might be around Rs 5300, the selling price should vary between Rs 4000 – Rs 5000. Hence, not even the fan is priced very competitively, the energy savings you'll get in 3-4 years would be equivalent to the cost of this premium IoT fan, so at one point, this fan would literally cost you nothing.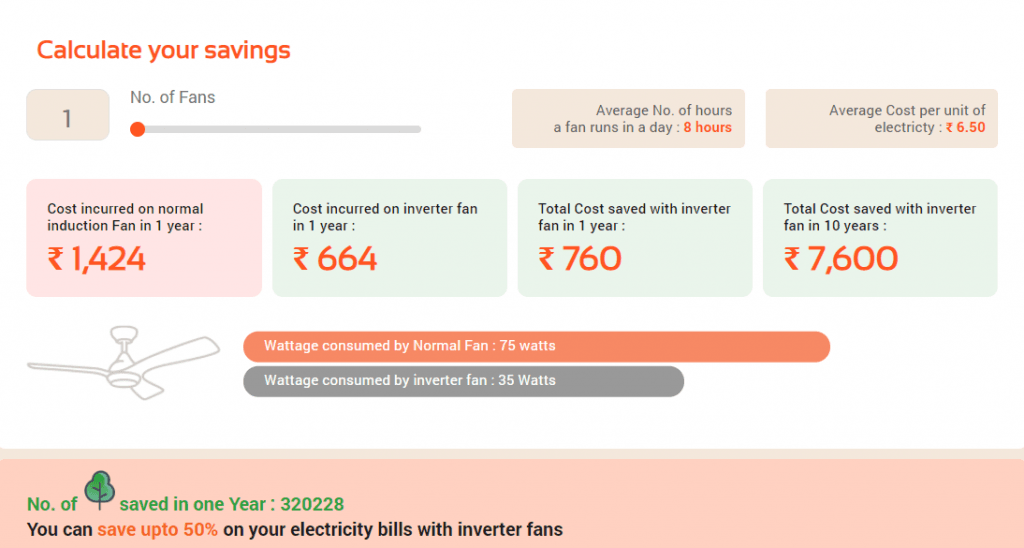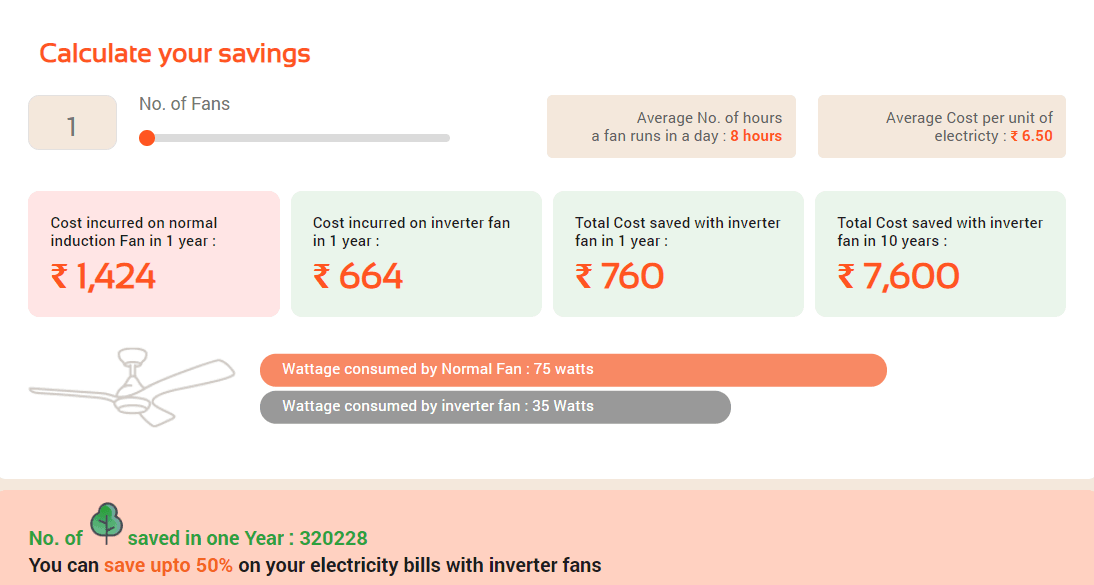 Let's get to the most exciting part, i.e., the IoT feature of Orient i-Float makes it stand out not only in i-series fans but from other brand fans too. As it supports IoT, which meant not only you can operate the fan using an app (available for iOS & Android) on your phone at home or remotely, but you can also operate it using voice commands via Google & Alexa assistants. Hence, the consumers get a completely hands-free experience of managing ON & OFF and the speed of the fan with various modes using the voice assistants.
By using the Orient Smart app available on App Store and Play store both, you can manage your fan with the following features:
Fan Scheduling – Schedule the fan to turn On & Off feature
Speed Regulation – 5-Step Regulation
Set a timer – In intervals of 2,4,6 and 8 hours.
Turbo Mode – For direct maximum speed
Reverse Rotation – You can run the fan in reverse rotation for air circulation
Breeze Mode – Auto speed change for Natural wind feel
Sleep Mode – Auto Speed Control for uninterrupted comfortable sleep.
Summarizing the Features of Orient Electric i-Float Ceiling Fan:
Saves up to 50% on Electricity Bills
Super Efficient Noise Less Motor
Robust & Reliable Inverter Motor powered by ECM technology
Works smoothly on low voltages (140 ~ 270V)
Aerodynamic design for 15% higher air delivery
BEE 5-star rated for energy savings
Metalized Decorative ring for elegant looks and beauty
Compatible to use with normal fan regulator
Robust Fan structure
Key Specifications of Orient Electric i-Float Ceiling Fan:
Sweep Length
1200 mm
Product Warranty
Two years
Blades
3
RPM
330
Energy Consumption
35W
Air Delivery
230 CMM
Available in Colors
Pearl White, Cosmos Black,
Lakeside Brown, Space Grey
Final Verdict
Orient Electric i-Float is a complete package one may want in a ceiling fan. Not only it is priced very competitively, but it also offers premium & modern looks to suit the modern decor of your house. It's an innovative product with aesthetically pleasing design and with an Inverter motor which reduces up to 50% in power consumption. The aerodynamic designs of the blades ensure maximum air delivery in every corner of the room. If you're looking to buy one, I do recommend checking out Cosmos Black and Space grey color too other than Pearl White.