LG Split Air Conditioners (AC) is again one of the popular selling in air conditioner market and have a quiet good percentage of coverage if compared to Samsung or Voltas. LG has gained a good market share with coming time by improving things at time like product quality or customer service support. So we are here reviewing Split Version of LG air conditioners.
UPDATE: Check out latest review of LG Dual Inverter Air Conditioner model here – https://www.reviewcenter.in/8837/lg-dual-inverter-air-conditioner-ac-review-features-specifications/
LG Split Air Conditioner (AC) Review
With a strong dominance of split air conditioner over window air conditioner, people have become more inclined to buy split AC's rather than window AC because of many reasons. Some may don't have dedicated window for installing window AC or some may not want to make a big cut in their wall for installing it. However, in case of Split AC's, it just requires a small hole in wall, which hides behind air conditioning unit and AC looks better on wall. This is pretty obvious that split ac's are better in looks than window ac's. However at same time, installation of them can be clumsy for case to case. So, before buying, one must check what are his/her actual needs and which would be better for them.
LG Split Air Conditioner (AC) Cooling Effectiveness
LG in-house technology named "INVERTER V" is what behind the successful life of lg split ac's. This technology is available in LG window ac's as well. This technology comes handy when effective cooling is required as well as power efficient too. The major benefit of "INVERTER V" technology is when we start the air conditioner, the compressor will start at maximum speed to reach the desired temperature quickly. Once the room attains the desired temperature, LG INVERTER will adjust and constantly vary the compressor speed to maintain the desired room temperature with minimum power consumption. This is the major benefit of having a variable speed compressor rather than a constant speed compressor that it consumes less speed and hence lower power usage bills. And hence cooling is very powerful.
The air outlet is designed for strong airflow which brings down the room temperature upto 7 deg within a minute. Its 4-way swing disperses cool air quickly and effectively in multiple directions to reach every corner of room. However you can adjust horizontal vane from step 1 to 6 with full auto swing or you can adjust vertical vane too from step 1 to 5, left and right with full auto swing to cool specific area of a room. The 4-way swing provides optimized flow regardless of your location in your room like any other AC. You can feel the airflow upto a distance of 30ft when adjusted properly.
LG Window Air Conditioner (AC) Build Quality
We buy big brands products because we expect them to give us great quality products. And if they don't deliver good quality products, then there name came on stake. The competition is market is so high that if a brand don't meet the required standards, they can loose market share so fast, that could give them a loss in millions. That's why LG doesn't compromise when it comes to quality of its split AC's products. There products have quality which had improved with time a lot when it comes to compressor or outer looks or body. Hence, product build quality is good and the parts fitted inside also have a good life span because that's also matter very much. Again if you heard some critics about it, then critics can be for any company, think yourself, if you got 100 customers, you'll never find all 100 satisfied with your service or products.
LG Split Air Conditioner (AC) Looks
LG got a huge range to offer in split AC's. They have tried to offer a varied range for everyone's budget. And if we talk about looks, those are quite good. There are some models whose outer body is fully colored to match your interior looks for those who don't like plain white looks. Those full colored AC's looks very luxurious and can make your neighbor's envy. However everyone has got its own opinions about its looks, if you check Mitsubishi or Hitachi looks, they also do have got some nice difference in looks but at same time they have got a huge price gap too. So, its like this, if you have got a thick pocket, go to looks with premium brands or you want to have a cost efficient thing with good looks, go for LG.
LG Split Air Conditioner (AC) Power Consumption
A state of art heat exchanger, an efficient air outlet, and INVERTER V technology are the major unique features behind high efficiency of LG's split ac's conditioners. This INVERTER V technology operates the air conditioner with variable speed of compressor which helps savings energy a lot. The Brushless DC motor is one of the major factor for reducing power consumption. This motor has strong torque and powerful Neodymium magnets inside the rotor, which helps BLDC motor to provide large air volumes and high static pressure. And 13 different step precise speed control makes the operation more smoother. For Electrical and Mechanical both, noise is lower and high speed operation is available as well.
If you going to buy split AC's soon, check for BEE star ratings. The higher the star ratings, more power efficient AC would be. And recently LG made huge improvement in there compressor and many things, so while buying split AC, check in BEE star rating label that the model year is 2012 only. If you find an AC with older model date, i would suggest not buying it because the recent product updated features and parts are more power efficient. You will find power consumption range more efficient on 2012 models. LG was awarded First Prize in Manufacturer's of BEE Star labeled appliances (Air Conditioner) Sector during National Energy Conversation Awards 2010. This award is currently instituted and given by Ministry of Power, Government of India.
LG Split Air Conditioner (AC) Durability
When we talk about durability, we expect our AC's to work at extreme temperatures and perform equal at all outer temperature range. If they don't perform at peak temperatures during summers, the AC becomes a box of plastic for us. And LG split AC's have performed well on all the reviews we aggregated about it. For having durability, it has a MF condenser instead of traditional fin and tube condenser. Heat capacity is 10-20% higher in MF condenser when compared fin and tube. Also this condenser is made up of Aluminium to prevent Galvanic Corrosion. When compared to fin and tube condenser, it consumer less power and delivers better performance.
LG Split Air Conditioner (AC) Features
Ionizer sterilize not only the air going through the air conditioner but also all surrounding harmful substances and odor too. The ion clusters created by ionizer plasma pattern electrodes form radicals over the surface of harmful bacteria to eliminate odor and hydrogen particles of the bacteria.
It inbuilt unique skew fan and low vibrating compressor produces less sound and helps you having a sound sleep. The unique thing about skew fan is its design has minimum surface pressure on the fan blade which when comes in contact with the air, the peak noise is reduced to a very lower level of 19dB.
Inbuilt Auto Cleaning function prevents the forming of bacterial and mold on the heat exchanger and hence more cleaner air for a long time. The automatic cleaning function dries wet heat exchanger and ions from Ionizer which sterilizes the coil to prevent the breeding of molds and bacteria. It eliminates odor from air conditioners and saves from discomfort of having frequent cleaning of filter.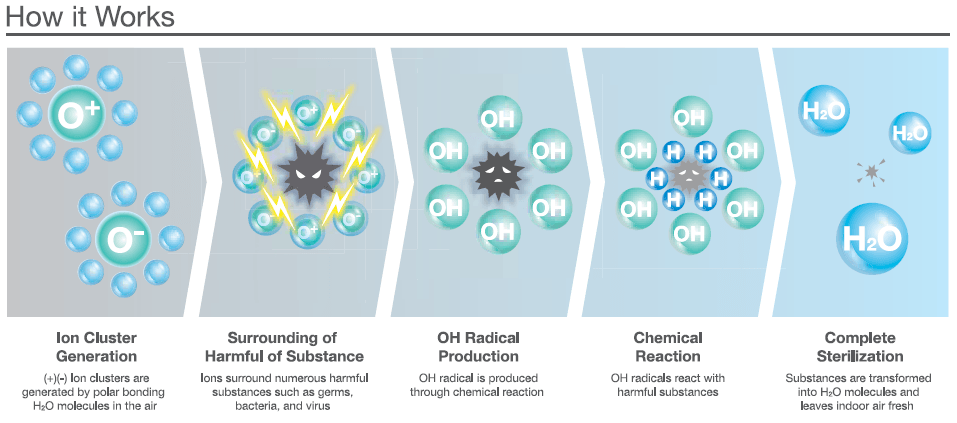 Its plasma filtration system protects the user from odor and harmful substances floating in air. It also deactivates virus that pose risks to health and hence more cleaner air. The filter removes house mites, micro dust and put fur to those in order to save user from allergy/asthma symptoms.
Using BATA algorithm (Body Adaptation Time Algorithm) is a new technology being offered by LG in it's split range air conditioners. What it actually does that it helps consuming less power upon reaching a room temperature when our body stop sensing temperature change. It's a quite useful feature and merge well with InverterV technology.
3M Mirco Protection Filter
LG is the only company which offers protection from dust and harmful bacteria by it's unique 3M Micro protection filter and fine mesh dual protection filter. These filters are capable of removing dust and bacteria up to size of 0.3 um for providing fresh and pure air to users. Again, this also helps in maintaining performance on cooling and reduced electricity bills for a longer period of time.
LG Split Air Conditioner (AC) After Sales Service
From all the reviews we aggregated, we found LG After sales service satisfactory. Customer care support is good and supportive and understand problems well when explained properly. Just in case, if you found some glitches in customer care support, contact them directly on there Facebook page to get an early response. This is the major benefit of purchasing products of big brands, now-a-days you can get them easily using social networking websites.
Update: Now LG offers a 211 service which means once you register your complaint, LG service engineer will call you back in 2 hours (hence 2), set up an appointment for the next convenient day for you (hence the first 1), and show up in the promised 1-hour slot (hence the second 1). If the next convenient day for you is the next day, that's great too.
LG Split Air Conditioner (AC) Price List
Model No.

Tonnage Capacity

BEE Star Rating

MRP (in Rs.)

L-Ultra LSA2UR2F

0.75

2

Rs.22490

L-Ultra LSA3UR2F

1

2

Rs.27490

L-Maxima LSA3MR2M

1

2

Rs.28990

L-Aura LSA3AR2M
1
2
Rs.28990
L-Zyya LSA3ZR2M
1
2
Rs.28990
L-Nova LSA3NR3F1
1
3
Rs.26990
L-Aura LSA3AR3M1
1
3
Rs.30490
L-Maxima LSA3MR3M1
1
3
Rs.30490
L-Zyya LSA3ZR3M1
1
3
Rs.30990
L-Energia Wine Red
1
3
Rs.33990
L-Nova LSA3NR5F
1
5
Rs.30990
L-Aura LSA3AR5M
1
5
Rs.34490
L-Maxima LSA3MR5M
1
5
Rs.34490
L-Zyya LSA3ZR5M
1
5
Rs.34990
L-Energia Wine Red LSA3EW5Z
1
5
Rs.38490
L-Aura LSA12ARMH (Hot & Cold)
1
Not Applicable
Rs.31990
L-Ultra LSA5UR2F
1.5
2
Rs.29990
L-Maxima LSA5MR2M
1.5
2
Rs.32990
L-Aura LSA5AR2M
1.5
2
Rs.32990
L-Zyya LSA5ZR2M
1.5
2
Rs.33490
L-Nova LSA5NR3F
1.5
3
Rs.31990
L-Maxima LSA5MR3M
1.5
3
Rs.35490
L-Aura LSA5AR3M
1.5
3
Rs.35490
L-Zyya LSA5ZR3M
1.5
3
Rs.35990
L-Energia Wine Red LSA5EW3Z
1.5
3
Rs.40290
L-Nova LSA5NR5F
1.5
5
Rs.36490
L-Maxima LSA5MR5M
1.5
5
Rs.39990
L-Aura LSA5AR5M
1.5
5
Rs.39990
L-Zyya LSA5ZR5M
1.5
5
Rs.40490
L-Energia Wine Red LSA5EW5Z
1.5
5
Rs.45490
L-Energia Silver LSA5ES5Z
1.5
5
Rs.45490
L-Aura LSA18ARMH (Hot & Cold)
1.5
Not Applicable
Rs.37490
L-Ultra LSA6UR2F
2
2
Rs.37990
L-Aura LSA6AR2M
2
2
Rs.41990
L-Maxima LSA6MR2M
2
2
Rs.41990
L-Zyya LSA6ZR2M
2
2
Rs.42490
L-Nova LSA6NR3F
2
3
Rs.37990
L-Zyya LSA6ZR3M
2
3
Rs.43490
L-Maxima LSA6MR3M
2
3
Rs.43490
L-Energia Wine Red LSA6EW3Z
2
3
Rs.46490
L-Aura LSA24ARMH (Hot & Cold)
2
Not Applicable
Rs.40990
INVERTER V SERIES AIR CONDITIONERS
BS-Q126B8R4 (Cooling Only)
1
5 (Not Applicable)
Rs.39990
BS-Q186C8R2 (Cooling Only)
1.5
5 (N.A.)
Rs.50490
AS-W126B1U1 (Hot and Cold)
1
5 (N.A.)
Rs.51990
AS-W186C2U1 (Hot and Cold)
1.5
5 (N.A.)
Rs.67990
BS-Q246C7M1 (Cooling Only)
2
5 (N.A.)
Rs.68990
AS-W246C2U1 (Hot and Cold)
2
5 (N.A.)
Rs.77990
BS-Q246C8R2 (Cooling Only)
2
5 (N.A.)
Ask us
BS-Q126B4A2 (Cooling Only)
1
5 (N.A.)
Ask us
BS-Q186C4A1 (Cooling Only)
1.5
5 (N.A.)
Ask us
Final Verdict
As per all the points i discussed above, i personally recommend this product, since when we get lots of features in a highly competitive cost, and then a product whose durability is high with great after sales service, it becomes no-brainier for buying this product straight. If you have personal experience using this product, you can also add your review about this product below.