Hitachi Home & Life Solutions India is a subsidiary of Hitachi Appliances Inc, Japan and is one of the leading air conditioners manufacturers in India & Worldwide. Headquartered in Ahmedabad, Gujrat, the company has a major manufacturing plant in Kadi, Gujrat which is among the ten-Hitachi air conditioner facilities worldwide. They have been highly competitive in the Indian Market by selling a premium range of Air conditioners which are best in looks when compared to other's manufacturers in this sector.
Hitachi Window Air Conditioner (AC) Review
Hitachi offers only a premium range of ACs in Indian Markets. That means they are the costliest air conditioners and its price range gives competition to O'General ACs. But premium cost doesn't mean they expensive because of brand name, but its because they offer lots of features which makes them expensive but still cost gets justified when you buy brands like them or O'General because they have a very long run. It's like a one-time investment and forget it. However, timely service and proper cleaning is a must to run a product for a long time efficiently.
Hitachi Window Air Conditioner (AC) Cooling Effectiveness
Hitachi AC's are very effective when it comes to cooling. The cooling rate is good and the room gets cooled up quietly fast. These AC's have a Twin Turbo Technology which increases the heat exchange when at high temperature and ensure an optimum cooling by not even overloading the machine capacity.
The advantage of Twin Turbo Technology is that it is designed to throw air in both directions and provide higher air-flow at lower RPM, however in conventional AC's, Sirocco fans are used on the inside and outside propeller fans are used, and these fans by design can't throw air in both directions and hence lower efficiency on those. And due to the presence of a large number of blades, the air cutting noise is high resulting in high noise levels and lower efficiency. That's why the number of blades presents inside in Hitachi window AC's are less, so this results in less cutting of air and hence more effective cooling. And hence due to use of Turbo fans inside and outside, the person gets an increase on overall air-flow leading to higher efficiency even at lower noise levels.
Hitachi Window Air Conditioner (AC) Build Quality
Build quality of these AC's are very impressive. And it should be as they are charging a premium cost for them. The front frame is made up of good quality plastic and doesn't give any cheap plasticity feeling. The frame is one of its kind and is unique to this company design. Overall finishing of the product is very fine and one must check the product from each corner while buying it. Because when the company manufacture a product, it passes through every quality check, but the only thing which is not very traceable is transportation. So, one must check the product from every side and corner, that it must not have any single dent on it. If it has, never buys it.
Hitachi Window Air Conditioner (AC) Looks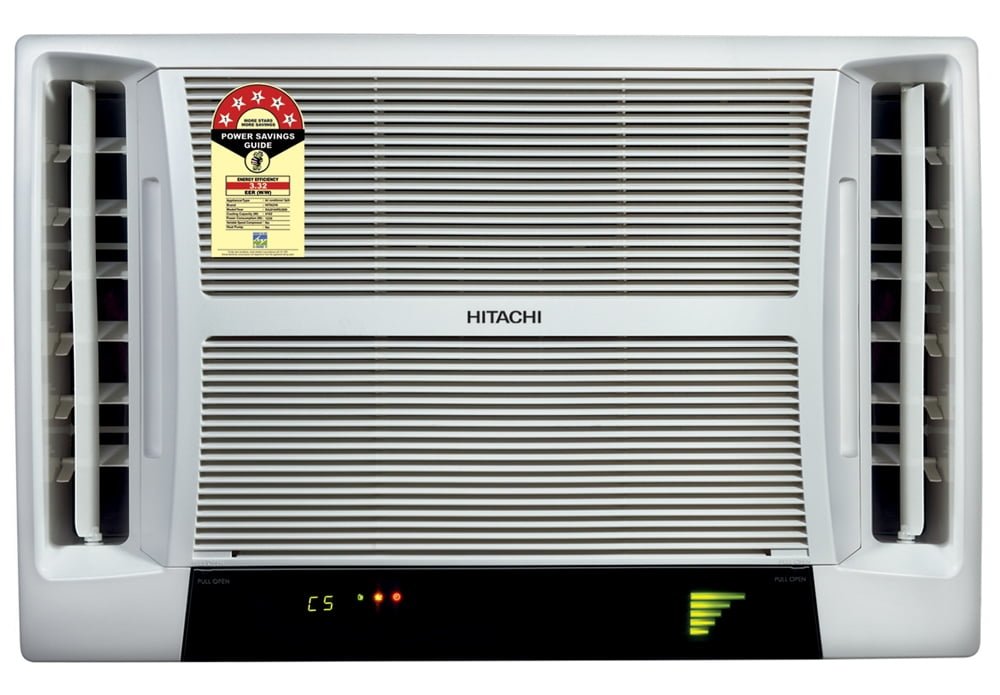 Hitachi is the one which I think is a leader when it comes to looks. This company is famous for making the best looking ACs in its range. If your the one, for who looks really matter with quality as well, I would definitely recommend buying this. Hitachi window AC's comes with different product ranges like Summer QC, Summer TM and Kaze. Summer QC and Summer TM are those range whose looks for Hitachi is famous for. Its design consists of air blowers at two sides with coil grill at the middle. The design looks super fabulous. Whereas KAZE range design is what has a basic design, have fewer features and are less expensive then Summer QC or Summer TM.
Hitachi Window Air Conditioner (AC) Power Consumption
This is one more big point, for which Hitachi is famous for, manufacturing highly power efficient air conditioners. This point matters when we run ACs in the long run. There is every type of customer outside in markets. One who uses air conditioners for a few hours or there is few who use it a whole day like at commercial places. When you run the air conditioner for few hours a day, you won't be really able to judge if its really power efficient or not, but when u run it for a long time daily, this is where you need a real power efficient product and Hitachi can be chosen as one for it.
Also a very impressive and unique feature it has inbuilt Power Index on the control panel which indicates the relative power consumption at different AC settings and hence you can keep a check how much power it is consuming and you can lower your electricity bills by running it at most power efficient settings. And always remember, higher the BEE star rating, more power efficient the AC would be. Have a look at the following chart which would make things real clearer about the power consumption by these ACs.

Hitachi Window Air Conditioner (AC) Features
In Conventional AC's, usually there is a single motor to run both indoor and outdoor fans, hence when we reduce the fan speed of inside, it eventually reduces the outside fan speed as well. This reduces the air conditioner ability to throw hot air outside and impacts the overall efficiency of the AC.
Whereas in this AC, there are two independent fan motors, one for inside fan and other for outside fan. Which means the inside fan speed is independent of outside fan and hence the ability to throw hot air outside remain unaffected. Thus how overall efficiency of the machine remains unaffected. This feature is available only in the Summer TM model.
Every type of customer has its unique kind of requirement and comfort level in different weathers. For Example, in Delhi, its the month of June or July at which temperature touches 44 deg C or more with a humidity level of 60%, whereas in Mumbai, at the same month, the temperature is around 35 deg C with a humidity level of 85%. Hence when we have any regular AC, we control these factors by changing temperature and regulating the fan speed. But then choosing the right temperature and fan speed at different temperature with changing weather and changing the level of humidity makes extremely cumbersome to choose the right settings every-time.
That's why, Hitachi window AC has a super-advanced intelligent feature that has temperature and humidity data of over 100 cities fed into it. The AC recognizes which city you're in, the time and the individual metabolic needs e.g. hot, very hot & humid (to be chosen by you). Based on these factors, this AC continuously change the setting accordingly to maintain a comfortable environment, which functioning most efficiently at the touch of a button. This feature is available in every model.
If your AC is being misused in your absence by children or by anyone, then just turn on the Digilock, it will lock your AC and prevents the misuse in your absence without affecting your comfort settings. This feature is available in Summer TM & Summer QC models.
If you're too cosy to leave your bed on time, then this AC has got an inbuilt alarm to wake you up and it automatically turns himself off on time which you set. This feature is available in Summer TM & Summer QC models.
When turned ON, this function sets the AC to work at its maximum, so as to maximize cooling in short span time. This function is available in Auto & Cool mode. This feature is available in Summer TM & Summer QC models.
This unique anti-bacterial filter prevents the growth of bacteria inside the air conditioner and ensures optimal performance of the air conditioner every time. This feature is available in every model.
On/Off Timer with Advanced Start-Up
This AC gives the option that you require a particular temperature at a particular time daily. For example, if you 24 deg C at 09:00 PM when you come back daily from office, this AC is smart enough to scan the room as per your need. It will scan the room at 08:00 PM and will calculate the time required to reach the desired temperature and switch on itself accordingly. When it attains that required temperature, it turns off back without wasting any electricity and you the desired comfort when you come back home. This feature is available in every model.


Extra Heat Exchanger (XHE)
Mostly window AC's are air-cooled whereas this AC has an extra Heat Exchanger attached to the coil which is cooled by the condensed water. Water cooling is definitely better than air cooling and hence it automatically increases the air conditioner ability to throw hot air outside enabling it to perform efficiently even at very high ambient temperatures. This feature is available in Summer TM & Summer QC models.
Have you ever woken up feeling chilly in the middle of night? This is because when we run the AC whole night, it even attains lower temperature than what we need and set. To tackle this problem, it has a unique feature named Kaimin, which is quite intelligent to provide you a sound sleep by raising 1 deg C temperature per hour for up to 4 hours. This helps in retaining a required temperature in the room and this also helps in saving of power too. This feature is available in every model.
This indicator reminds you when to clean the filter through LED on the indoor units. This feature is available in every model.
Hitachi Window Air Conditioner (AC) After Sales Service
The reviews we collected for this AC after-sales service are not very impressive. If you live in metro cities, you can buy this with closed eyes as big companies have got big competition in big cities to survive and after sales service is one of the major factors while buying an air conditioner in consumer mind these days. Hence, in metro cities or famous cities, you can buy it without any problem, but for other places, after sales service are not very promising, however i am not saying that it is that bad that you may not purchase it. Hitachi just needs to improve this thing and need to step into social networking as well to create more brand awareness and to win trust of consumers.
Hitachi Window Air Conditioner (AC) Price List
HITACHI Window Air Conditioner (AC) Price List

Model No.
Model Description
Tonnage Capacity
BEE Star Rating
MRP (in Rs.)
RAV513ESD
WINDOW AC – 1.1TR CLASS HITACHI SUMMER QC- RAV513ESD
1.1
5
27240
RAV518ESD
WINDOW AC – 1.5TR CLASS HITACHI SUMMER QC- RAV518ESD
1.5
5
32240
RAV418ESD
WINDOW AC – 1.5TR CLASS HITACHI SUMMER QC- RAV418ESD
1.5
4
30500
RAV322ESD
WINDOW AC – 2.0TR CLASS HITACHI SUMMER QC- RAV322ESD
2.0
3
34740
RAT513ESD
WINDOW AC – 1.1TR CLASS HITACHI SUMMER TM – RAT513ESD
1.1
5
28240
RAT518ESD
WINDOW AC – 1.5TR CLASS HITACHI SUMMER TM – RAT518ESD
1.5
5
33740
RAT322ESD
WINDOW AC – 2.0TR CLASS HITACHI SUMMER TM – RAT322ESD
2.0
3
35740
RAW312KSD
WINDOW AC – 1.1TR CLASS KAZE WAC – RAW312KSD
1.1
3
23240
RAW318KSD
WINDOW AC – 1.5TR CLASS KAZE WAC – RAW318KSD
1.5
3
26740
RAW122KSD
WINDOW AC – 2.0TR CLASS KAZE WAC – RAW122KSD
2.0
1
28740
Please note that all prices given are approximate. Please check your local dealer to get most competitive prices. You'll definitely get a difference of Rs. 1000 to 2000 (may be more or less). My idea to get best price is to call JUST DIAL and tell them that you need to purchase a window AC. Then you'll automatically start getting calls from dealers nearby you and you can choose from the one who is offering you a competitive price. If possible, buy it from a authorized dealer only.
Final Verdict
Hitachi up to my knowledge is the only company who offers a whole list of features in their air conditioners. They have got some unique features which no other company is offering currently in India. So, just in case, if all the features i explained above have impressed you, go ahead and buy this product. But do get some local reviews if possible about how is the after-sales service in your state or in your area of this company. And when it comes to product life, it is definitely a good buy.