Editor Rating

Rated 5 stars

Spectacular
₹32000 to ₹52000
---
Reviewed by:

Published on:

Last modified:
---
It's 2019 and the competition in the market has gone fierce like never before and when it comes to air conditioners, the consumers not only look for more features, they also want a product which will last for years. And not being biased, but LG has been among the best all of these years when it comes to product quality, after-sales service (very important) or how long the product lasted for any of the people I recommended this brand. And after repeatedly asking the LG for the latest product, here we have the LG KS-Q18AWZD Dual Inverter 2019 model with smart features for review.
LG Dual Inverter Air Conditioner (AC) Review
In 2017, LG became the first brand to shift all of its models to the inverter compressor. Because of this step, soon the market of Inverter air conditioners spiked from 12% to staggering 60% with LG capturing the major chunk of it. Later on, LG launched the DualCool Inverter Compressor with latest ISEER ratings & the highest cooling score of 5 with Eco-friendly Refrigerant R32, 100% Copper, Gold Fin Condensor with Ocean Black Protection and 10-year warranty on compressor. At present, LG has the highest 38% market share* of inverter air conditioners.
* Source: GfK EBO+MBO (MS% in sales value in lNR) for YTD June'18.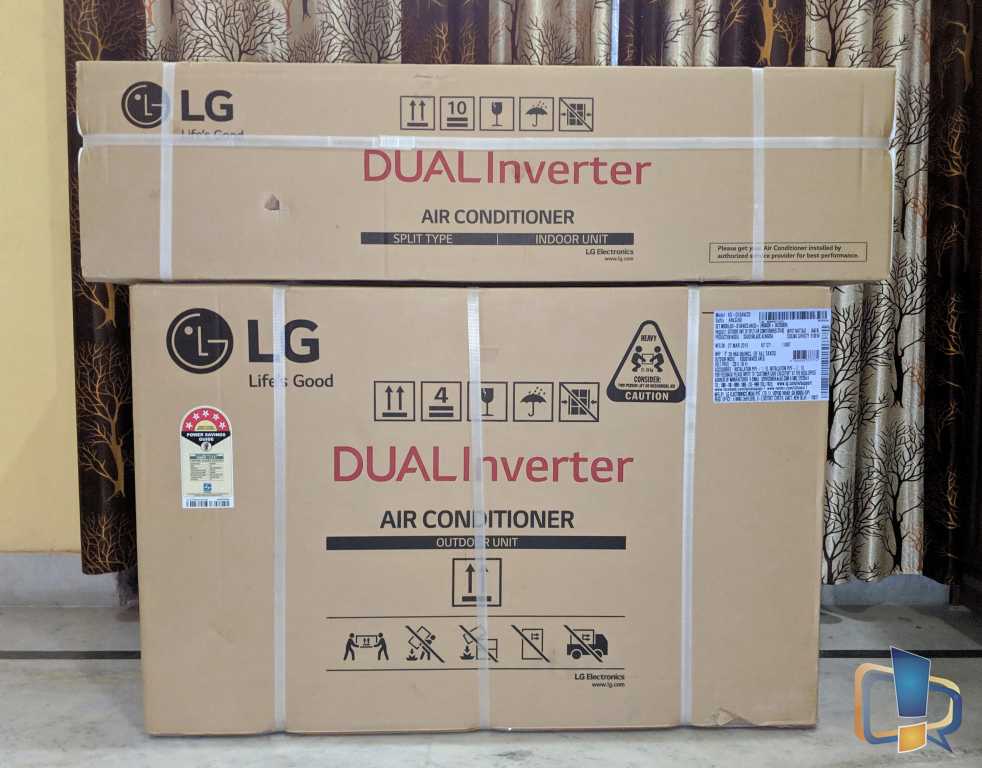 This review can be considered applicable for following LG Dual Inverter Air Conditioners models. Not all models will have all the features mentioned in this review, those vary from model to model.
1 Ton AC's (2019 Models)

KS-Q12ZWZD

KS-Q12AWZD

KS-Q12BWZD

KS-Q12PWZD

KS-Q12GWZD

KS-Q12MWZD

KS-Q12WNZD

KS-Q12AWXD

KS-Q12PWXD

KS-Q12MWXD

KS-Q12FNZD

KS-Q12SNZD

KS-Q12YNZA

KS-Q12HNZD

KS-Q12ENZA

KS-Q12BNXD

KS-Q12WNXD

KS-Q12PNXD

KS-Q12SNXD

KS-Q12YNXA

KS-Q12HNXD

KS-Q12ENXA

1.5 Ton AC's (2019 models)

KS-Q18ZWZD

KS-Q18AWZD

KS-Q18BWZD

KS-Q18PWZD

KS-Q18GWZD

KS-Q18MWZD

KS-Q18FNZD

KS-Q18WNZD

KS-Q18BWXD

KS-Q18SNZD

KS-Q18YNZA

KS-Q18AWXD

KS-Q18MWXD

KS-Q18PWXD

KS-Q18FNXD1

KS-Q18HNZD

KS-Q18ENZA

KS-Q18HTXD

KS-Q18WNXD

KS-Q18KNXD

KS-Q18PNXD

KS-Q18BNXD

KS-Q18SNXD

KS-Q18YNXA

KS-Q18HNXD

KS-Q18ENXA

2 Ton AC's (2019 models)

KS-Q24SNXD

KS-Q24ENXA
LG DualCool Inverter Air Conditioner (AC) Box Contents
LG provides most of the parts required for installation in the box contents. Here are the contents you'll find the indoor & outdoor unit boxes:
| | |
| --- | --- |
| Indoor Unit Box | Outdoor Unit Box |
| Indoor unit | Outdoor Unit |
| Remote Controller | Copper Pipes (3m length) |
| Connecting Cords | Anti-vibration Rubber Blocks for ODU (used when installing ODU on the floor) |
| Zip-ties | |
| Remote Controller Wall Mount | |
| Some screws | |
| Vinyl Tape (PVC) | |
| Owner's Manual | |
| Air Conditioner Installation Manual | |
LG Dual Inverter Air Conditioner (AC) Features
Dual Inverter Compressor
Dual Inverter compressor of LG created a benchmark of energy efficiency for other brands and some brands are still catching up to it. There are only a few brands who sell a 5-star rated Inverter AC which is a clear proof of that. Call it Dual Inverter or DualCool Technology, it has Varied Speed Dual Rotor Compressor with the wider rotational frequency range. Dual Rotors inside the compressor function in tandem to ensure faster cooling and more efficiency as well as a considerable reduction in noise and vibration level.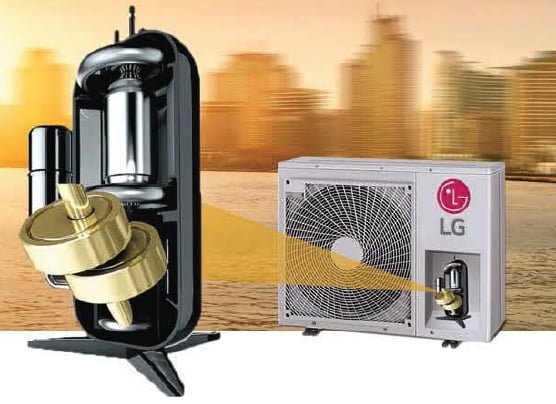 The biggest benefit you get out of it is more energy savings along with higher speed & better cooling range compared to conventional compressors. Technically this dual inverter compressor runs on variable speed to maintain the desired level of temperature resulting in assured savings in your electricity bills. Read this article to know more benefits of Dual Inverter Compressor.
Because of such energy efficient compressor, LG was able to achieve the latest ISEER ratings since 2017. Here's a chart shown below of the new ISEER ratings for Split AC's introduced by BEE in 2018 and every air conditioner being sold in India has to comply with new ISEER ratings since January 2018.
The model I am reviewing here is a 5 Star rated model with ISEER rating of 4.70.
| | | | |
| --- | --- | --- | --- |
| EER 2017 | EER Rating (W/W) | ISEER 2018 | ISEER Rating (kWh/kWh) |
| – | – | 5 Star | 4.50+ |
| – | – | 4 Star | 4.00 – 4.49 |
| 5 Star | 3.50+ | 3 Star | 3.50-3.99 |
| 4 Star | 3.30 – 3.49 | 2 Star | 3.30 – 3.49 |
| 3 Star | 3.10 – 3.29 | 1 Star | 3.10 – 3.29 |
| 2 Star | 2.90 – 3.09 | – | – |
| 1 Star | 2.70 – 2.89 | – | – |
100% Copper with Ocean Black Protection
While the IDU and ODU pipes being used in LG AC models are 100% copper, to increase their operating life, a special kind of coating named Ocean Black Protection is applied to both IDU & ODU unit which protects the product from sand, salt, industrial smoke and pollutants.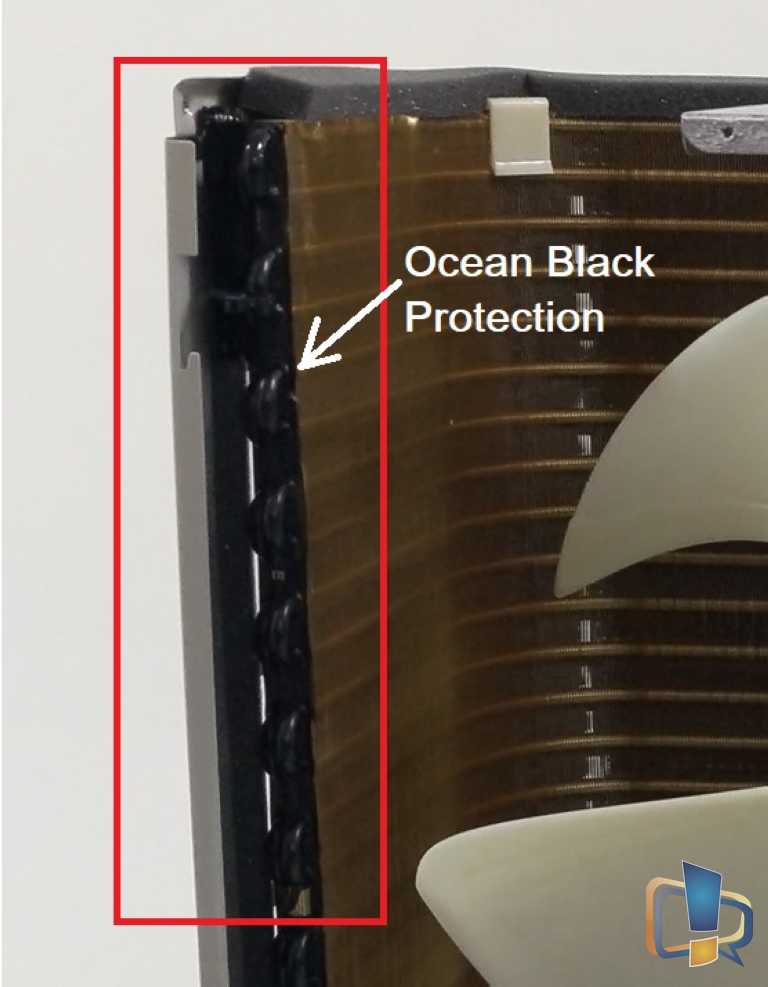 This coating is applied on both Evaporator Coil & Heat Exchanger and is far superior to other types of coatings known by now. The coating is applied double sided which thereby prevents the corrosion of critical parts & extends the life of the air conditioner.
High-Temperature Cooling Score (HTCS) of 5
Cooling Score is a standard created by LG for air conditioners. Higher the HTCS number, better the AC would perform at the higher temperature outside. It is a measure of cooling performance of an AC at high temperature.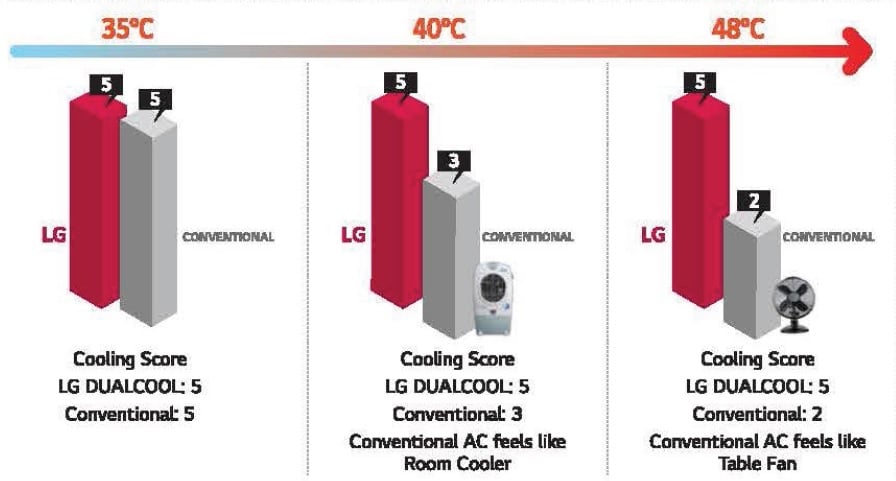 For example, if an air conditioner is able to deliver more than 80% of it's rated cooling capacity when the temperature outside is higher than 48°C, it gets a score of 5 for its cooling performance. Here's a chart to demonstrate different cooling score parameters. 5 is highest and 1 is worst.
| | |
| --- | --- |
| HTCS | Cooling Capacity* |
| 1 | <50% |
| 2 | 50%-59% |
| 3 | 60%-69% |
| 4 | 70%-80% |
| 5 | >80% |
* Cooling Capacity tested at 48°C outside temperature.
How LG Dual Inverter AC Gets a Score of 5?
Because of:
Dual Inverter Compressor
Hi-Grooved Copper Pipes
IPM – Intelligent Power Module
Dual Row Condenser
BLDC Fan Motor
Hi-Grooved Copper Pipes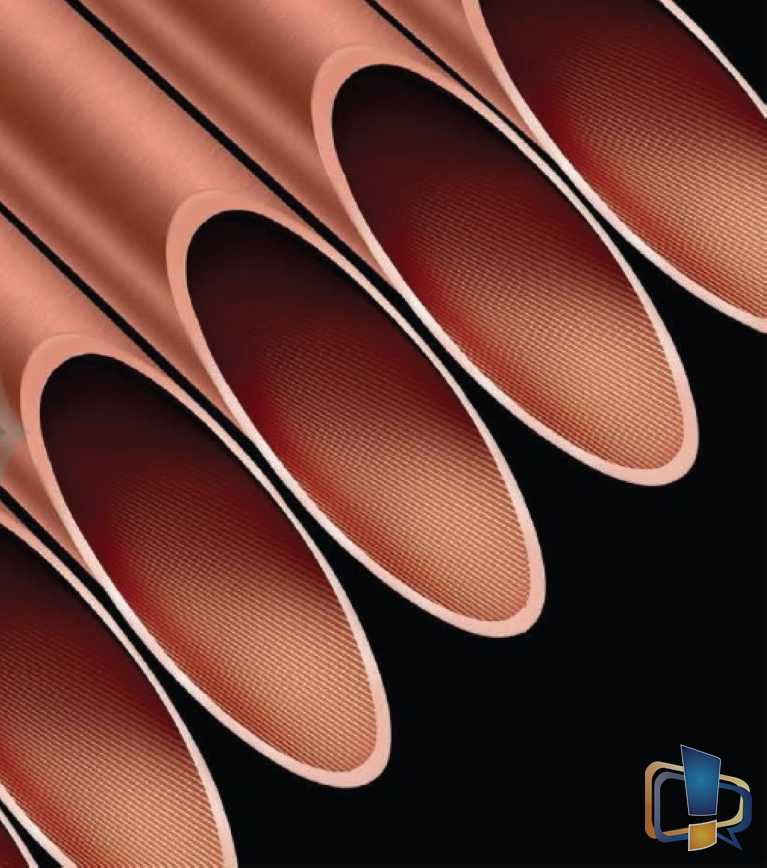 Only with LG, Hi-Grooved Copper Pipes are used in the indoor and outdoor unit with 5-star rated models. With 3-star models, LG offers Grooved copper pipes in the unit. It serves dual benefits:

The inner grooved structure in the copper pipes creates an oscillatory movement of the refrigerant which results in higher travel time of the refrigerant thereby offering better heat dissipation.
Grooves also help in strengthing the overall structure of the pipe and thus they will be able to withstand high pressure too.

Plain Pipe
Grooved Pipe
(3-Star models)
Hi-Grooved Pipe
(5-Star Model)
Groove Height
Not Applicable
0.1 mm
0.18 mm
Per Meter Weight of copper pipe
30gm
47gm
53gm
Patented Gold Fin Condenser
To prevent corrosion on the condenser, LG offers Gold Fin anti-corrosive condenser which is more resistant to corrosion & extends the life of the heat exchanger for a much longer period. It shields the surface of the heat exchanger from any external wear and corrosion.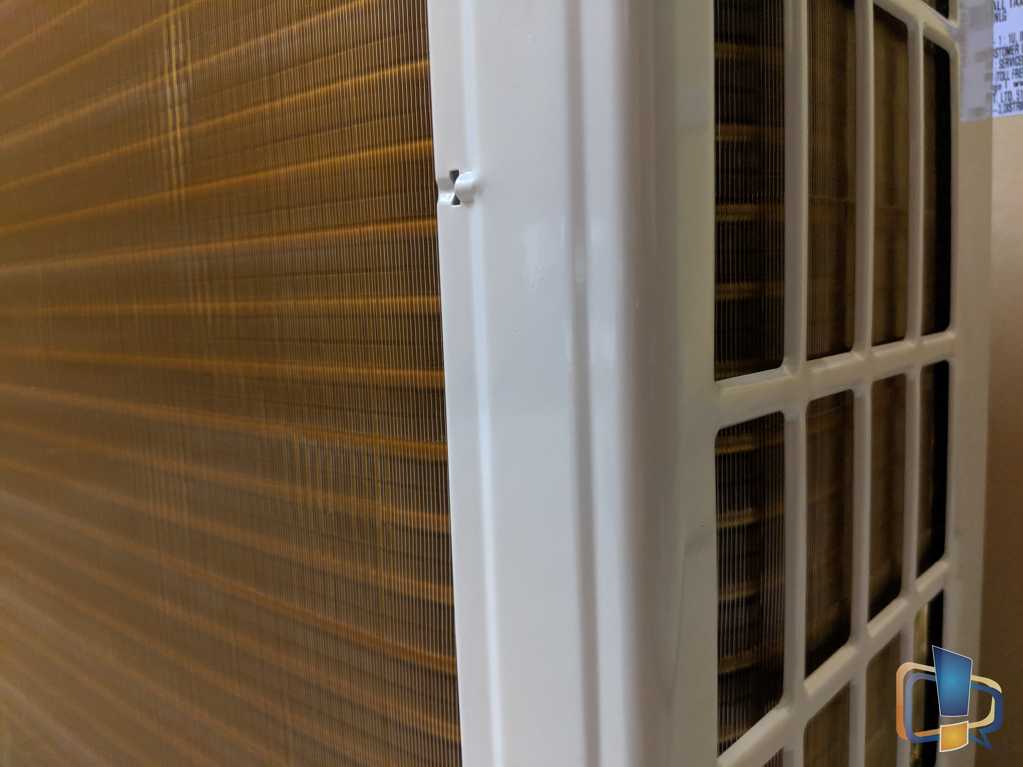 Because of it, this product is safe to install in salty areas like nearby sewer or areas nearby beach as the Gold Fin Condenser will save heat exchanger from the effects of salty air, rain, dust & other corrosive elements.
Active Energy Control
Compared to Voltas Adjustable AC, @LGIndia #LGDualCool Active Energy Control feature offers a finer energy control option like running the AC on 80, 60 & 40% energy usage only! Also, this remote controller is easy to use for anyone! #AirConditioner pic.twitter.com/YLrN4vUV7D

— Ankit Chugh 🌪️ (@luckyankit) April 24, 2019
This is one of the most underrated feature of LG Dual Inverter air conditioners. Using this feature, you can limit the air conditioner energy consumption as needed. You can set the air conditioner to consume 80, 60 or 40% of it's rated energy consumption, which also means you'll be running the AC in different tonnages. Following table is for a 1.5 TON AC:
| | |
| --- | --- |
| Energy Consumption | Tonnage |
| 100% | 1.5 TON |
| 80% | 1.2 TON |
| 60% | 0.9 TON |
| 40% | 0.6 TON |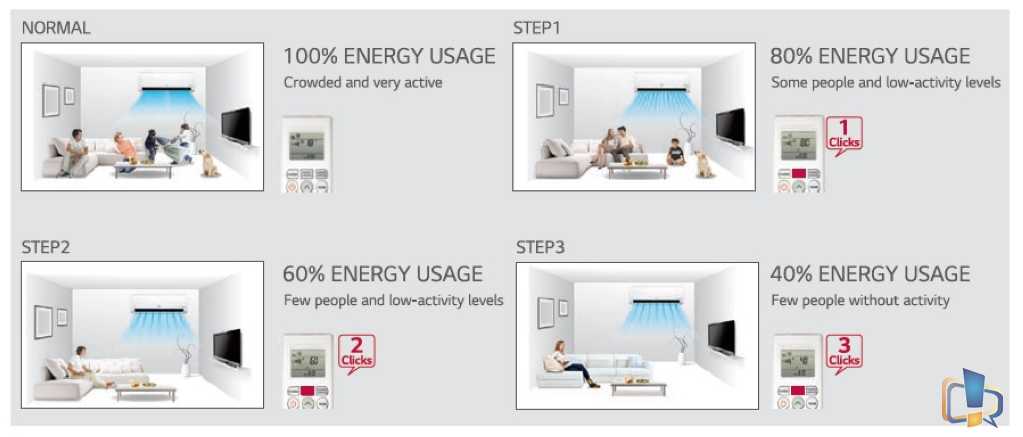 If you remember Voltas adjustable AC which offers running AC in 1.5 & 1 Tonnage, this feature is the next level upgrade of that and it came in LG first (since 2018). Another benefit you get is – since this feature governs the electrical consumption in cooling mode, it improves energy efficiency by reducing cooling output.
R32 Refrigerant
R32 is among the best refrigerant being used in this air conditioner. It is a highly energy-efficient refrigerant with lower global warming potential compared to R410A which is now being phased out from flagship air conditioners. Benefits you get upon using R32 as a refrigerant are:
| | | | |
| --- | --- | --- | --- |
| | R22 | R410A | R32 |
| ODP | Medium | Nil | Nil |
| GWP | Mid | High | Low |
Zero Ozone Depletion Potential (ODP)
Lower Global Warming Potential (GWP)
Lower quantity – requires 20% less gas charge of R32 compared to R410A
R32 (Difluoromethane) is an organic compound
Offers powerful cooling & is highly energy efficiency
Low Refrigerant Detection
In case of gas leakage or if by any other issue, the refrigerant level goes below 40%, the AC will notify the user about it and will shut down the AC. Running the AC with low-level refrigerant can cause additional issues like Rotor burnout or Insulator melting which can be avoided as this feature will stop the operation of AC altogether.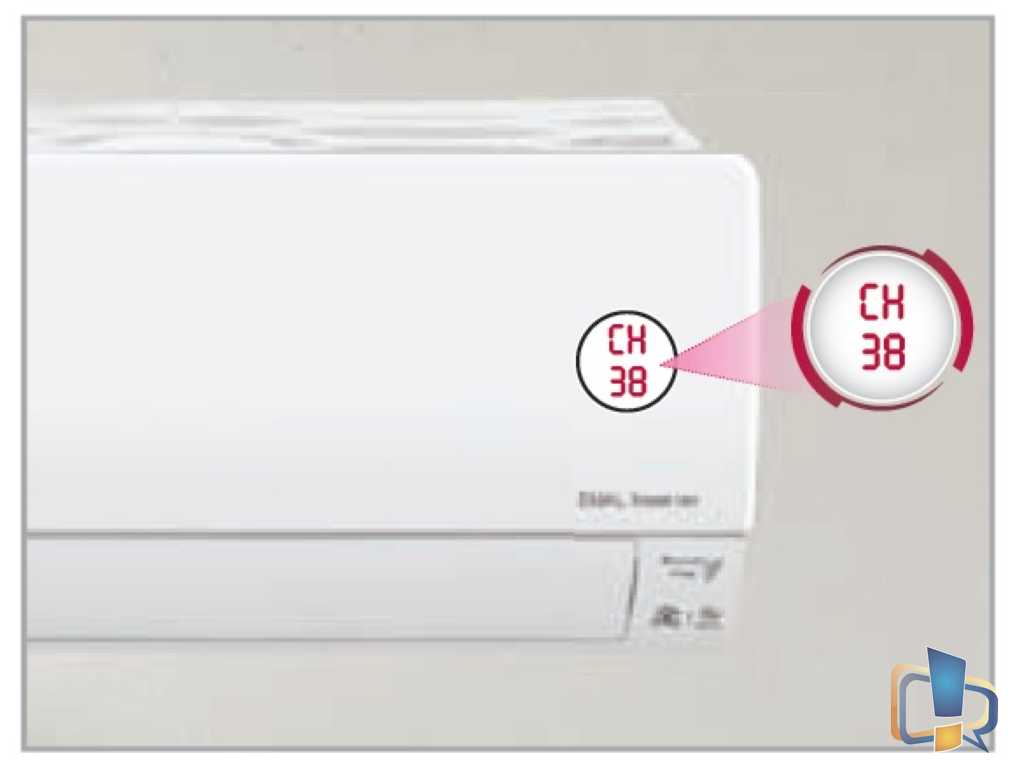 When a low refrigerant level is detected, "CH 38" gets displayed on the air conditioner indoor unit display which tells users that it requires maintenance and refilling. Getting timely maintenance of the AC is such case increase the lifespan of the AC & reduce inconveniences.
4-Way Swing
Whenever someone asks me for a budget AC recommendation, I always recommend them to get one at least with the 4-way swing. The horizontal and vertical swing action ensures better airflow while giving uniform cooling. It's a very useful feature and new buyers generally miss-out in checking if an AC has that feature or not & I don't recommend buying an AC with the 2-way swing.
Longer Air Throw
LG Air Conditioners air throw distance is among the highest in the industry. This AC can make you feel the cold air from up to 50 feet (15 meters) away. Such longer air throw was made possible by increasing the size of the skew fan present inside the indoor unit.

This optimally designed wider outlet skew fan fills spaces with cool air faster and further!
Cools at 52°C
As I said above, since LG air conditioners have a cooling score of 5, so yes, this AC works fine even if the temperature is extreme outside as the AC is designed to work & tested extensively to keep the user cool inside even when the temperature outside rises up to 52°C.
Stabilizer Free Operation
While in past the stabilizer was a mandatory addition to ensure the protection of the air conditioner, now the technology has evolved and has eliminated the need of a voltage stabilizer. LG Dual Inverter ACs are extensively tested to work smoothly if the voltage fluctuates within the range of 145-290V. If the power fluctuates beyond the said range, then using a stabilizer is mandatory. I recommend using Bluebird Copper 4KVA Voltage Stabilizer.
Easy Clean Filters
In 2019 models, LG modified the design of the indoor unit a lot and made many new additions like on the display and overall physical design, but the biggest change they introduced is how the indoor unit takes air input. They added a big opening fully covered by HD filter on top of IDU with 3M filter below it for air filtration.
This HD Filter is designed to capture dust particles over 3μm size and is the first line of defence against finer particles and bacteria. The 3M filter cleans the air from harmful microscopic particles as small as 0.3μm in size. Both filters are washable and can be removed easily from the AC for cleaning. This is probably the best design modification LG ever did with their ACs as you don't need to open the AC for removing filters for regular cleaning.
Remote Controller Features
The remote controller provided by LG for the air conditioner is quite straightforward to use. Every button has a proper label of what it does and frequently used buttons glow at dark, so that the user may use it at night easily.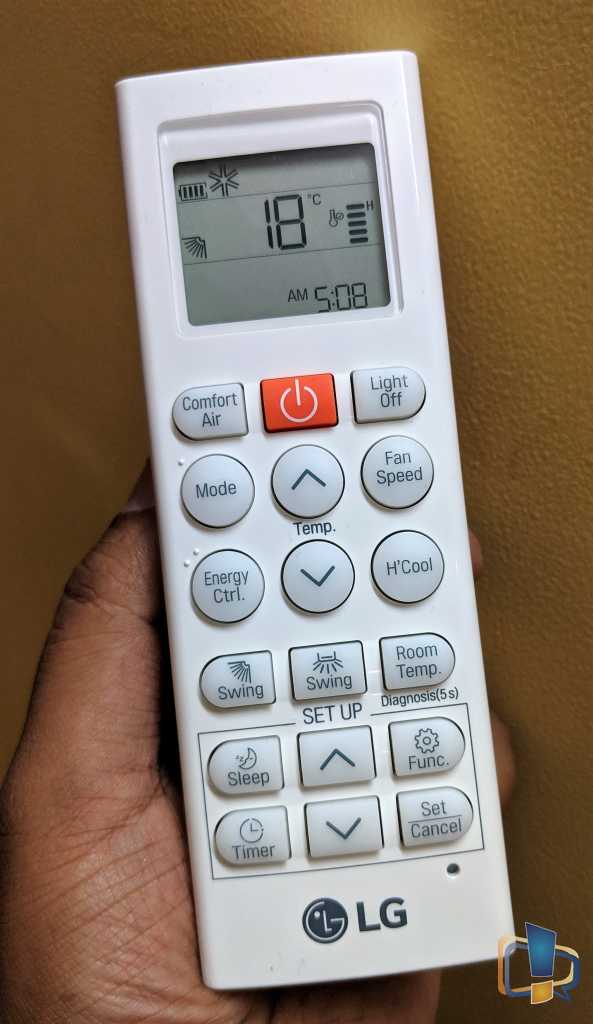 The display on the controller shows every info required to operate the air conditioner. Here are the features/programs offered by it:
Button
Description
Comfort Air
To adjust the airflow to deflect wind
Lights Off
Turn Indoor unit display On or OFF
Mode
Cooling (*) / Auto Operation (

AI

) / Fan-Only / Monsoon
Fan Speed
To adjust the fan speed
Energy Ctrl.
To run the AC in different tonnages
H'Cool
To change room temperature quickly
Swing
To adjust the air flow direction vertically or horizontally
Room Temp.
To display the room temperature
Diagnosis (5 sec)
Press the Room Temp. button for 5 seconds – To conveniently check maintenance information of the product.
Sleep
To set the sleeping mode automatically
Func.
To remove moisture generated inside the indoor unit
Timer
To turn on/off the air conditioner automatically at the desired time
Set/Cancel
To set/cancel the special functions and timer
LG Dual Inverter Air Conditioners Smart Features
SmartThinQ
This is my favourite feature of LG Air conditioners in 2019. The SmartThinQ feature for LG products is now available for most of their home appliances range like Air Conditioner, Refrigerator, Washing Machine and more. SmartThinQ feature helps to connect the LG home appliance to the internet and the user can control the product using their Android or iOS smartphone.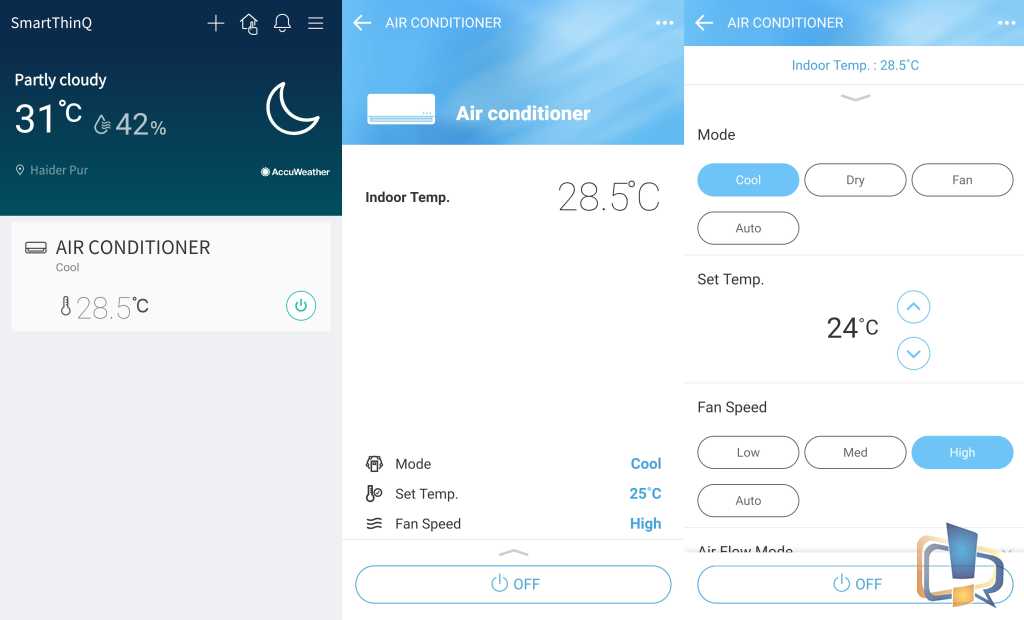 In the same manner, the user can control this air conditioner using the SmartThinQ app available for Android & iOS smartphones. The app requires the user to sign up on the app, login and add the air conditioner to it. Once added the user can control their AC from anywhere in the world as long as the AC is on standby or running position.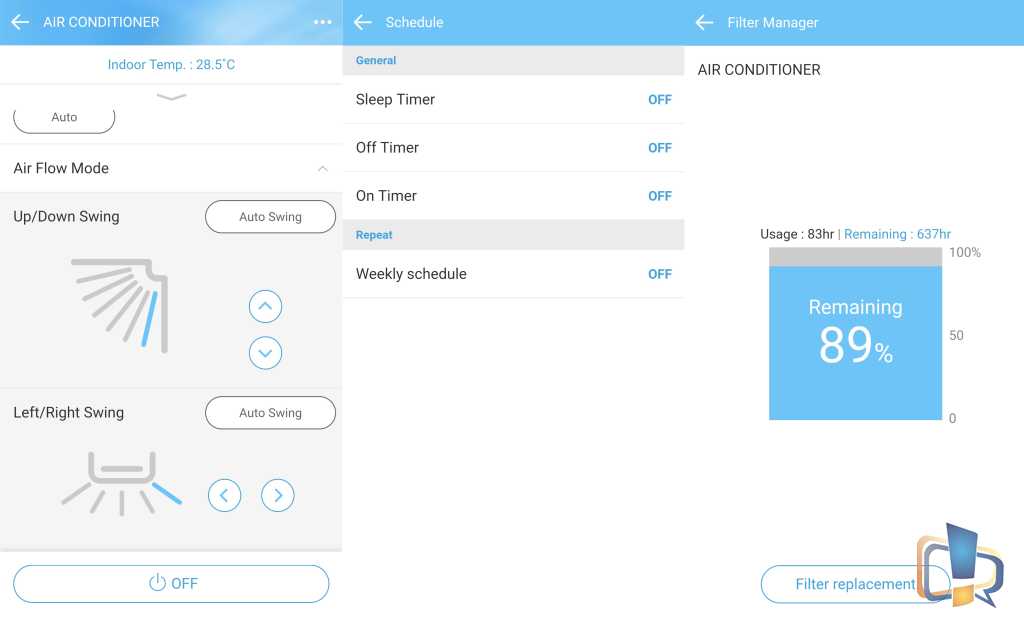 The app provides most of the options which remote controller provides. Although future updates might add more features, so far the user can perform the following functions using the app:
Turning ON/OFF
Set Mode (Cool/Dry/Fan/Auto)
Set Up/Down & Left/Right Swing
Monitor Energy Consumption
Set a Schedule (On/Off/Sleep/Weekly)
Filter Manager (Shows when you need to do maintenance of the HD & 3M filters, replacement is not required, it's a timer based feature)
Turning High-Speed (Himalayas/H'Cool) Cooling (On/off)
Smart Diagnosis (you can diagnose your air conditioner using the app in case if anything is wrong with it)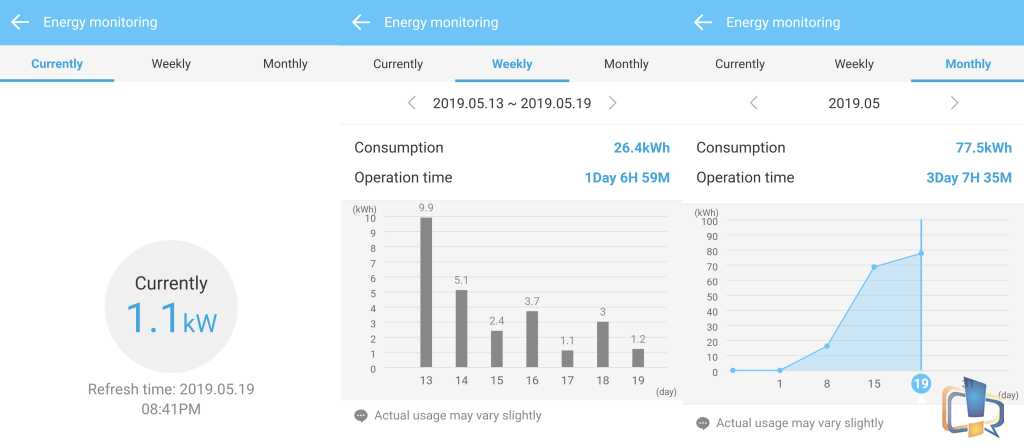 Out of all these features, my favourite is Monitoring Energy Consumption feature. This feature shows the current electricity consumption (when the appliance is running), weekly consumption and monthly consumption.
The only thing it lacked as of now is the IOT support – compatibility with Alexa & Google Assistant which LG spokesperson said shall come soon but there is no definite timeline for it and the 2019 SmartThinQ models will be compatible with it.
Experience With The Product
Once the product was delivered, upon booking the installation request, the service persons came within the 24 hours of the call. Since I didn't buy the voltage stabilizer for this AC, for being on the safe side, I installed two 32-amp MCBs for the AC. One for regularly turning On/Off the AC (modular MCB) and one nearby the main MCB board. Image for reference only: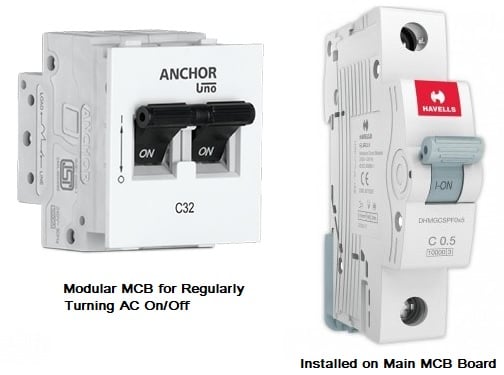 The service guy didn't come with extra drain water pipe, so I had to rush to market to get that as I required a good long length of it, but they did have the copper pipe (both variants i.e. Malaysian & Chinese – Prefer Malaysian as it's way better quality) and electric wire required to connect IDU to ODU in case if they're needed. To save yourself from the hassle of electrician & installation guys requirements at the same time, I recommend getting the MCB installation done before calling LG for the AC installation. Charges you'll need to pay during installation are:
Installation: Rs 699
Extra Copper Pipe (if required): Rs 750 per meter (cost includes the Malaysian copper pipe & electric wire cost both)
Outdoor unit Wall Mount Brackets (if required): Rs 700
It has been around 3 weeks since product installation and the experience with it is fantastic. Within a few minutes, the AC was able to cool down my room every time. I run ceiling fan too at slow speed to disperse the cooling of the AC, that is important as you'll start feeling the cooling because of it at earliest. I tested air throw at a distance max of 15ft because of room size and yes I was able to feel the air blowing to me.
Although since I personally don't like chilled rooms, I started using the Comfort Air mode most of the time. Not only it saves energy, but it'll also keep the room cool at a comfortable temperature so that you may not feel chilled because of the cool air directly blowing over you.
When needed quick cooling, I used the Himalayan (H'cool) mode to cool down the room faster.
On this AC, you can set the temperature of the room between 16°C to 30°C.
Although the feature I use most is the LG SmartThinQ app to operate the AC. I don't have to find the remote now to change settings and I leave the AC on standby all the time, so that I may operate it from anywhere. Sometimes when I am returning home, I'll turn ON the AC before reaching the home and enters a room filled with cool air.
Electricity Consumption
With an ISEER rating of 4.70, this product is among the top most energy saving ACs in India. Since it's an inverter model, I expected it to be consuming a justifiable amount of energy but it surpassed my expectations. This 1.5 Ton 5-star rated Inverter AC only consumed around 26.4 units for 31 hours usage approx in a week which is a lot in terms of energy savings. So calculating an approximate monthly bill of energy consumed by the AC would be: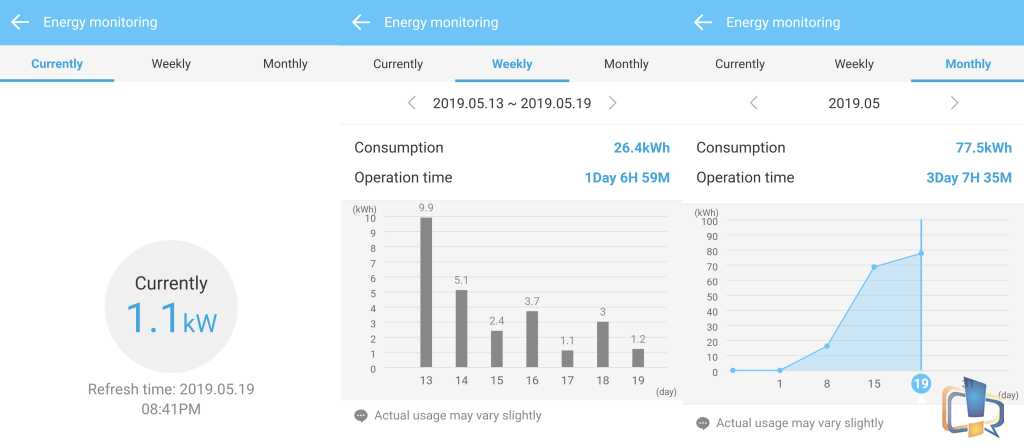 Let's assume,
AC running period per day: 8 hours
Power AC consumed per hour: 27 units / 31 hours= 0.87 kWh on average
Energy Consumption per day: 8 hours x 0.87 kWh =  7 units approx per day
Whole month energy consumption on average: 7 units x 30 days = 210 units
Energy bill: 210 units x 7rs per unit = only Rs 1470 per month
Above figures are just a standard calculation. These figures shall vary as per the user usage pattern.
Final Verdict
There are two things on which LG has never disappointed me, that's – product quality & after sales service. Features wise LG was doing ok but since 2019 variants launch, it surpassed most brands with lots of features as I listed above. This AC is among the flagship of air conditioners and is priced at a bit of higher side but then the features it offers are unmatched.
On Amazon, you'll find the SmartThinQ range of ACs by LG priced b/w Rs 40 to 50K while the non-smart ones are b/w Rs 30 to 40K & ignore the pricing of products at LG official website. And do I recommend buying it – Absolutely Yes! If you're taking a buying decision, just make sure you're buying the 2019 model and if looking for a smart AC, then it has to be SmartThinQ model.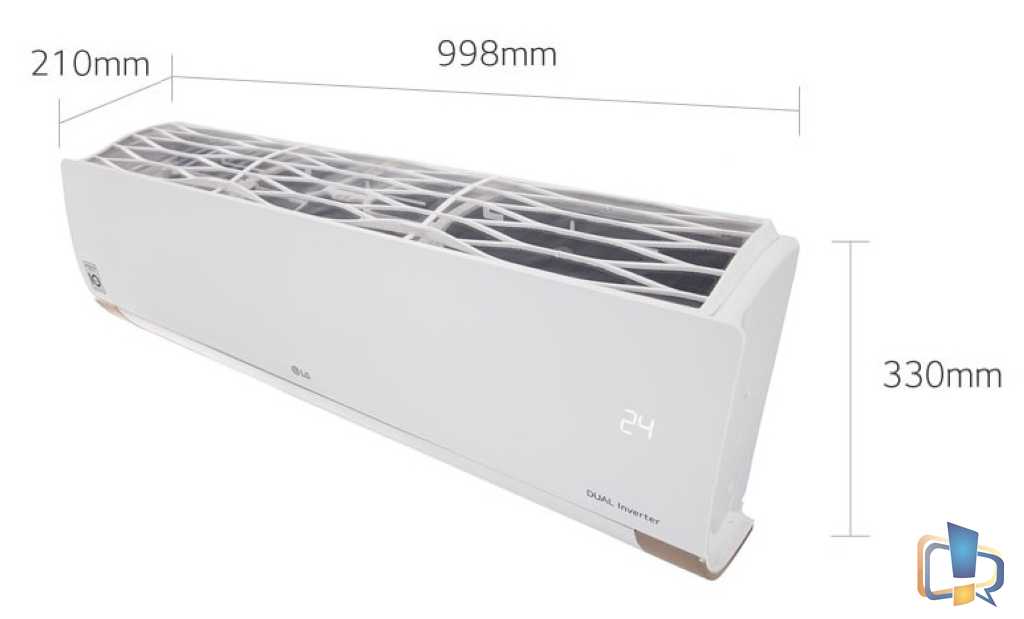 LG Dual Inverter Air Conditioner Quick Specifications
| | |
| --- | --- |
| Tonnage Range: 1.5 | Cooling (Watts): 5100 |
| Compressor: Dual Rotary/R-32 | Power Input (Watts): 1440 |
| Running Current (Amps): 6.6 | Wi-Fi: Yes |
| Performance | |
| ISEER Value: 4.73 | Star Rating: 5 |
| Noise Level (Indoor)(dB): 31 | 4-Way Swing: Yes |
| Filter Type | |
| HD Filter: Yes | 3M Micro Protection Filter: Yes |
| Other Features | |
| Dual Inverter: Yes | 100% Copper: Yes |
| Ocean Black Protection: Yes | Himalaya Cool: Yes |
| Monson Comfort: Yes | Low Refrigerant Detection: Yes |
| Smart Diagnosis System: Yes | Comfort Air: Yes |
| Mosquito Away: No | Gold Fin Condenser: Yes |
| Stabilizer Free Operation: Yes | Cools at 52°C: Yes |
Frequently Asked Questions (FAQ)
Does the LG provide the installation?
Answer: Yes, upon buying the product, you can call the customer care at 1800 315 9999 or 1800 180 999, both are Toll-Free and create the installation request. You'll get a call back usually within 12 hours, and Service engineer will visit you within 24 hours.
---
Is Voltage Stabiliser required with this Air Conditioner? At my place, we face lots of power fluctuations.
Answer: No, you don't require the stabiliser as long as the voltage fluctuation happens within the range of 145-290V. If the voltage drops beyond this range, you definitely need a voltage stabiliser. I recommend buying Bluebird Copper 4 KVA stabiliser for 1.5TON AC.
---
Which Refrigerant is Better – R32 or R410?
Answer: Definitely R32 as it is environment-friendly and more energy-efficient.
---
Will this air conditioner work properly when the temperature outside will cross 48 or 50 deg?
Answer: Yes, LG air conditioners are tested to perform up to 52°C.
---
What is the minimum temperature you can set in this air conditioner?
Answer: Minimum temperature you can set is 16°C.
---
Does it work with Alexa & Google Assistant?
Answer: Not at present but SmartThinQ models will support soon.
---
Do these models comply with 2018 BEE Star ratings?
Answer: Yes, all LG air conditioner models do.
---
What are the installation charges & other charges like of Stand or Extra copper tubing?
Answer: Installation Charges – Rs 699, Extra Copper pipe – Rs 750/m & ODU wall mount brackets – Rs 700.
---
How much is the product warranty?
Answer: 1 year on the overall product & 10 years on the compressor.
---
Answer: Yes, it is.
---
How many service centre does LG have across India?
Answer: There are over 600 service centres which cover almost all Cities & Towns across India.
---
Does the Indoor unit display the room temperature?
Answer: No, it doesn't, you can check that on the remote controller and in the app.
---
What is the input power of this product?
Answer: Operating power is 1440 watts & operating current is 6.6A.
---
Does it have a heater (heat pump) function? Is it an all-weather AC?
Answer: No but there are models with Hot & Cool feature like BS-12APZE (1 Ton),  BS-18APZE (1.5 Ton) & KS-H18DNYD (1.5 Ton).
---
Does it have a display on the Indoor Unit?
Answer: Yes it has.
---
What are the product dimensions?
Answer: Indoor unit (W*H*D) mm = 998 x 330 x 210
Outdoor unit (W*H*D) mm = 870 x 650 x 330
---
How much is the distance of Air Throw?
Answer: 15m
---
Does it have a timer function?
Answer: Yes
---
How much is the operating Noise Level? Is it noisy?
Answer: No, not at all noisy; in fact, it is quite silent. Noise level of Indoor unit is only 31 dBA.
---
Does it have 4-way Swing?
Answer: Yes, it has.
---
How much copper tube length does LG include in box-content?
Answer: Approx above 1m attached to the indoor unit and 3m in the box.
---
Answer: Yes, all SmartThinQ models have Wifi Inbuilt.
---
How much is the length of electric wire attached with Indoor unit and how much is the length of electric-wire from the indoor unit to the outdoor unit?
Answer: Length of electric-wire attached to the indoor unit: approx 1m
Length of electric-wire provided from the indoor unit to the outdoor unit: 3m