LG is a brand that is known for its excellent products for every household, ranging from gadgets like TV or smartphones to large home appliances like AC, refrigerators. LG Electronics India has been a market leader in terms of developing and introducing new technologies that improve lives. Improving the concept of LG's 'DUAL Inverter Technology' Air Conditioners, the brand is all set to introduce new Air Conditioners this year that has a very high level of efficiency.
Check out the latest review of LG Dual Inverter model AC here: [button color="blue" size="large" type="3d" target="_blank" link="https://www.reviewcenter.in/8837/lg-dual-inverter-air-conditioner-ac-review-features-specifications/"]LG Dual Inverter AC Review (2019)[/button]
In a press statement, LG mentioned that the new range of air conditioners from the brand will come with a 5-star rating from the Bureau Energy Efficiency (BEE). LG's Dual Inverter Compressor with varied speed Dual Rotary Motor has a wider rotational frequency, which results in faster cooling, more efficiency and a drastic reduction in noise and vibration levels. The Dual Inverter Compressor constantly adjusts its speed to maintain desired levels of temperature and assured savings.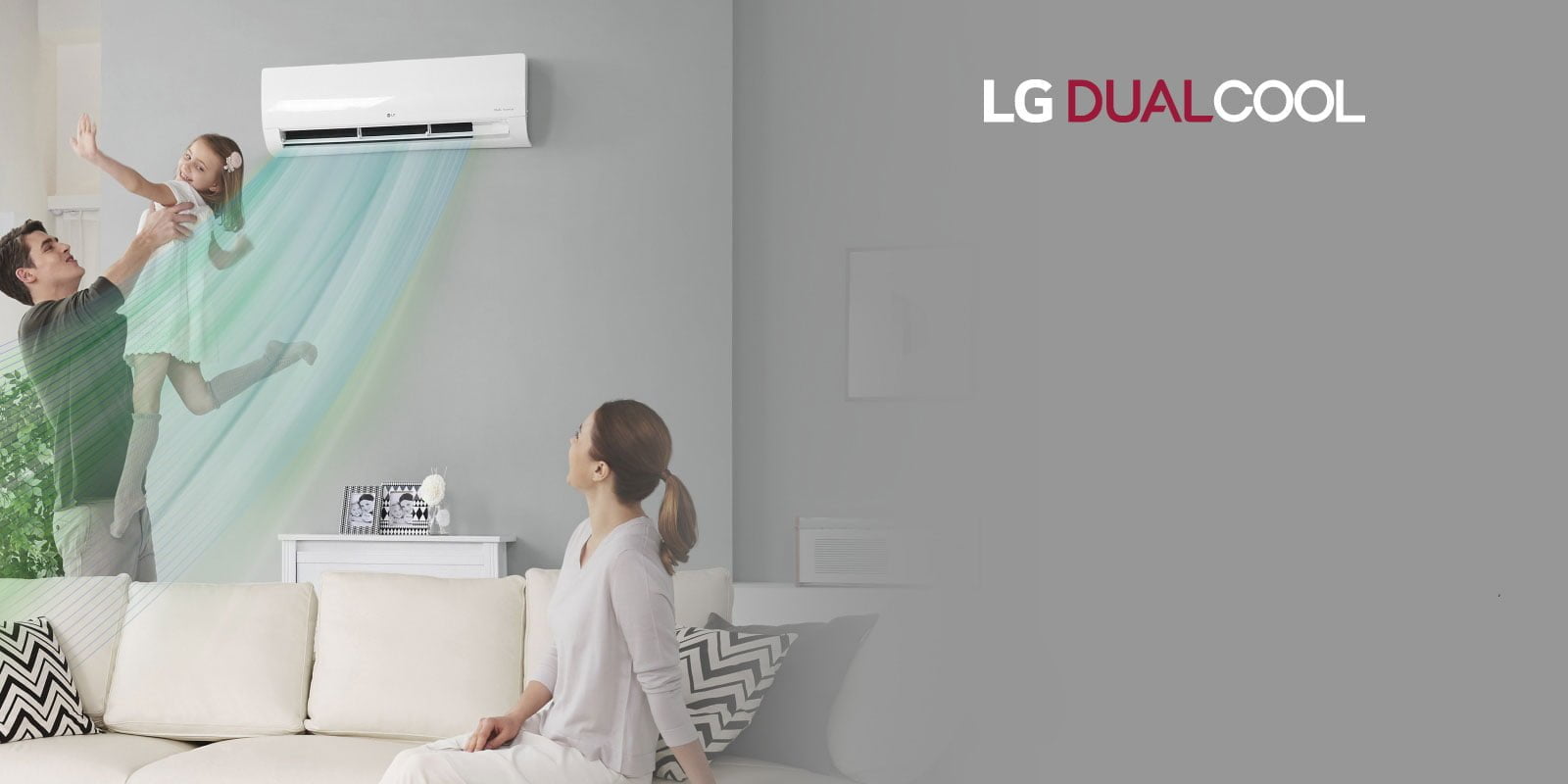 To test how LG's ACs perform, the brand has its own way of rating called as High-Temperature Cooling Score. It is the measure for cooling performance of ACs at high temperature. LG claims that in situations where conventional AC's performance deteriorates and score less than 5 at higher ambient temperature, LG Dualcool ACs perform way better. To make it possible, LG implements a set of technological advancements and innovations into their products like Dual Inverter Technology, Hi- Grooved Copper Pipes, IPM (Intelligent Power Module), Dual Row Condenser, BLDC fan motor and more.
Hi-Grooved Copper pipes enable the oscillatory movement that agitates the refrigerant for better heat dissipation and strengthens the overall pipe structure so that they can handle high pressure well and operate normally. Active energy control is a feature that limits power consumption from 40% to 80% of normal usage and saves up to 57% energy. The Patented GOLD FIN Condenser in LG Air Conditioners is resistive to corrosive elements like salty air, rain, dust, hence extending the durability of the heat exchanger. In terms of regular exposure to sand, salt, industrial smoke & pollutants in typical Indian surroundings, the Special Ocean Black Protection applied to both indoor & outdoor unit provide exceptional durability for the air conditioner. Check out full twitter thread from below:
https://twitter.com/luckyankit/status/1104998454584057856
Apart from these, the new range of LG Air Conditioners will be smarter than ever with Smart ThinQ, which is LG's future-ready open platform with the widest assortment of Wi-Fi enabled application. This also lets users monitor and control an AC anytime, and from anywhere using just a simple app. The new range of Air Conditioners also come with mosquito away technology that promises to give better protection from mosquito-borne diseases. The AC emits ultrasonic waves at a specific frequency that reduces the mosquito's ability to sense CO2 exhaled by humans.
LG Air Conditioners also comes with Micro Dust Protection Filter with Double Filtration System filters dust from the air, ensuring clean and hygienic air. The new range doesn't require stabilizer, as well as these air conditioners, come with four-way swing, providing better airflow.
Unlike conventional ACs where the dust filter cleaning requires a technician. LG Dualcool's filter is located on the top of the indoor Unit so that users can open and clean the filter themselves. The new range of air conditioners from LG comes with a Laminar Flow design ensuring uniform air flow, while the Indoor Units are designed with minimal gaps making them pest safe and offers clean air. LG Electronics will offer a huge number of air conditioners to keep you cool this summer, 54 models in total to be precise. The new range starts at Rs. Rs. 31,990.