Smartphones are slowly taking up a major chunk of work in our daily life and with lots of work getting done on a smartphone, there is obviously the downside of running out of power. While carrying a power bank isn't that hard, always remembering to carry the perfect cable may not be, especially when you are an iPhone user or have a phone that users USB-C like the Pixel 3 XL, because, doesn't matter how smartphone brands convenience you that USB-C is the future or how Apple claims that lightning cable is the one that is perfect for everyone, in India, still a majority of users have phones with micro-USB port. I wanted the convenience of mobility, without the hassle of cables and finally got myself an STM Goods Wireless Power Bank.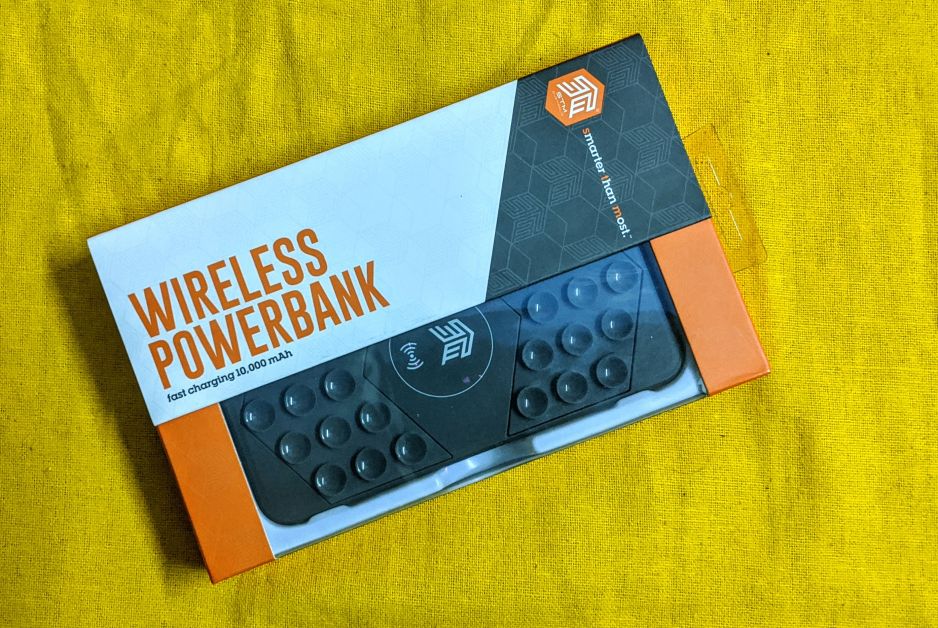 The STM Goods Wireless Power Bank is not just wireless or rather I would say, it also offers USB ports, just in case you want to charge anything else other than a phone or if you want to charge two phones together or you have a phone without wireless charging capability. The STM Goods Wireless Power Bank offers both wireless and wired charging, without hurting your wallet.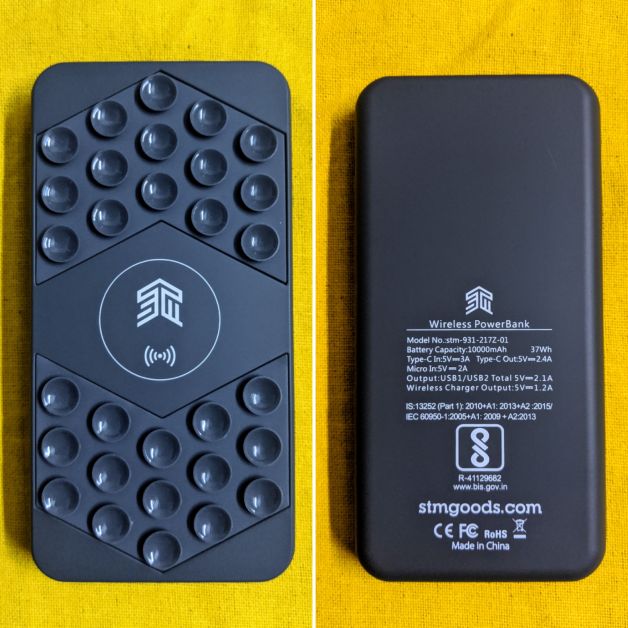 What exactly does the STM Goods Wireless Power Bank offer?
The STM Goods Wireless Power Bank comes with Qi wireless charging technology, a bonus. But there are also two kinds of output ports – A USB-C ports and a USB-C port. It has suction cups on the side so that you can just attach it to the back of your phone, safely. This is a brilliant addition to a power bank, I would say.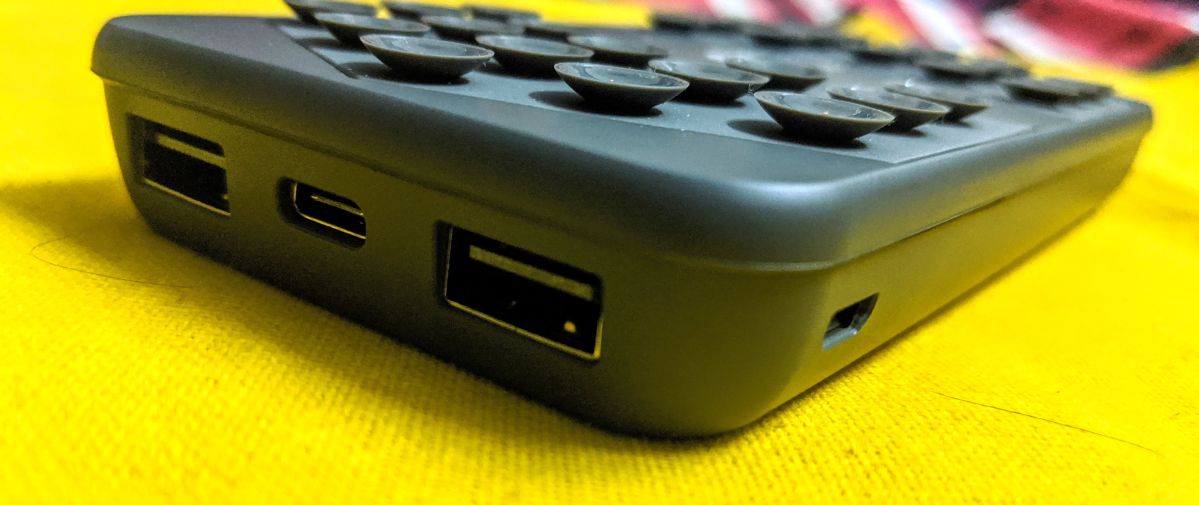 The brand claims that it comes with ChargePlus technology so that the power bank is always on standby mode and there is no need to turn it on or off manually. The power bank has a capacity of 10000mAh, which is pretty standard considering that even a phone with 5000mAh battery can be filled up almost twice if we talk about real-life scenarios. The power bank draws power using the micro-USB port.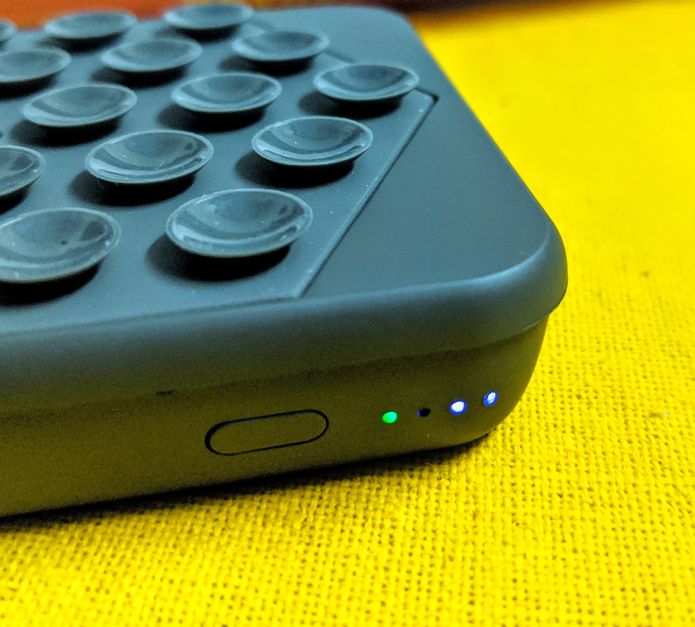 The USB-A output ports have a standard output rate at 5V, 2.1A and the USB-C port has an output rate of 5V, 2.4A. So, basically you get the convenience of using all kinds of cable if you like, or else just charge phones wirelessly.
How Does it Perform?
My experience has been quite good with the product. There is no need to turn it on. As soon as I placed the phone on it, it started charging. I tested out the STM Goods Wireless Powerbank by attaching the power bank to the back of my iPhone XS (Haven't upgraded to iPhone 11 yet). The suction cups worked perfectly and the phone got stuck on the power bank and started getting charged.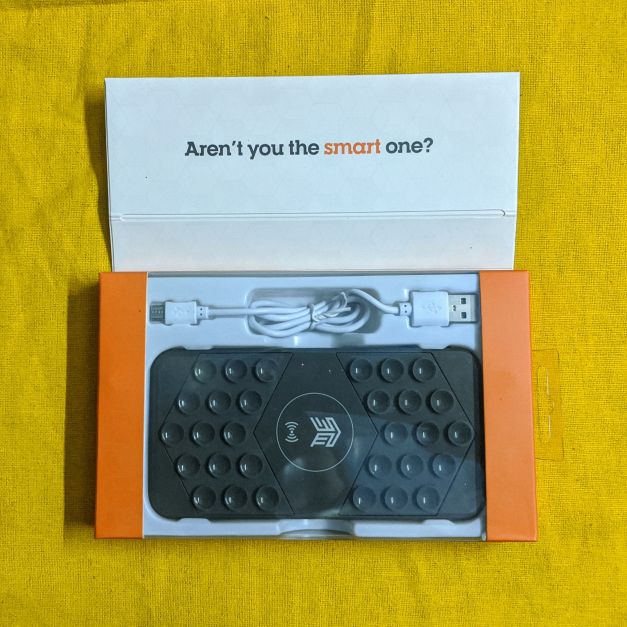 The charging speed was good, while I tried it with the iPhone. However, don't expect it to charge your phone like you do by using a wire. There is no ultra-fast charging tech like WARP or VOOC Charge at 30W output, but I was quite happy with the performance as the battery was increasing by 1% every three minutes and it took almost one and a half hour to fully charge the phone from 0%-100%. However, with the highest possible wired output at 5V, 2.4A, I never felt like I will prefer using a cable to charge my phone using this power bank.
Is it worth the money I will spend?
Absolutely, if you are someone who has a phone that supports wireless charging. These days, many smartphones are coming with wireless charging and if you have got one of them, you must not hesitate to buy the STM Goods Wireless Power Bank as I think, it's a wise decision to invest Rs. 4799 on it, instead of buying another wireless charging pad, which you can not carry everywhere. If you want to have the best of both worlds, i.e. wireless and wired charging on a power bank, this is a near-perfect, innovative product.