LG is one the biggest brand and quite a popular brand when it comes to Air Conditioners. I have heard many promising reviews of it and yes, it is a good product to buy. So, we are reviewing here Window version of LG air conditioners. (F3J43XGHUXY3)
LG Window Air Conditioner Review
LG air conditioners are more or less good at intelligent features, intuitive functionality, and exceptional performance. LG has always strived to give its products a good value, promising life and great quality as per its price range. Apart from costly O'General AC's, air conditioners of LG as very competitive and yet they have maintained the required quality which is really desirable to have in a good quality product. This is a review which applies to All models of Window ACs of LG. Writing Model specific reviews of all AC's is not a feasible task since all models perform equally with more or fewer features as per models versions.
Related Reading: LG Inverter V Air Conditioner Review, Price, Features And Specifications
LG Window AC Cooling Effectiveness
LG air conditioners are equipped with LG's in house technology called "INVERTER V" which optimize vane and louvre to operate quite efficiently and its inbuilt powerful skew fan helps strong airflow to every corner of the room. That means when the air conditioner is initially activated to either heat or cool, the compressor will operate at maximum speed to reach the desired temperature quickly. Once the desired temperature is achieved, INVERTER V technology adjusts and constantly vary the compressor speed to maintain the desired temperature with minimal function and hence lower power consumptions too. For obtaining powerful airflow, it has a fluid dynamic design which means a Reduced Vortex angle for flow inside which decreases air resistance and give stronger and more powerful airflow. So, these AC's are good when it comes to cooling effectiveness and will not let you down. If you purchase the right capacity AC's for your room, then it's definitely a good buy.
LG Window AC Build Quality
When we say Build Quality, then it means the outer finishing of the product as well as inner parts made of good quality as well. And yes, as per talking of outer finishing, the product quality is good. Even detachable front frame does not give any plasticity feeling and we have not heard any wear n tear because of any low-quality part. And just like Samsung or O'general, LG is also a very big brand, and such a big name cannot compromise on the quality of any of its product. That's why we buy big brands product with just name.
LG Window AC Looks
LG offers lots of models to choose from. And surprisingly most of the model's looks vary as per its tonnage capacity and its features as well as price. Some models have standard looks while some have some premium looks. However, when it comes to looks, my personal opinion is Hitachi's AC is best when it comes to looks but then they are the costliest one. Even Panasonic has come up with few models which are also attractive when it comes to looks but if your looking for a cost-effective thing and then wants, it should look good, LG AC's are a good buy for it. However, we still think, LG can do little effort in improving the standard or say basic design and I am sure it could drive sales like anything. We have summed up all LG window AC models currently present in the market with its pictures below:




LG Window AC Power Consumption
Again as per I wrote above about "INVERTER V" technology which adjusts and constantly vary the compressor speed to maintain the desired temperature with minimal function. Plus the highly efficient heat exchanger and improved efficiency of the compressor helps in enhancing power efficiency. And the motor it contains is BLDC (Brushless DC motor) which consumes less power with the improved output if compared to the normal induction motor. Talking of Compressor, that is also BLDC Compressor which works well and is now the most widely used compressor these days. LG has strived at making energy efficient AC and because of it, it was awarded First Prize in Manufacturer's of BEE Star labelled Appliances (Air Conditioner) Sector during the National Energy Conversation Awards 2010. This award is currently instituted and given by Ministry of Power, Government of India.
And the most important part is power consumption is highly dependent on how much BEE star rated AC you buy. Almost every company now manufacture and follow the norms as per required for achieving particular BEE star ratings on their products. What matters most is how much the product last following those norms. It must not start consuming extra power after a few years of usage. And we never heard of this problem in these ACs. See the following chart for further reference how much energy and money you save as per BEE star rating product you buy: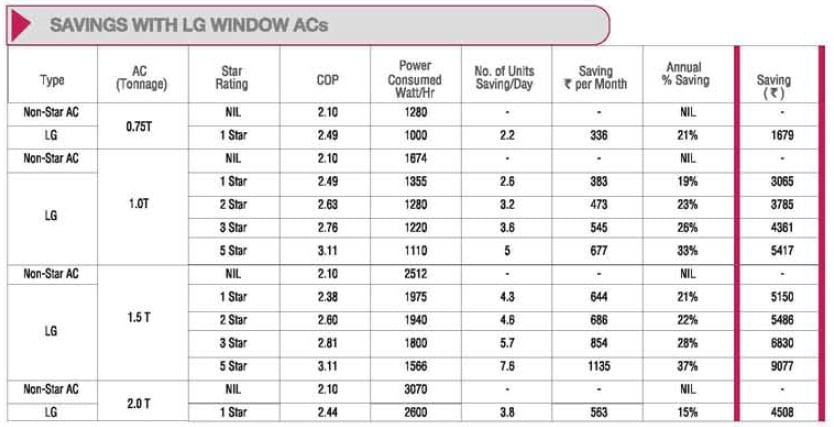 LG Window AC Durability
We really expect our AC's to work on a high summer peak season. This is when an AC real durability and reliability comes in front to us.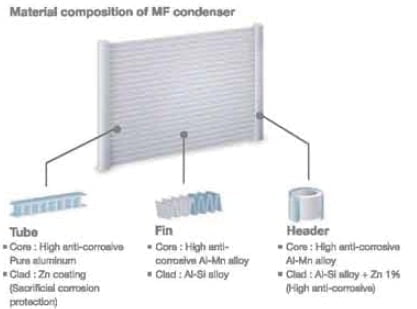 For tackling that, LG window AC is equipped with MF Condenser which enhances the overall product performance & reduces the power consumption if compared to fin and tube condenser. Fin and Tube condenser is not used nowadays because they don't give effective cooling or take much time for cooling at higher temperatures. MF condenser has 10-20% higher heat capacity if compared to fin and tube condenser. Also, MF condenser is made up of Aluminium which prevents Galvanic corrosion and hence more product life.
LG Window AC Premium Features
Plasma Air filter (Branding name in LG AC is PlasMaster) is the most widely used air filter in AC's today. It is available in higher features models currently. It protects the users from odour and harmful substances floating in the air.

Virus and Allergy Safe Filter
The virus and allergy filter removes virus from the air that poses risks to health.
LG Window AC After Sales Service
After Sales Service is very important nowadays to remain competitive and having an edge over other competitors. And after sales service of LG is good as all the reviews we aggregated. And yeah, when we purchase a product on Brand name, the company becomes obliged to provide good after-sales service. And critics always remain for almost every company, but this is more important how a company survives and does well in critics too.
LG Window AC Price List
New Updated And 2012 year list:
| | | | |
| --- | --- | --- | --- |
| Model No. | Tonnage Capacity | BEE Star Rating | MRP (in Rs.) |
| LG LWA2CR1A | 0.75 | 1 | Rs 17990 |
| | | | |
| LG LWA3CR1A | 1 | 1 | Rs 21990 |
| LG LWA3BR1D | 1 | 1 | Rs 21990 |
| LG LWA3BR2D | 1 | 2 | Rs 22990 |
| LG LWA3GR2D | 1 | 2 | Rs 23990 |
| LG LWA3BR3D1 | 1 | 3 | Rs 23990 |
| LG LWA3GR3D | 1 | 3 | Rs 24990 |
| LG LWA3PR5D | 1 | 5 | Rs 27990 |
| | | | |
| LG LWA5CR1A | 1.5 | 1 | Rs 24990 |
| LG LWA5BR2D | 1.5 | 2 | Rs 25990 |
| LG LWA5GR2D | 1.5 | 2 | Rs 26990 |
| LG LWA5WR2D | 1.5 | 2 | Rs 27990 |
| LG LWA5BR3D | 1.5 | 3 | Rs 27990 |
| LG LWA5GR3D | 1.5 | 3 | Rs 28990 |
| LG LWA5WR3D | 1.5 | 3 | Rs 29990 |
| LG LWA5PR5D | 1.5 | 5 | Rs 33990 |
| | | | |
| LG LWA6BR1D | 2 | 1 | Rs 33090 |
Final Verdict
If your looking for an AC with efficient performance and good value for money, then this AC is definitely good to go. Looks are also good, however, a glitch remains at lower models but it doesn't mean that those are bad. After all, it means the more you pay, the sexier you get.