Canon A3300 is an entry level camera for those who don't want to spend much money in buying a camera but as well as don't want to compromise with quality of pictures and videos they want. It offers some exciting features designed to tempt newbie photographers. However, even if the camera is tagged for beginners, it has got some more functionality over other basic models (including some manual controls) present in market.
Here are some images of this Canon A3300 and its box contents: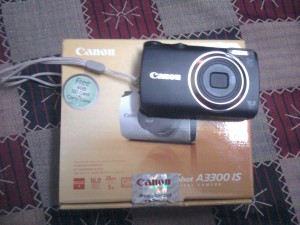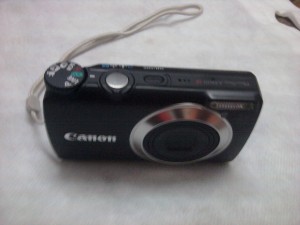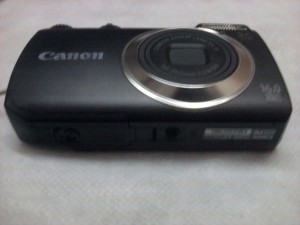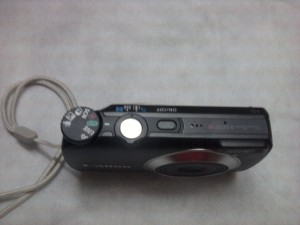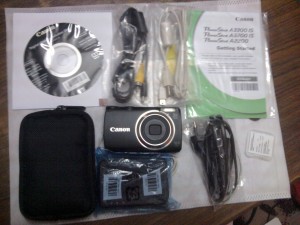 Some main features which gives it priority over other models is its 16mp sensor, HD movie recording (720p) and a 5X optical zoom lens with optical image stabilization which is a plus point over other models in this price range segment. There is a plus point of having optical image stabilization that even when your clicking a picture on full zoom (including optical & digital), chances are very very rare that they picture may get blurred.
Technical Specification of Canon A3300:
Image Sensor
Camera Effective Pixels
Approx. 16.0 million pixels
Lens
Focal Length
5x zoom:
5.0 (W) – 25.0 (T)mm
(35mm film equivalent 28 (W) – 140 (T)mm)
Focusing Range
3cm (1.2in.) – infinity (W), 90cm (3.0ft.) – infinity (T)
Macro:
3 – 50cm (1.8in. – 1.6ft.) (W)
Image Stabilizer (IS) System
Lens Shift Type
Imaging Processor
DIGIC 4
Optical Viewfinder
–
Electronic Viewfinder
–
LCD Monitor
Type
TFT colour (wide viewing angle type)
Size
3.0 type
Effective Pixels
Approx. 230,000 dots
Aspect Ratio
4:3
Features
Brightness adjustment (5 levels)
Focus
Control System
Autofocus:
Single (Continuous in Auto mode), Servo AF / Servo AE
AF Frame
Face AiAF. Tracking AF, Center
Metering System
Evaluative, Center-weighted average, Spot
Exposure Compensation (Still Images) / Exposure Shift (Movies)
±2 stops in 1/3-stop increments
ISO Speed (Standard Output Sensitivity, Recommended Exposure Index)
Auto, ISO 80 / 100 / 200 / 400 / 800 / 1600
White Balance
Auto, Day Light, Cloudy, Tungsten, Fluorescent, Fluorescent H, Custom
Shutter Speed
1 – 1/1600sec.
15 – 1/1600sec. (Total shutter speed range)
Aperture
Type
Circular (Used together with ND filter)
f/number
f/2.8 – f/8.0 (W), f/5.9 – f/18 (T)
Flash
Modes
Auto, on, Slow Synchro, off
Hot Shoe
–
Range
30cm – 4.0m (W), 50cm – 2.0m (T)
(12in. – 13ft. (W), 1.6 – 6.6ft. (T))
Shooting Specifications
Shooting Modes
P, Live View Control, Auto, Easy, SCN*1, Creative Filters*2, Discreet, Movie*3*1 Portrait, Landscape, Kids&Pets, Smart Shutter*4, Low Light, Beach, Foliage, Snow, Fireworks, Long Shutter.
*2 Fish-eye Effect, Miniature Effect, Toy Camera Effect, Monochrome, Super Vivid, Poster Effect.
*3 Standard, Miniature Effect.
*4 Smile, Wink Self-timer, Face Self-timer.
Digital Zoom
Still images:
Approx. 4.0x (up to approx. 20x in combination with the optical zoom), Safety Zoom, Digital Tele-converter
Continuous Shooting
Mode:
Normal
Speed (Normal):
Approx. 0.8 shots/sec. (In P mode)
Approx. 2.5 shots/sec. (In Low Light mode)
Number of Shots (Approximate)
(CIPA Compliant)
Approx. 230
Recording Specifications
Recording Media
SD memory card, SDHC memory card, SDXC memory card, MultiMediaCard, MMCplus card, HC MMCplus card
File Format
Design rule for camera file system, DPOF (Version 1.1) compliant
Data Type
Still Images:
Exif 2.3 (JPEG)
Movie:
MOV
(Image data: H.264; Audio data: Linear PCM (monaural))
Number of Recording Pixels
Still Images:
Large: 4608 x 3456,
Medium 1: 3264 x 2448,
Medium 2: 1600 x 1200,
Small: 640 x 480,
Widescreen: 4608 x 2592
Movie:
Standard: 1280 x 720 (30fps*1), 640 x 480 (30fps*1),
320 x 240 (30fps*1)
Miniature Effect: 1280 x 720*2 , 640 x 480*2*1 Actual frame rate is 29.97fps.
*2 Shooting: 6fps, 3fps, 1.5fps. Playback: 30fps*1.
Interface
Hi-Speed USB
Analog audio output (monaural)
Analog video output (NTSC / PAL)
Direct Print Standard
PictBridge
Power Source
Battery Pack NB-8L
Compact Power Adapter CA-DC10
Dimensions (CIPA compliant)
95.1 x 56.7 x 23.9mm (3.74 x 2.23 x 0.94in.)
Weight (CIPA compliant)
Approx. 149g (5.25oz.) (including battery & memory card)
Approx. 130g (4.60oz.) (Camera body only)
CIPA compliant
Design & Build Quality of Canon A3300
Design of Canon A3300 is quite modern looking. Its design consists of a black plastic strip running between 2 sided metal front and metal back panel which looks quite stylish two-tone looks and gives a robust feels to it. The top-panel of camera have power on/off button, shutter button and a well proportioned mode dial that blends well with camera design and is placed neatly at right end corner of it.
The zoom button is quite comfortable to use as it is now a spring loaded lever which is surrounding the shutter release button giving placement of both things at same place and gives an ease to use the camera even with one hand. Also it has quite a good space for right thumb rest which get neatly placed over Face Detection and Playback button. And Display button toggles whether you want to see active functions icons to be displayed on display screen or not and Menu button opens up menu which you can navigate using D-pad buttons.
Further four-way D-Pad buttons offers functions as mentioned below:
Up Button – AF (Auto Focus) which when we select an object during focus, even if you take the object in view away from center, it keeps tracking the object and gives the highest exposure to it when we click the picture.
Right Button – Auto Tracking – Which tries to find clickable objects when we aim to click something. It helps you focus on something you desire to click with more ease.
Left Button – Given option of turning flash ON/OFF.
Down Button – Gives option of Choosing self timer for clicking any picture automatically after some delay. You can set preset options or set custom options in it
Middle button – Offers to change mode for selecting how much mega pixel you want to click your picture? It gives option of choosing clicking picture on 16mp, 8mp, 2mp, 0.3mp and wide angel picture. Choosing different sizes also shows how much pictures you can click with remaining memory with that size you choose.
LCD Screen
Its LCD is of 230K dot resolution and offers a good bright screen which gives a fair decent wide angle to view objects in detail. LCD size is 3inch in size which is also worth mention-able.
Exposure Modes
The mode dial offers you 8 options to choose from. There is an Point & Shoot EASY mode which is really for a newbie and LIVE mode which offer options in slides to choose to control how light/dark, netural/vivid or cool/warm your images should appear. Plus there is an AUTO mode which is quite intelligent and determines by himself what object your clicking in which condition and choose the right scene mode for it.
There are 10 scenes which you can choose other than in AUTO mode. Those scenes are portrait, landscape, kids & pets, Smart shutter, low light, beach, foilage, snow, Fireworks & Long Shutter. And EFFECTS mode offer various effects on images like Fish-Eye effect, Miniature Effect, Toy Camera effect, Monochrome, Super Vivid & Poster Effect.
There is one DISCREET mode, which silents the sound and switch off flash. It also offers you to choose various scenes as i mentioned above. Then the next final mode is VIDEO mode which offer HD video recording to capture your moments on play.
And last but not the least, PROGRAM mode which offers all tweaking available in camera like adjusting while balance, ISO, Drive mode, image size and metering and many others.
Performance of Canon A3300
Pictures clicked from this camera are quiet promising. Colors looks vibrant yet true-to-life and doesn't looks over-saturated. Camera AUTO mode features works great for this. The day since i am using this camera, i doesn't feel like to use manual mode since its AUTO mode is doing great which default settings. Also i tried various effects and filters as i mentioned above, and definitely it produced some excellent results.
The 5X optical zoom lens perform well and the images doesn't comes out blur even on full zoom. I tried on both optical and then along with Digital zoom, not a single picture got blurred even when my hand was getting shake'd sometime while clicking many pics on full zoom.
Battery Backup of this camera is quiet decent. I clicked almost 300 images and 2 videos of 2-3 minutes respectively in 3 days and just viewed all those pics 4 times in camera itself with friends and after this much, battery got drained. So its quite decent to have this much. Also its worth to mention that the battery is rechargeable and battery charger also comes with the camera.
Price of Canon A3300
This camera is currently priced at Rs. 7270 (At Vijay Sales & Flipkart both). However check your local camera dealers too for more competitive prices. You can definitely get a bargain of Rs. 400 to 600 from them.
Below are some sample images from Canon A3300: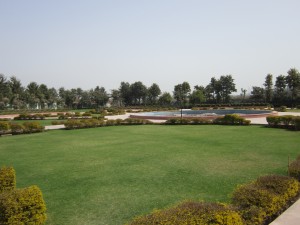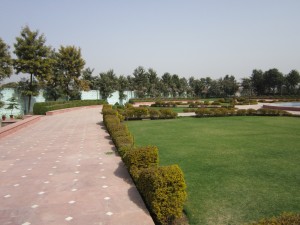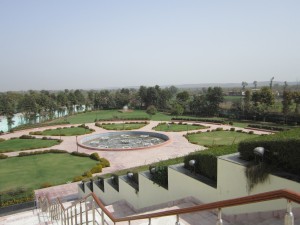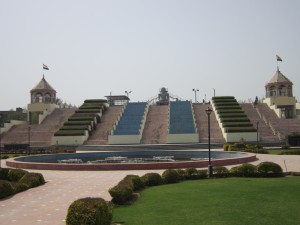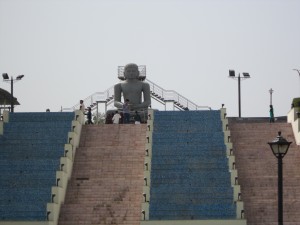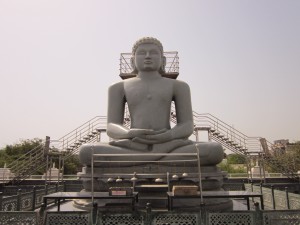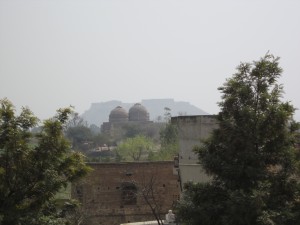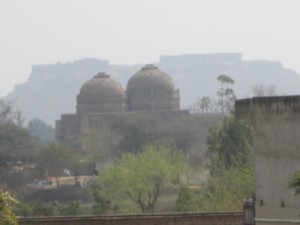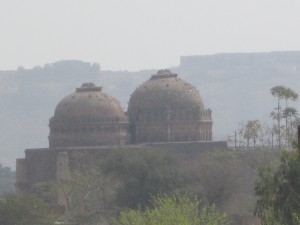 Final Verdict
If your looking for a reasonably priced digital camera with some good optical zoom, optical image stabilization, fairly 16mp lens and lots of options and you get the rechargeable battery as well as battery charger with it, then this camera is definitely a great buy. However canon could have offered little higher capacity battery but still offering so many things at low cost, this things are to be ignore only.