Honda Brio is the freshest entry in Automobile Industry by Honda. This the latest and cutest model ever by Honda. Frankly speaking this time Honda has done a kind of revamp in their designs and have come up with a high candy factor design in hatchback versions after Honda Jazz. This time Honda is sure that it is going to revolutionize and increase small cars sales in India. Brio is the smallest and the affordable car by Honda available in the market in small cars market. Honda has tagged Brio this time "I am made for you" or "Because I want your love at first sight", so they are being aggressive too in marketing this model for sure.
Honda Brio Review
Before going on to review, here are few pics of Honda Brio: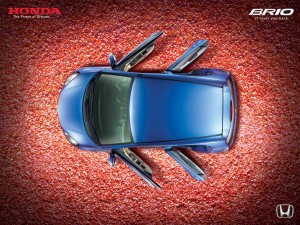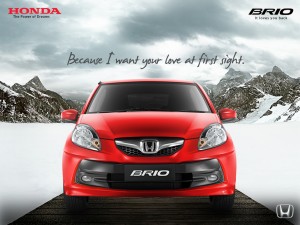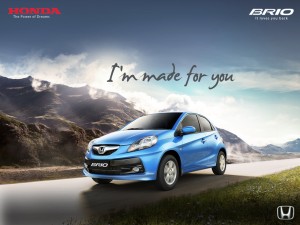 Watch Honda Brio in 360 deg motion. Grab and move the mouse to rotate the car – Click Here
Here are the Technical Specifications of Honda Brio: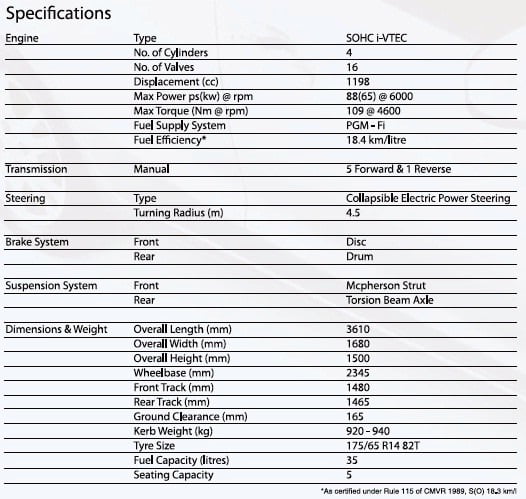 Variants Available of Honda Brio
Honda Brio E MT
Honda Brio S MT
Honda Brio S Option MT
Honda Brio V MT
Following are the Features (Model Wise) of Honda Brio: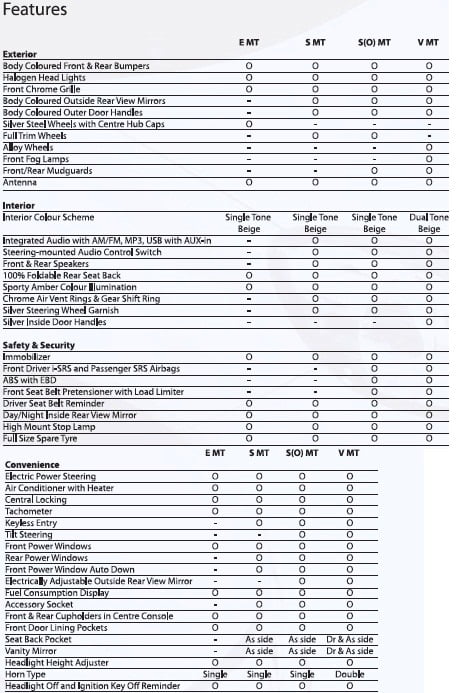 Honda Brio Interior
Interiors of Honda Brio is compact and it's actually a nice packed car. While on the front seat, there is adequate space for persons but on back, its a space of average sized persons. It has been packed in its best way that it is perfect for saying Hatchbacks for average adults.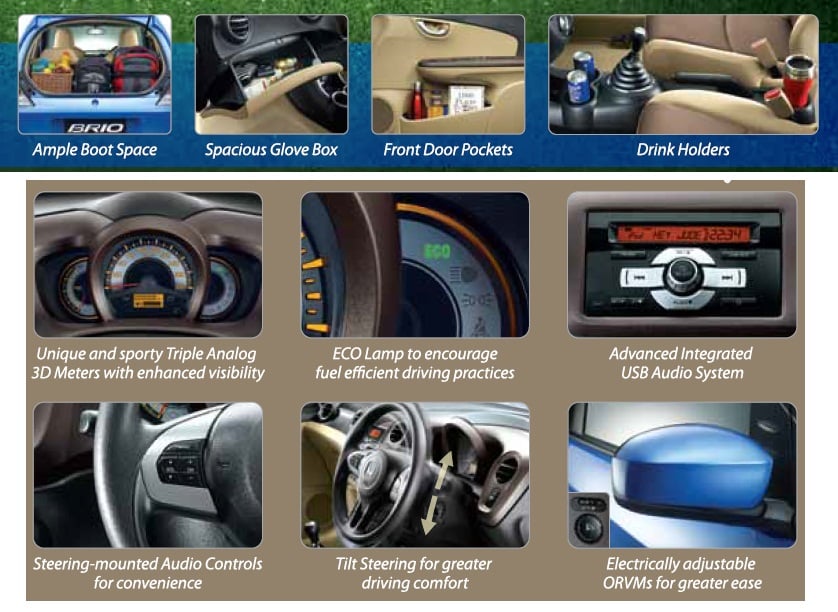 The car has got good ample boot space for persons in front so that the driving becomes such a nice pleasure. This is like a boom for the small car segment. Interior design is quite nice and impressive and give a premium feel. Honda ensures that it may still give the premium looks in every car of them even at lower prices, and yeah they succeed in doing so. You'll find in top models integrated music player with AM/FM, MP3, USB with AUX-in. There is an Audio Control Switch which would make you easier for controlling music on the go. It has 100% fold-able Rear Seat Back & a very sporty Amber colour illumination. Speakers are inbuilt at both rear and front for having nice music listening pleasure. It even sports a spacious glove box, which is quite handy at keeping things which we generally miss most of the time keeping in the car. Front door pockets & Drink holders are also available as well as usual.
Honda Brio has Electric power steering in every model and it can be tilted too which provides a greater driving comfort. It has a unique and sporty Triple Analog 3D meters Tachometer with enhanced visibility which makes you easy to read readings even at low lights and doesn't matter much even if you got little weak eyes. And Air Conditioner is with the heater which is worth mentioning. Has inbuilt central locking for your safety and ease. It even has a Fuel consumption meter which keeps you aware of fuel average you getting all the time. There is an ECO lamp which encourages you to practice fuel-efficient driving all the time.
Honda Brio Exterior
Honda Brio has excellent looks in its segment. It has a super elegant design with sporty looks which makes his looks best in its segment. It has some nice curves in its side design which gives it super aerodynamic feature for which Honda is popular for. The front of the car is quite wide and robust which helps in giving a smooth and stable driving. Headlights of Brio looks like cat eyes which makes the looks quite appealing.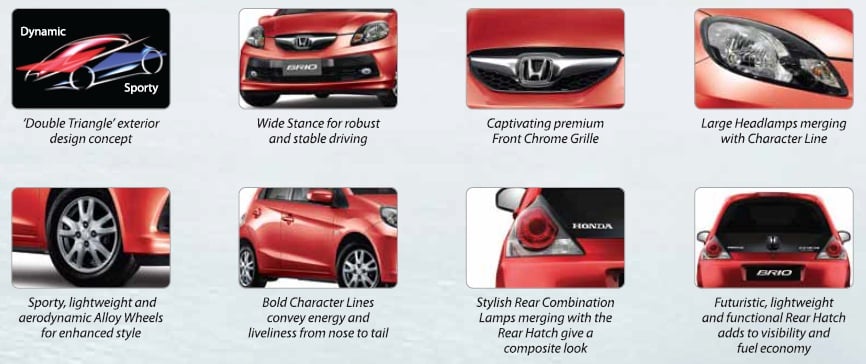 The front grill is quite captivating gives car front a quiet premium looks. It is indeed very nicely blended that it doesn't look like a different part of it. Its exterior looks are fabulous and it truly did justice with its tag line "Because I want your love at first sight". It has bold character lines which look quite stylish and gives it another live look of a powerful machine. Coming at tail-lights, those are not the typical long tail but actually large triangle lamps which merges very well with rear looks and gives an unmatched combination. And last not the least the large glass at the rear of the car which is the best part of Honda Brio and gives its looks an unmatched appeal.
Although it's worth mentioning about the stylish illuminated side step garnish for giving it a premium look. And the tailgate spoiler could make anyone envy about it.
Exterior Measurements of Honda Brio:
Overall Length: 3610mm
Width: 1680mm
Height: 1500mm
Ground Clearance: 165mm
Weight: 920 – 940 kg's (depending on models)
Honda Brio Engine Performance:
Honda Brio boasts a 1.2 litre, 4 cylinders 16 valves, SOHC, i-VTEC (Intelligent Variable Valve Timing & Electronic Lift Control) petrol engine. It is indeed capable of generating 88ps of Peak Power at 6000 rpm. It gives unmatched performance in its category and would never make u feel let down. Its definitely a good figure and is perfect for metro cities because of high torque with low rpm. Brio has a manual transmission inbuilt of 5 forward and 1 reverse gear.
If you don't know about i-VTEC, then, in brief, it regulates valve opening to match engine speed and hence it results in more power and less fuel consumption. And no doubt, it results in lower emission rates and hence more environmentally friendly.
Honda Brio Safety Features
No matter how lower cost Honda may launch, but they will never compromise in giving best safety features they have been providing in there other high-end models. That's why they have tagged this with "Because our love story is forever". That's why they have given the following safety features:

Honda Brio structures consist of G-CON (G-Force Controlled Technology) which reduces the impact in an event of a crash and crumples zone ensures pedestrian safety.
ABS (Anti-Lock Braking System) and EBD (Electronic Brake Distribution) which offers optimal breaking force equally on all wheels for enhanced vehicle control.
Dual i-SRS Airbag including one on the driver side. The main feature about it is spiral steam structure and gas release control valve, which control airbag deployment and pressure, which ensures airbag deploy faster in case of an event of a crash and remain inflated for longer, therefore reducing the impact on the driver.
Pretensioner Seat Belts with load limiter which tighten itself in event of an impact and keep the body firmed in place to seat to ensure the lowest risk to life.
Colours Available of Honda Brio
Honda Brio is Available in following Shades:
Energetic Blue
Rallye Red
Urban Titanium
Alabaster Silver
Taffeta White
Crystal Black Pearl
Honda Brio Price
Honda Brio E MT- Rs. 3,95,000.00
Honda Brio S MT – Rs. 4,35,000.00
Honda Brio S MT Option – Rs. 4,90,000
Honda Brio V MT – Rs. 510000.00
Final Verdict About Honda Brio
It's a sensible car from Honda. It has the right size for a hatchback and rich interiors. Also, a 1.2 litre and 88 PS engine makes it a powerful city car. It looks tough and has great space inside. We recommend buying this car in its segment.