LG Electronics India has today announced the launch of its new range of ACs for summer 2018. The new lineup includes 59 new inverter AC Split models which are 100% ISEER compliant and also, LG has launched the first window inverter air conditioner.
Check out the latest review of LG Dual Inverter model AC here: [button color="blue" size="large" type="3d" target="_blank" link="https://www.reviewcenter.in/8837/lg-dual-inverter-air-conditioner-ac-review-features-specifications/"]LG Dual Inverter AC Review (2019)[/button]
The new AC lineup from LG will come with new features and stylish designs. LG was the first to comply with Government's mandated ISEER Ratings (Indian Seasonal Energy Efficiency Ratio) that have become compulsory from January 2018 and LG continues to follow the same for the new lineup. As per LG, due to the brand's pioneering role, the overall Inverter AC market has seen a growth from a total 12% share to a commendable 31% between 2016-17. Moreover, LG's Inverter AC market share increased from 19% to 53%.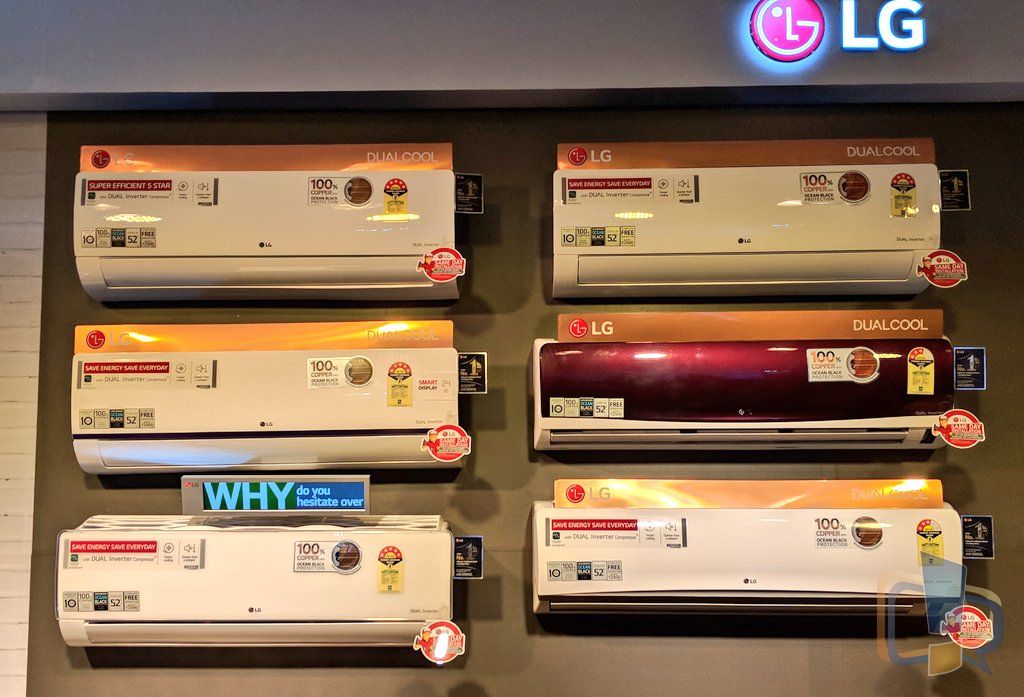 Commenting on the new lineup announcement, Mr. Kim Ki Wan, Managing Director, LG Electronics India said, "In our endeavor to offer the best to Indian consumer and addressing the growing demand for energy efficiency at the same time, LG has gone a step ahead, by introducing air conditioners with dual inverter technology. Last year we have witnessed a successful transition of AC line up from regular to inverter range. Today we are launching an enhanced range of Dual inverter ACs with new features like 100% copper with Ocean black protection which increases product durability along with R-410 green refrigerant gas that is environment-friendly. With the launch of this new range we will further strengthen our market leadership in Inverter AC segment."
Mr. Vijay Babu, Business Head-RAC, LG Electronics India added, "We at LG strongly believe in providing ease and convenience to our consumers and therefore develop technologies basis their preferences and insights. With the onset of summers, people will now start looking out for Air Conditioners. Energy efficiency will remain the key parameter for them while making purchasing decisions for air conditioners. This new range is equipped with Dual Inverter, which will consume much lesser energy than a conventional AC and at the same time is a seamless blend of usability and functionality. LG's transition to inverter ACs is a success story which was followed by the industry and the same was possible due to mass consumer awareness created by LG. We plan to build on this with new milestones. Our market share in Inverter AC segment is 53% and through consistent consumer awareness we will target to create a huge base. Expected market size of inverter AC in 2018 is 31,00,000 units (which is a growth of 116%). Apart from strong technology our core strength is extensive service network, keeping this in mind as a special gesture we have introduced same day installation -which is first of its kind initiative in the industry. Attractive finance offers on purchase and special offer on installation cost is also introduced priced at 499/."
Last year, LG received great recognition for its commitment towards environment and green technology as LG shifted its entire line of Split Air Conditioners to Inverter technology. And this year, LG shifted the same technology to its Window Air Conditioners as well. Now, the new range of air conditioners will come with a dual rotary compressor with twin rotors which results in faster cooling, high energy savings, greater stability and low operational noise. Also, the dual Inverter ACs helps users save up to 50% of running cost annually. Also, the LG dual Inverter ACs don't require a stabilizer, hence cutting down operational cost. The new lineup for 2018 consists of 59 new models and some features of the new ACs from new 2018 lineup are mentioned below.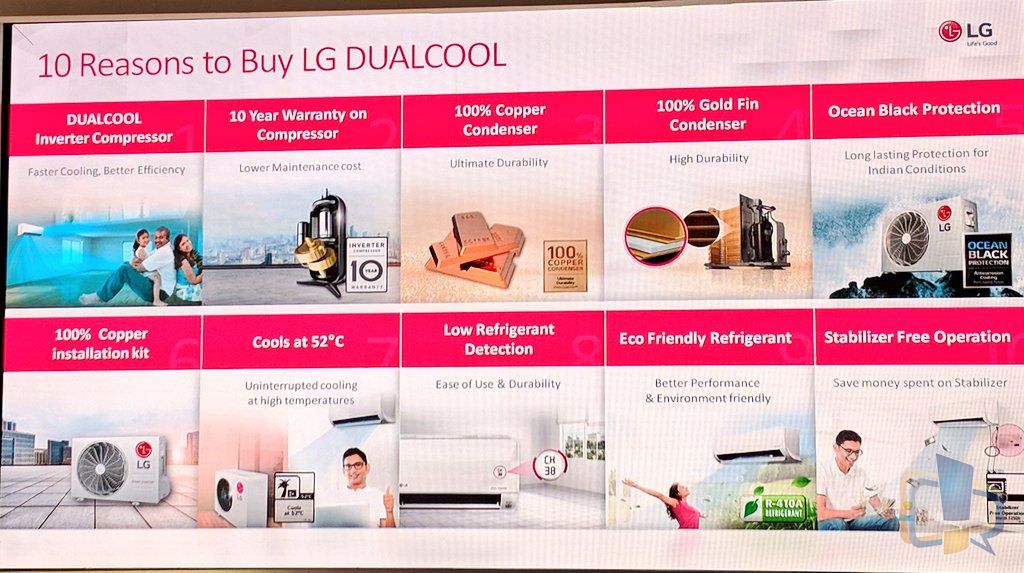 100% copper with Ocean Black Protection that prevent rusting and Corrosion on coil, gas leakage, thereby resulting in durability and longevity.
Equipped with Gold Fin Condenser which increases its life and durability
Low Refrigerant detection which detects the low refrigerant level, notify the user and shut down the system
Usage of the R-410 green refrigerant gas that is environment-friendly.
First-of-its-kind to offer WiFi technology, making it an appliance suited to today's fast-paced and connected life
Stabilizer free operations which help a consumer to save approx Rs 2500/- but also enhance the aesthetic of rooms.
Cools up to 52 degrees Celsius.
The range comes with a 10-year warranty on the compressor including gas charging.
The new range of Split and Windows ACs with dual inverter technology will come with beautiful designs and features that will enrich the user experience. The new range of Split ACs are available in capacities of 1 to 2.0 ton priced between Rs. 40,990 to Rs. 69,990. And the new range of Window ACs available in capacities of1 to 1.5 ton priced between Rs. 27,990 to Rs. 44,990.