Editor Rating

Rated 4.5 stars

Outstanding
₹37999
---
Reviewed by:

Published on:

Last modified:
---
LG comes in one of the top 3 brand names when it comes to refrigerators. When you check online or go to the market to buy one, you'll find LG with the most recommendations. That's not because of their marketing skills, but for their product quality, great after sales service and the trust consumers have with LG. And every year, LG launch new models with new features and with better efficiency compressors.
Inverter Linear compressors are all about better efficiency, less noise and low electricity consumption with the ability to run at a low voltage too. We are reviewing here model GL-T372RALU which is a mid-range refrigerator from LG, let's find out if it's worth the hype or not?
This review can also be considered applicable for following models as well. Some features shall vary as per the capacity and price of the models.
| | | | |
| --- | --- | --- | --- |
| GL-T292RPDN | GL-T302RPOU | GL-T372RPZU | GL-T402RPZU |
| GL-T302RDSU | GL-T292RPZU | GL-T292RHDN | GL-C322RPZN |
| GL-T292RPZN | GL-T292RSOU | GL-C302RSAU | GL-C302RPZN |
| GL-T292RPOU | GL-C302RPZU | GL-T322RDSU | GL-C372RPZU |
| GL-T322RSOU | GL-T302RSDN | GL-T372RTMN | GL-R402JPZN |
| GL-T292RSDN | GL-C322RSAU | GL-T322RHDN | GL-T322RSDN |
| GL-T322RPDN | GL-T322RPZN | GL-T322RPOU | GL-T302RSOU |
| GL-T302RPDN | GL-T302RHDN | GL-T302RPZN | GL-C322RPZU |
| GL-R372JPZN | GL-T372RCPU | GL-C402RPZU | GL-T402RCPU |
| GL-T402RALU | GL-T402RTMN | | |
LG Inverter Linear Refrigerator Review
Design
Space is the luxury, not every consumer has. You might have the budget to buy a refrigerator equal to the cost of an iPhone but doesn't have the space to keep it. Probably LG has kept this thing in mind and designed this refrigerator in a way that it is very much compact compared with other models. I have a 285 ltr LG refrigerator at home, bought 4 years back and this model is only a marginally few inches bigger in outer dimensions (H 1700mm x W 600mm x D 685mm) with a difference of 50 ltr in storage space as this model GL-T372RALU capacity is 335 ltr.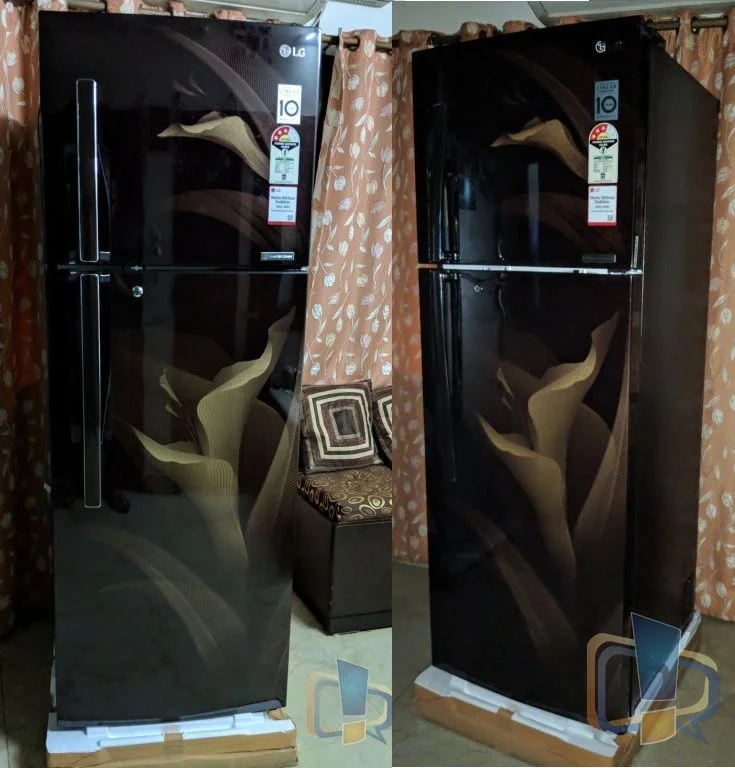 Not just that, this new model is stunningly beautiful. The floral design on the gate of the refrigerator steals the attention. There is a high gloss finish on the front which gives a smooth feel overall. The color of this model is Amber Luxe. There is a child lock as usual which locks both doors at once.
Refrigerator Compartment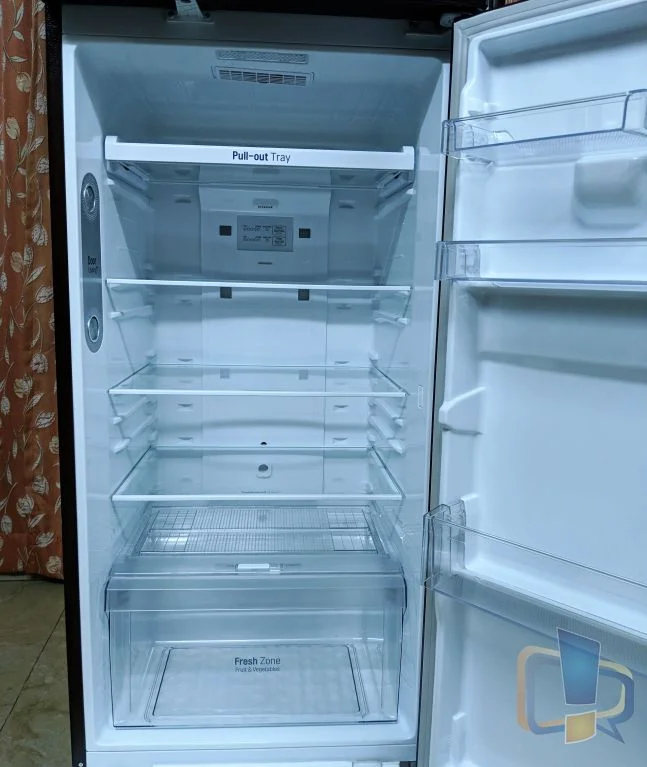 Speaking of the design of the refrigerator compartment, it offers many options for adjustments of space between trays. It has 4 trays (with Trimless Toughened Glass) out of which one is "Easy to Pull" tray for the user convenience. Upper & Middle tray height can be adjusted for making space for bigger utensils like keeping a pressure cooker itself.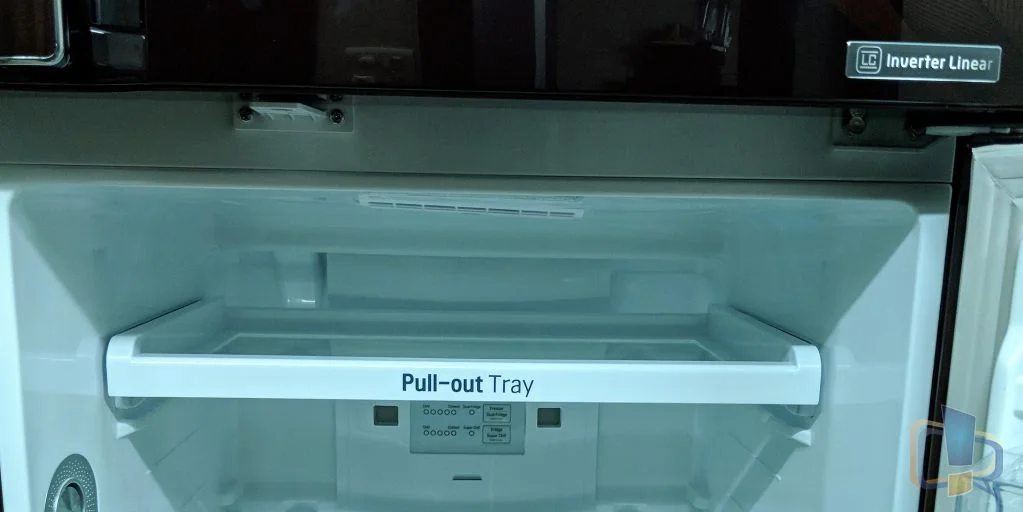 Pull-out Tray comes handy for keeping smaller items which are also needed to be accessed frequently. I personally would prefer to use Pull-out tray for keeping packed food, drinks, dairy products and egg trays.

At the bottom, we have fruit and vegetable box, which is specially designed by LG. This complete zone is called "Ever Fresh Zone" and it maintains the moisture and humidity level under control to keep vegetables fresh for a longer period up to 14 days.
Refrigerator Compartment Door
Refrigerator Compartment Door
On the refrigerator compartment door, there are 2 small shelves on top, one below (Egg cum Ice Tray) it for storing stuff like packed juices, jam, eggs etc and a shelf in the middle for storing water bottles.
Up to 2-litre sized bottles can be stored on this middle shelf. As the vegetables/fruits tray is quite large in size, there is no space for a bottom shelf on the refrigerator compartment door.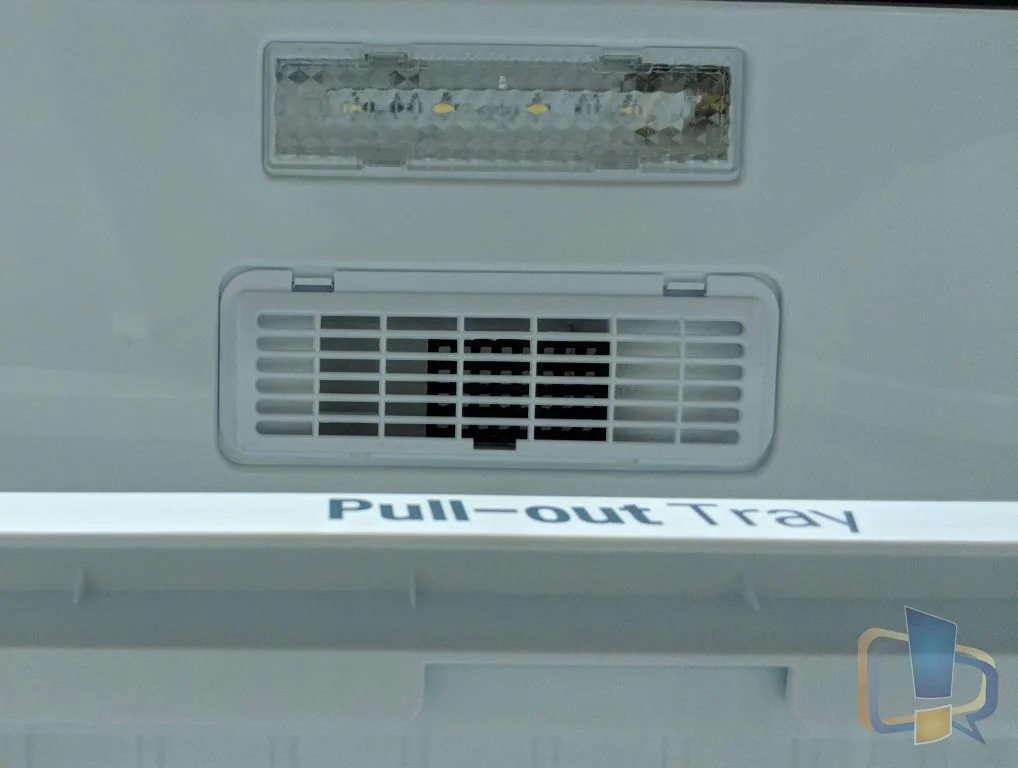 There's an LED fixed on the top of the refrigerator compartment which helps in spreading uniform brightness across the stuff inside the refrigerator which is way better than having the LED on the sides. It becomes easy to find stuff on a regular basis when there is a light source on top than on the sides.
Freezer Compartment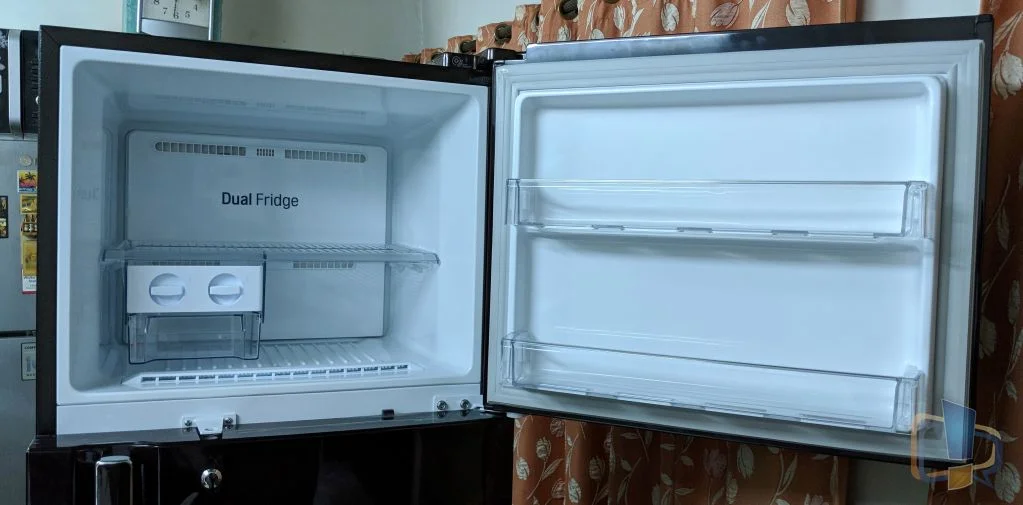 The freezer compartment is quite spacious and big enough to store buckets of ice cream in it. Design for the freezer is quite straight. There are 2 shelves each in the compartment and the door.
There is a Double Twist Ice tray for freezing quick ice in the freezer. This is a very convenient feature to make ice cubes. The ice tray can be easily pulled out for filling water in it and to get the ice cubes, all you need to twist the tray and the ice cubes shall fall into the storage tray.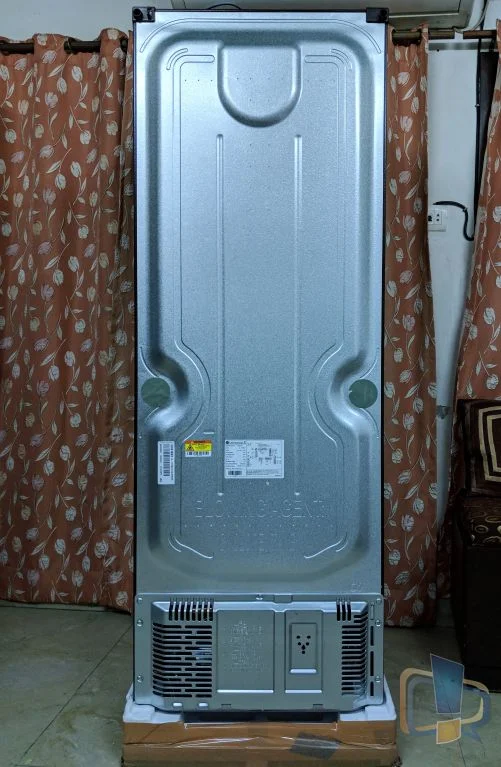 The back of the refrigerator is completely closed. So you don't have to worry about rats reaching the compressor or the wiring of the refrigerator. If there is any maintenance or repair required in future, the technician can open the bottom of the refrigerator to do so.
Features of LG Inverter Linear Refrigerator – GL-T372RALU Model
Inverter Linear Compressor (ILC)
The compressor is a refrigerator's heart. LG Inverter Linear Compressor refrigerators offer benefits such as 'Less Noise' and 'Energy saving' for consumers and functions within a temperature range of ±0.5°C which is almost half of the temperature variation if compared with a conventional compressor. ILC saves up to 32% energy and reduces noise by 25%.
Watch the video above to understand the working of an Inverter Linear compressor. Refrigerators with Inverter Linear Compressor have been recognized by the Association for Electrical, Electronic and Information Technologies (VDE), for their energy efficiency and quiet performance. ILC compressor comes with a 10 years warranty and is certified for a lifespan of 20 years. Also, this model uses R600a gas in the compressor, which is an environment-friendly refrigerant.
Linear Cooling
If there is one feature which makes this model stand out from any conventional refrigerator is linear cooling. This refrigerator effectively reduces the temperature gap at different portions of the refrigerator, delivering a uniform cooling across the whole compartment. This feature also helps in retaining freshness in the food up to 14 days.
Dual Fridge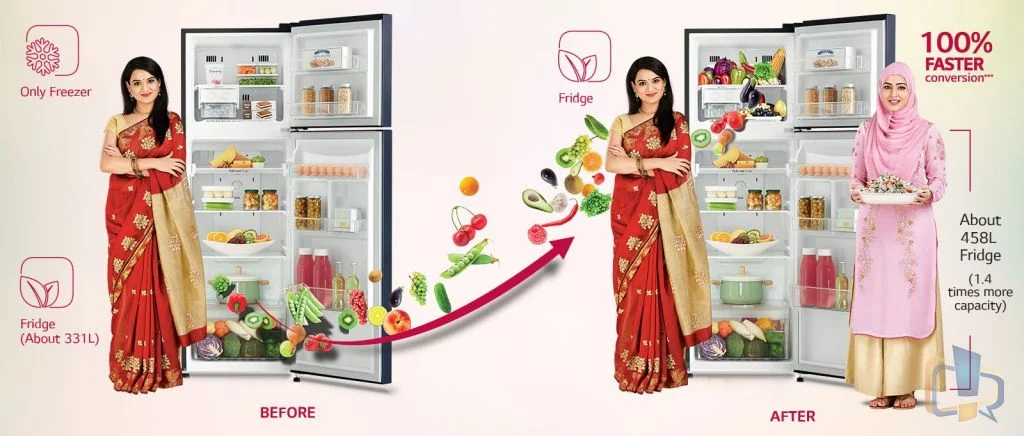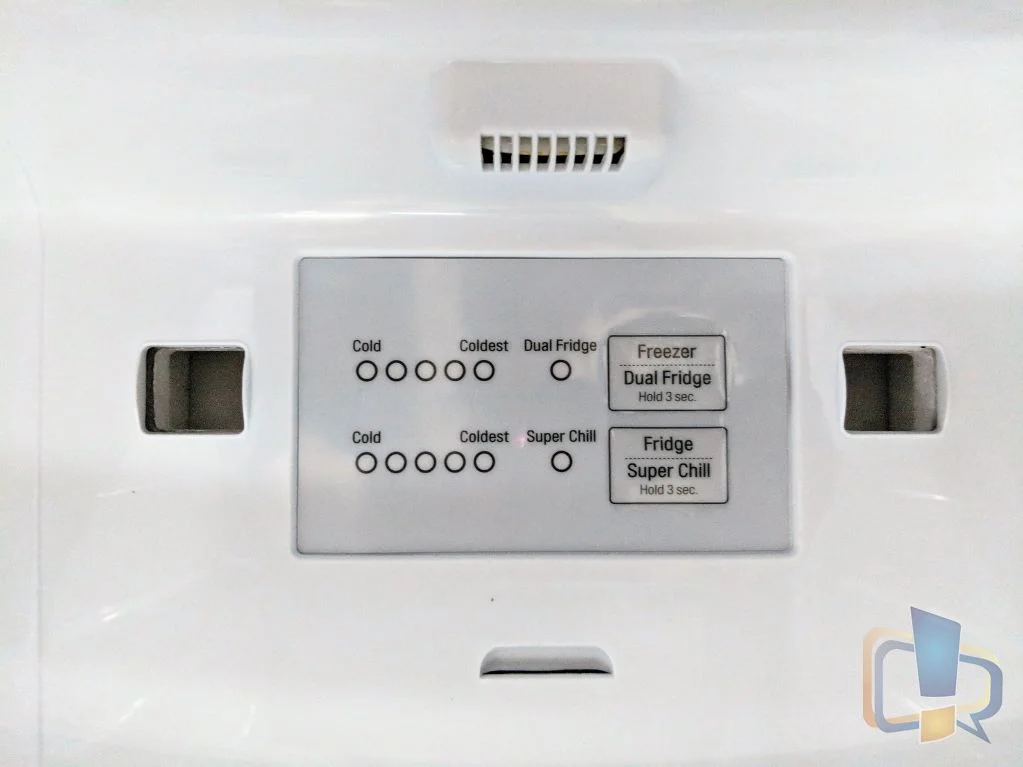 Dual fridge is another USP of this product. This feature converts your freezer compartment into a fridge. It's very useful for families with more members and less space and when occasional more space is required in the fridge during festivals and family functions. Once you activate the Dual fridge feature, within 60-70 minutes, the freezer temperature reaches equal to what is set for the refrigerator. Your refrigerator capacity increases by 1.4 times when you use the freezer as a fridge.
Door Cooling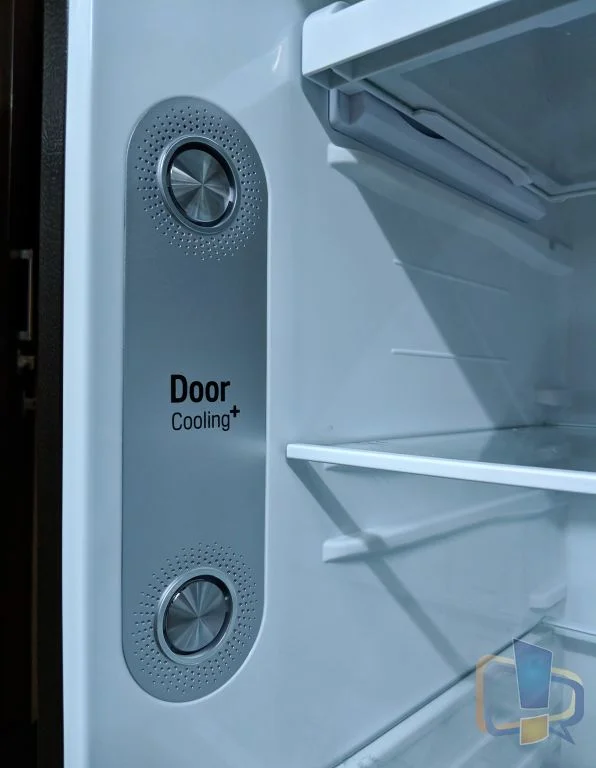 Door cooling feature looks insignificant until you watch this video below. With this feature, the refrigerator is able to cool the stuff stored on the door 35% faster than a conventional refrigerator.
Door cooling reduces the temperature gap between the inner part and the door side of the compartment and keeps the food fresh for a longer period.
Auto Smart Connect
This feature comes handy where a consumer faces frequent power cuts. Usually, we don't let our refrigerators run on the inverter power as they'll end up consuming a significant amount of energy. However, if you have this linear inverter model refrigerator, you can leave the refrigerator connected on inverter power as it auto-detects if the power source is Inverter and start consuming power less than 2 CFL~ bulbs and would resume to normal working once the power cut gets over.
No Stabilizer Required
Any model of LG refrigerator is designed to work on low voltage situations and so is this model as well. You can leave the refrigerator running even if the voltage fluctuations may vary from voltage ranging 100-290V. Because of its capability of withstanding voltage fluctuations, it's a virtually stabilizer free refrigerator.
Smart Diagnosis
If by chance anything goes wrong with your refrigerator, LG's Smart Diagnosis feature offers an easy way to troubleshoot issues. This feature helps the customer service helpline by identifying the issue in the refrigerator remotely over the phone call, just by producing some sound which the computer at service person end upon understanding offers a quick solution to the customer. All the customer has to do is call the service helpline, place the phone on the appliance, the appliance would automatically communicate with a computer and within seconds it would generate a solution of it.
Performance of LG Inverter Linear Refrigerator
It's been a few weeks now since I am using this refrigerator and there hasn't been a single negative reason I found in my observation period. The refrigerator is working fine, chilling well, I tried the dual fridge and super-chill feature and both worked great for the way they're meant to be.
Also, the fridge runs almost silently, there are hardly any vibrations. The shelf glass is very strong and the plastics around doesn't feel delicate to keep heavy items. The ice tray quickly produces the ice, even faster than my old fridge and super-chill feature comes handy to cool down water bottles very quickly. The space in the vegetable/fruits tray is huge and it kept the fruits/vegetables fresh for whatever period we kept in it, however, there was hardly any fruit and vegetable which we would have kept longer than a week in the fridge.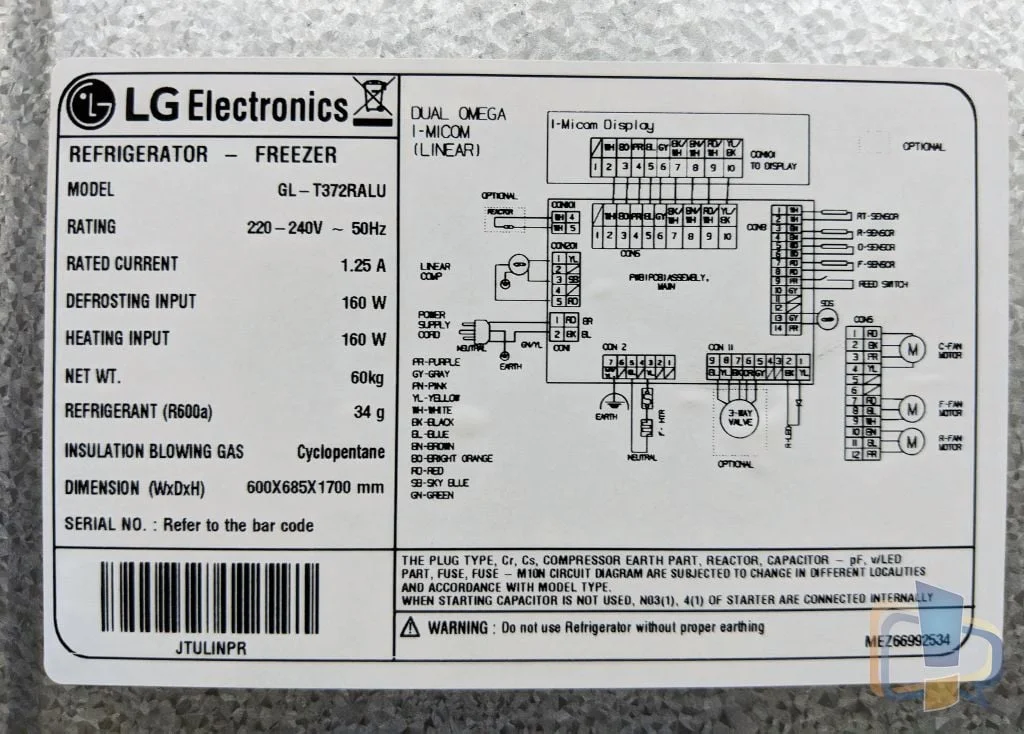 Speaking of the power consumption, it's very difficult for me to measure how many units per day as with other appliances/gadgets being used at home daily, but I didn't saw any increased power usage on daily basis since the day I started using this refrigerator. With the amount of electricity, an inverter refrigerator can save, I am assuming that this new 335 liters inverter model (3 stars) is consuming less energy than my old 285 liters refrigerator with a conventional compressor.(4 stars).
Final Verdict
This refrigerator model is suitable for most households who want a simple troublefree low power consuming refrigerator. Not everyone with simple background needs a fancy refrigerator with a touch panel which may take a long time to understand, even when you can afford to buy it, elders at home might not like it. Also, maybe the features list of this refrigerator is not that long for its price, but there is one thing assured you get with this refrigerator is peace of mind. And surely the features list is no less if you compare it with other brand refrigerators in the same price range.
If you've some guest coming, you can quickly produce ice or super-chill can help you cool down water bottles faster, which anyone can easily use. Or if you need more space during occasions, use the freezer as the fridge to accommodate additional items. While writing this review, this refrigerator was available at a price of Rs 37K around on Paytm and Chroma which is a great price for this refrigerator. If you've got any question related to this refrigerator, you can ask in the comments.