Canara HSBC Oriental Bank of Commerce Life Insurance launched their new plan called as Jeevan Nivesh Plan, that offers 5% p.a. increasing income for 15 years to protect from inflation. The new Jeevan Nivesh Plan is a combination of life insurance cover & savings combined into a single plan.
Benefits of Canara HSBC OBC Life Insurance Jeevan Nivesh Plan-
Lump-sum payout at maturity – Guaranteed savings through guaranteed payout of Sum Assured at maturity.
Lifelong protection – Life Insurance cover throughout the Policy Term and beyond (under the option Endowment with Whole Life Cover).
Settlement option – Flexibility to convert your Guaranteed Sum Assured on Maturity as annual payouts payable over next 15 years, with 5% compounded increase every year to take care of your growing needs (under the only Endowment option).
Customize your savings horizon and key financial goals – Multiple Policy Term options will make sure that you are able to select the best suited Policy Term which is closely aligned to your financial goals.
Premium payment term options – Choice of flexible premium payment terms which can closely align to your savings horizon.
Steady build-up of the fund for your financial goals – Additional lump-sum benefit through payout of accrued Annual bonuses & Final bonus (if any).
Better value for higher premiums – High sum assured rebate to ensure that you get extra benefit for making a higher premium commitment.
Tax benefits on premium paid and benefit received under Section 80C and Section 10(10D), as per the Income Tax Act, 1961, as amended from time to time.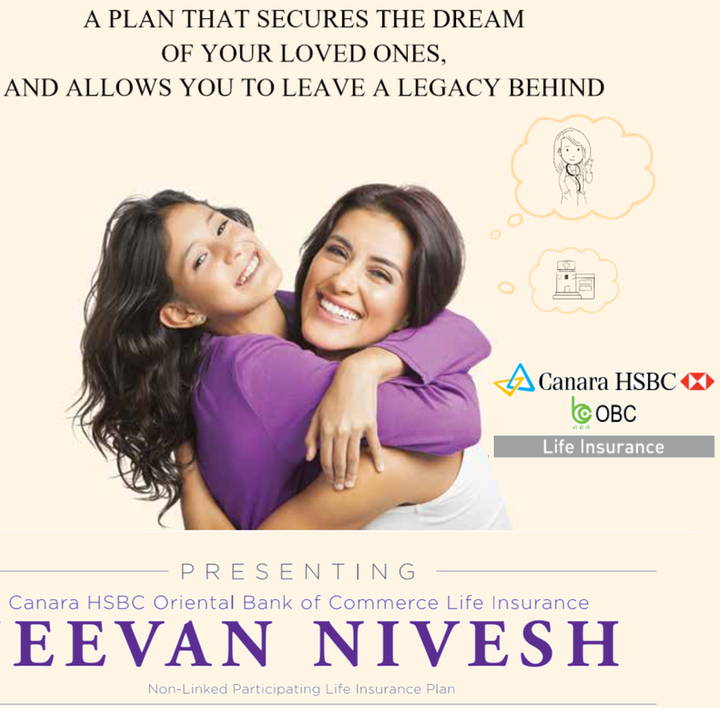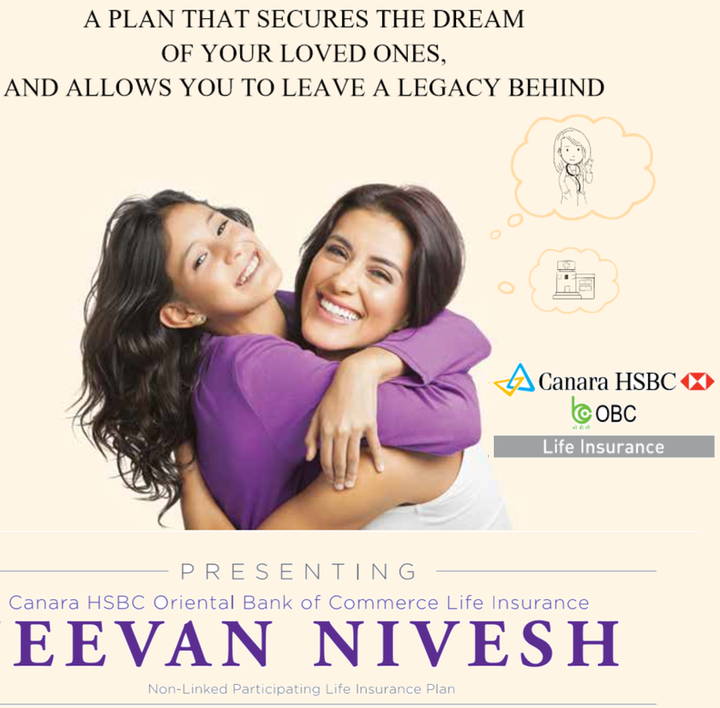 Jeevan Nivesh is a traditional endowment plan with an option to choose whole life cover till you hit the century. The plan is designed to fulfill multiple needs of the customer. A customer can opt for the endowment with whole life cover option. Also, on the other hand, if the goal is to get a life cover during the policy term only, then a customer can also go for endowment option. Under this plan, a customer will have the flexibility to convert the guaranteed sum assured on maturity as annual payouts, which will be paid over next 15 years. That's not all- These annual payouts also increase by 5% compounded every year, so that you can easily take care of the growing needs. Jeevan Nivesh is a very comprehensive plan that offers multiple options under regular and limited premium payment. Everything can be customized depends upon the savings goals, premium affordability, and future financial goals.
Commenting on the launch of this new Jeevan Nivesh Plan, Mr. Anuj Mathur, Chief Executive Officer, Canara HSBC Oriental Bank of Commerce Life Insurance Company Limited said, "Jeevan Nivesh is an easy to understand simple product which delivers good customer value. With this plan, we have also expanded our traditional product portfolio. This plan is in line with our target to penetrate in more semi urban and rural areas since customers across these regions are seen to have a preference for traditional products with some kind of guarantees." He also added, "We have a robust product pipeline and over a longer period, we will have a balanced mix of products based on our customer research on product preferences, especially for mass market customers where we believe the risk appetite is lower."
WHAT ARE THE OPTIONS UNDER THE PLAN?
You can opt for any of the following:
Endowment with Whole Life Cover option
Only Endowment option
HOW DOES THE PLAN WORK?
You can customize the policy to suit your financial goals and requirements in just 3 simple steps.
WHAT ARE THE KEY BOUNDARY CONDITIONS OF THE PLAN?
Entry Age:


| | | |
| --- | --- | --- |
| | Annual Mode | Monthly Mode |
| Minimum | 18 years | 18 years |
| Maximum | 45 years | 55 years |

Maximum Maturity Age- 80 years for Annual mode & 75 years for the Monthly mode. However, the life insurance coverage will continue up to 100 years of age in case Endowment with Whole Life Cover option is taken.
Premium Payment Term


Endowment with Whole Life Cover option & only Endowment option
Premium Payment Term
Available Policy Term
Limited Pay 5
10,15,20
Limited Pay 7
15,20,25
Limited Pay 10
15,20,25
Regular Pay
15,20,25,30

Sum Assured-a) Minimum Sum Assured: Annual Mode: Rs. 3,00,000, Monthly Mode: Rs. 5,00,000b) Maximum Sum Assured: No Limit (Subject to Board Approved UnderwritingPolicy of the Company)
Premium Payment Mode and Modal Factors: Annual & Monthly mode
Minimum/ Maximum Premium:
a) Minimum: Depends on plan option, entry age, sum assured, premium payment mode, premium payment term & policy term.
b) Maximum: No limit
Maturity and Survival to age 100 Benefit


Death Benefit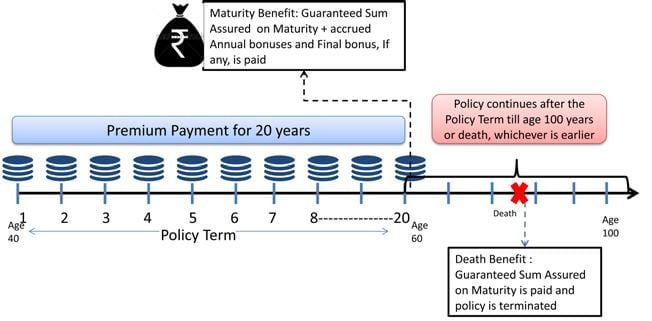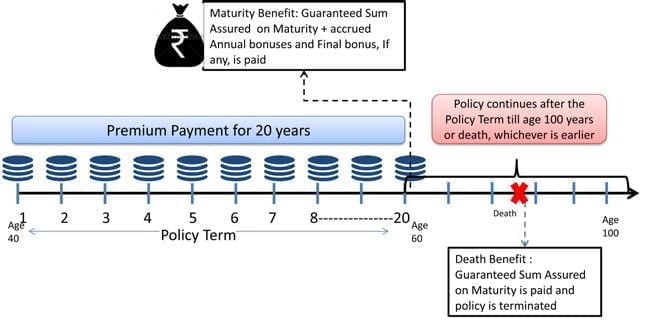 WHAT ARE OTHER BENEFITS IN THIS PLAN?
Loan Facility
To meet any contingent need you may avail the loan facility in this plan, once the policy acquires a Surrender Value. The minimum loan amount that you can avail is Rs. 20,000 and the maximum should not exceed 80% of prevailing Surrender Value at that time. The loan will be available for the in-force policy only. The applicable loan interest rate for the financial year 2017-18 is 9.9% per annum.
High Sum Assured Rebate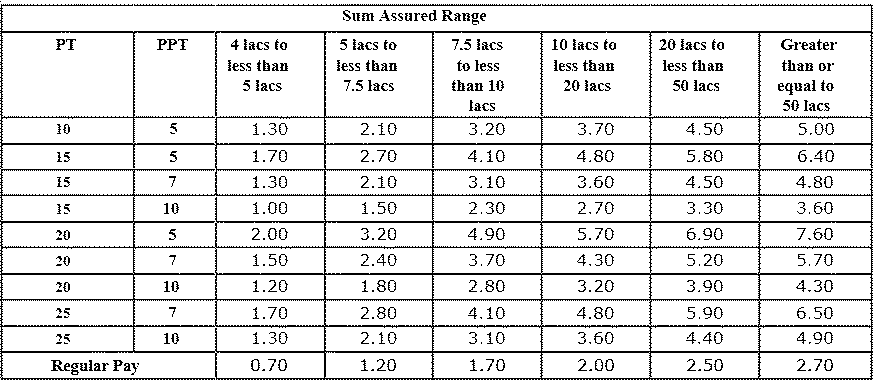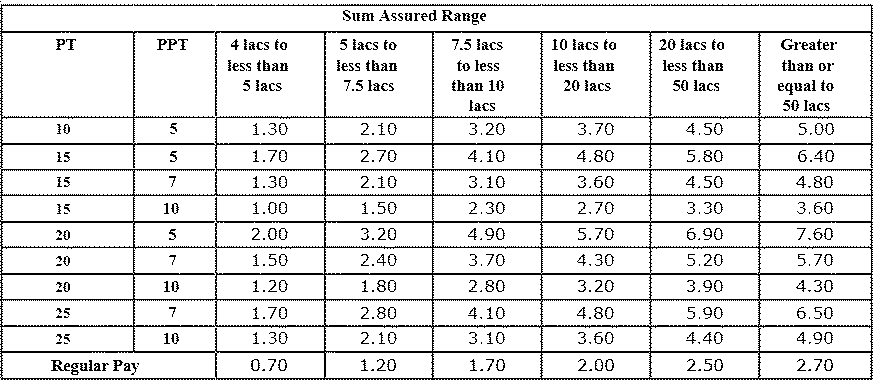 This plan offers a rebate on the premium payable if Sum Assured is higher than or equal to Rs. 4,00,000. The amount of rebate available for high Sum Assured will be as given in below table.
WHAT HAPPENS IF YOU STOP PAYING THE PREMIUMS?
Savings for your financial goals such as buying a house, child's education, retirement planning are some of the non-negotiable goals. This plan is intended for long-term savings and protection needs to meet your financial goals. We, therefore, strongly advise that the policy should be continued throughout the defined Policy Term to realize the full benefits. Discontinuance of premiums should not be opted for, unless there is no other alternative available, as it will impact the policy value and intended goals may not be realized. The product offers policy loan that can be availed (as per terms and conditions) to manage any liquidity needs.
If you fail to pay due premium within the grace period (of 30 days) in the first 2 consecutive policy years (for Premium Payment Term of less than 10 years), and in the first 3 consecutive policy years (for Premium Payment Term of more than or equal to 10 years), then your policy will lapse at the expiry of the grace period and the insurance cover will cease immediately. No benefit shall be payable upon death or upon your request for termination of the policy or on the expiry of the revival period.
CAN THE POLICY BE REVIVED?
You can make a request for the revival of your policy anytime during the revival period of 2 years from the due date of first unpaid premium. The revival of the policy will be as per the Board Approved Underwriting Policy of the Company. Post-revival of the policy, the product benefits, including bonus, would be reinstated to the full level as if the Policy never entered the Paid-up status or Lapse state as applicable. To revive the policy, all past due premiums need to be paid by you along with applicable interest rate as defined by the Company from time to time (from respective premium due dates till the revival date). The revival of the policy is not allowed post maturity of the policy.
In case you have any doubts, queries regarding this insurance plan, you can drop them down in the comments section below.