Editor Rating

Rated 4.5 stars

Outstanding
---
Reviewed by:

Published on:

Last modified:
---
We live in the age of internet and web services. Online competition among bloggers and website administrators has become hotter than ever. The internet today is crowded with a large number of web analytic services and software available online. It has indeed become quite a task for users when it comes to choosing one. Most of the online services today only touch the periphery and give you a basic reading about which page has been viewed and how frequently. While there are some those go to the depth of the content and provide much more. One such web analytic service that gives you the detailed knowledge on the performance of your site is UserHeat. So in this post, we will be reviewing this amazing service that lets you get into the minds of the visitors on your website. Alright everyone so sits back and here we have it!
UserHeat Review
You might be thinking that what is this Userheat and what it is all about? Well, it is nothing but a simple to use yet effective web analytic service. It makes use of certain algorithms and the visitor's behaviors that include clicks, scrolling, and certain other things. This detail is then presented as a statistic in the form of a heat map. These statistics can then be used by bloggers and website administrators to make their websites top notch. An effective way of presenting these statistics is with UserHeat.

How to sign up?
The user will first have to sign up on their homepage.
Once you are on the homepage, click on the "Sign up for free" button.
Fill in your domain, Email address and set a password.
A confirmation mail will be sent to the Email address you entered earlier.
Check your mail and confirm by clicking on the confirmation link.
This confirmation will allow you to sign in with your email address and the password set by you.
After you sign in, click on "Create HTML Tag" and then copy it.
If you are using WordPress,then go to your Cpanel.
Open the template Header Editor (header.php) and paste the copied script just before closing HEAD tag (</Head>).
Now once you successfully signed up, you will see an analytic map of your domain.
UserHeat will display 3 maps, these are mouse track map, gaze heat map, and mouse click map.
Features of UserHeat:
In the beginning, let's not talk about the benefits of UserHeat Services but about the features that it has to offer.
Mouse Playback:
UserHeat gives you the ability to search out exactly what the visitors are looking at your website. It will give you an idea of what they focus on while searching within your web pages. This will also help you in improving the interface of your website.
Tablet and Smartphone Support:
The best part about UserHeat is that it is available not only for your PC and laptop but for other smart devices also such as tablets and Smartphones. It makes it possible to analyze your site with access even from smart devices. Besides this UserHeat is absolutely free till you cross the 300,000 PV every month mark.
Mouse Track Map: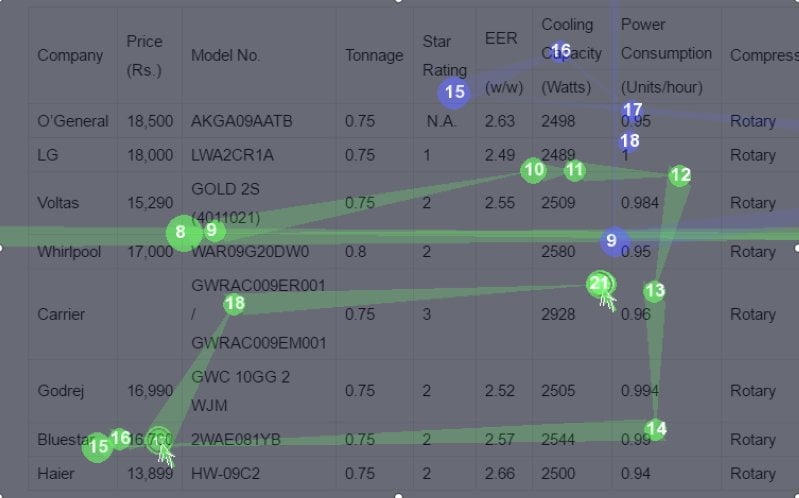 The Mouse Track Map feature tracks user action through the movements of their cursor. With this feature, you can see five user actions at one time. These actions will be displayed on the map and is very easier to understand that reading through complicated statistics.
Gaze Heat Map: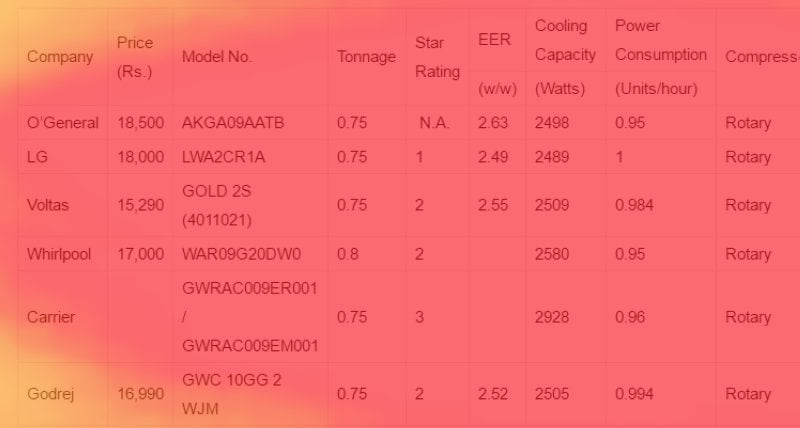 Gaze Heat Map is perhaps one of the most important features that UserHeat offers. It shows the place which gets the most attention from the visitors. All this is made possible through an algorithm that makes use of the mouse movement, scrolling pattern along with the placement of the keyword in the post.
Mouse Click Map: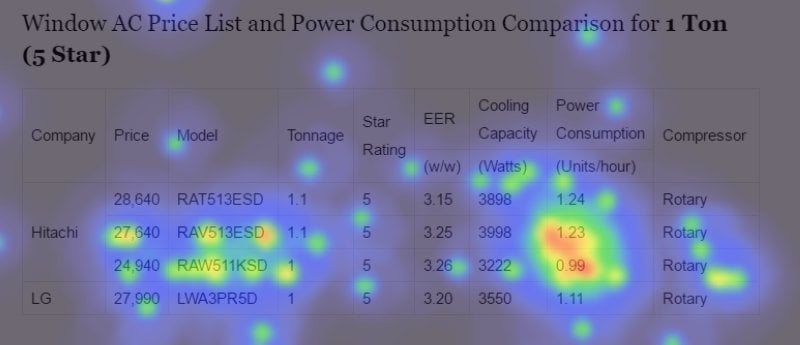 As evident from its name, Mouse Click Map feature displays the points on your page that are mostly clicked by the users. This proves immensely beneficial for bloggers and website administrators to in placing their ads and getting a high amount of returns. The areas that are most clicked are coloured in red while the areas that are least clicked are represented by blue.
Advantage of using UserHeat HeatMap Analytics
So if UserHeat offers all these features then there have to be many advantages as well. The use of heat map for your site offers a lot of advantages and some of them are as givens:
Track Clicks of Users: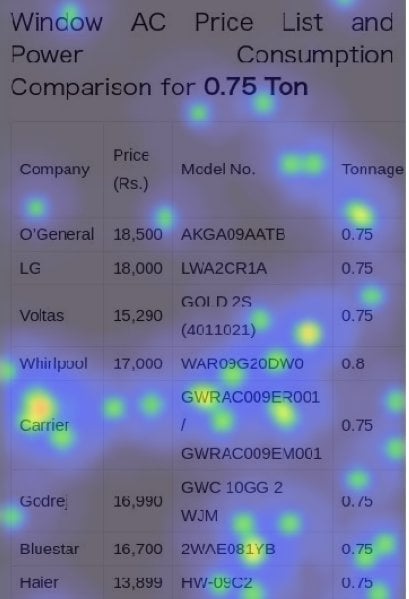 Heat map helps you in keeping a track of users on your website. It can track exactly where the users have clicked on your side. It proves very beneficial in knowing the specific areas of your site that get the most number of clicks. This will further improve your website by enhancing the area that gets more clicks and removing the unnecessary places that don't get much of an attention.
Show Areas Unnecessary Areas: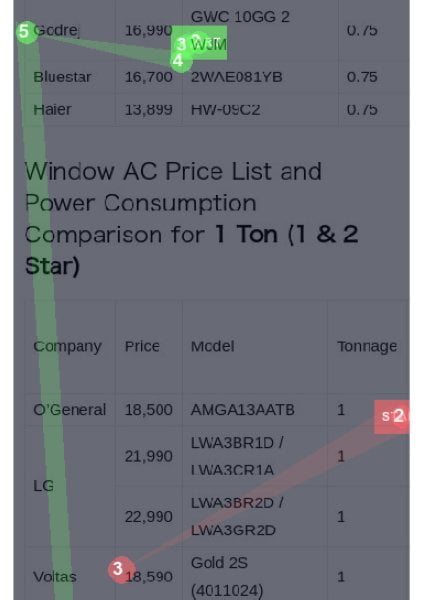 The use heat map makes it possible to track the areas that are of least importance. It becomes greatly helpful in optimizing the site by getting rid of points that are of no importance. For example, there are plenty of websites that have huge amounts of pictures and texts that people don't really notice. The heat map can be used for chipping away down websites.
Getting Attention to the Right Spots: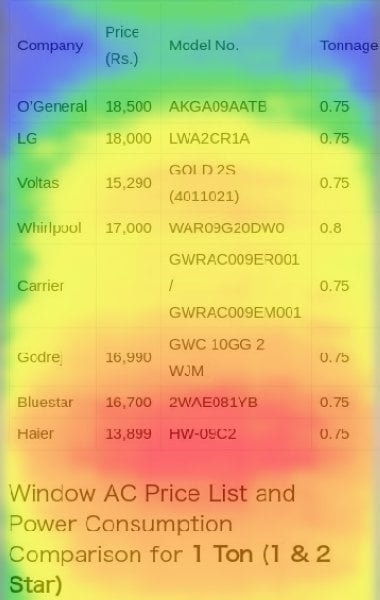 UserHeat gives you the chance to draw the attention of visitors to your priority areas. For instance, you can check the best place to introduce a brand new feature to your site. The heat map is also used to check and the areas that are best suited for drawing people. It becomes very helpful in cases where you want to sell some products or placing sign up buttons where they can be noticed the most.
Arrange Site Navigation:
UserHeat can be used to check the page that is clicked most by the visitors. If the page clicked is not the one you want to promote, then you can always the location of the buttons on that page. Heat map helps you in locating the most optimal place where you can place the links.
Final Verdict
UserHeat is perhaps one of the easiest and most effective web analytic tools available on the internet today. It is easy and yet rich in features at the same time. So if you are looking to optimize your website or blog to get better results, we would suggest you to start using UserHeat today.
UserHeat is free heat map analytics effective in visualizing user behavior both on PC and Smartphones. It is quick to get started with and works well for you in the long run.