Livpure, India's fastest growing RO Water Purifier, has launched India's 1st Smart RO – The Smartouch Water Purifier with Bluetooth Connectivity. Smartouch is India's first Bluetooth enabled RO that can be controlled completely through your smartphone via smart Android App.
Livpure launches India's 1st Smart RO Water Purifier
Livpure Smartouch water purifier is a well-crafted device with innovation and technology at the core. Livpure Smartouch, priced at MRP Rs. 20,790 and is available with an 8-stage advanced purification system, and comes with a high storage capacity of 8.5 liters. The water purifier can be accessed through an Android-based smartphone via the Livpure smart app. The app makes the whole experience a lot more hassle free as it alerts the life of the filter in advance, indicates water purity and also auto schedules service engineer visits.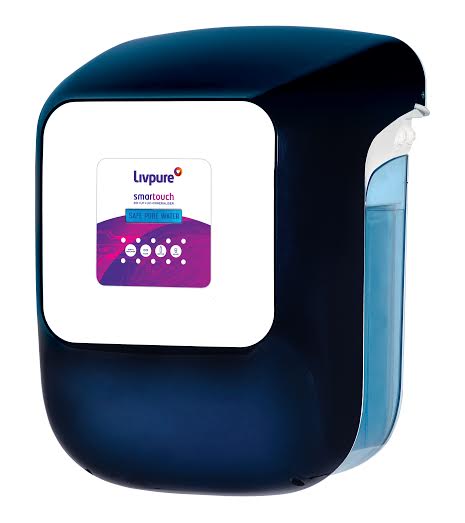 On the launch of the Smartouch water purifier Mr. Rakesh Malhotra, Founder, Livpure said, "We are certainly the most innovative water purifier brand in the market and our products are a living example of it. We are happy to introduce India's 1st Smart water purifier and are confident that it will be well received by the consumers. With the Smartouch water purifier, we are striving to enhance the user experience".
Realizing the need for long term sustenance and growth Livpure is ramping up its service centers and distribution network. The brand has been growing well and is planning to clock 300crs this fiscal and currently has 400 service centers, 800 service people, and 500 distributors. Livpure has a presence in 22 states and is available in more than 14000 outlets. Expanding rapidly, Livpure will continue its endeavor to introduce innovative products and making drinking water safe for its consumers.
Livpure Smartouch is priced at MRP Rs. 20,790
About Livpure Company
Livpure has more than one million users over a very short span. It has a state of the art manufacturing facility in Manesar with a production capacity of over 300,000 water purifiers per year. Livpure manufactures and distributes reverse-osmosis and gravity-based water purifiers with a vision to make every Indian healthy and ensure purity in their lives through water & air.
In a span of 4 years, Livpure has pioneered in smart and intelligent products which have also garnered them several accolades-
The Water Digest Water Awards 2014-15 in Association with UNESCO
Innovative Domestic Water Purifier
The Fastest Growing Water Purifier Company
Made in India-Best RO
Validated by Consumers & Industry
Asia's Most Promising Brand