Having a sports cam was on my wishlist for a very long time. Even though I am not a person who may throw himself out of planes, surfing or be doing athletic things, it was only required for attaching it to car dashboard or while enjoying at a beach. However if I look into current products range available in the market, this niche is dominated by GoPRo, which was by chance inventors too of this market. You can quickly find thousands of videos online shot using Hero series camera of GoPro. But for people like me, I was, I am never interested in investing on these highly expensive cameras. So, I found Kitvision Escape HD5 camera, which I bought & imported from MobileFun along with a 16GB microSD card was perfect for my low budget and offered me 720p recording which is good enough for regular shots with family and friends.
Kitvision Escape HD5 Action Camera Review
Kitvision Escape HD5 is a camera for normal people. It's not for the professionals who may require many features in a sports camera. However you can use it for any purpose which a GoPro Hero can fulfil like fixing it on a bike, use it in a pool and attach it to your helmet and many more. And the best part about it that it comes with a price tag of under £50. If you've a bigger budget, I'd recommend you get a real DSLR priced around 40k.
Kitvision Escape HD5 Action Camera Box Contents
Kitvision HD Action Camera
30 m waterproof case
Bicycle Mount
Mount connector clip
Curved adhesive mount
Flat adhesive mount
2 x 3M adhesive pads
Action Camera to 1/4″ tripod screw adapter
Action to 3/4″ tripod thread adapter
Mount Connector
90-degree adaptor
Vented helmet mount strap
User manual
USB Cable
In total, there are 14 accessories you get excluding camera which is an excellent thing. And in our usage, I was able to use all accessories wherever required, for attaching the camera to the pipe of a bike, on a tripod, mini-tripods, attached once as dashboard camera in a car or strapped to a bike helmet and tried once on my chest. I also once attached it to the remote controlled car of my son using rubber bands and tape.
Kitvision Escape HD5 Action Camera: Video Quality
I won't say that I am too much impressed with the video quality of the camera. But its lens and sensor are of fine quality. This camera can shoot videos of up to 1280 x 720p at 30fps and take images of up to 5MP. However, I won't recommend using this camera for still shots as they were not worth it. Video shots taken using this camera can be viewed max to a TV of 32inch display size without any pixelation, but beyond that on a much bigger screen, the content clearly shows some pixelation. However you can use the video for the purpose of Youtube, it's fine on it.
Another thing I noticed, that HD5 does not handle transitioning from a high to low environment with ease and is not suitable for the low light environment. Cannot blame only this product for low light, but in reality, any sports camera sucks in low light environment.
You can also take still pictures pressing the down button on the camera. Also, there is burst mode to click a lot of pictures of any moving object, timed mode (to get into the frame yourself) and a wonderful time lapse mode for taking a series of pictures. Interestingly you can set the length of the gap between pictures and once set; it will keep shooting until it runs out of battery, but till then you'll have good long lapses of the video.
The microphone, on the other hand, I found satisfactory on HD5. It even recorded voice when it was inside the waterproof case; however the volume was quiet low for the obvious reason and was bit muffled. Kitvision has acknowledged this limitation on their advertisements and rather suggest to add your own soundtracks while editing videos.
Kitvision Escape HD5 Action Camera: Design
Speaking of Design, it's quite simple. With four buttons on it, which are accessible in both cases when it's naked or when inside the waterproof case.
Two buttons on the side are for Up/Down function when navigating the menu & Down button also takes the still images.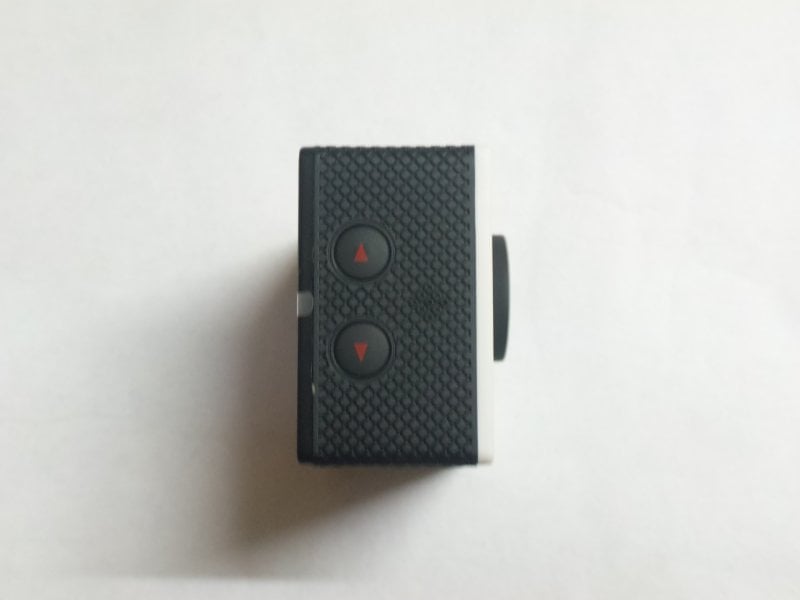 The button on the front is the power button and also used for accessing the menu of the camera. Button at Top is for Start/Stop filming.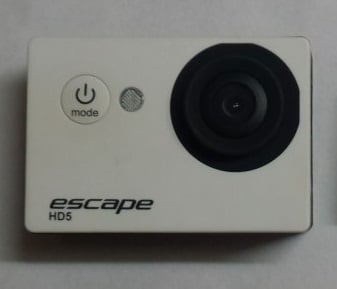 A red LED starts flashing when the camera is in a recording mode and LED screen stays awake for around a minute to save battery.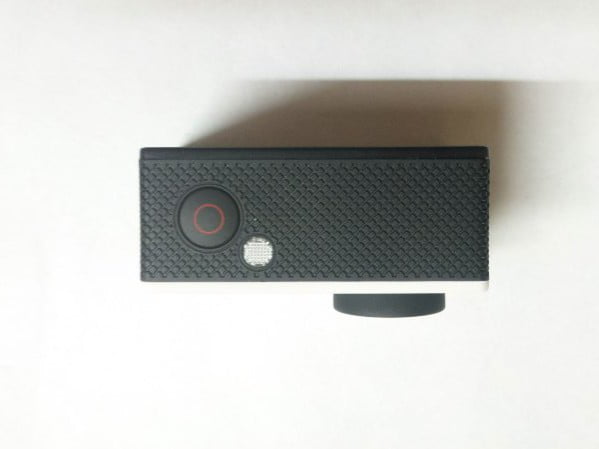 You can watch the video and images you shot using the camera, but the display quality won't please you in any way for that. The display screen resolution is unknown, and there is no sound on playback at all. But stay assured that when you view the same content on PC, it'll be way better than what you saw on the display of the camera.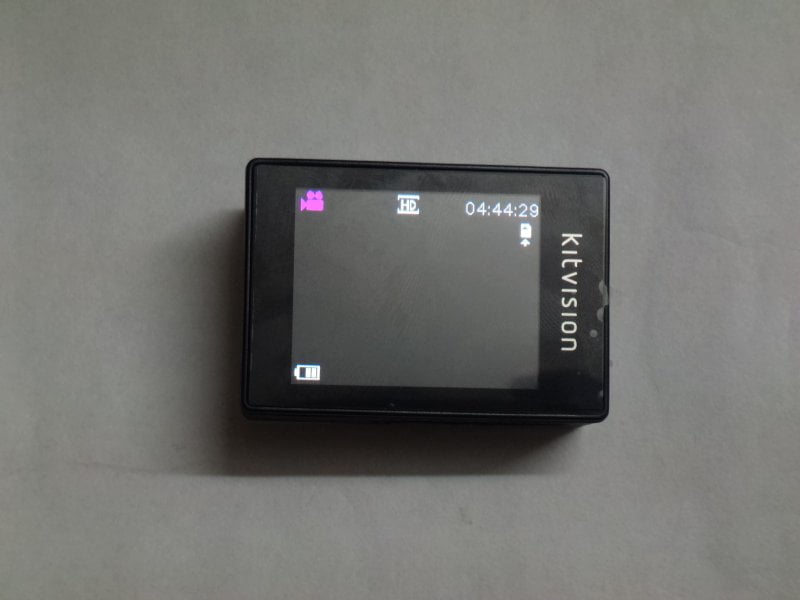 Speaking of connectors and clips, those are of rigid quality and solidly manufactured. Although it was bit uneasy to clamp the camera on the bike, other than that we never had any issue attaching it anywhere as recommended in the manual which comes with it.
A Value for Money Camera
The best thing about this camera is its cost. Under £50, it's the least expensive and good quality sports camera you can get in the crowd of big-name action camera. To save the cost of the camera, it doesn't come with inbuilt memory, hence buying a microSD card along with it is mandatory unless you have a spare one at home.
For the battery backup, it lasted me for approximately 1.5 hours of a continuous recording before the battery completely drained, and lasted for a day when I shot shorter clips throughout a day switching it ON and OFF.
Kitvision Escape HD5 Action Camera Specifications
Display Size
2.0″
Lens
120deg wide-angle lens
Language Options
English / Traditional Chinese / Italian / Spanish /
Portugese / German / Dutch / French / Czech /
Polish / Turkish / Russian / Japanese / Korean / Thai
Video Resolution
1280 x 720 / 30fps, 640 x 480 / 30 fps
Video Format
AVI
Compressed Video Format
MJPEG
Photo Resolution
5 MP / 3 MP / 2 MP / 1 MP
Storage
microSD (up to 32 GB)
Photo Modes
Single Shot / Burst / Timed / Continuous
Frequency
50 Hz / 60 Hz
USB Interface
USB 2.0
Battery Capacity
300 mAh
Power Consumption
260 mA @ 4.2 V
Recording Time Per Charge
About 90 minutes (based on highest settings)
Operating System
Windows XP / Vista / Windows 7 / 8 / 10 / Mac OS
Dimensions (mm)
H59.27 x W41.13 x D29.28
Weight
58 g
Final Verdict
Kitvision Escape HD5 Action Camera is not for those who wants very high-quality video or pictures but is for normal consumers who just wants a sports camera for fun and wants to record some personal moments with friends and family. Take this camera to your outings and it'll not disappoint you with video recordings. Its overall battery backup is good, and it surprisingly shot good quality videos. I would recommend taking the camera to a pool or attach it to your helmet & Record your bike rides or slide from a slope; overall HD5 is a great camera for a start.