Milagrow today launched the next generation of its Floor Cleaning Robots the RedHawk 3.0 with World's largest Main Cleaning Brush with a width of 256 mm and World's largest Dustbin on the main body of a Floor Robot of with a capacity of 1 litre at a price of Rs 25,990. This comes close on the heels of the launch of Milagrow AguaBot which was among the World's 1st Floor cleaning robots with full wet cleaning capability.
Milagrow presents technology that makes life simpler, easier & allows today's home maker more time with minimum effort. Milagrow's range of Domestic Robots are Intelligent, obedient and created for the sole purpose of serving humans. These robots help perform a wide array of domestic chores, without the tension of any supervision.
Milagrow Launched RedHawk 3.0 Cleaning Robot
Milagrow RedHawk 3.0 comes with Robotic 6th Sense for minimal interaction between humans and technology providing huge benefits in time and effort. It also possesses Robotic Extra Dirt Sensors to prioritize cleaning in extra dirty areas. These extra sensors increase the intensity and suction of cleaning automatically when higher dirt is detected.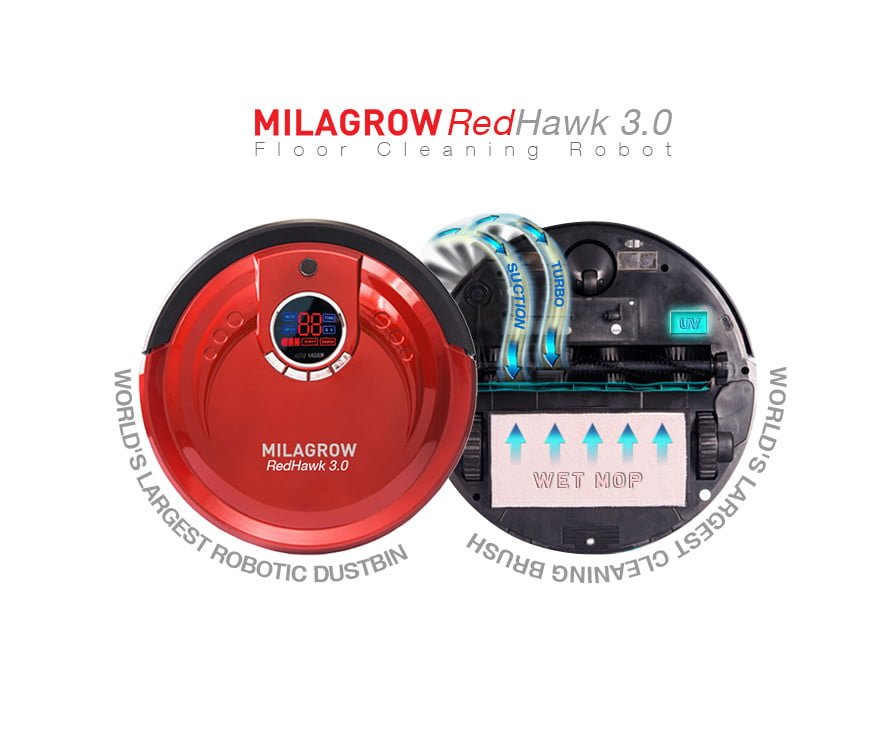 The RedHawk3.0 is equipped special health cleaning features like the UV bulb and HEPA filters.
The Ultraviolet (UV) light is used to sanitize floor surface while cleaning to maintain a healthy living environment. The purpose of ultraviolet lights is to kill organic matter, such as bacteria, mold, and viruses. The U.S Environmental Protection Agency refers to them as Ultraviolet Germicidal Irradiation Cleaners.
High-Efficiency Particulate Air or HEPA air filters were originally developed by the US Atomic Energy Commission to capture radioactive dust pollen. HEPA filtration is important for medical patients or for whomsoever very pure air is sought as they trap most particulate matter and bacteria, viruses etc. To qualify as HEPA an air filter must remove 99.97% of all particulate matter greater than 0.3 micrometer from the air that passes through.
The RedHawk 3.0 comes with 6 cleaning modes plus a large wet cleaning mop of 210×105 mm.
Speaking at the launch of the new RedHawk 3.0, Mr Rajeev Karwal, Founder Milagrow Robots said that "Milagrow Floor Robots have maintained their supremacy in India despite the entry of big players like LG, Samsung and Philips in this segment. The only reason being that we are a very focused player in the domestic robots space and are continuously raising the bar with our deep consumer insights. A fortnight ago we launched the AguaBot – Amongst World's 1st Full Wet Cleaning Floor Cleaning Robots and today we are launching the RedHawk3.0 with World's largest Dustbin and World's Largest Cleaning Brush. We are committed to spreading this Robotic Revolution in India."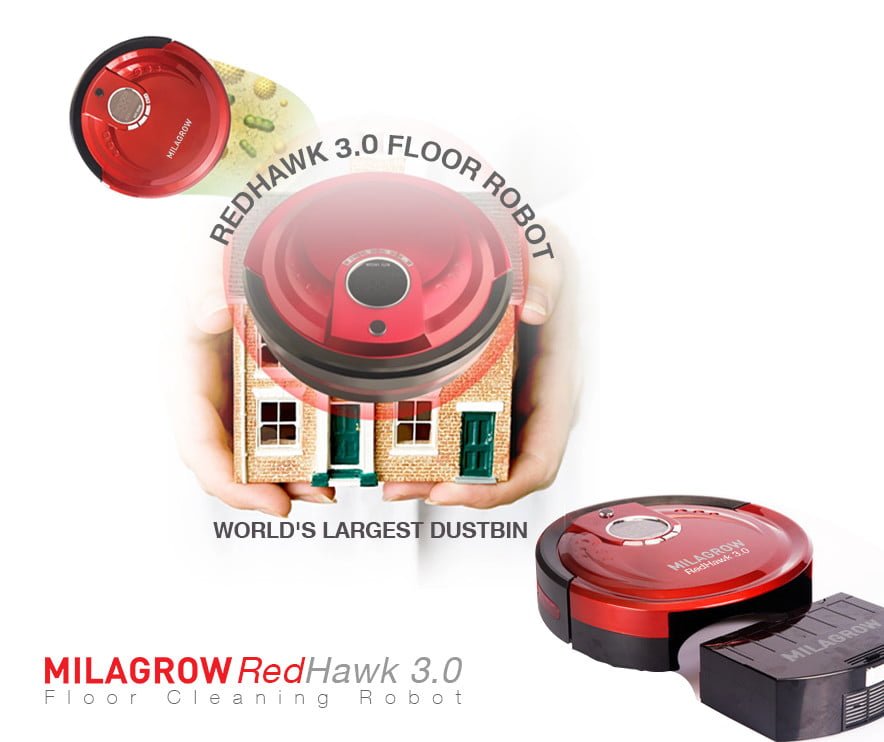 It also has the most advanced 3rd generation features like Robotic Stair and Fall Sensing, Patented Robotic Obstacle or Collision Sensing, Robotic Virtual Wall Detection, Patented Robotic Effective-Auto-Self Recharge, Robotic Gyro Sensors, Robotic Accelerometer Sensors, Robotic Disentanglement, Cleans All Floors & Most Carpets, Pet Hair Removal, Cleaning Under Heavy Beds and Furniture due to its Compact and Slim Design, Doorsill crossing & Carpet Climbing Ability, Self Diagnosis, Automatic Speed Adjuster,
The RedHawk 3.0 Comes with 15 accessories and a comprehensive 2 year warranty. A prospective customer can book a home demo in Delhi NCR, Mumbai, Pune, Chennai and Bangalore or a skype demo anywhere in India with a price of Rs 25,990.