Zebronics India Pvt. Ltd, India's leading supplier of IT peripherals, Audio/Video and Surveillance products launches its latest 5.1 Multimedia Speaker ZEB–SW9451RUCF exclusive to the festive season with unbeatable surround sound at an affordable price of Rs. 5999/-. With features that bring home the cinema experience; ZEB–SW9451RUCF blends its stylish design with superior technology to deliver consistently wonderful sound to pretty much any seat in the room.
Zebronics Launched 5.1 Multimedia Speaker ZEB-SW9451RUCF
Meant to adorn your beautiful houses, the home theatre package is pertinently designed which looks as amazing as they sound. The heavy duty Metal Grill design with the Digital VFD Display provides bright and crystal clear receiving read out.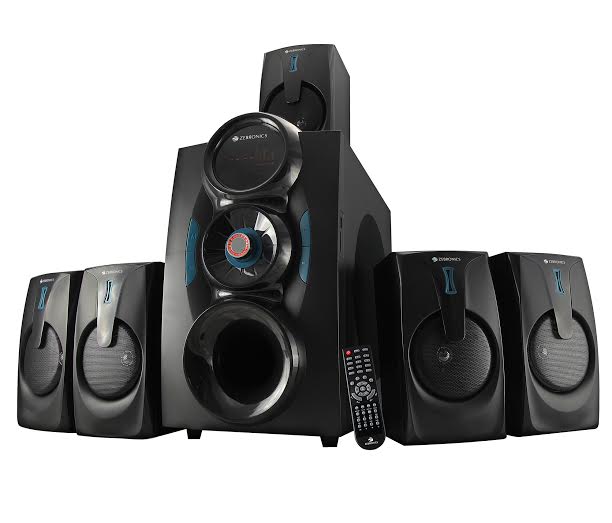 ZEB-SW9451RUCF entails a 3″ full range drivers for satellites and 8″ bass driver for subwoofer. The subwoofer, front, center and surround speakers are collectively designed to Fill the room with 90 Watts ( RMS) of power and rattle few windows while you are it. Additionally, the speakers also include one ported, down-firing subwoofer that provides deep bass and amplifies even the lowest levels of sound so that you can enjoy the perfect audio listening experience. Loud music listeners too can rejoice, as the massive wooden cabinet sub-woofer ensures the delivery of heart-pounding bass.
Using a 5.1 channel configuration, the speakers showcase the brilliance of technology by successfully delivering distortion-free sound for extensive durations. Overall, it boasts the best mix of balanced bass performance and impact with music and movies alike. To ensure customer accessibility, the speaker is built with a USB and SD card reader. Importantly, the USB reader supports MP3/WMA dual formats.
Scoring high on user interface and convenience, the speaker comes along with a full function remote control. This important addition enables the listener to switch songs and radio stations with ease by just pressing the keys on the remote.
Zebronics ZEB-SW9451RUCF Price
Available in the combination of Glossy black colour and vibrant blue, the 5.1 speakers is priced at Rs. 5999/- and shall be available through leading ecommerce portals and retail stores.