Consumer electronics giant Haier has today unveiled 17 new variants of its big top-mounted refrigerators in India. All the refrigerators under this new range are rated at 3-stars in energy efficiency as per BEE. The new series comes with the all-new magic convertible feature that allows the temperature to be controlled between a wide range between 7⁰C and -24⁰C.
Commenting on the launch, Mr. Eric Braganza, President, Haier Appliances India said, "Different food items require different storage temperatures to maintain their original flavor, texture and nutrients. Most refrigerators do not offer consumers the convenience of storing food at different temperature which in turn ends up making the food stale. Keeping this in mind, at Haier we have launched new variants of Big Top Mounted Refrigerators that will enable our customers to choose from various modes as per their needs. We aim to provide our consumers with innovative products powered by cutting-edge technology that makes their lives convenient as well as complement their lifestyles. Our focus has always been to provide the best products and services without compromising on space, style, technology, and energy savings. The new aesthetically designed additions to our range of refrigerators will add convenience to the lifestyles of our customers."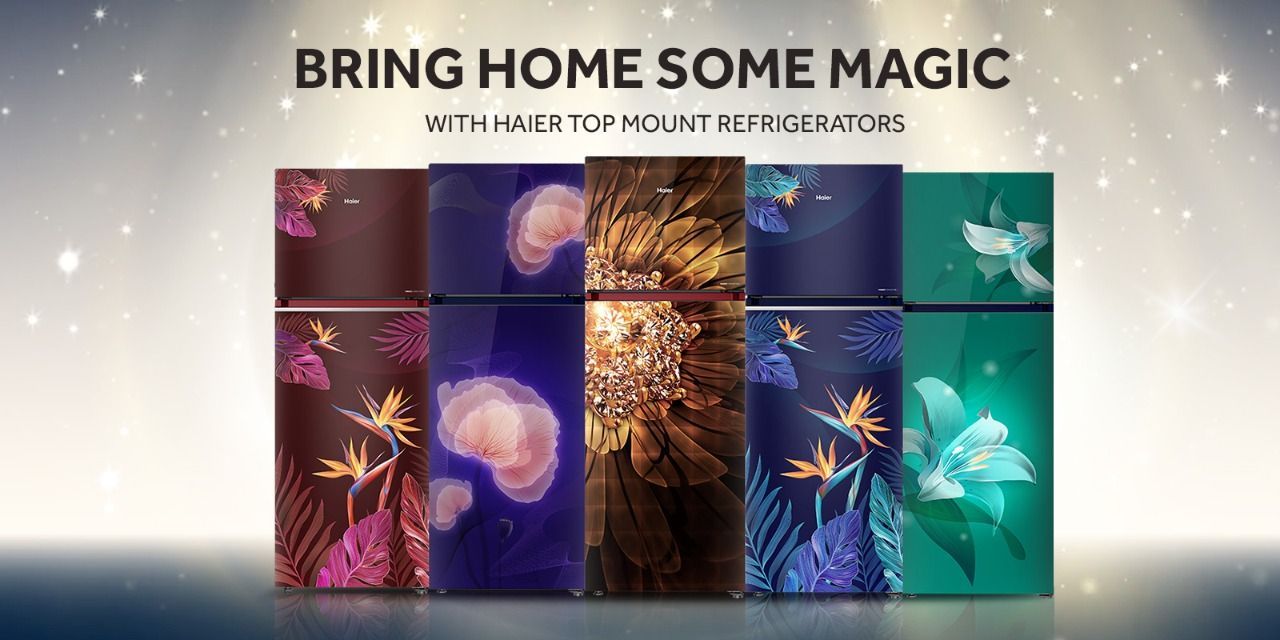 The magic convertible technology in the new range of Haier refrigerators helps convert the refrigerator to more than ten different modes. Users can adjust modes to meet the storage requirements of different kinds of food items, and they can also create new custom modes as per their needs. Haier's Magic Convertible feature allows precise temperature control to store spices, cakes, fruits and vegetables, leftovers, seafood, beverages, milk, soft food, etc.
The new range of refrigerators from Haier is powered by Haier's Advanced Triple Inverter Technology that allows more energy savings, reduces noise, and offers protection from voltage fluctuation. The innovative Dual Fan Technology allows multiple airflows into the refrigerator to keep different food items fresh for a more extended period without spoiling the original flavors, smells, and textures.
The new range comes with a separate fruit box on selected models. The refrigerators also offer stabilizer-free operation and turbo icing that allows water to freeze at twice the average speed. The new range of refrigerators from Haier is also compatible with home inverters so that users never need to worry about power cuts.
The new lineup comes with a wide color range with Steel, Glass, and Floral finish to match every household. The new lineup of refrigerators is now available for purchase. The models with 345L capacity are priced between ₹55,000 to ₹64,700, while the models with 375L capacity are priced between ₹62,200 to ₹68,900. Haier will provide ten years of assured warranty on the inverter compressor and dual inverter fan motor on every variant of these new refrigerators. The exact prices for all the models are listed below.
| | | |
| --- | --- | --- |
| Model Number | Gross Capacity (In Litre) | MRP (In INR) |
| HRF-3654BS-E | 345 | 55,000 |
| HRF-3654CKS-E | 345 | 55,000 |
| HRF-3654CIS-E | 345 | 57,000 |
| HRF-3654BMC-E | 345 | 60,000 |
| HRF-3654BRC-E | 345 | 60,000 |
| HRF-3954CIS-E | 375 | 62,200 |
| HRF-3654PKG-E | 345 | 63,700 |
| HRF-3654POG-E | 345 | 63,700 |
| HRF-3654PCG-E | 345 | 63,700 |
| HRF-3654PJG-E | 345 | 63,700 |
| HRF-3654PMG-E | 345 | 64,700 |
| HRF-3954BMC-E | 375 | 65,000 |
| HRF-3954PKG-E | 375 | 68,900 |
| HRF-3954PMG-E | 375 | 70,000 |
| HRF-3954POG-E | 375 | 68,900 |
| HRF-3954PCG-E | 375 | 68,900 |
| HRF-3954PJG-E | 375 | 68,900 |