Global consumer electronics giant Samsung has launched a new range of 3-Door Convertible French Door Refrigerators in India. The new range of 3-door convertible refrigerators designed for compact modern kitchens.
Commenting on the launch of the new range of 3-Door Convertible French Door Refrigerators, Raju Pullan, Senior Vice President, Consumer Electronics Business, Samsung India, said, "Indian consumers look for refrigerators that complement their modern kitchens and offer more storage space while being energy efficient. The new French Door Refrigerators give consumers the flexibility to manage refrigerator storage as per their convenience with the convertible option. As consumer preferences are changing to suit the current environment, we at Samsung remain committed to bring innovations that help improve the lives of our consumers. We are confident that the French Door Refrigerators will strengthen our market leadership in the Side-by-Side category."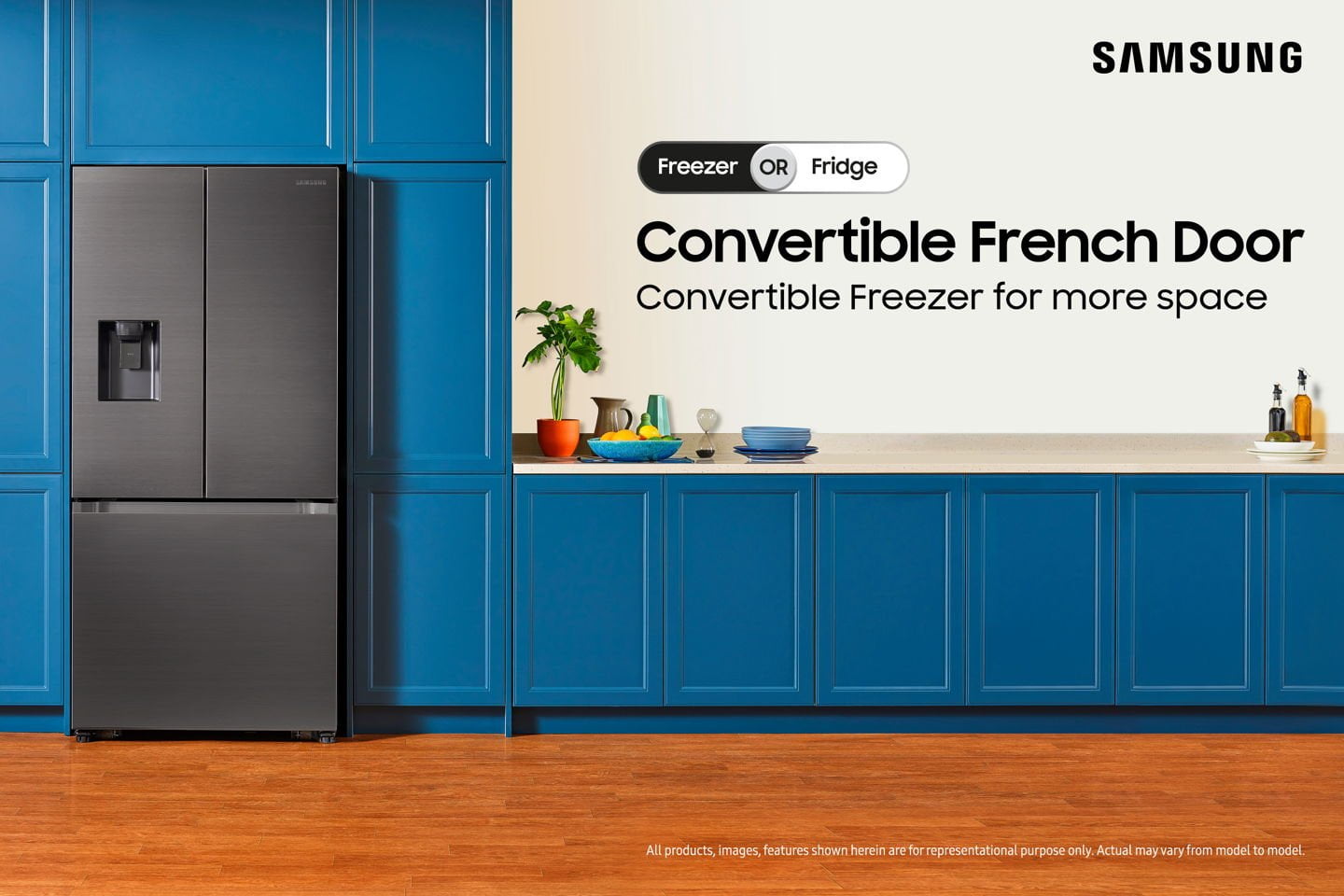 The new convertible option in French Door Refrigerators gives freedom to consumers to turn the freezer into a fridge through a simple touch of a button. The refrigerator also sports a minimalistic 4-liter Water Dispenser to get chilled water without opening the door and retain the refrigerator's cooling. The new range comes with Twin Cooling™ Plus technology that cools the fridge and freezer sections separately, helping stop odors from spreading. Twin Cooling™ Plus ensures a higher humidity up to 70%, assisting users in preserving food for a more extended period.
 The new range also comes with a Power Cooling option for both the fridge and the freezer that reduces the waiting time to cool water or soft drinks or when you need to make ice in a hurry. Just press the respective buttons for 3 seconds and get instant ice and cold beverages.
The new refrigerators offer large crispers with a capacity of 21.7 L each and bigger door bins that can easily hold 2 L bottles. These new refrigerators come with a 10-year warranty on the compressor, and with digital inverter technology, they offer up to 50% energy savings. Samsung's Digital Inverter technology is certified for a 21-year lifespan, and this new range of refrigerators comes with a fingerprint-resistant finish that protects the doors from dirty marks and keeps them clean & smudges free.
The new range of French Door Refrigerators from Samsung offers two choices in terms of capacity- 580 liters and 579 liters. The 580-liter range starts at ₹59,990, while the 579-liter range starts at ₹95,990. The new range of refrigerators is available on Samsung online store along with retail partner stores across Indian from today itself. The new lineup of French Door refrigerators will also be sold via e-commerce portals in India. Consumers purchasing the new Samsung French Door Refrigerators will get up to 10% cashback on credit and debit cards of leading banks and can also avail no-cost EMIs as low as ₹2,499.  
These new refrigerators come with a 10-year warranty on the compressor.