myFirst, a brand of Oaxis focused on tech products for kids and teens has launched two need products today. The first product is the myFirst Fone R1 which is a 4G LTE Smart Watchphone and myFirst Headphones BC Wireless which is the world's first Bone Conduction Wireless Headphones. These two devices make sure that parents stay connected while kids can enjoy music safely. These two products are made to ensure the safety of kids while encouraging them towards living a healthy, yet connected life. myFirst is a home-grown kids tech company based in Singapore that has previously launched a series of kids tech products.
Also Read:
myFirst Fone R1 Review: A Cool Smartwatch for Ensuring Kid's Safety
Commenting on the launch of the two new products, G-Jay Yong, founder of myFirst, said, "Since the first launched of myFirst Fone in 2016, we have received a lot of feedback and suggestions from parents on how to improve our myFirst Fone. This year, we are proud to launch one of the best smartwatch phones in the market for the next-gen kids. We combined the traditional round shape watch design with the most wanted features like music, digital camera, fitness tracker and 4G connectivity to allow the parents and kids stay connected especially with video calls even whilst on the move. When kids pair the R1 Smart Watchphone with our open-ear Headphones BC Wireless, they can enjoy music while still be aware of environmental sounds. R1 and BC Wireless are the best on the move entertainment and communication combo for kids ever. We believe all kids will love them."
myFirst Fone R1 is a smartwatch made for kids, that packs the most essential features for kids while cutting down the unnecessary distractions. It comes with 4G LTE. Using cellular networks, both myFirst Fone R1 and the parent's smartphone can converse in real-time through voice calls and video calls just like a regular phone. For privacy, there is SSL encryption. myFirst Fone R1 is only contactable by authorized phone numbers set via the myFirst Fone app so that unknown callers can not call and disturb or bully kids.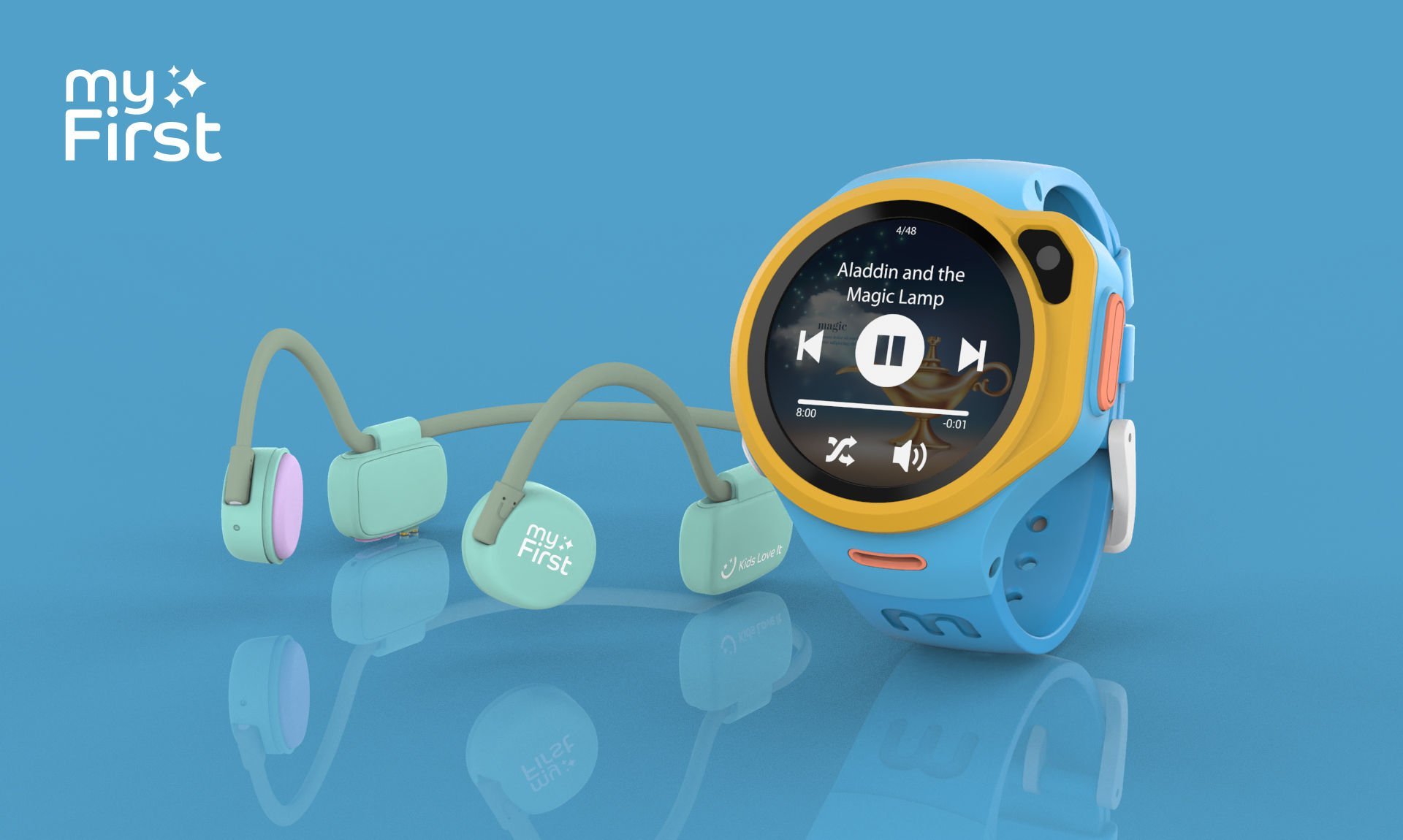 Using GPS, it can send Geo-Fencing alerts to parents when their kid crosses the designated safety zone. There is one-touch-SOS as well that kids can use to send a distress signal to the parents. myFirst Fone R1 comes with MP3 player and a built-in loudspeaker, offering 10 hours of music playback. The built-in pedometer captures the steps taken and it encourages kids to build healthy habits by achieving daily step targets. The phone comes with a camera as well while the shake-to-make-friends feature can broaden the child's interpersonal skills as when two or more myFirst Fone devices are nearby, kids can add their friends easily.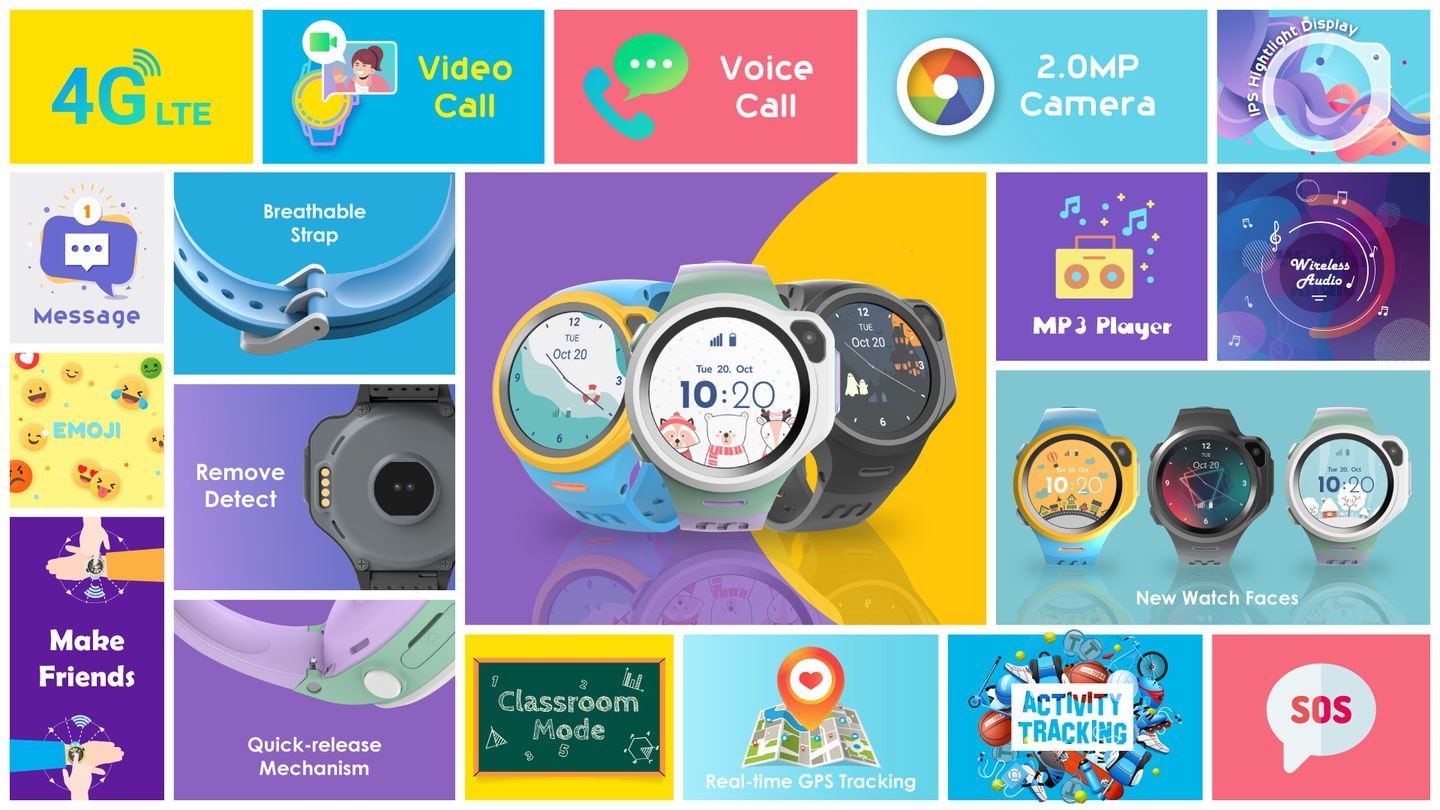 myFirst Headphones BC Wireless is the world's first Bone Conduction Wireless Headphones for kids. It comes with an open-ear design to ensure safety. The build quality is premium as it is made up of titanium and soft rubber, making it strong but lightweight at just 26 grams. It comes with a flexible ear hook.
myFirst Headphones BC Wireless is IPX6 rated making it resistant to sweat and water, making sure that it's perfect for kids participating in indoor or outdoor activities. It comes with built-in microphone, so that kids can attend online classes and webinars when paired with a laptop.