Last month there was a lot of buzz about the new refreshed look of both Mobile App and Website of Snapdeal. With all the leading e-commerce giants going app only, Snapdeal has decide to take a different path and chose to stick to the Website + App combination and claimed to make several improvements to the website and both the Android and IOS apps as well thus making the user interface simple and easy to use and still retaining the original flare and smoothness.
Snapdeal Refreshed Their App and Website with Simple User Friendly UI
Snapdeal claimed that the new design made the product discovery easier and improved the user experience which I wanted to test.
Last week, I was looking to buy a smartphone and decided to order the same with Snapdeal to check the grounds in their claims. I never had Snapdeal app on my phone earlier. Initially I was reluctant to download the app, but then I decided to have a look. To my surprise, the app was just 7.8 MBs which is pretty impressive for an app having so many features and high use of images.  The size of app was much higher for the other competitors. I downloaded the app and was much surprised to see that the app was loading pretty fast and the image loading was quick. Honestly, I was not expecting this from Snapdeal. It looked like an improved version of Snapdeal to me.. The product discovery was simplified. I was confused among which handsets to buy but the seamless flow of the app and newly added filters simplified the process for me.
I ordered a Samsung Galaxy S6 Edge 32GB (White Color)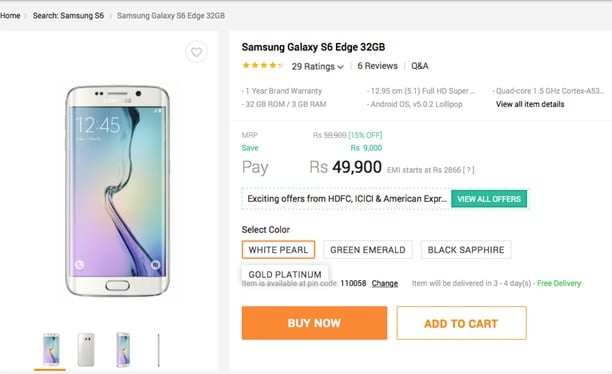 I was again skeptical about my product delivery as normally the ecommerce giants deliver products slowly. However the complete transaction was done seamlessly.
I can surely say that Snapdeal is getting on right track and it was a good experience to Shop with them. They are valuing their customers, which we expect from every ecommerce company but very are able to cater the same properly.
I will recommend shopping from Snapdeal.