Aircel, in line with its 'Save Our Tigers' initiative and as part of its World Tiger Day (July 29) celebrations this year,  today launched an exclusive set of digital stickers- 'Tigojis'.  Through 'Tigojis', Aircel aims to engage people on tiger conservation and encourage them to use these tiger stickers across online interactions and social conversations.  The complete pack will be available for free download on Google Play and will be soon made available on the Apple (iOS) app store.
In addition, 'Tigojis' based Facebook PicBadges have been made available to help people show their solidarity towards the cause. Users will be able to incorporate the PicBadge as part of their Facebook profiles by logging on to www.saveourtigers.com.
Speaking on the occasion, Brinda Malhotra, Head-Corporate Social Responsibility, Aircel said, "The 'Save Our Tigers' initiative, since 2008, has been able to create a very special place in the hearts and minds of the people of this country. While Aircel has been relentlessly championing this cause along with its partner NGOs, this World Tiger Day we wanted people to further raise their voice for tiger conservation. We hope that through 'Tigojis' and PicBadges, people will make the tiger a part of online conversations and even encourage their family and friends to do their bit to save our tigers.  Aircel has also decided to pledge Re. 1 towards the 'Save Our Tigers' fund for each Tigojis download from the app store and for every picbadge used."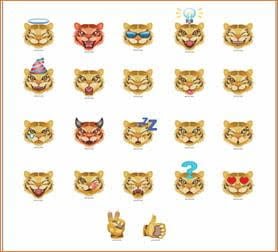 As part of its other initiatives for World Tiger Day, Aircel will be engaging with young tiger ambassadors in various cities across the country with rallies, in-school slide presentations, street plays, fests, fun games and competitions with the focus to create high awareness and gain support on Tiger Conservation. These activities will also witness active participation of leading environment conservationists, prominent forest officials and celebrities.
About Aircel 'Save Our Tigers' initiative:
The Tiger is our national animal and one that has been a part of our folklore and history for millennia. Yet this magnificent animal is on the brink of extinction. The Tiger can easily be called as the metaphor for nature, as it is a top predator and its existence ensures a healthy and a sustainable ecological balance. The year 2008 revealed the shocking number that there were just '1411' tigers left in India. 'Save Our Tigers' is a cause related campaign started by Aircel during the latter part of 2008 with an aim to create mass awareness on the plight of this magnificent beast and rally efforts to save it.
The tag line, 'Just 1411 left, Save Our Tigers', struck a chord in the hearts and minds of millions of Indians.People began to rally for the cause and began to lend their voices towards the cause.
Our seriousness towards doing our bit to Save Our Tigers has led us to partner with several well-known organizations like World Wildlife Fund-India, Wildlife Conservation Trust, Wildlife Trust of India, Sanctuary Asia and NDTV as well as several noted conservationists to create an impact on ground where it really matters. We work on several projects that encompass capacity building, conflict mitigation and awareness creation. This helps us address issues in 360 degrees and reach out to create maximum impact.