Swipe MTV Slash tablet, which was launched last year gained quiet a good amount of popularity because of the the specs offering in a great price range, and now Swipe is back again with Slash 4X which is another lighter version in Tablet PC range. It is another co-branded tablet between Swipe and MTV which is available on ebay at a launch price of Rs 8990. EMI option is also available when bought from Ebay itself.
Major keypoints of MTV Slash 4X are 1.3 Ghz Mediatek Quad Core processor with 1 GB RAM and a 7inch HD IPS display with a resolution of 1024×600 pixels. Swipe Slash 4X is also equipped with One-Glass-Solution (OGS) technology which provides enhanced light transmission and user experience as well. Talking of camera, it is equipped with a 2MP primary camera at back and VGA (0.3MP) camera at back. With 4GB internal storage memory and expandable upto 32GB, it shall be good enough for all basic usage including fluid multitasking too, that's what an user can expect from a budget tablet. Not to forget, Swipe MTV Slash 4X is a tablet with dual SIM with voice calling, support 3G/2G data services with Wi-Fi too.
In lieu of providing something unique to users other than usual MTV apps like MTV India, MTV Funny & MTV Hottie, 2 more new apps users shall find pre-installed on this tablet i.e. 'Count your Drinks' which is a one stop application that ensures, you never get cheated and over-pay for your drinks , it keeps a tab of every drink you consume & how much money each friend at the table owes, it surely guarantees to make your everyday drinking sessions with friends much easier. Another app is 'This Day in Music' which provides all the information in music one day at a time. You can impress all your friends by knowing exactly what happened on this day in music.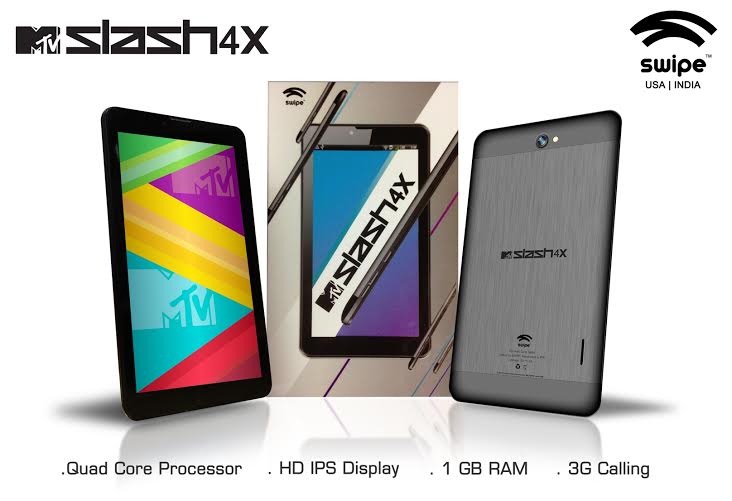 Swipe MTV Slash 4X Technical Specifications
1.3 Ghz Quad Core Processor
1024*600 Pixels HD IPS Resolution
Dual Camera – 2MP rear + 0.3 MP front
Swipe MTV Slash 4X Price
Swipe MTV Slash 4X is launched at a price point of Rs 8990 and can be pre-booked from Ebay.in and shall be listed at swipe telecom official website as well where it shall be priced at Rs.9999, so you know from where it should be bought.